What America's 'Sturgeon General' Is Saying about Our Oceans
Big Think is proud to partner with the 92nd Street Y's 7 Days of Genius Festival to bring you an in-depth look at the many qualities and characteristics of genius.
23 February, 2016
---
Big Think is proud to partner with the 92Y in bringing you this series on female genius as part of its 7 Days of Genius Festival.
Affectionately known as "Her Deepness" and "The Sturgeon General," few people have explored the watery depths of our planet like oceanographer Sylvia Earle. The leader of over 50 expeditions around the world, involving more than 6,000 hours underwater, Earle has spent her lifetime telling the story of the oceans. It has not been easy.
The sea is a curious place, protected by a surface that casts a dark shroud across its depths. For a long time, humans have only glimpsed at what lies beneath. But the advancement of technology extends our sight, allowing us to dive deeper, explore the Earth's oceans, and expand the fabric of our knowledge.
As Earle says: "People have been exploring from the surface for as long as people have been getting to the ocean, but getting into the ocean is still tricky business and it's only in very recent times that we've had the technology that can take us more than as deep as you can go holding your breath."
Few have dared to penetrate the black depths of the ocean, but Earle, driven to know more about the liquid world washing up on the shores of her native Florida, became an oceanographer. Her work has put her at the front lines of exploration; she has visited some of the deepest parts on the deepest oceans.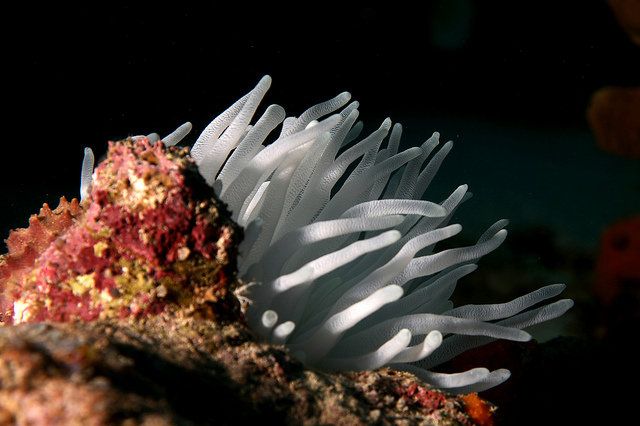 Through her research and exploration, she has noticed an unsettling trend. Sixty years ago, she says humankind would not have thought we were doing any harm to the ocean. To us, it was an untouchable paradise, but over the course of her career she has witnessed a dramatic change.
Her various expeditions make up a series of before-and-after images. Habitats she visited early in her career are dead now because of human activity. 
When Earle first started exploring the ocean, she said it seemed endless. Whatever we wanted to take from it or dump into it, we could. This perception has since changed in her years of exploration.
"I have yet to take a dive, even in the deepest dive I've ever made, and not see tangible evidence of our presence," she said in the documentary Mission Blue.
When asked if she's "radical" about protecting the ocean, she once responded, "If I seem like a radical, it may be because I see things that others do not. I think if others had the opportunity to witness what I've seen in my lifetime, what I've seen when I go diving and the perspective that I've gained from thousands of hours underwater, I would not seem like a radical at all."
Earle has made herself the human element that connects us to the ocean. When we look out into the ocean, we cannot see the dead zones Earle talks about. The ocean looks the same to us — waves bouncing toward the shore. However, Earle believes online communication is helping to change perceptions, allowing people to see the ocean the way she sees it.
"One reason that I have for being an optimist is that we have means of communication now that didn't exist even 10 years ago," she said. Google Oceans, OpenROV, and citizen science projects are connecting people with these places that have only been accessible to scientists and the elite.
"This to me is the greatest reason for hope, that we're developing this fabric of knowledge with people who, once they know, may be inspired to care. It's the only thing that will cause people to care: Knowing, and with knowing, the caring that comes through is cause for hope that we'll find an enduring place for ourselves within the natural world, the natural systems, mostly blue, that keep us alive."
 ***
Photo Credit: WASHINGTON, DC - MAY 14: Doctor Sylvia Earle, National Geographic Explorer-in-residence speaks during a panel discussion during the 'The Ocean In 2050' Leadership Forum at the National Geographic Museum on May 14, 2015 in Washington DC. The forum was part of the 2015 Peter Benchley Ocean Awards. (Photo by Kris Connor/Getty Images)
In article: LASZLO ILYES/Flickr
Big Think
Sponsored by Lumina Foundation
Upvote the video, or videos, you want to win.

As you vote, keep in mind that we are looking for a winner with the most engaging social venture pitch - an idea you would want to invest in. And note: We'll only count upvotes (not downvotes).
Videos
Oumuamua, a quarter-mile long asteroid tumbling through space, is Hawaiian for "scout", or "the first of many".
It was given this name because it came from another solar system.
Some claimed Oumuamua was an alien technology, but there's no actual evidence for that.
An innovation may lead to lifelike evolving machines.
Shogo Hamada/Cornell University
Surprising Science
Scientists at Cornell University devise a material with 3 key traits of life.
The goal for the researchers is not to create life but lifelike machines.
The researchers were able to program metabolism into the material's DNA.
Here are 7 often-overlooked World Heritage Sites, each with its own history.
Culture & Religion
UNESCO World Heritage Sites are locations of high value to humanity, either for their cultural, historical, or natural significance.
Some are even designated as World Heritage Sites because humans don't go there at all, while others have felt the effects of too much human influence.
These 7 UNESCO World Heritage Sites each represent an overlooked or at-risk facet of humanity's collective cultural heritage.
Big think's weekly newsletter.
Get smarter faster from the comfort of your inbox.
See our newsletter privacy policy
here
Most Popular
Most Recent
Big think's weekly newsletter.
Get smarter faster from the comfort of your inbox.
See our newsletter privacy policy
here
© Copyright 2007-2019 & BIG THINK, BIG THINK EDGE,
SMARTER FASTER trademarks owned by The Big Think, Inc. All rights reserved.