Mathematical Evidence Points to a New Planet in Our Solar System
Scientists are reconsidering the number of planets in our solar system after finding mathematical evidence for a new planet that would orbit the sun every 10,000-20,000 years.
22 January, 2016
---
Scientists are reconsidering the number of planets in our solar system — there may be nine in it after all, but Pluto still isn't one of them (according to scientists).
In the badlands beyond Neptune and past the ring of icy debris known as the Kuiper belt, of which Pluto is a resident, it's possible there's another planet orbiting our sun. Where Neptune takes 165 years to make a full rotation around the sun, Planet Nine (or Ten if you still consider Pluto a planet) could take 10,000 to 20,000 years to make a full trip.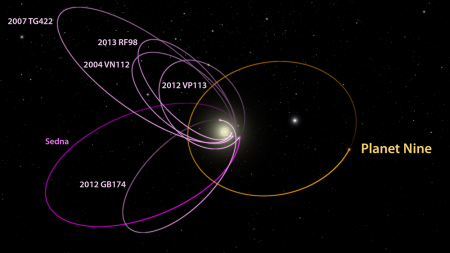 Caltech Astrophysicist Mike Brown and Konstantin Batygin are the two scientists credited for this potential discovery. They "found" it through mathematical models and simulations. The planet hasn't been observed directly through a telescope, however astrophysicists have long known that the structure of our solar system doesn't add up. The two made their case for this Planet Nine in a report published in The Astronomical Journal.
Some may recognize Brown as the man responsible for demoting Pluto from its planet status. He hopes that this new find will help fill the planet-sized hole he left in our hearts.
"My daughter is the one who told me I need to do this," he told the L.A. Times. "Even before we started this, she said, 'Daddy, what you need to do is go find a new planet so that people will no longer be sad about Pluto.'"
If this Planet Nine does exist, it would put to rest many mysteries surrounding the workings of our solar system:
"Although we were initially quite skeptical that this planet could exist, as we continued to investigate its orbit and what it would mean for the outer solar system, we become increasingly convinced that it is out there," says Batygin, an assistant professor of planetary science. "For the first time in over 150 years, there is solid evidence that the solar system's planetary census is incomplete."
Scientists estimate the planet is one to 10 times the mass of Earth, sitting right between Earth and Neptune size-wise. Despite its estimated size, the planet will prove difficult to find. At its closest point to Earth the planet will still be 18.6 billion miles away, shrouded in the dark void of space. What's more, even with the Earth's most powerful telescopes looking, it will take tremendous effort and luck to spot the thing. It has a possible orbit of 20,000 years — that's a lot of celestial ground to cover.
Like a "new" planet could ever fill the hole Pluto left in our hearts.
***
Photo Credit: Getty Images / Handout
Natalie has been writing professionally for about 6 years. After graduating from Ithaca College with a degree in Feature Writing, she snagged a job at PCMag.com where she had the opportunity to review all the latest consumer gadgets. Since then she has become a writer for hire, freelancing for various websites. In her spare time, you may find her riding her motorcycle, reading YA novels, hiking, or playing video games. Follow her on Twitter: @nat_schumaker
Big Think Edge
The meaning of the word 'confidence' seems obvious. But it's not the same as self-esteem.
Confidence isn't just a feeling on your inside. It comes from taking action in the world.
Join Big Think Edge today and learn how to achieve more confidence when and where it really matters.
The controversial herbicide is everywhere, apparently.
Surprising Science
U.S. PIRG tested 20 beers and wines, including organics, and found Roundup's active ingredient in almost all of them.
A jury on August 2018 awarded a non-Hodgkin's lymphoma victim $289 million in Roundup damages.
Bayer/Monsanto says Roundup is totally safe. Others disagree.
The team caught a glimpse of a process that takes 18,000,000,000,000,000,000,000 years.
Image source: Pixabay
Surprising Science
In Italy, a team of scientists is using a highly sophisticated detector to hunt for dark matter.
The team observed an ultra-rare particle interaction that reveals the half-life of a xenon-124 atom to be 18 sextillion years.
The half-life of a process is how long it takes for half of the radioactive nuclei present in a sample to decay.
Big think's weekly newsletter.
Get smarter faster from the comfort of your inbox.
See our newsletter privacy policy
here
Most Popular
Most Recent
Big think's weekly newsletter.
Get smarter faster from the comfort of your inbox.
See our newsletter privacy policy
here
© Copyright 2007-2019 & BIG THINK, BIG THINK EDGE,
SMARTER FASTER trademarks owned by The Big Think, Inc. All rights reserved.