Climate Forecast Predicts It's Going to Rain Like Cats and Dogs
Researchers predict a rise in "extreme precipitation" across most of the world. They say this forecast includes arid regions, which may not be prepared to handle extra rainfall.
10 March, 2016
Researchers predict a rise in "extreme precipitation" across most of the world. They say this forecast includes arid regions, which may not be prepared to handle extra rainfall.
---
A team of scientists looked at records from 11,000 weather stations from 1951 to 2010 and found "extreme precipitation" has increased 1 percent to 2 percent per decade in dry regions. If this pattern holds, the world's driest regions will see an increase in rain and, as a result, more flash floods. It gets worse. Because of the additional heat in the atmosphere, the rate of evaporation will increase. So, the increase rate evaporation will offset any water storage that may have occurred in these regions.
"The concern with an increased frequency and in particular intensity of extreme precipitation events in areas that are normally dry is that there may not be infrastructure in place to cope with extreme flooding events," lead author Markus Donat said in a statement. "Importantly, this research suggests we will see these extreme rainfall events increase at regional levels in dry areas, not just as an average across the globe."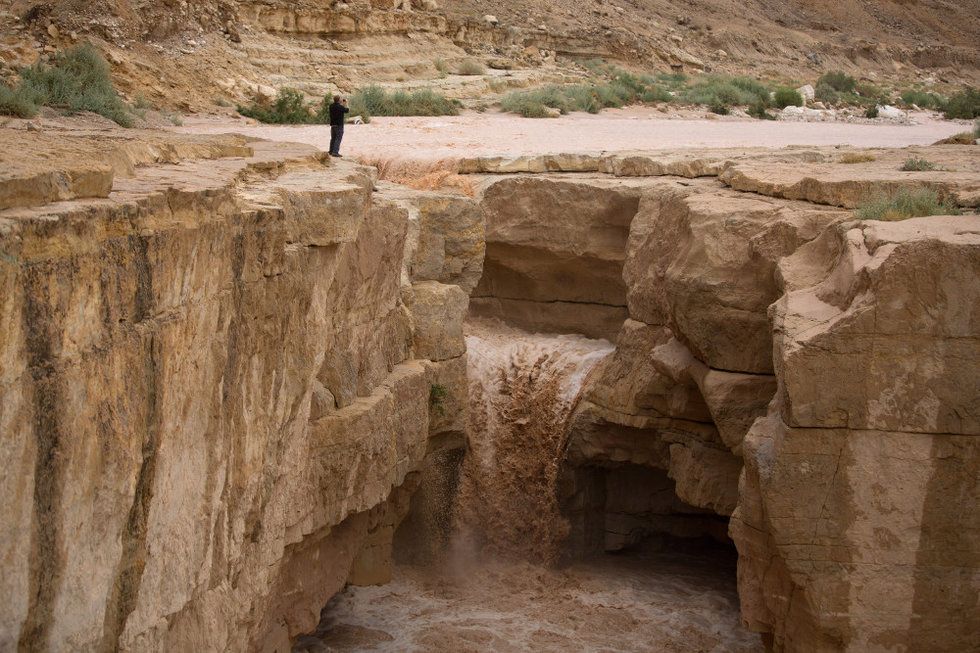 It may sound strange, but you can drown in a desert. More people drown in deserts than die of thirst, according to the USGS. Downpours can quickly turn into flash floods. Craig Childs, author of The Desert Cries, has been at ground zero during a desert deluge. "I've ended up inside of a couple of floods, swimming with debris, trying to get out," he told NPR. "You really-you don't want to end up in them, but they can come out of nowhere."
More than ever our changing climate is challenging the power of human ingenuity to adapt to a new environment. 
"We are seeing now climate impacts that are tremendously costly and tremendously challenging," says Gina McCarthy, Administrator of the U.S. Environmental Protection Agency. "And EPA's role is to try to turn that challenge into a positive message moving forward, give communities the tools they need to adapt, you know."
***
Main image: David McNew/Getty Images
In article: MENAHEM KAHANA/AFP/Getty Images
Natalie has been writing professionally for about 6 years. After graduating from Ithaca College with a degree in Feature Writing, she snagged a job at PCMag.com where she had the opportunity to review all the latest consumer gadgets. Since then she has become a writer for hire, freelancing for various websites. In her spare time, you may find her riding her motorcycle, reading YA novels, hiking, or playing video games. Follow her on Twitter: @nat_schumaker
Step inside the unlikely friendship of a former ACLU president and an ultra-conservative Supreme Court Justice.

Sponsored by Charles Koch Foundation
Former president of the ACLU Nadine Strossen and Supreme Court Justice Antonin Scalia were unlikely friends. They debated each other at events all over the world, and because of that developed a deep and rewarding friendship – despite their immense differences.
Scalia, a famous conservative, was invited to circles that were not his "home territory", such as the ACLU, to debate his views. Here, Strossen expresses her gratitude and respect for his commitment to the exchange of ideas.
"It's really sad that people seem to think that if you disagree with somebody on some issues you can't be mutually respectful, you can't enjoy each other's company, you can't learn from each other and grow in yourself," says Strossen.
The opinions expressed in this video do not necessarily reflect the views of the Charles Koch Foundation, which encourages the expression of diverse viewpoints within a culture of civil discourse and mutual respect.
Learn how to redesign your job for maximum reward.
Videos
Broaching the question "What is my purpose?" is daunting – it's a grandiose idea, but research can make it a little more approachable if work is where you find your meaning. It turns out you can redesign your job to have maximum purpose.
There are 3 ways people find meaning at work, what Aaron Hurst calls the three elevations of impact. About a third of the population finds meaning at an individual level, from seeing the direct impact of their work on other people. Another third of people find their purpose at an organizational level. And the last third of people find meaning at a social level.
"What's interesting about these three elevations of impact is they enable us to find meaning in any job if we approach it the right way. And it shows how accessible purpose can be when we take responsibility for it in our work," says Hurst.
Erik Verlinde has been compared to Einstein for completely rethinking the nature of gravity.
Photo by Willeke Duijvekam
Surprising Science
The Dutch physicist Erik Verlinde's hypothesis describes gravity as an "emergent" force not fundamental.
The scientist thinks his ideas describe the universe better than existing models, without resorting to "dark matter".
While some question his previous papers, Verlinde is reworking his ideas as a full-fledged theory.
TuSimple, an autonomous trucking company, has also engaged in test programs with the United States Postal Service and Amazon.
Technology & Innovation
This week, UPS announced that it's working with autonomous trucking startup TuSimple on a pilot project to deliver cargo in Arizona using self-driving trucks.
UPS has also acquired a minority stake in TuSimple.
TuSimple hopes its trucks will be fully autonomous — without a human driver — by late 2020, though regulatory questions remain.