Big ideas.
Once a week.
Subscribe to our weekly newsletter.
Neurotechnology today: What's real, what's coming
A balanced discussion of the realities, the mythologies, and the concerns surrounding cutting-edge brain research.
19 April, 2019
Image source: Luca del Puppo
A new film, I AM HUMAN, takes a comprehensive look at the realities of neurotechnology today.
The film follows three patients for whom experimental treatment may be the best option.
Experts weigh in on the difficulties and the promise of neurotech.
---
We hear a lot these days about a coming convergence between man and machine. Nowhere are more promises being made than in the area of the brain. From Elon Musk's brain interface to the promise of enhanced minds to home-brewed brain "stimulators," neurotechnology seems poised to carry us across a threshold into a new and glorious world. Or a new and terrifying one. There's robust debate over the potential impact, dangers, and value of such disruptive technology, as there should be. The problem is that we're not so good at thoughtful, reasonable debate.
We don't often write on Big Think about individual movies, but there's a new one, I AM HUMAN, directed and produced by Taryn Southern and Elena Gaby. It provides an unusually intelligent, wide-ranging, and balanced overview of where the research stands, and it's a compelling and thought-provoking experience. This being an area of such keen interest to Big Think readers, we recommend being on the lookout for this film.
Bill, Anne, and Stephen
One of the great hopes for brain research, of course, is that we'll discover the mechanisms behind brain disorders and learn how they can be cured. The World Health Organization has estimated that about 1 in 6 people have a brain disorder of some sort — that's a billion-plus people. As our visionaries fuel our imaginations regarding the eventual possibilities, it's easy to forget there are people here and now for whom the restorative potential of brain technology is no sci-fi daydream — it's a source of hope that their health can be restored. As doctors and technicians embark on this journey, they're accompanied by people you'd never imagine meeting at the cutting edge. People for whom such wildly experimental therapies are their best, and maybe only, hope.
I AM HUMAN introduces us to three such people. It's in following them through their procedures that we see the latest technologies being explored. Our emotional investment in this brave trio viscerally reminds us of the stakes involved.
Bill recalls, "I was riding a bicycle in a charity event. It was raining really badly and I was following a mail truck. And then all of a sudden, it stopped and I didn't." A tetraplegic, Bill has no feeling below his mid-chest and longs to be able to one day regain enough movement simply to feed himself without assistance.
Anne has Parkinson's disease. "I'm not really sure what's happening in my brain. Anxiety. Insomnia. Paralysis," says Anne. In addition to her fear of becoming nothing but a burden to her family as her symptoms worsen, "One of the Parkinson's symptoms I was always afraid of was that you couldn't smile and when you smiled you had a stony expression," she says. "It's hard to connect with people. I'm just way too exhausted and way too disorganized mentally to be with people the way I used to."
Stephen was born with a condition he knew nothing about until his world world turned white: " When I lost my vision, the whole world collapsed." He lives alone, aided by his sister, with whom he's close, helping him get through life. "I just miss being independent."
The challenge of the human brain
Connective ports provide access to electrodes implanted in Bill's brain.
Image source: Luca del Puppo
None of the many experts interviewed in I AM HUMAN believe that a fundamental understanding is imminent of that three-pound object that has so much to do with who we are. Southern tells Big Think that, "The one consistent thing I've learned about a lot of neuroscientists is they have a very sober and humble view of just how complex and difficult of a problem they are tackling."
The current estimate is that the brain contains 100 billions neurons. As neuroscientist Miguel Nicolelis notes, "100 billion was the old estimate of the number of galaxies in the universe." And even that number doesn't convey the true mathematical complexity involved. David Eagleman, also a neuroscientist, says that each of those neurons "is as complicated as the city of Los Angeles. It's connecting to 10,000 of its neighbors — so you have, you know, 500 trillion connections" to identify if you're trying to understand the human brain. Computer scientist Ramez Naam says it simply: "The brain is the most complicated object we've ever encountered in nature."
It's also a black box. Alongside each movement we make are lightning-fast instructions exchanged between these many neurons in some internal language we don't speak. Researchers use a range of technologies to eavesdrop on the brain's chatter — as Southern says, "You have methods like EEG, which uses electrical impulses to read brain activity; deep-brain electrodes also use electricity. But then you've got magnetic resonance imaging (MRI) to read blood flow and sound waves through ultrasound. Of course, the non-invasive methods are more palatable. I'm sure that soon in the future, neuroscientists will see all of our methods now as crude."
Just as daunting, when neuroscientists attempt to manipulate individual neurons, the precision required is astounding, with each procedure a white-knuckle procedure. Surgeon Andres Lozano tells the filmmakers, "This is a game where you have to be within one millimeter. That one millimeter means a difference between success and failure."
Or stumbling into another area of the brain. One doctor told the filmmakers of a case in which an interface was implanted into the hypothalamus of a patient weighing 420 pounds "to see if they could regulate hunger or appetite." No dice. On the other hand, "To their surprise, the patient had vivid flashes of memory from 30 years earlier. When they left the stimulator on for a period of time, at a lower current, the patient had huge increases in memory capacity and being able to remember lists of words."
So for all of the fever-dreams of any-time-now cyber-brains, neurotech investor Bryan Johnson offers a reality check: "It's extraordinarily difficult to make breakthroughs in neuroscience. Scientists are tackling these really complicated problems, trying to do things that other people consider to be impossible. And it makes it both an extremely exciting time but also, it's daunting because there is no clear path to success."
Visions of the neurotech future
Anne must remain conscious during her deep brain surgery.
Image source: Joel Froome, ACS
The film presents' a range of advocates' visions of the possibilities should we finally be able to master the workings of the brain.
"We are about to enter into the most consequential revolution in the history of the human race," says Johnson, "where we can take control of our cognitive evolution. If we can make breakthroughs in the brain, we can overcome our biological limitations. We can reject the things that stop us from moving forward. My hope is that we get to a point in tech advancement that we're not limited by our technology, we're empowered by it, so it's a matter of choice of what we want to become."
While Southern says coverage of research is often focused on the enhancement of people to be "smarter, better, faster," she suggests that this may merely be a reflection of "our own sort-of Western bias to favor productivity and efficiency. But perhaps in other Eastern cultures they would orient the use of an interface to induce greater states of calm or create more empathy."
Johnson offers up how this could work: "Imagine I had a tool to interface with my brain where I could walk a mile in someone else's shoes. What if I could feel what it was like to be you? What if I could understand your contextual framework? What if I understand your memories and your emotions? Would that change the way we deal with each other? The way we cooperate, the way we make decisions?" Or, he adds, "Would that change our creative ability?"
Philosophical question arise
Retinal implants such as Stephen's are created in Second Sight's lab in Sylmar, CA.
Image source: Credit: Joel Froome, ACS
Of course, not everyone is embracing neurotechnology. According to a recent Pew study for example, people are more worried than enthusiastic when it comes to brain chip implants designed to boost a person's natural abilities — only 34% would be interested in getting one. (About half are okay with implants' use for therapeutic value.)
It's not just a fear of change — there are genuine philosophical and ethical issues. As Naam says in the film, "As we have this ability to change who we are, change our personality, what's at the core of us? What does that do to our sense of where we belong in the universe?"
Professor of philosophy and law Nita Farahany sums up the question this way: "If we start tinkering with the brain, if we start changing it….What does that mean? Are we about to fundamentally change what it means to be human? And if so, are we okay with that?" Seeing that, "We're at the moment where there are a lot of very rapidly emerging technologies, and brain computer interfaces are starting to become part of mainstream society,"' she warns that we'd better start figuring out where we want all this research to go before it's too late.
Southern tells us, "My biggest concern around the ethics is the lack of basic knowledge that we have as a society about science and tech. Scientists are so great at science, but sometimes lack the time or ability to connect that information to a larger audience. I think information is power, and the first step is education."
As far as the ethics of experimenting on living patients goes, the decisions of Bill, Anne, and Stephen to participate reflect their lack of better options. "People are worried, you know, 'Will I be the same, coming out, as I was going in?'" says Lozano. "There's a tremendous amount of anxiety about whether they are going to change in their outlook, in their personality, in their motivation, in their drive. You know, this is brain surgery. It's invasive. It is a scary thought."
The doctors involved, says Southern, are "incredibly conscientious about the impact of their work on the world, and those that we worked with on the film have a real drive to help people and improve lives. I don't think many people would argue that restoring function to someone with a disease as a resort of a brain interface is a bad thing. The ethical questions come down the road from there, when adoption becomes more widespread and normalized and people start to seek 'cosmetic' applications of these currently medical devices."
In the end
Southern says she was drawn to this topic as a storyteller. "I see what they're doing, and I think it's just incredible." Her goal in making I AM HUMAN she says, is that, "It's their job to be understated, and my job to hopefully translate the awe and I wonder I feel about what they're doing with the world."
In their experiences creating this film, Southern and Gaby gained a uniquely comprehensive overview of where things stand. We asked Southern what she dreams of humanity gaining from neurotechnology. "I'm really intrigued by the ideas of expanding our sensory abilities and processing. We know that our brains receive data through our given senses — sight, tough, taste, sound, etc. But that data isn't necessarily reflective of reality, and other animals can receive data into their brains differently. For instance, bats have a sense called echolocation that allows them to use sound waves and echoes to determine where they are in space. What if we had that ability? Or what if we could sense electromagnetic waves or ultraviolet light? I'd be pretty excited to see some of these things come to fruition."
Such capabilities could allow us to understand the true nature of physical reality in ways we currently lack the tools to even image. On a more day-to-day level, she adds, "I'd also love to just be able to turn off that pesky and unnecessary fight-or-flight survival response to mundane stress."
The experience has left Southern feeling "Optimistic. Every new technology has been fraught with incredible advantages and drawbacks. I see this being no different. We're just so often uncomfortable with changing the status quo — but ultimately we collectively adopt what is valuable to us. Pessimism around technology," she says, may just reflect issues with our values and systems. "When the foundation of those are broken, it's hard to imagine not building things on top that wreak some degree of havoc. Ultimately, however, having our ability to see and understand the mechanics of our own minds — the creation force of our reality — offers us unparalleled potential beyond our wildest imaginations."
I AM HUMAN will be screened at the Tribeca Film Festival in early May.
From Your Site Articles
Related Articles Around the Web
A cave in France contains man's earliest-known structures that had to be built by Neanderthals who were believed to be incapable of such things.
Image source:
yannvdb
/Wikimedia Commons
Surprising Science
In a French cave deep underground, scientists have discovered what appear to be 176,000-year-old man-made structures. That's 150,000 years earlier than any that have been discovered anywhere before. And they could only have been built by Neanderthals, people who were never before considered capable of such a thing.
This is going to force a major shift in the way we see these early hominids. Researchers had thought that Neanderthals were profoundly primitive, and just barely human. This cave in France's Aveyron Valley changes all that: It's suddenly obvious that Neanderthals were not quite so unlike us.
According to The Atlantic, Bruniquel Cave was first explored in 1990 by Bruno Kowalsczewski, who was 15 at the time. He'd spent three years digging away at rubble covering a space through which his father felt air moving.
Some members of a local caving club managed to squeeze through the narrow, 30-meter long tunnel Kowalsczewski had dug to arrive in a passageway. They followed it past pools of water and old animal bones for over 330 meters before coming into a large chamber and a scene they had no reason to expect: Stalagmites that someone had broken into hundreds of small pieces, most of which were arranged into two rings—one roughly 6 meters across, and one 2 meters wide—with the remaining pieces stacked into one of four piles or leaning against the rings. There were also indications of fires and burnt bones.
Image source: Etienne FABRE - SSAC
What the?

A professional archeologist, Francois Rouzaud, determined with carbon dating that a burnt bear bone found in the chamber was 47,600 years old, which made the stalagmite structures older than any known cave painting. It also put the cave squarely within the age of the Neanderthals since they were the only humans in France that early. No one had suspected them of being capable of constructing complex forms or doing anything that far underground.
After Rouzard suddenly died in 1999, exploration at the cave stopped until life-long caver Sophie Verheyden, vacationing in the area, heard about it and decided to try and uranium-date the stalagmites inside.
The team she assembled eventually determined that the stalagmites had been broken up by people 176,000 years ago, way farther back even than Rouzard had supposed.
There weren't any signs that Neanderthals lived in the cave, so it's a mystery what they were up to down there. Verheyden thinks it's unlikely that a solitary artist created the tableaux, and so an organized group of skilled workers must've been involved. And "When you see such a structure so far into the cave, you think of something cultural or religious, but that's not proven," Verheyden told The Atlantic.
Whatever they built, the Bruniquel Cave reveals some big surprises about Neanderthals: They had fire, they built things, and likely used tools. Add this to recent discoveries that suggest they buried their dead, made art, and maybe even had language, and these mysterious proto-humans start looking a lot more familiar. A lot more like homo sapiens, and a lot more like distant cousins lost to history.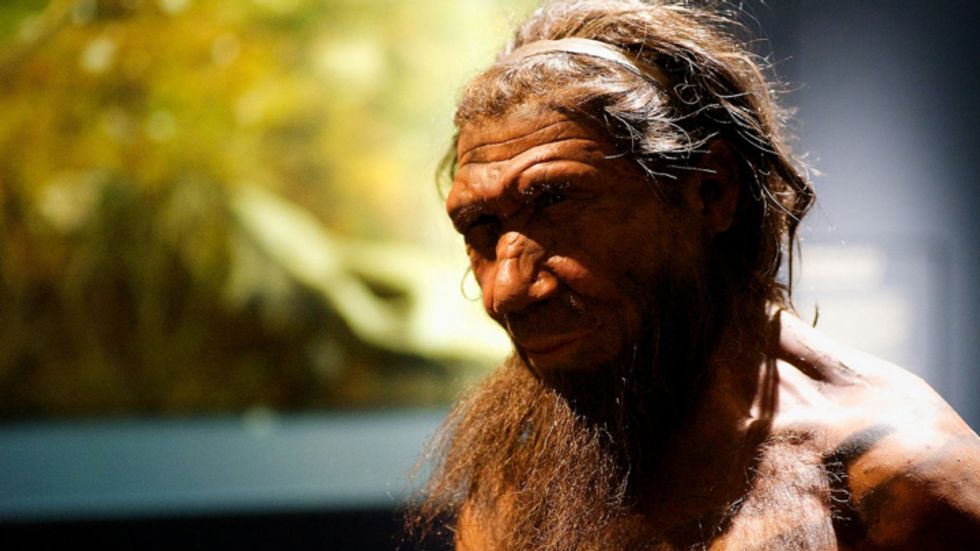 Paul Hudson/Flickr
A recent study used fMRI to compare the brains of psychopathic criminals with a group of 100 well-functioning individuals, finding striking similarities.
Mind & Brain
The study used psychological inventories to assess a group of violent criminals and healthy volunteers for psychopathy, and then examined how their brains responded to watching violent movie scenes.
The fMRI results showed that the brains of healthy subjects who scored high in psychopathic traits reacted similarly as the psychopathic criminal group. Both of these groups also showed atrophy in brain regions involved in regulating emotion.
The study adds complexity to common conceptions of what differentiates a psychopath from a "healthy" individual.
When considering what precisely makes someone a psychopath, the lines can be blurry.
Psychological research has shown that many people in society have some degree of malevolent personality traits, such as those described by the "dark triad": narcissism (entitled self-importance), Machiavellianism (strategic exploitation and deceit), and psychopathy (callousness and cynicism). But while people who score high in these traits are more likely to end up in prison, most of them are well functioning and don't engage in extreme antisocial behaviors.
Now, a new study published in Cerebral Cortex found that the brains of psychopathic criminals are structurally and functionally similar to many well-functioning, non-criminal individuals with psychopathic traits. The results suggest that psychopathy isn't a binary classification, but rather a "constellation" of personality traits that "vary in the non-incarcerated population with normal range of social functioning."
Assessing your inner psychopath
The researchers used functional magnetic resonance imaging (fMRI) to compare the brains of violent psychopathic criminals to those of healthy volunteers. All participants were assessed for psychopathy through commonly used inventories: the Hare Psychopathy Checklist-Revised and the Levenson Self-Report Psychopathy Scale.
Experimental design and sample stimuli. The subjects viewed a compilation of 137 movie clips with variable violent and nonviolent content.Nummenmaa et al.
Both groups watched a 26-minute-long medley of movie scenes that were selected to portray a "large variability of social and emotional content." Some scenes depicted intense violence. As participants watched the medley, fMRI recorded how various regions of their brains responded to the content.

The goal was to see whether the brains of psychopathic criminals looked and reacted similarly to the brains of healthy subjects who scored high in psychopathic traits. The results showed similar reactions: When both groups viewed violent scenes, the fMRI revealed strong reactions in the orbitofrontal cortex and anterior insula, brain regions associated with regulating emotion.
These similarities manifested as a positive association: The more psychopathic traits a healthy subject displayed, the more their brains responded like the criminal group. What's more, the fMRI revealed a similar association between psychopathic traits and brain structure, with those scoring high in psychopathy showing lower gray matter density in the orbitofrontal cortex and anterior insula.
There were some key differences between the groups, however. The researchers noted that the structural abnormalities in the healthy sample were mainly associated with primary psychopathic traits, which are: inclination to lie, lack of remorse, and callousness. Meanwhile, the functional responses of the healthy subjects were associated with secondary psychopathic traits: impulsivity, short temper, and low tolerance for frustration.
Overall, the study further illuminates some of the biological drivers of psychopathy, and it adds nuance to common conceptions of the differences between psychopathy and being "healthy."
Why do some psychopaths become criminals?
The million-dollar question remains unanswered: Why do some psychopaths end up in prison, while others (or, people who score high in psychopathic traits) lead well-functioning lives? The researchers couldn't give a definitive answer, but they did note that psychopathic criminals had lower connectivity within "key nodes of the social and emotional brain networks, including amygdala, insula, thalamus, and frontal pole."
"Thus, even though there are parallels in the regional responsiveness of the brain's affective circuit in the convicted psychopaths and well-functioning subjects with psychopathic traits, it is likely that the disrupted functional connectivity of this network is specific to criminal psychopathy."
Counterintuitively, directly combating misinformation online can spread it further. A different approach is needed.
Coronavirus
Like the coronavirus, engaging with misinformation can inadvertently cause it to spread.
Social media has a business model based on getting users to spend increasing amounts of time on their platforms, which is why they are hesitant to remove engaging content.
The best way to fight online misinformation is to drown it out with the truth.
A year ago, the Center for Countering Digital Hate warned of the parallel pandemics — the biological contagion of COVID-19 and the social contagion of misinformation, aiding the spread of the disease. Since the outbreak of COVID-19, anti-vaccine accounts have gained 10 million new social media followers, while we have witnessed arson attacks against 5G masts, hospital staff abused for treating COVID patients, and conspiracists addressing crowds of thousands.
Many have refused to follow guidance issued to control the spread of the virus, motivated by beliefs in falsehoods about its origins and effects. The reluctance we see in some to get the COVID vaccine is greater amongst those who rely on social media rather than traditional media for their information. In a pandemic, lies cost lives, and it has felt like a new conspiracy theory has sprung up online every day.
How we, as social media users, behave in response to misinformation can either enable or prevent it from being seen and believed by more people.
The rules are different online
Credit: Pool via Getty Images
If a colleague mentions in the office that Bill Gates planned the pandemic, or a friend at dinner tells the table that the COVID vaccine could make them infertile, the right thing to do is often to challenge their claims. We don't want anyone to be left believing these falsehoods.
But digital is different. The rules of physics online are not the same as they are in the offline world. We need new solutions for the problems we face online.
Now, imagine that in order to reply to your friend, you must first hand him a megaphone so that everyone within a five-block radius can hear what he has to say. It would do more damage than good, but this is essentially what we do when we engage with misinformation online.
Think about misinformation as being like the coronavirus — when we engage with it, we help to spread it to everyone else with whom we come into contact. If a public figure with a large following responds to a post containing misinformation, they ensure the post is seen by hundreds of thousands or even millions of people with one click. Social media algorithms also push content into more users' newsfeeds if it appears to be engaging, so lots of interactions from users with relatively small followings can still have unintended negative consequences.
The trend of people celebrating and posting photos of themselves or loved ones receiving the vaccine has been far more effective than any attempt to disprove a baseless claim about Bill Gates or 5G mobile technology.
Additionally, whereas we know our friend from the office or dinner, most of the misinformation we see online will come from strangers. They often will be from one of two groups — true believers, whose minds are made up, and professional propagandists, who profit from building large audiences online and selling them products (including false cures). Both of these groups use trolling tactics, that is, seeking to trigger people to respond in anger, thus helping them reach new audiences and thereby gaming the algorithm.
On the day the COVID vaccine was approved in the UK, anti-vaccine activists were able to provoke pro-vaccine voices into posting about thalidomide, exposing new audiences to a reason to distrust the medical establishment. Those who spread misinformation understand the rules of the game online; it's time those of us on the side of enlightenment values of truth and science did too.
How to fight online misinformation
Of course, it is much easier for social media companies to take on this issue than for us citizens. Research from the Center for Countering Digital Hate and Anti-Vax Watch last month found that 65% of anti-vaccine content on social media is linked to just twelve individuals and their organizations. Were the platforms to simply remove the accounts of these superspreaders, it would do a huge amount to reduce harmful misinformation.
The problem is that social media platforms are resistant to do so. These businesses have been built by constantly increasing the amount of time users spend on their platforms. Getting rid of the creators of engaging content that has millions of people hooked is antithetical to the business model. It will require intervention from governments to force tech companies to finally protect their users and society as a whole.
So, what can the rest of us do, while we await state regulation?
Instead of engaging, we should be outweighing the bad with the good. Every time you see a piece of harmful misinformation, share advice or information from a trusted source, like the WHO or BBC, on the same subject. The trend of people celebrating and posting photos of themselves or loved ones receiving the vaccine has been far more effective than any attempt to disprove a baseless claim about Bill Gates or 5G mobile technology. In the attention economy that governs tech platforms, drowning out is a better strategy than rebuttal.
Imran Ahmed is CEO of the Center for Countering Digital Hate.
Mind & Brain
Because of our ability to think about thinking, "the gap between ape and man is immeasurably greater than the one between amoeba and ape."
Scroll down to load more…