Big ideas.
Once a week.
Subscribe to our weekly newsletter.
The DMT 'elves' people meet while tripping
Why do so many people encounter these 'elves' after smoking large doses of DMT?
20 May, 2020
Pixabay
DMT is arguably the most powerful psychedelic drug on the planet, capable of producing intense hallucinations.
Researchers recently surveyed more than 2,000 DMT users about their encounters with 'entities' while tripping, finding that respondents often considered these strange encounters to be positive and meaningful.
The majority of respondents believed the beings they encountered were not hallucinations.
---
The psychedelic drug DMT can conjure powerful visions. In low doses, people often hallucinate fractal patterns, geometric shapes, and distortions in the physical space around them. But things get much stranger with higher doses.
When people consume enough DMT (N,N-Dimethyltryptamine) to have a "breakthrough" experience, they often encounter beings commonly known as 'elves' that seem autonomous, existing in a reality separate from our own.
The form and nature of DMT elves vary in reports, but one thing remains curiously constant: People tend to rank these encounters among the most meaningful experiences of their lives. For some people, these encounters change their beliefs about reality, the existence of an afterlife, and God.
A recent survey provides some of the most detailed information about these encounters to date. Published in the Journal of Psychopharmacology, the survey includes responses from 2,561 adults about their single most memorable encounter with a being (or beings) after smoking or vaporizing DMT. (DMT is an endogenous chemical, meaning the body produces it naturally, though it's currently a Schedule I drug in the U.S.)
Most respondents had used DMT about a dozen times in their life. The survey excluded experiences in which people consumed other drugs with DMT, and it didn't include experiences with ayahuasca, which is a brew that contains DMT.
The results show:
The encounters produced an emotional response for 99 percent of people. The most common emotions were "joy (65%), trust (63%), surprise (61%), love (59%), kindness (56%), friendship (48%), and fear (41%) during the encounter experience, with smaller proportions reporting emotions such as sadness (13%), distrust (10%), disgust (4%), or anger (3%)." Interestingly, 58 percent of respondents said the being also had an emotional response, almost always a positive one.
The encounters felt more "real" than reality. This was true for 81 percent of respondents during the encounter, and 65 percent after the encounter. One respondent wrote: "There was an indescribably powerful notion that this dimension in which the entity and I convened was infinitely more "real" than the consensus reality I usually inhabit. It felt truer than anything else I'd ever experienced."
People described the entities in different ways. The most commonly chosen labels "were "being," (60%) "guide," (43%) "spirit," (39%) "alien," (39%) or "helper" (34%). Other labels selected by small proportions of respondents (range 10–16%), included the terms "elf," "angel," "religious personage," or "plant spirit," and very few (range 1–5%) reporting the terms "gnome," "monster," or a "deceased" person."
Most people said the beings weren't hallucinations. About three-quarters of respondents said they believe the being was real, but it exists in some kind of different dimension or reality. Only 9 percent said the being existed "completely within myself."
Most described the beings positively. "When asked about the attributes of the entity, a majority of the sample reported that the entity was conscious (96%), intelligent (96%), benevolent (78%), sacred (70%), had agency in the world (54%), and was positively judgmental (52%). Fewer reported that the entity was petitionable (23%), negatively judgmental (16%), or malicious (11%)."
Most received a message during the encounter. About two-thirds of respondents said they received "a message, task, mission, purpose, or insight from the entity encounter experience."
What kinds of messages? Some people were shown that death isn't the end, that everything and everyone is connected. Others had personal insights revealed to them, such as bad behaviors that they should stop.
Some messages were strangely practical — one respondent said the beings revealed the location of a Zippo lighter that had been missing (it was buried deep in a couch, go figure). There was also the respondent who said a being "was teaching me the rules/regulations of the NFL."
The encounters were often followed by lasting changes in well-being and beliefs. About one-quarter of respondents said they were atheist before the encounter, but only 10 percent said they were after.
"Additionally, approximately one-third (36%) of respondents reported that before the encounter their belief system included a belief in ultimate reality, higher power, God, or universal divinity, but a significantly larger percentage (58%) of respondents reported this belief system after the encounter."
What's more, 89 percent of respondents said the encounter led to lasting improvements in well-being or life-satisfaction. Why? The researchers suggested that "ontological shock" — the state of being forced to question your worldview — may "play an important role in the enduring positive life changes in attitudes, moods, and behavior attributed to these experiences."
"As such, it is possible that, under appropriate supportive set and setting conditions, DMT could show promise as an adjunct to therapy for people with mood and behavioral problems (e.g. depression and addiction)," the researchers wrote.
The study also noted that DMT encounters have a lot in common with near-death and alien-abduction experiences, which also have been shown to produce long-lasting changes in personal beliefs.
​What are DMT elves?
Do DMT entities actually exist in some other dimension, or are they hallucinations that the brain generates when its visual processing system is overwhelmed by a powerful tryptamine?

The late American ethnobotanist Terence McKenna believed that DMT beings — which he called "machine elves" — were real. Here's how he once described one of his DMT experiences:
"I sank to the floor. I [experienced] this hallucination of tumbling forward into these fractal geometric spaces made of light and then I found myself in the equivalent of the Pope's private chapel and there were insect elf machines proffering strange little tablets with strange writing on them, and I was aghast, completely appalled, because [in] a matter of seconds... my entire expectation of the nature of the world was just being shredded in front of me. I've never actually gotten over it.
These self-transforming machine elf creatures were speaking in a colored language which condensed into rotating machines that were like Fabergé eggs but crafted out of luminescent superconducting ceramics and liquid crystal gels. All this stuff was just so weird and so alien and so un-English-able that it was a complete shock — I mean, the literal turning inside out of [my] intellectual universe!"
McKenna believed machine elves exist in alternate realities, which form a "raging universe of active intelligence that is transhuman, hyperdimensional, and extremely alien." But he was far from the first to believe that DMT is a doorway to other realms.
Indigenous peoples of the Amazon basin have used ayahuasca in religious ceremonies for centuries, though no one is quite sure when they first started experimenting with the psychedelic brew. The Jibaro people of the Ecuadorian rainforest believed ayahuasca allowed regular people, not just shamans, to speak directly to the gods. The 19th-century Ecuadorian geographer Villavicencio wrote of other Amazonian shamans who used ahaysuca (known as the "vine of the dead") to contact spirits and foresee enemy battle plans.
In the West, research on DMT experiences has been sparse yet interesting. The psychiatrist Rick Strassman conducted some of the first human DMT trials at the University of New Mexico in the early 1990s. He found that "at least half" of his research subjects had encountered some form of entity after taking DMT.
"I was neither intellectually nor emotionally prepared for the frequency with which contact with beings occurred in our studies, nor the often utterly bizarre nature of these experiences," Strassman wrote in his book "DMT The Spirit Molecule".
Of course, many people believe that DMT elves are merely hallucinations. But the question remains: Why do so many people encounter similar beings?
One answer: That's exactly what people expect to encounter. After all, it's likely that people who seek out a rare and intense drug like DMT have researched it, and possibly stumbled across McKenna's machine-elf idea. So, that's the image their brain produces. (An Erowid survey on the topic of DMT beings once included the question: "Do you know who Terence McKenna is?" 54 percent of respondents reported having some knowledge of him.)
Another explanation comes from a 2004 DoseNation article by James Kent, the author of "Psychedelic Information Theory — Shamanism in the Age of Reason". Kent argued that "humans across all cultures have alien and heavenly archetypes embedded in their subconscious, and psychedelic tryptamines can access the archetypes with a high level of success."
Kent said he's encountered DMT elves during his own experiences, and that he's even managed to have "rudimentary conversations of sorts" with them. In his personal experiments, he tested whether these beings could reveal to him any information that he himself would be incapable of knowing. They couldn't.
Ayahuasca Ceremony in the Peruvian Amazon
Manuel Medir / Getty
"Whenever I tried to pull any information out of the entities regarding themselves, the data that was given up was always relevant only to me. The elves could not give me any piece of data I did not already know, nor could their existence be sustained under any kind of prolonged scrutiny."
It's also worth noting that not all people who smoke DMT see beings, and that some see beings that look nothing like elves or aliens. The diversity of these reports seems to count against the argument that DMT beings exist in some objective alternate reality.
In other words, if DMT beings exist in some other dimension, shouldn't they appear the same to anyone who visits that dimension? Or do the beings assume a different appearance based on who's looking? Or are there many types of beings in the DMT universe, but most look like elves?
You might start seeing elves just trying to sort this stuff out.
Ultimately, nobody knows exactly why DMT beings take the forms they do, or whether they're just figments of overstimulated imaginations. And the answers might be beside the point.
In the recent survey, 60 percent of participants said their encounter with DMT beings "produced a desirable alteration in their conception of reality whereas only 1% indicated an undesirable alteration in their conception of reality."
DMT elves may be nothing more than projections of the subconscious mind. But these bizarre encounters do help some people find real meaning, whether it's through personal revelation or the raw power of ontological shock.
Some evidence attributes a certain neurological phenomenon to a near death experience.
Credit: Petr Kratochvil. PublicDomainPictures.net.
Surprising Science
Time of death is considered when a person has gone into cardiac arrest. This is the cessation of the electrical impulse that drive the heartbeat. As a result, the heart locks up. The moment the heart stops is considered time of death. But does death overtake our mind immediately afterward or does it slowly creep in?
Some scientists have studied near death experiences (NDEs) to try to gain insights into how death overcomes the brain. What they've found is remarkable, a surge of electricity enters the brain moments before brain death. One 2013 study out of the University of Michigan, which examined electrical signals inside the heads of rats, found they entered a hyper-alert state just before death.
Scientists are beginning to think an NDE is caused by reduced blood flow, coupled with abnormal electrical behavior inside the brain. So the stereotypical tunnel of white light might derive from a surge in neural activity. Dr. Sam Parnia is the director of critical care and resuscitation research, at NYU Langone School of Medicine, in New York City. He and colleagues are investigating exactly how the brain dies.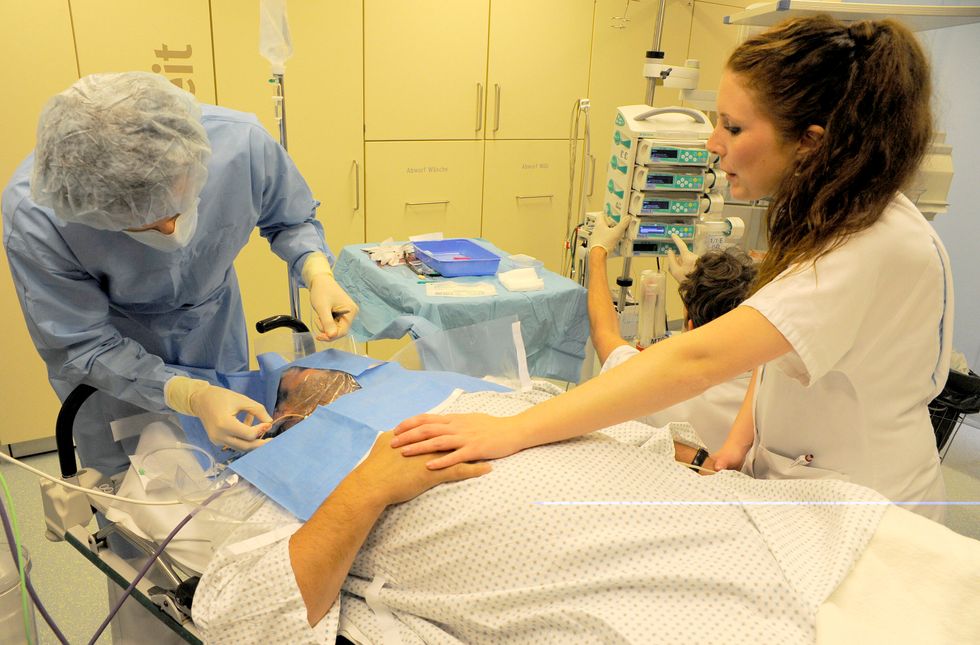 Our cerebral cortex is likely active 2–20 seconds after cardiac arrest. Credit: Getty Images.
In previous work, he's conducted animal studies looking at the moments before and after death. He's also investigated near death experiences. "Many times, those who have had such experiences talk about floating around the room and being aware of the medical team working on their body," Dr. Parnia told Live Science. "They'll describe watching doctors and nurses working and they'll describe having awareness of full conversations, of visual things that were going on, that would otherwise not be known to them."
Medical staff confirm this, he said. So how could those who were technically dead be cognizant of what's happening around them? Even after our breathing and heartbeat stops, we're conscious for about 2–20 seconds, Dr. Parnia says. That's how long the cerebral cortex is thought to last without oxygen. This is the thinking and decision-making part of the brain. It's also responsible for deciphering the information gathered from our senses.
According to Parnia during this period, "You lose all your brain stem reflexes — your gag reflex, your pupil reflex, all that is gone." Brain waves from the cerebral cortex soon become undetectable. Even so, it can take hours for our thinking organ to fully shut down.
Usually, when the heart stops beating, someone performs CPR (cardiopulmonary resuscitation). This will provide about 15% of the oxygen needed to perform normal brain function. "If you manage to restart the heart, which is what CPR attempts to do, you'll gradually start to get the brain functioning again," Parnia said. "The longer you're doing CPR, those brain cell death pathways are still happening — they're just happening at a slightly slower rate."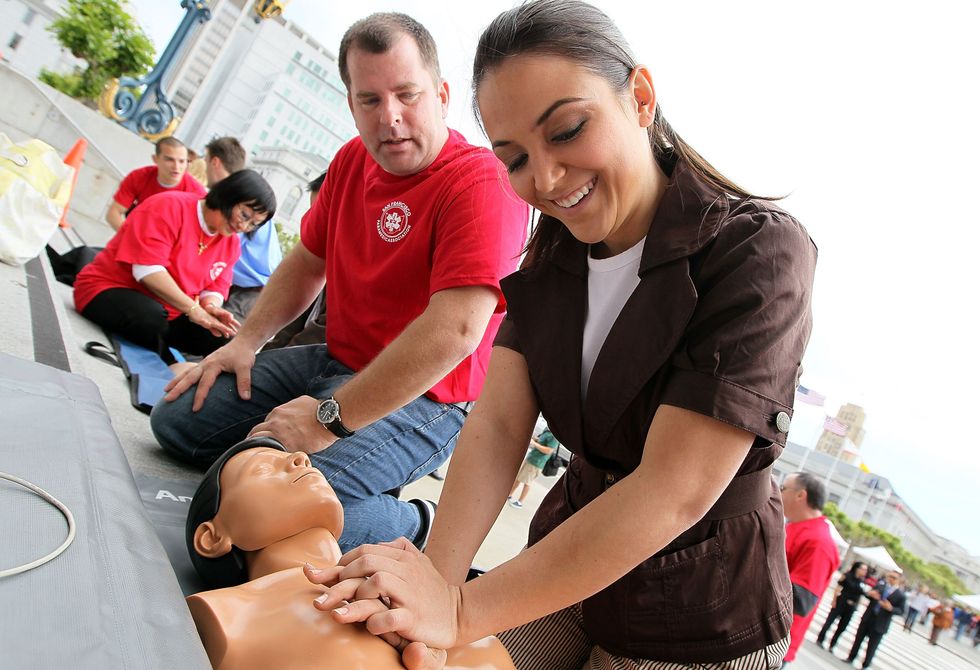 CPR may help retain some brain function for longer. Credit: Getty Images.
Dr. Parnia's latest, ongoing study looks at large numbers of Europeans and Americans who have experienced cardiac arrest and survived. "In the same way that a group of researchers might be studying the qualitative nature of the human experience of 'love,'" he said, "we're trying to understand the exact features that people experience when they go through death, because we understand that this is going to reflect the universal experience we're all going to have when we die."
One of the objectives is to observe how the brain acts and reacts during cardiac arrest, through the process of death, and during revival. How much oxygen exactly does it take to reboot the brain? How is the brain affected after revival? Learning where the lines are drawn might improve resuscitation techniques, which could save countless lives per year.
"At the same time, we also study the human mind and consciousness in the context of death," Parnia said, "to understand whether consciousness becomes annihilated or whether it continues after you've died for some period of time — and how that relates to what's happening inside the brain in real time."
For more on the scientific perspective on a near death experience, click here:
That's as fast as a bullet train in Japan.
Surprising Science
The way an elephant manipulates its trunk to eat and drink could lead to better robots, researchers say.
Elephants dilate their nostrils to create more space in their trunks, allowing them to store up to 5.5 liters (1.45 gallons) of water, according to their new study.
They can also suck up three liters (0.79 gallons) per second—a speed 30 times faster than a human sneeze (150 meters per second/330 mph), the researchers found.
The researchers wanted to better understand the physics of how elephants use their trunks to move and manipulate air, water, food, and other objects. They also wanted to learn if the mechanics could inspire the creation of more efficient robots that use air motion to hold and move things.
Photo by David Clode on Unsplash
While octopuses use jets of water to propel themselves and archer fish shoot water above the surface to catch insects, elephants are the only animals able to use suction both on land and underwater.

"An elephant eats about 400 pounds of food a day, but very little is known about how they use their trunks to pick up lightweight food and water for 18 hours, every day," says lead author Andrew Schulz, a mechanical engineering PhD student at the Georgia Institute of Technology. "It turns out their trunks act like suitcases, capable of expanding when necessary."
Sucking up tortilla chips without breaking them
Schulz and his colleagues worked with veterinarians at Zoo Atlanta, studying elephants as they ate various foods. For large rutabaga cubes, for example, the animal grabbed and collected them. It sucked up smaller cubes and made a loud vacuuming sound, like the sound of a person slurping noodles, before transferring the vegetables to its mouth.
To learn more about suction, the researchers gave elephants a tortilla chip and measured the applied force. Sometimes the animal pressed down on the chip and breathed in, suspending the chip on the tip of its trunk without breaking it, similar to a person inhaling a piece of paper onto their mouth. Other times the elephant applied suction from a distance, drawing the chip to the edge of its trunk.
Elephants inhale at speeds comparable to Japan's 300 mph bullet trains.

"An elephant uses its trunk like a Swiss Army knife," says David Hu, Schulz's advisor and a professor in Georgia Tech's School of Mechanical Engineering. "It can detect scents and grab things. Other times it blows objects away like a leaf blower or sniffs them in like a vacuum."
By watching elephants inhale liquid from an aquarium, the team was able to time the durations and measure volume. In just 1.5 seconds, the trunk sucked up 3.7 liters (just shy of 1 gallon), the equivalent of 20 toilets flushing simultaneously.
Soft robots and elephant conservation
The researchers used an ultrasonic probe to take trunk wall measurements and see how the trunk's inner muscles work. By contracting those muscles, the animal dilates its nostrils up to 30%. This decreases the thickness of the walls and expands nasal volume by 64%.
"At first it didn't make sense: an elephant's nasal passage is relatively small and it was inhaling more water than it should," Schulz says. "It wasn't until we saw the ultrasonographic images and watched the nostrils expand that we realized how they did it. Air makes the walls open, and the animal can store far more water than we originally estimated."
Based on the pressures applied, Schulz and the team suggest that elephants inhale at speeds comparable to Japan's 300-mph bullet trains.
Schulz says these unique characteristics have applications in soft robotics and conservation efforts.
"By investigating the mechanics and physics behind trunk muscle movements, we can apply the physical mechanisms—combinations of suction and grasping—to find new ways to build robots," Schulz says.
"In the meantime, the African elephant is now listed as endangered because of poaching and loss of habitat. Its trunk makes it a unique species to study. By learning more about them, we can learn how to better conserve elephants in the wild."
The paper appears in the Journal of the Royal Society Interface. The US Army Research Laboratory and the US Army Research Office 294 Mechanical Sciences Division, Complex Dynamics and Systems Program, funded the work. Any opinions, findings, and conclusions or recommendations expressed in this material are those of the authors and do not necessarily reflect the view of the sponsoring agency.
Source: Georgia Tech
Original Study DOI: 10.1098/rsif.2021.0215
Reprinted with permission of Futurity. Read the original article.
The experience of life flashing before one's eyes has been reported for well over a century, but where's the science behind it?
Mind & Brain
At the age of 16, when Tony Kofi was an apprentice builder living in Nottingham, he fell from the third story of a building. Time seemed to slow down massively, and he saw a complex series of images flash before his eyes.
As he described it, "In my mind's eye I saw many, many things: children that I hadn't even had yet, friends that I had never seen but are now my friends. The thing that really stuck in my mind was playing an instrument". Then Tony landed on his head and lost consciousness.
When he came to at the hospital, he felt like a different person and didn't want to return to his previous life. Over the following weeks, the images kept flashing back into his mind. He felt that he was "being shown something" and that the images represented his future.
Later, Tony saw a picture of a saxophone and recognized it as the instrument he'd seen himself playing. He used his compensation money from the accident to buy one. Now, Tony Kofi is one of the UK's most successful jazz musicians, having won the BBC Jazz awards twice, in 2005 and 2008.
Though Tony's belief that he saw into his future is uncommon, it's by no means uncommon for people to report witnessing multiple scenes from their past during split-second emergency situations. After all, this is where the phrase "my life flashed before my eyes" comes from.
But what explains this phenomenon? Psychologists have proposed a number of explanations, but I'd argue the key to understanding Tony's experience lies in a different interpretation of time itself.
When life flashes before our eyes
The experience of life flashing before one's eyes has been reported for well over a century. In 1892, a Swiss geologist named Albert Heim fell from a precipice while mountain climbing. In his account of the fall, he wrote is was "as if on a distant stage, my whole past life [was] playing itself out in numerous scenes".
More recently, in July 2005, a young woman called Gill Hicks was sitting near one of the bombs that exploded on the London Underground. In the minutes after the accident, she hovered on the brink of death where, as she describes it: "my life was flashing before my eyes, flickering through every scene, every happy and sad moment, everything I have ever done, said, experienced".
In some cases, people don't see a review of their whole lives, but a series of past experiences and events that have special significance to them.
Explaining life reviews
Perhaps surprisingly, given how common it is, the "life review experience" has been studied very little. A handful of theories have been put forward, but they're understandably tentative and rather vague.
For example, a group of Israeli researchers suggested in 2017 that our life events may exist as a continuum in our minds, and may come to the forefront in extreme conditions of psychological and physiological stress.
Another theory is that, when we're close to death, our memories suddenly "unload" themselves, like the contents of a skip being dumped. This could be related to "cortical disinhibition" – a breaking down of the normal regulatory processes of the brain – in highly stressful or dangerous situations, causing a "cascade" of mental impressions.
But the life review is usually reported as a serene and ordered experience, completely unlike the kind of chaotic cascade of experiences associated with cortical disinhibition. And none of these theories explain how it's possible for such a vast amount of information – in many cases, all the events of a person's life – to manifest themselves in a period of a few seconds, and often far less.
Thinking in 'spatial' time
An alternative explanation is to think of time in a "spatial" sense. Our commonsense view of time is as an arrow that moves from the past through the present towards the future, in which we only have direct access to the present. But modern physics has cast doubt on this simple linear view of time.
Indeed, since Einstein's theory of relativity, some physicists have adopted a "spatial" view of time. They argue we live in a static "block universe" in which time is spread out in a kind of panorama where the past, the present and the future co-exist simultaneously.
The modern physicist Carlo Rovelli – author of the best-selling The Order of Time – also holds the view that linear time doesn't exist as a universal fact. This idea reflects the view of the philosopher Immanuel Kant, who argued that time is not an objectively real phenomenon, but a construct of the human mind.
This could explain why some people are able to review the events of their whole lives in an instant. A good deal of previous research – including my own – has suggested that our normal perception of time is simply a product of our normal state of consciousness.
In many altered states of consciousness, time slows down so dramatically that seconds seem to stretch out into minutes. This is a common feature of emergency situations, as well as states of deep meditation, experiences on psychedelic drugs and when athletes are "in the zone".
The limits of understanding
But what about Tony Kofi's apparent visions of his future? Did he really glimpse scenes from his future life? Did he see himself playing the saxophone because somehow his future as a musician was already established?
There are obviously some mundane interpretations of Tony's experience. Perhaps, for instance, he became a saxophone player simply because he saw himself playing it in his vision. But I don't think it's impossible that Tony did glimpse future events.
If time really does exist in a spatial sense – and if it's true that time is a construct of the human mind – then perhaps in some way future events may already be present, just as past events are still present.
Admittedly, this is very difficult to make sense of. But why should everything make sense to us? As I have suggested in a recent book, there must be some aspects of reality that are beyond our comprehension. After all, we're just animals, with a limited awareness of reality. And perhaps more than any other phenomenon, this is especially true of time.

Steve Taylor, Senior Lecturer in Psychology, Leeds Beckett University
This article is republished from The Conversation under a Creative Commons license. Read the original article.
Scroll down to load more…