Big ideas.
Once a week.
Subscribe to our weekly newsletter.
How to Spot a Creep (According to Science!)
Creepy is a hard thing to pin down. Thankfully, science has just done it. Here are the definitive characteristics of creepiness.
26 April, 2016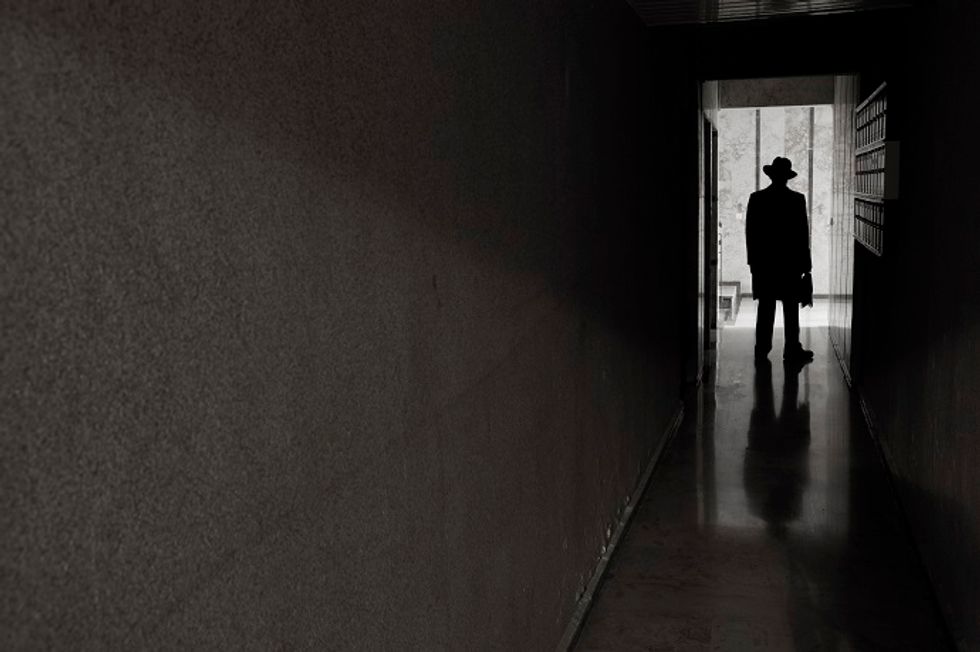 ---
Creepy is a hard idea to pin down. It's more a feeling than a definitive set of characteristics -- which is exactly why scientists at Knox University decided to create some.
Psychologists Francis McAndrew and Sara Koehnke started by trying to define triggers for creepiness: "It is our belief that creepiness is anxiety aroused by the ambiguity of whether there is something to fear... and by the ambiguity of the threat," they write in a New Ideas in Psychology paper. They continue:
Most people have probably used the concept of "creepiness" to describe their reactions to individuals whom they have encountered, and an initial perception of an individual as "creepy" undoubtedly creates an impediment to comfortable future social interactions with that person.
Using that concept as a hypothesis, they gave an international group of 1,342 people (1,029 females and 312 male) this prompt: "Imagine a close friend of yours whose judgment you trust. Now imagine that this friend tells you that she or he just met someone for the first time and tells you that the person was "creepy.""
With that prompt, they ranked 44 different patterns of behavior, 21 occupations, and dozens of situations and hobbies on a scale of 1-5 in creepiness - including, "I am uncomfortable because I cannot predict how he or she will behave," "I think that the person has a sexual interest in me," and "People are creepier online than when I meet them face-to-face." The least threatening ones were ranked 1 while the most threatening/off-putting/inappropriate ones that were most likely to make you run screaming were ranked 5. After calculating all the numbers and weighing the whole set for averages, they had the world's first empirical dataset for creepiness.
So what behaviors are the most creepy? The creepiest things people can do, according to science, are:
Watching a friend before interacting
Touching a friend frequently
Steering a conversation toward sex
Asking to take picture of friend
Asking for personal details of friend's family
Being the opposite sex of friend
Greasy Hair
Never looking friend in the eye
Showing little emotional expression
If you want to vet a potential date, here are the creepiest things people do and look like, according to science:
The person stands too close to your friend
The person has a peculiar smile
The person has bulging eyes
The person has long fingers
The person has unkempt hair
The person has very pale skin
The person has bags under his or her eyes
The person is dressed oddly
The person licks his or her lips frequently
The person is wearing dirty clothes
The person laughs at unpredictable times
The person makes it nearly impossible to leave the conversation without appearing rude
The person relentlessly steers the conversation toward one topic
TL; DR - if someone looks kinda like Dracula and they're talking or laughing at odd times, they're creepy. If they're registering all of these traits, like in this example, RUN:
If those are the creepiest things people can do and say, what are the least creepy things? Here are the least creepy characteristics, behaviors and habits that people can do or be, according to science:
Being a child
Talking a lot about clothes
Dressing fashionably
Muscular
Frequently playing with hair
Wearing revealing clothing
Crossing arms
Obese
Nodding frequently
TL;DR - the opposite of creepy is apparently adorable:
Credit: Pexels
Overall, the study participants thought men were far creepier than women. That may be because there were so many more females in the study, and females rated anyone who could pose a sexual threat as higher on the creepy scale: "The results are consistent with the hypothesis that being 'creeped out' is an evolved adaptive emotional response to ambiguity about the presence of threat that enables us to maintain vigilance during times of uncertainty," write McAndrew and Koehnke.
While there were other interesting patterns as well -- like older people being less likely to be creeped out than younger people -- the biggest takeaway seems to be that any behavior or characteristic that seems even slightly sexually threatening is creepy. Some of them can't be helped because they're physical traits (sorry, Steve Buscemi; bulging eyes are officially creepy) or linked to social disorders like Aspergers and Autism. Thankfully, most of them can be corrected by improving your social skills -- which you can do in under 30 minutes, thanks to entrepreneur Ramit Sethi:
Inventions with revolutionary potential made by a mysterious aerospace engineer for the U.S. Navy come to light.
Credit: Getty Images
Surprising Science
U.S. Navy holds patents for enigmatic inventions by aerospace engineer Dr. Salvatore Pais.
Pais came up with technology that can "engineer" reality, devising an ultrafast craft, a fusion reactor, and more.
While mostly theoretical at this point, the inventions could transform energy, space, and military sectors.
The U.S. Navy controls patents for some futuristic and outlandish technologies, some of which, dubbed "the UFO patents," came to light recently. Of particular note are inventions by the somewhat mysterious Dr. Salvatore Cezar Pais, whose tech claims to be able to "engineer reality." His slate of highly-ambitious, borderline sci-fi designs meant for use by the U.S. government range from gravitational wave generators and compact fusion reactors to next-gen hybrid aerospace-underwater crafts with revolutionary propulsion systems, and beyond.
Of course, the existence of patents does not mean these technologies have actually been created, but there is evidence that some demonstrations of operability have been successfully carried out. As investigated and reported by The War Zone, a possible reason why some of the patents may have been taken on by the Navy is that the Chinese military may also be developing similar advanced gadgets.
Among Dr. Pais's patents are designs, approved in 2018, for an aerospace-underwater craft of incredible speed and maneuverability. This cone-shaped vehicle can potentially fly just as well anywhere it may be, whether air, water or space, without leaving any heat signatures. It can achieve this by creating a quantum vacuum around itself with a very dense polarized energy field. This vacuum would allow it to repel any molecule the craft comes in contact with, no matter the medium. Manipulating "quantum field fluctuations in the local vacuum energy state," would help reduce the craft's inertia. The polarized vacuum would dramatically decrease any elemental resistance and lead to "extreme speeds," claims the paper.
Not only that, if the vacuum-creating technology can be engineered, we'd also be able to "engineer the fabric of our reality at the most fundamental level," states the patent. This would lead to major advancements in aerospace propulsion and generating power. Not to mention other reality-changing outcomes that come to mind.
Among Pais's other patents are inventions that stem from similar thinking, outlining pieces of technology necessary to make his creations come to fruition. His paper presented in 2019, titled "Room Temperature Superconducting System for Use on a Hybrid Aerospace Undersea Craft," proposes a system that can achieve superconductivity at room temperatures. This would become "a highly disruptive technology, capable of a total paradigm change in Science and Technology," conveys Pais.
High frequency gravitational wave generator.
Credit: Dr. Salvatore Pais
Another invention devised by Pais is an electromagnetic field generator that could generate "an impenetrable defensive shield to sea and land as well as space-based military and civilian assets." This shield could protect from threats like anti-ship ballistic missiles, cruise missiles that evade radar, coronal mass ejections, military satellites, and even asteroids.
Dr. Pais's ideas center around the phenomenon he dubbed "The Pais Effect". He referred to it in his writings as the "controlled motion of electrically charged matter (from solid to plasma) via accelerated spin and/or accelerated vibration under rapid (yet smooth) acceleration-deceleration-acceleration transients." In less jargon-heavy terms, Pais claims to have figured out how to spin electromagnetic fields in order to contain a fusion reaction – an accomplishment that would lead to a tremendous change in power consumption and an abundance of energy.
According to his bio in a recently published paper on a new Plasma Compression Fusion Device, which could transform energy production, Dr. Pais is a mechanical and aerospace engineer working at the Naval Air Warfare Center Aircraft Division (NAWCAD), which is headquartered in Patuxent River, Maryland. Holding a Ph.D. from Case Western Reserve University in Cleveland, Ohio, Pais was a NASA Research Fellow and worked with Northrop Grumman Aerospace Systems. His current Department of Defense work involves his "advanced knowledge of theory, analysis, and modern experimental and computational methods in aerodynamics, along with an understanding of air-vehicle and missile design, especially in the domain of hypersonic power plant and vehicle design." He also has expert knowledge of electrooptics, emerging quantum technologies (laser power generation in particular), high-energy electromagnetic field generation, and the "breakthrough field of room temperature superconductivity, as related to advanced field propulsion."
Suffice it to say, with such a list of research credentials that would make Nikola Tesla proud, Dr. Pais seems well-positioned to carry out groundbreaking work.
A craft using an inertial mass reduction device.
Credit: Salvatore Pais
The patents won't necessarily lead to these technologies ever seeing the light of day. The research has its share of detractors and nonbelievers among other scientists, who think the amount of energy required for the fields described by Pais and his ideas on electromagnetic propulsions are well beyond the scope of current tech and are nearly impossible. Yet investigators at The War Zone found comments from Navy officials that indicate the inventions are being looked at seriously enough, and some tests are taking place.
If you'd like to read through Pais's patents yourself, check them out here.
Laser Augmented Turbojet Propulsion System
Credit: Dr. Salvatore Pais
Israeli food-tech company DouxMatok (Hebrew for "double sweet") has created a sugary product that uses 40 percent less actual sugar yet still tastes sweet.
Photo: pixel-shot / Adobe Stock
Surprising Science
Consumers are fed a lot of nonsense about sugar and fad diets.
Our bodies must consume sugar; the question is how much and in what form.
Companies are trying to develop healthier sugars to combat our "sugar addiction."
Can we hack sugar to be healthy? www.youtube.com
Humans consume too much sugar. This is a refrain you've likely read for years, if not decades. As with any generality, that topline assessment misses nuance. While certainly true that we over-consume sugar in the Western diet — added sugar goes by at least 61 names and has been found in 74 percent of processed foods — sugar itself is a necessary carbohydrate. In fact, core metabolic processes, like glycolysis and the Krebs cycle, largely revolve around the processing of glucose.

This fact has caused some researchers to ask: can we create healthy sugar?
A primer on sugar and fad diets
Trying to make sense of the market for sugar substitutes is not necessarily helpful. Reading a nutrition label with terms like coconut sugar, xylitol, sucralose, Ace-k, or non-GMO dextrose leaves consumers scratching their heads. The aggressive agave nectar marketing campaign a few years ago caused many companies to market their products as having "real sugar." (As opposed to what? Fake sugar?)
The biochemical story of what happens to this carbohydrate inside of the human body is complex, however, and rarely will be answered by a company trying to sell its wares.
Monosaccharides, a.k.a. "simple sugars," are quite common. Galactose, glucose, and fructose fall in this category. Compound sugars, a.k.a. disaccharides, include sucrose (table sugar), maltose, and lactose. Then there are chemicals like sugar alcohols and glycerol, which are sweet but not actually sugar.
Most plants contain sugar. Fruit and honey also contain readily available simple sugars. Two common sources for processed food sugars are sugarcane and sugar beets. The cheapest to produce is corn syrup, which has been at the heart of the sugar debate for years. Due to farm subsidies, an overproduction of corn has led to this class of sugars being ubiquitous in the Western diet. Biochemically, believe it or not, high-fructose corn syrup isn't all that different from honey.
Historically, sugar was a rare and valuable commodity, often hard-won through gnawing on sugarcane. Fruits provide a quick and reliable burst of energy through their high sugar content, an especially useful trait for hunter-gatherers who relied on such fuel. As humans became addicted to sweetness, eschewing other flavor profiles to get right to the sugar rush, we figured out how to produce (and overproduce) it rapidly.
Thus, we got diet fads like "juice cleanses," which offer a rush of sugar without the fiber that slows its absorption into your bloodstream. Fiber is the most important part of the fruit. Detoxifying through such cleanses is a myth. Given the climate for sweet alternatives and nutritional shortcuts, however, we've grown susceptible to flashy marketing over solid nutritional science.
Israeli food-tech company DouxMatok (Hebrew for "double sweet") has created a sugary product that uses 40 percent less actual sugar yet still tastes like the sucrose that you would find in many products. The team noticed that our sweet receptors only detect about 20 percent of the sugar molecules that we consume, meaning the other 80 percent goes right into our bodies unnoticed by our mouths.
Health risks of sugar
Sugar science is constantly evolving. The WHO currently recommends a maximum of five to ten teaspoons (roughly 50 grams) of added sugar per day. To put that into perspective, Americans average 17 teaspoons (71 grams) per day — a whopping 57 pounds of sugar every year. One can of Coke contains nearly 10 teaspoons of sugar. Orange juice isn't much better.
This excess sugar leads to many potential health problems. A 2014 study in JAMA Internal Medicine states it bluntly: people who received between 17 and 21 percent of their daily calories from sugar had a 38 percent higher risk of dying from cardiovascular disease than those who consumed 8 percent of their calories from sugar. Harvard nutrition professor Dr. Frank Hu summarized his research with a simple assessment: "Basically, the higher the intake of added sugar, the higher the risk for heart disease."
The problems don't stop there. Sugar is metabolized similarly in the liver as alcohol — indeed, many alcoholic beverages contain high amounts of sugar — and the carbohydrates are turned into fat. As you gain weight, the health problems continue to escalate.
Issues with overconsumption of sugar include:
Photo: aboikos / Adobe Stock
Common sugar substitutes

Regardless of negative health effects, people love sweet foods. The desire for sweet-tasting foods is biologically programmed into us. The problem isn't eating sugar-rich foods per se; it's excessive consumption. Public health advice to cut down isn't working, and so a lot of companies are trying to offer alternatives.
High-intensity sweeteners are the most common substitute. These compounds are much sweeter than table sugar, meaning you need less of them in order to achieve the same level of sweetness. In America, there are six FDA-approved sweeteners in this category:
Aspartame
Sucralose
Neotame
Acesulfame potassium (Ace-K)
Saccharin
Advantame
Other common sugar substitutes include Stevia, sugar alcohols, honey, and agave nectar.
Acesulfame Potassium (Ace-K). Most commonly known under its trade names, Sunett and Sweet One, this potassium salt was first discovered in 1967. Two hundred times sweeter than common sugar, research has shown that Ace-K has no effect on body weight. Concerns over its possible carcinogenic effects were dismissed by the FDA, though as with all sugar substitutes, research is ongoing.
Advantame. This non-caloric sweetener is a whopping 20,000 times sweeter than sucrose and is commonly used in gum, drinks, and candy. It is approved in the U.S. as a flavor enhancer except in meat and poultry. It was recognized as safe by the European Food Safety Authority in 2013.
Agave syrup. This sweetener from the agave cactus was commonly used in health circles for years. It contains 56 percent fructose and dissolves quickly, making it ideal for cooking. Blue-agave syrup is between 1.4 and 1.6 times sweeter than sugar, though, and being over half fructose in composition, it also has many of the same detrimental effects as sugar.
Aspartame. As with Ace-K, aspartame is 200 times sweeter than sucrose. First approved by the FDA in 1981, this peptide is one of the most widely tested food ingredients and has been found to be safe. That said, people who suffer from a rare inherited disease, phenylketonuria, cannot consume aspartame, which is why any foods sold in America must list this ingredient with a warning label.
Honey. Foods featuring honey are often marketed as containing "real honey," though in reality, its composition is similar to sucrose (it contains fructose and glucose), and it is roughly as sweet as sucrose. Anyone consuming honey should heed the same warnings as with common sugar.
Neotame. The aspartame analog, created by NutraSweet, is 8,000 times sweeter than sugar. First approved by the FDA in 2002, Neotame is common in colas, gums, yogurts, cakes, and drink powders. It's also used to cover the bitter taste of coffee.
Saccharin. This well-known sodium salt is roughly 400 times sweeter than common sugar. While used in numerous drinks, candies, and even medicine, it produces a metallic aftertaste. Considered safe for diabetics, saccharin has no nutritional value and is generally safe — though, anyone with an allergy to sulfonamide could experience symptoms after consuming saccharin.
Stevia. Derived from the South American Stevia rebaudiana plant, it's "generally recognized as safe" by the FDA. Up to 150 times sweeter than sucrose, stevia is a common additive in many health food products, though some consumers don't like its bitter aftertaste. The plant itself has been in use for at least 1,500 years as a tea sweetener and medicine.
Sugar alcohols. Sugar alcohols have been all the rage in keto products over the last few years. Otherwise known as polyols, they are actually less sweet than sugar, marketed for not spiking blood glucose levels. Common sugar alcohols include sorbitol, xylitol, and lactitol. This family of sweeteners is considered safe.
Sucralose. Six hundred times sweeter than sugar, sucralose is the most common artificial sweetener in the world. Deemed safe by governing bodies in America, New Zealand, Australia, Canada, and Europe, it is appropriate for diabetics and does not cause tooth decay. The most common iteration of sucralose is Splenda, which is mixed with maltodextrin and dextrose and sold worldwide.
Can sugar be good for you?
The question of whether sugar can be good for you is common but based on an incorrect assumption: we must consume sugar. Our bodies rely on carbohydrates for energy, and carbs are all ultimately turned into sugars. If you were to only eat protein and fat, you would quickly encounter numerous other health problems. The question isn't whether sugar is good but how much and in what form it should be consumed.
For example, glucose and maltodextrin are high glycemic additives, whereas sucrose is moderate and agave syrup and fructose are low. High glycemic foods are known to give you a "sugar crash," which is a spike in blood sugar followed by a rapid fall in levels. High glycemic foods should generally be avoided.
But what about for people who exercise a lot? If you don't exercise often, sugar will be turned into fat, leading to a cascade of health problems. For endurance athletes, however, sugar is a necessary fuel for training.
Athletes and people who regularly exercise can benefit from high glycemic foods because our bodies recognize the intake as fuel for the activity. Whereas you would mostly want to consume low glycemic foods when not exercising, using a mix of maltodextrin and fructose during or after exercise is a smart choice. In fact, consuming low glycemic foods while exercising can cause stomach bloating.
Photo: veineleissa / Adobe Stock
What is the daily recommended sugar intake?

As mentioned above, the recommended daily allowance (RDA) of sugar caps at 10 teaspoons for adults. The latest edition of federal dietary guidelines offers a bit more detail, however.
Americans older than two years should cap their added sugar intake to no more than 10 percent of total calories. "Added sugar" is important because, as mentioned, all carbohydrates eventually turn into sugar in your body. Eating whole fruit doesn't count in this total; soft drinks and fruit juices do.
Children under age two are advised to avoid foods with added sugars.
How is DouxMatok trying to create the healthiest sweetener on the market?
As mentioned earlier, our sweet receptors only recognize 20 percent of the common sugar we consume. Israeli food-tech company DouxMatok was founded by Professor Avraham Baniel, who in 2014, at the age of 96, applied his 75 years of industrial chemical research experience to create Incredo® Sugar. While the start-up aspires to create tastier and healthier variations of a variety of foods (including salt), sugar was the most pressing issue Baniel and his son, Eran, wanted to solve.
DouxMatok is not alone in this quest. For example, global food giant Nestle produced its own sugar reduction in a "healthier" candy bar called Milkybar Wowsomes. The experiment didn't end well as the company had to pull the item from shelves due to low consumer demand. Matching the flavor profile, density, and texture of sugar is harder than it sounds.
Nestle hasn't abandoned the quest for sugar alternatives, however. Companies realize their bottom line depends on offering healthier sugar without sacrificing taste and affordability — the same quest that meat alternative companies have been facing for years. While stevia and aspartame are widely used, for example, some consumers recognize the metallic taste and opt for what they know best. This will remain a real barrier until scientists can dial in an alternative that performs well in blind taste tests.
Incredo® Sugar is a sugar reduction created from cane or beet sugar. As the video at the top of the article shows, at least one anecdotal study in the Freethink office scored favorably for DouxMatok. The race is still on. DouxMatok's initial creation doesn't work well in liquids, at least not yet. Also, you can't cook with it on your own; the company is focused on using their sugar alternative in consumer food products first.
As Dr. Robert Margolskee, Director of the Monell Chemical Senses Center, says of the possible timeline, "I think within five years we'll be able to reduce 80 to 90 percent of the sugar in a food and still get pretty much the full sugar sensation. It's not an impossible dream."
--
Stay in touch with Derek on Twitter. His most recent book is "Hero's Dose: The Case For Psychedelics in Ritual and Therapy."
She helped create CRISPR, a gene-editing technology that is changing the way we treat genetic diseases and even how we produce food.
Courtesy of Jennifer Doudna
Technology & Innovation
This article was originally published on our sister site, Freethink.
Last year, Jennifer Doudna and Emmanuelle Charpentier became the first all-woman team to win the Nobel Prize in Chemistry for their work developing CRISPR-Cas9, the gene-editing technology. The technology was invented in 2012 — and nine years later, it's truly revolutionizing how we treat genetic diseases and even how we produce food.
CRISPR allows scientists to alter DNA by using proteins that are naturally found in bacteria. They use these proteins, called Cas9, to naturally fend off viruses, destroying the virus' DNA and cutting it out of their genes. CRISPR allows scientists to co-opt this function, redirecting the proteins toward disease-causing mutations in our DNA.
So far, gene-editing technology is showing promise in treating sickle cell disease and genetic blindness — and it could eventually be used to treat all sorts of genetic diseases, from cancer to Huntington's Disease.
The biotech revolution is just getting started — and CRISPR is leading the charge. We talked with Doudna about what we can expect from genetic engineering in the future.
This interview has been lightly edited and condensed for clarity.
Freethink: You've said that your journey to becoming a scientist had humble beginnings — in your teenage bedroom when you discovered The Double Helix by Jim Watson. Back then, there weren't a lot of women scientists — what was your breakthrough moment in realizing you could pursue this as a career?
Dr. Jennifer Doudna: There is a moment that I often think back to from high school in Hilo, Hawaii, when I first heard the word "biochemistry." A researcher from the UH Cancer Center on Oahu came and gave a talk on her work studying cancer cells.
I didn't understand much of her talk, but it still made a huge impact on me. You didn't see professional women scientists in popular culture at the time, and it really opened my eyes to new possibilities. She was very impressive.
I remember thinking right then that I wanted to do what she does, and that's what set me off on the journey that became my career in science.
Freethink: The term "CRISPR" is everywhere in the media these days but it's a really complicated tool to describe. What is the one thing that you wish people understood about CRISPR that they usually get wrong?

Dr. Jennifer Doudna: People should know that CRISPR technology has revolutionized scientific research and will make a positive difference to their lives.
Researchers are gaining incredible new understanding of the nature of disease, evolution, and are developing CRISPR-based strategies to tackle our greatest health, food, and sustainability challenges.
Freethink: You previously wrote in Wired that this year, 2021, is going to be a big year for CRISPR. What exciting new developments should we be on the lookout for?
Dr. Jennifer Doudna: Before the COVID-19 pandemic, there were multiple teams around the world, including my lab and colleagues at the Innovative Genomics Institute, working on developing CRISPR-based diagnostics.
Traits that we could select for using traditional breeding methods, that might take decades, we can now engineer precisely in a much shorter time. — DR. JENNIFER DOUDNA
When the pandemic hit, we pivoted our work to focus these tools on SARS-CoV-2. The benefit of these new diagnostics is that they're fast, cheap, can be done anywhere without the need for a lab, and they can be quickly modified to detect different pathogens. I'm excited about the future of diagnostics, and not just for pandemics.

We'll also be seeing more CRISPR applications in agriculture to help combat hunger, reduce the need for toxic pesticides and fertilizers, fight plant diseases and help crops adapt to a changing climate.
Traits that we could select for using traditional breeding methods, that might take decades, we can now engineer precisely in a much shorter time.
Freethink: Curing genetic diseases isn't a pipedream anymore, but there are still some hurdles to cross before we're able to say for certain that we can do this. What are those hurdles and how close do you think we are to crossing them?
Dr. Jennifer Doudna: There are people today, like Victoria Gray, who have been successfully treated for sickle cell disease. This is just the tip of the iceberg.
There are absolutely still many hurdles. We don't currently have ways to deliver genome-editing enzymes to all types of tissues, but delivery is a hot area of research for this very reason.
We also need to continue improving on the first wave of CRISPR therapies, as well as making them more affordable and accessible.
Freethink: Another big challenge is making this technology widely available to everyone and not just the really wealthy. You've previously said that this challenge starts with the scientists.
Dr. Jennifer Doudna: A sickle cell disease cure that is 100 percent effective but can't be accessed by most of the people in need is not really a full cure.
This is one of the insights that led me to found the Innovative Genomics Institute back in 2014. It's not enough to develop a therapy, prove that it works, and move on. You have to develop a therapy that actually meets the real-world need.
Too often, scientists don't fully incorporate issues of equity and accessibility into their research, and the incentives of the pharmaceutical industry tend to run in the opposite direction. If the world needs affordable therapy, you have to work toward that goal from the beginning.
Freethink: You've expressed some concern about the ethics of using CRISPR. Do you think there is a meaningful difference between enhancing human abilities — for example, using gene therapy to become stronger or more intelligent — versus correcting deficiencies, like Type 1 diabetes or Huntington's?
Dr. Jennifer Doudna: There is a meaningful distinction between enhancement and treatment, but that doesn't mean that the line is always clear. It isn't.
There's always a gray area when it comes to complex ethical issues like this, and our thinking on this is undoubtedly going to evolve over time.
What we need is to find an appropriate balance between preventing misuse and promoting beneficial innovation.
Freethink: What if it turns out that being physically stronger helps you live a longer life — if that's the case, are there some ways of improving health that we should simply rule out?
Dr. Jennifer Doudna: The concept of improving the "healthspan" of individuals is an area of considerable interest. Eliminating neurodegenerative disease will not only massively reduce suffering around the world, but it will also meaningfully increase the healthy years for millions of individuals.
There is a meaningful distinction between enhancement and treatment, but that doesn't mean that the line is always clear. It isn't. — DR. JENNIFER DOUDNA

There will also be knock-on effects, such as increased economic output, but also increased impact on the planet.
When you think about increasing lifespans just so certain people can live longer, then not only do those knock-on effects become more central, you also have to ask who is benefiting and who isn't? Is it possible to develop this technology so the benefits are shared equitably? Is it environmentally sustainable to go down this road?
Freethink: Where do you see it going from here?
Dr. Jennifer Doudna: The bio revolution will allow us to create breakthroughs in treating not just a few but whole classes of previously unaddressed genetic diseases.
We're also likely to see genome editing play a role not just in climate adaptation, but in climate change solutions as well. There will be challenges along the way both expected and unexpected, but also great leaps in progress and benefits that will move society forward. It's an exciting time to be a scientist.
Freethink: If you had to guess, what is the first disease you think we are most likely to cure, in the real world, with CRISPR?
Dr. Jennifer Doudna: Because of the progress that has already been made, sickle cell disease and beta-thalassemia are likely to be the first diseases with a CRISPR cure, but we're closely following the developments of other CRISPR clinical trials for types of cancer, a form of congenital blindness, chronic infection, and some rare genetic disorders.
The pace of clinical trials is picking up, and the list will be longer next year.
Surprising Science
A school lesson leads to more precise measurements of the extinct megalodon shark, one of the largest fish ever.
Scroll down to load more…