First Private Company Given Right to Land on Moon, Exploit Resources
In 2017, Moon Express will be the first private company to land on the moon. Its goal is to mine the moon's resources and use the lunar surface as a stepping stone for exploring the rest of the universe.
04 August, 2016
---
On July 20, 1969, Neil Armstrong became the first man to walk on the moon. On December 19, 1972, Gene Cernan became the last man to walk on it. That was the day the Apollo 17 mission -- and all manned lunar missions -- ended, dwarfed by the advent of the Vietnam War and dwindling public interest. However, mankind might walk on the moon again in the near future, thanks to Moon Express
Moon Express is a privately funded commercial space company. In 2017, they will be the first private company to land on the moon. Their goal is to mine the moon's resources and figure out how to use the lunar surface as a stepping stone for exploring the rest of the universe, according to Co-Founder and CEO Dr. Bob Richards: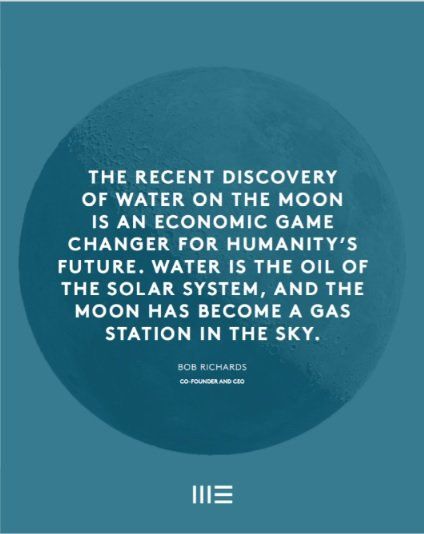 To achieve that lofty goal, Moon Express will send their MX-1 lander to the moon in 2017. MX-1 is the the first spacecraft of its kind, designed to accomplish tasks in Earth's atmosphere as well as deep space. The moon will be its first testing ground, where it will act as an activity hub for its onboard diagnostic tools, including mini rovers that will explore and analyze the moon's surface. Moon Express hopes to use the information uncovered by MX-1 to help develop the technological, scientific, and commercial capabilities the moon has to offer.
Private companies have never been given this kind of access or freedom before. They were strictly limited to explore just outside of Earth's atmosphere, in Near-Earth orbit where satellites and the International Space Station are. But Moon Express pushed hard to break those boundaries. "[It] took some time," Richards explained to Space.com, "not because anybody was against or averse to this. It's just that we asked questions that had never been asked before, and that had to be addressed and worked out." It took approval from six US agencies, but they got it.
MX-1's mission is a big deal. Not just because it sets precedent for other private companies to go into space, but also for any non-governmental organization with proof of concept and a big idea to participate in mankind's exploration of space. By opening up the ability to explore outer space to a private company, the goal of living in that environment becomes more plausible -- and achievable -- than if government agencies and their bureaucratic timelines were to attempt it alone.
MX-1 might also help us understand how humans can live on the moon, which would help us figure out how we can live on other planets. Figuring out how to help humans live on the moon is a key part of NASA's Journey to Mars plan. "This experience in human spaceflight beyond low-Earth orbit will help NASA test new systems and capabilities, such as Solar Electric Propulsion, which we'll need to send cargo as part of human missions to Mars," the website explains. China's National Space Administration agrees, but their goals are more ambitious. They hope to "push forward human spaceflight projects and make new technological breakthroughs, creating a foundation for future human spaceflight" in the next five years. After that, they plan to build orbiting laboratories and space stations to help humanity explore other planets.
Former astronaut Ron Garan agrees, too.
Helping the human race colonize space is the entire reason why Moon Express was created in the first place, as co-founder and Chairman Naveen Jain says on the company website:
Space travel is our only path forward to ensure our survival and create a limitless future for our children. In the immediate future, we envision bringing precious resources, metals and moon rocks back to Earth. In 15 years, the moon will be an important part of Earth's economy, and potentially our second home.
The Moon Express mission may be one small step for them, but it's one giant leap for mankind.
--
Research in plant neurobiology shows that plants have have senses, intelligence and emotions.
Getty Images
Surprising Science
The field of plant neurobiology studies the complex behavior of plants.
Plants were found to have 15-20 senses, including many like humans.
Some argue that plants may have awareness and intelligence, while detractors persist.
E-cigarettes may be safer than traditional cigarettes, but they come with their own risks.
Surprising Science
A new study used an MRI machine to examine how vaping e-cigarettes affects users' cardiovascular systems immediately after inhalation.
The results showed that vaping causes impaired circulation, stiffer arteries and less oxygen in their blood.
The new study adds to a growing body of research showing that e-cigarettes – while likely safer than traditional cigarettes – are far from harmless.
Since the idea of locality is dead, space itself may not be an aloof vacuum: Something welds things together, even at great distances.

Videos
Realists believe that there is an exactly understandable way the world is — one that describes processes independent of our intervention. Anti-realists, however, believe realism is too ambitious — too hard. They believe we pragmatically describe our interactions with nature — not truths that are independent of us.
In nature, properties of Particle B may be depend on what we choose to measure or manipulate with Particle A, even at great distances.
In quantum mechanics, there is no explanation for this. "It just comes out that way," says Smolin. Realists struggle with this because it would imply certain things can travel faster than light, which still seems improbable.