Science Knows Why People Love Donald Trump — and It's Scary
Donald Trump is the topic of our national conversation, and the reason for his popularity seems to revolve around his distaste for political correctness—but why do we love that?
17 August, 2015
---
The most interesting candidate in the presidential race is, unequivocally, Donald Trump. He is drawing crowds and doing well in polls, and at the Republican debate he dominated the stage and the next day's headlines. Trump is in our Twitter feeds, in our dinner conversations, and currently the ringleader of the political arena. But why is that?
A riveting series of articles in Scientific American has attempted to explain why, psychologically, the public is so enamored with a business tycoon that "tells it like it is." They are hypothesizing that his very open distaste for political correctness is at the core of his popularity, and while he "flip flops" as much as the next politician, we're fooled into believing him because what he says is so far outside what is expected. That is a type of dependability: We can count on him to say whatever he is thinking or feeling with little regard of how it will be perceived. That dependability is vital when considering "ambiguity intolerance," or how comfortable people are with not knowing the future.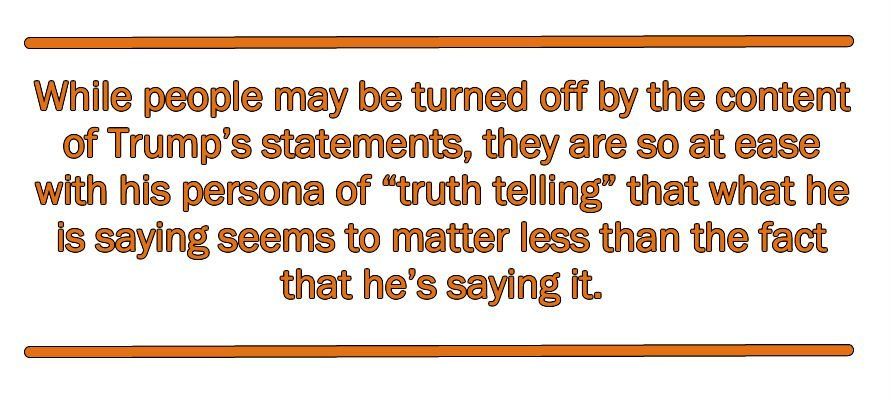 The science shows that people who are anxious about the future tend to lean more politically conservative. They want someone that is not going to act erratically, someone you can predict. Trump, while his statements are sometimes shocking, is at the very least consistent. What is most interesting is that while people may be turned off by the content of Trump's statements, they are so at ease with his persona of "truth telling" that what he is saying seems to matter less than the fact that he's saying it. That means that we as a public can think that Trump is sexist, racist, or whatever the inflammatory comment du jour is, and still be more comfortable with him as a candidate because he appears to not be lying or hiding his feelings.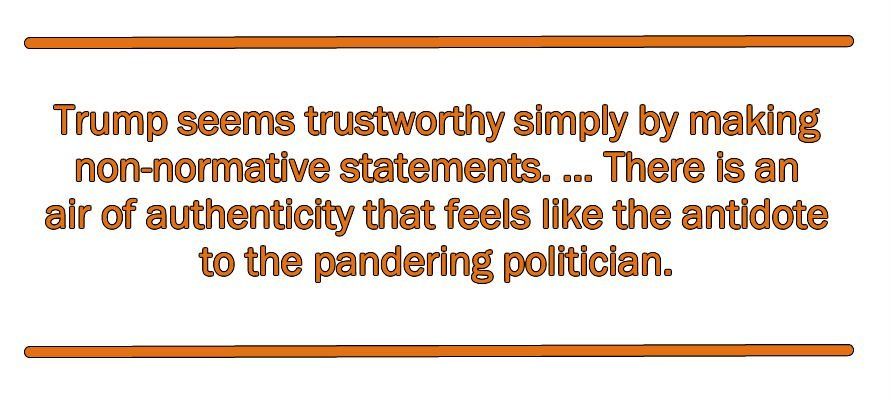 This is due to how we perceive "non-normative" statements. A statement that strikes us as against the grain will cause us to feel we know the person better. For example, if I'm at the concert of a country star and I say "You know, I really prefer the Bee Gees," you would be inclined to think I'm telling the truth (and I am). Why would someone surrounded by people of one opinion state their own radically different (and unpopular) opinion if it were not true? That's the genius of Trump. He seems trustworthy simply by making non-normative statements. To borrow a line from Anchorman, "I'm not mad; I'm impressed!" There is an air of authenticity that feels like the antidote to the pandering politician. We may not agree with him, but at least we know he actually believes what he's saying. Right?
It becomes slightly frightening to unpack the implications of this. Have politicians gotten so PC that we will praise anyone who embraces a lack of it? And also, isn't it odd that we should be so enthralled with someone who says things the majority of Americans may find problematic (e.g., his comments on John McCain and Megyn Kelly)? It's a troublesome sign implying we are so used to politicians lying that we actually expect it, and that when someone comes along who is refusing to play the game, we reward them even if we don't like them. There are lessons to be learned on both sides. Politicians should take note that the public is tired of hearing what they think we want to hear, and the public should, as always, stay informed and aware. I for one find it difficult to trust someone that thinks Famiglia's is real New York pizza, but then, perhaps his pizza choice was just one of his first non-normative statements.
Don't underestimate the power of play when it comes to problem-solving.
Videos
As we get older, the work we consistently do builds "rivers of thinking." These give us a rich knowledge of a certain kind of area.
The problem with this, however, is that as those patterns get deeper, we get locked into them. When this happens it becomes a challenge to think differently — to break from the past and generate new ideas.
How do we get out of this rut? One way is to bring play and game mechanics into workshops. When we approach problem-solving from a perspective of fun, we lose our fear of failure, allowing us to think boldly and overcome built patterns.
Controversial map names CEOs of 100 companies producing 71 percent of the world's greenhouse gas emissions.
Image: Jordan Engel, reused via Decolonial Media License 0.1
Strange Maps
Just 100 companies produce 71 percent of the world's greenhouse gases.
This map lists their names and locations, and their CEOs.
The climate crisis may be too complex for these 100 people to solve, but naming and shaming them is a good start.
The surprising results come from a new GLAAD survey.
Culture & Religion
The survey found that 18- to 34-year-old non-LGBTQ Americans reported feeling less comfortable around LGBTQ people in a variety of hypothetical situations.
The attitudes of older non-LGBTQ Americans have remained basically constant over the past few years.
Overall, about 80 percent of Americans support equal rights for LGBTQ people.
Big think's weekly newsletter.
Get smarter faster from the comfort of your inbox.
See our newsletter privacy policy
here
Most Popular
Most Recent
Big think's weekly newsletter.
Get smarter faster from the comfort of your inbox.
See our newsletter privacy policy
here
© Copyright 2007-2019 & BIG THINK, BIG THINK EDGE,
SMARTER FASTER trademarks owned by The Big Think, Inc. All rights reserved.