Science Knows Why People Love Donald Trump — and It's Scary
Donald Trump is the topic of our national conversation, and the reason for his popularity seems to revolve around his distaste for political correctness—but why do we love that?
17 August, 2015
DES MOINES, IA - AUGUST 15: Republican presidential candidate businessman Donald Trump speaks with reporters after arriving at the Iowa State Fair on August 15, 2015 in Des Moines, Iowa. The Iowa State Fair is one of the oldest and largest agricultural an
---
The most interesting candidate in the presidential race is, unequivocally, Donald Trump. He is drawing crowds and doing well in polls, and at the Republican debate he dominated the stage and the next day's headlines. Trump is in our Twitter feeds, in our dinner conversations, and currently the ringleader of the political arena. But why is that?
A riveting series of articles in Scientific American has attempted to explain why, psychologically, the public is so enamored with a business tycoon that "tells it like it is." They are hypothesizing that his very open distaste for political correctness is at the core of his popularity, and while he "flip flops" as much as the next politician, we're fooled into believing him because what he says is so far outside what is expected. That is a type of dependability: We can count on him to say whatever he is thinking or feeling with little regard of how it will be perceived. That dependability is vital when considering "ambiguity intolerance," or how comfortable people are with not knowing the future.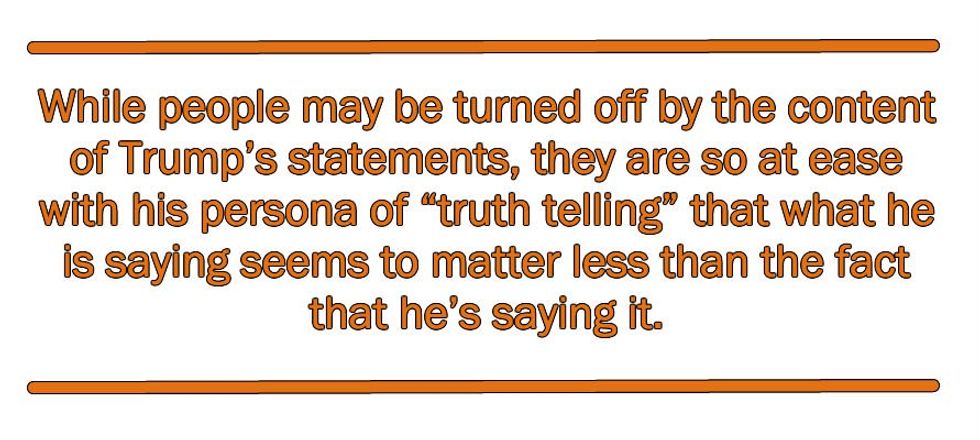 The science shows that people who are anxious about the future tend to lean more politically conservative. They want someone that is not going to act erratically, someone you can predict. Trump, while his statements are sometimes shocking, is at the very least consistent. What is most interesting is that while people may be turned off by the content of Trump's statements, they are so at ease with his persona of "truth telling" that what he is saying seems to matter less than the fact that he's saying it. That means that we as a public can think that Trump is sexist, racist, or whatever the inflammatory comment du jour is, and still be more comfortable with him as a candidate because he appears to not be lying or hiding his feelings.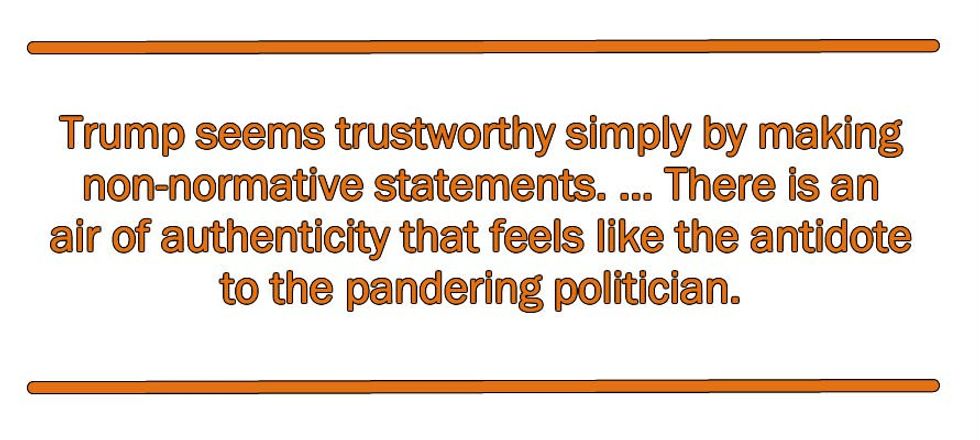 This is due to how we perceive "non-normative" statements. A statement that strikes us as against the grain will cause us to feel we know the person better. For example, if I'm at the concert of a country star and I say "You know, I really prefer the Bee Gees," you would be inclined to think I'm telling the truth (and I am). Why would someone surrounded by people of one opinion state their own radically different (and unpopular) opinion if it were not true? That's the genius of Trump. He seems trustworthy simply by making non-normative statements. To borrow a line from Anchorman, "I'm not mad; I'm impressed!" There is an air of authenticity that feels like the antidote to the pandering politician. We may not agree with him, but at least we know he actually believes what he's saying. Right?
It becomes slightly frightening to unpack the implications of this. Have politicians gotten so PC that we will praise anyone who embraces a lack of it? And also, isn't it odd that we should be so enthralled with someone who says things the majority of Americans may find problematic (e.g., his comments on John McCain and Megyn Kelly)? It's a troublesome sign implying we are so used to politicians lying that we actually expect it, and that when someone comes along who is refusing to play the game, we reward them even if we don't like them. There are lessons to be learned on both sides. Politicians should take note that the public is tired of hearing what they think we want to hear, and the public should, as always, stay informed and aware. I for one find it difficult to trust someone that thinks Famiglia's is real New York pizza, but then, perhaps his pizza choice was just one of his first non-normative statements.
Young people could even end up less anxiety-ridden, thanks to newfound confidence
Photos: Courtesy of Let Grow
Sponsored by Charles Koch Foundation
The coronavirus pandemic may have a silver lining: It shows how insanely resourceful kids really are.
Let Grow, a non-profit promoting independence as a critical part of childhood, ran an "Independence Challenge" essay contest for kids. Here are a few of the amazing essays that came in.
Download Let Grow's free Independence Kit with ideas for kids.
Philosophers like to present their works as if everything before it was wrong. Sometimes, they even say they have ended the need for more philosophy. So, what happens when somebody realizes they were mistaken?
The future of learning will be different, and now is the time to lay the groundwork.
Future of Learning
The coronavirus pandemic has left many at an interesting crossroads in terms of mapping out the future of their respective fields and industries. For schools, that may mean a total shift not only in how educators teach, but what they teach.
One important strategy moving forward, thought leader Caroline Hill says, is to push back against the idea that getting ahead is more important than getting along. "The opportunity that education has in this moment to really push students and think about what is the right way to live, how do we do it and how do we do it in a way that doesn't hurt or rob the dignity of other people?"
Hill also argues that now is the time for bigger swings and for removing the barriers that limit education. The online space is boundary free and provides educators with new opportunities to connect with students around the world.
Remaining silent is being complicit.
Photo by Scott Heins/Getty Images
Politics & Current Affairs
Protests around the world are demanding an end to police discrimination and violence against black citizens in America.
Author and activist Dax-Devlon Ross offers advice on how white people can help during this moment.
Ross's suggestions include thinking and voting locally, supporting black-owned businesses, and practicing self-reflection.
Surprising Science
On Friday, the moon will pass through the Earth's outer shadow, known as the penumbra.
Scroll down to load more…