Robot Mimics Chefs to Prepare Five-Star Dishes at Home
By equipping chefs with sensor-fitted gloves, robots can easily learn the specific ways they prepare meals, opening the door to professionally prepared home meals.
19 April, 2015
A set of robotic arms has expertly prepared a professional chef's crab bisque recipe at a recent industrial fair in Hanover, Germany, opening the door to having professionally prepared food for each meal at home.
---
By equipping chefs with sensor-fitted gloves, robots can easily learn the specific ways that master cooks prepare meals, mimicking their hand and arm movements at all moments during the cooking process. All it takes is setting out the ingredients in prearranged locations.
The technology is being developed by Mark Oleynik, a Russian-born scientist and engineer now based in London, with assistance from teams at Stanford University, and the Sant'Anna School of Advanced Studies, in Pisa, Italy. Oleynik's company, Moley Robotics, aims to sell the first commercial model by 2017 for a price of $15,000.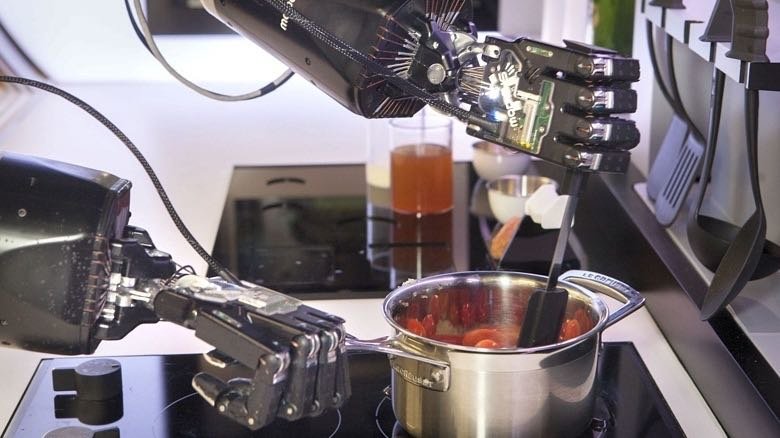 "Oleynik's plan is to support his automated kitchen with an online library of more than 2,000 recipes. And, because it is copying the idiosyncrasies of particular people, the service he plans will let a user select not only a dish, but also its creator — in effect, bringing a virtual version of a celebrity chef into the user's house to cook it for him."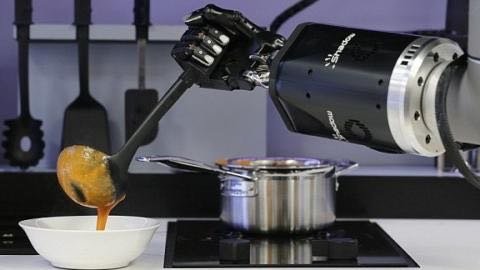 At Big Think, we've spoken before of robots taking the jobs of humans, whether it's bus drivers, lawyers, or journalists (gulp). There are several serious questions that face economists and public policy developers going forward. One is whether robotics will create enough jobs to sustain our current rate of employment. That seems doubtful since the main industry they open up is robot repair services (but how long before that is automated as well?).
Second, do androids dream of stealing our jobs?
A third question, and a very ironic one indeed, is whether the economy can sustain a future of free abundance, created by machines for a public that can satiate itself endlessly on goods that have an extremely low marginal cost. But of course, if many, many people lose their jobs to robots, how are we going to pay for things? Does paying for things even make sense anymore? Americans currently specializing in what Andrew McAfee, associate director of the Center for Digital Business at the MIT Sloan School of Management, calls "routine knowledge work" may find themselves out of work sooner than they think.
Read more at The Economist.
Photo credit: Moley Robotics
Antimicrobial resistance is growing worldwide, rendering many "work horse" medicines ineffective. Without intervention, drug-resistant pathogens could lead to millions of deaths by 2050. Thankfully, companies like Pfizer are taking action.
Image courtesy of Pfizer.
Antimicrobial-resistant pathogens are one of the largest threats to global health today.
As we get older, our immune systems age, increasing our risk of life threatening infections. Without reliable antibiotics, life expectancy could decline for the first time in modern history.
If antibiotics become ineffective, common infections could result in hospitalization or even death. Life-saving interventions like cancer treatments and organ transplantation would become more difficult, more often resulting in death. Routine procedures would become hard to perform.
Without intervention, resistant pathogens could result in 10 million annual deaths by 2050.
By taking a multi-faceted approach—inclusive of adherence to good stewardship, surveillance and responsible manufacturing practices, as well as an emphasis on prevention and treatment—companies like Pfizer are fighting to help curb the spread.
Sponsored
No, the Syrian civil war is not over. But it might be soon. Time for a recap
Strange Maps
The War in Syria has dropped off the radar, but it's not over (yet)
This 1-minute video shows how the fronts have moved – and stabilised – over the past 22 months
Watching this video may leave you both better informed, and slightly queasy: does war need a generic rock soundtrack?
Sarco assisted suicide pods come in three different styles, and allow you to die quickly and painlessly. They're even quite beautiful to look at.
The Sarco assisted suicide pod
Technology & Innovation
Death: it happens to everyone (except, apparently, Keanu Reeves). But while the impoverished and lower-class people of the world die in the same ol' ways—cancer, heart disease, and so forth—the upper classes can choose hip and cool new ways to die. Now, there's an assisted-suicide pod so chic and so stylin' that peeps (young people still say peeps, right?) are calling it the "Tesla" of death... it's called... the Sarco! 
Entrepreneur and author Andrew Horn shares his rules for becoming an assured conversationalist.
content.jwplatform.com
Videos
To avoid basing action on external validation, you need to find your "authentic voice" and use it.
Finding your voice requires asking the right questions of yourself.
There are 3-5 questions that you would generally want to ask people you are talking to.
Big think's weekly newsletter.
Get smarter faster from the comfort of your inbox.
See our newsletter privacy policy
here
Most Popular
Most Recent
Big think's weekly newsletter.
Get smarter faster from the comfort of your inbox.
See our newsletter privacy policy
here
© Copyright 2007-2018 & BIG THINK, BIG THINK EDGE,
SMARTER FASTER trademarks owned by The Big Think, Inc. All rights reserved.