Pop music lyrics average a third-grade reading level
A great many of our most popular songs are written at just a third-grade reading level. That's the conclusion reached by an analysis of 225 popular songs.
29 May, 2015
The last time we were talking about pop lyrics, Beyoncé had just lost the Grammy for best album to Beck and Kanye West had interrupted yet another acceptance speech. Facebook was posting a side-by-side comparison of the nominees' lyrics (although that's just one measure of best album, as the The Guardian pointed out, ultimately giving the nod to Queen Bey).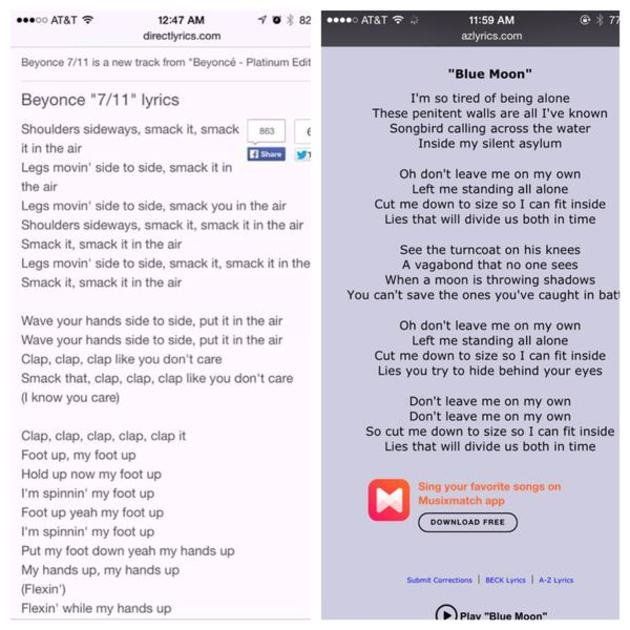 The simplicity of Beyoncé's lyrics is not unique. In fact, a great many of our most popular songs are written at just a third-grade reading level. That's the conclusion reached by an analysis of 225 songs that spent at least three weeks at the top of the Billboard charts over the last 10 years.
The analysis used the Readability Index to rank songs according to the complexity and diversity of their lyrics. At present, this post has a reading level of just above seventh grade, so despite my grad school pedigree, I'm apparently more at home with middle schoolers.
Perhaps more surprisingly when it came to song lyrics, country music pulled the other genres to above a third-grade level, averaging a 3.3 reading level while pop and rock tied at 2.9 and R&B/hip-hop ranked lowest at a grade level of 2.6.
In 2007, rock and R&B/hip-hop both plunged with the help of songs like "Buy U a Drank" by T-Pain (which just made it above a first-grade reading level) and "I Don't Wanna Stop" by Ozzy Osbourne (a more respectable 1.6 average grade level).
Maybe it was the financial crash of 2007 that made T-Pain and friends need a drank? Then again, maybe not. Since 2005, the intelligence level of lyrics has steadily declined, moving from a high of about 3.5 in 2006 to its present low of about 2.7.
When five-time Grammy-winning artist Mary Chapin Carpenter stopped by Big Think, she explained the danger in branding country music, or artists generally from the south, as being less sophisticated.
Setting a simple intention and coming prepared can help you — and those around you — win big.
Videos
Setting an intention doesn't have to be complicated, and it can make a great difference when you're hoping for a specific outcome.
When comedian Pete Holmes is preparing to record an episode of his podcast, "You Made it Weird with Pete Holmes," he takes 15 seconds to check in with himself. This way, he's primed with his own material and can help guests feel safe and comfortable to share theirs, as well.
Taking time to visualize your goal for whatever you've set out to do can help you, your colleagues, and your projects succeed.
The Amazon Rainforest is often called "the planet's lungs."
NASA
Politics & Current Affairs
For weeks, fires have been burning in the Amazon rainforest in Brazil, likely started by farmers and ranchers.
Brazil's president, Jair Bolsonaro, has blamed NGOs for starting the flames, offering no evidence to support the claim.
There are small steps you can take to help curb deforestation in the Amazon rainforest, which produces about 20 percent of the world's oxygen.
How do we combat the roots of these hateful forces?
Politics & Current Affairs
American Psychological Association sees a dubious and weak link between mental illness and mass shootings.
Center for the study of Hate and Extremism has found preliminary evidence that political discourse is tied to hate crimes.
Access to guns and violent history is still the number one statistically significant figure that predicts gun violence.