36 questions designed to help you fall in love with anyone
Asking thirty-six specific questions plus four minutes of sustained eye contact is a recipe for falling in love, or at least creating intimacy among complete strangers.
12 January, 2015
Asking thirty-six specific questions plus four minutes of sustained eye contact is a recipe for falling in love, or at least creating intimacy among complete strangers.
---
Creating a close rapport between people who have just met is difficult, especially in laboratory conditions. But psychologist Arthur Aaron of Stony Brook University created a method for doing just this. Recently, the method was tested by writer Mandy Len Catron at the University of British Columbia in Vancouver.
After finding Dr. Aaron's questions online, she proposed an event with an acquaintance of hers. They would follow the method, exchanging questions for forty-five minutes which become progressively more intimate and then stare into each others' eyes for four minutes.
--
Set I
1. Given the choice of anyone in the world, whom would you want as a dinner guest?
2. Would you like to be famous? In what way?
3. Before making a telephone call, do you ever rehearse what you are going to say? Why?
4. What would constitute a "perfect" day for you?
5. When did you last sing to yourself? To someone else?
6. If you were able to live to the age of 90 and retain either the mind or body of a 30-year-old for the last 60 years of your life, which would you want?
7. Do you have a secret hunch about how you will die?
8. Name three things you and your partner appear to have in common.
9. For what in your life do you feel most grateful?
10. If you could change anything about the way you were raised, what would it be?
11. Take four minutes and tell your partner your life story in as much detail as possible.
12. If you could wake up tomorrow having gained any one quality or ability, what would it be?
--
Though not complete strangers, they were not on intimate terms either. Catron found the prospect of looking right at someone for four minutes intimidating:
"[T]he real crux of the moment was not just that I was really seeing someone, but that I was seeing someone really seeing me. Once I embraced the terror of this realization and gave it time to subside, I arrived somewhere unexpected."
That unexpected state was one of bravery and wonder, transcending the barriers and boundaries erected in day-to-day adult life. And while Catron doesn't quite believe you can easily create love between two strangers, feelings of intimacy and trust—necessary conditions for love to thrive—are just fifty minutes away.
Love, she says, is more of a choice than we allow ourselves to believe.
--
Set II
13. If a crystal ball could tell you the truth about yourself, your life, the future or anything else, what would you want to know?
14. Is there something that you've dreamed of doing for a long time? Why haven't you done it?
15. What is the greatest accomplishment of your life?
16. What do you value most in a friendship?
17. What is your most treasured memory?
18. What is your most terrible memory?
19. If you knew that in one year you would die suddenly, would you change anything about the way you are now living? Why?
20. What does friendship mean to you?
21. What roles do love and affection play in your life?
22. Alternate sharing something you consider a positive characteristic of your partner. Share a total of five items.
23. How close and warm is your family? Do you feel your childhood was happier than most other people's?
24. How do you feel about your relationship with your mother?
--
In his Big Think interview, Vanderbilt anthropologist Ted Fischer explains that because love is a very positive evolutionary force, the barriers to it are actually quite low:
--
Set III
25. Make three true "we" statements each. For instance, "We are both in this room feeling ... "
26. Complete this sentence: "I wish I had someone with whom I could share ... "
27. If you were going to become a close friend with your partner, please share what would be important for him or her to know.
28. Tell your partner what you like about them; be very honest this time, saying things that you might not say to someone you've just met.
29. Share with your partner an embarrassing moment in your life.
30. When did you last cry in front of another person? By yourself?
31. Tell your partner something that you like about them already.
32. What, if anything, is too serious to be joked about?
33. If you were to die this evening with no opportunity to communicate with anyone, what would you most regret not having told someone? Why haven't you told them yet?
34. Your house, containing everything you own, catches fire. After saving your loved ones and pets, you have time to safely make a final dash to save any one item. What would it be? Why?
35. Of all the people in your family, whose death would you find most disturbing? Why?
36. Share a personal problem and ask your partner's advice on how he or she might handle it. Also, ask your partner to reflect back to you how you seem to be feeling about the problem you have chosen.
--
Read more at the New York Times
Photo credit: Shutterstock
Malcolm Gladwell teaches "Get over yourself and get to work" for Big Think Edge.
Big Think Edge
Learn to recognize failure and know the big difference between panicking and choking.

At Big Think Edge, Malcolm Gladwell teaches how to check your inner critic and get clear on what failure is.

Subscribe to Big Think Edge before we launch on March 30 to get 20% off monthly and annual memberships.
It's one of the most consistent patterns in the unviverse. What causes it?
Videos
Spinning discs are everywhere – just look at our solar system, the rings of Saturn, and all the spiral galaxies in the universe.
Spinning discs are the result of two things: The force of gravity and a phenomenon in physics called the conservation of angular momentum.
Gravity brings matter together; the closer the matter gets, the more it accelerates – much like an ice skater who spins faster and faster the closer their arms get to their body. Then, this spinning cloud collapses due to up and down and diagonal collisions that cancel each other out until the only motion they have in common is the spin – and voila: A flat disc.
It turns out, that tattoo ink can travel throughout your body and settle in lymph nodes.
17th August 1973: An American tattoo artist working on a client's shoulder. (Photo by F. Roy Kemp/BIPs/Getty Images)
popular
In the slightly macabre experiment to find out where tattoo ink travels to in the body, French and German researchers recently used synchrotron X-ray fluorescence in four "inked" human cadavers — as well as one without. The results of their 2017 study? Some of the tattoo ink apparently settled in lymph nodes.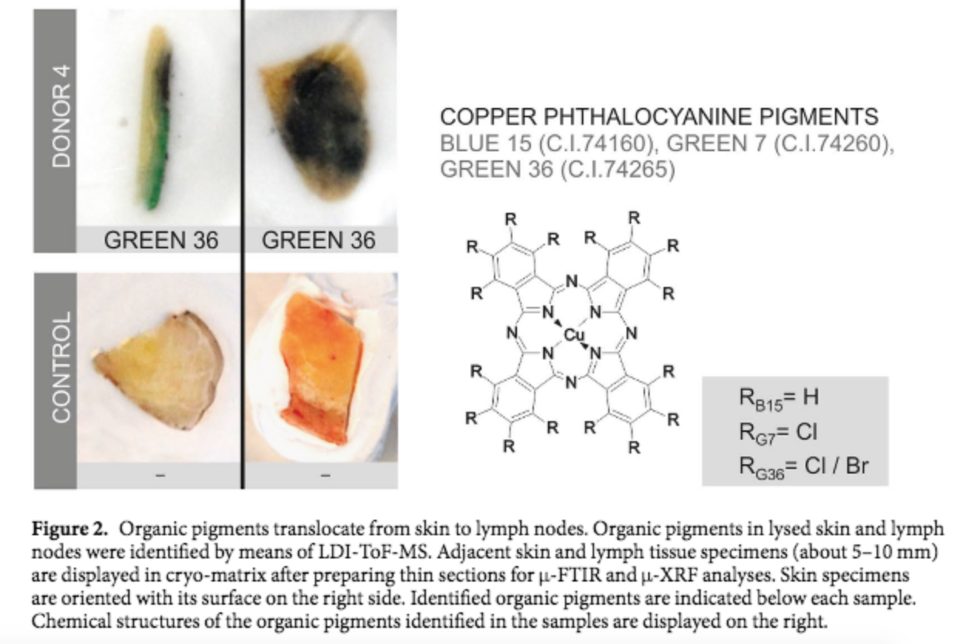 Image from the study.
As the authors explain in the study — they hail from Ludwig Maximilian University of Munich, the European Synchrotron Radiation Facility, and the German Federal Institute for Risk Assessment — it would have been unethical to test this on live animals since those creatures would not be able to give permission to be tattooed.
Because of the prevalence of tattoos these days, the researchers wanted to find out if the ink could be harmful in some way.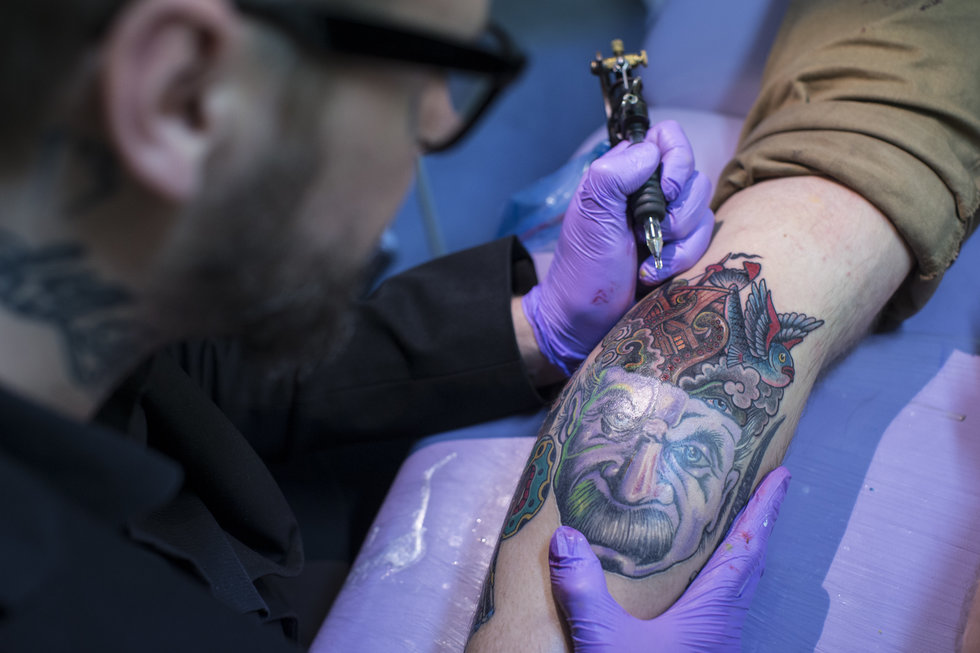 "The increasing prevalence of tattoos provoked safety concerns with respect to particle distribution and effects inside the human body," they write.
It works like this: Since lymph nodes filter lymph, which is the fluid that carries white blood cells throughout the body in an effort to fight infections that are encountered, that is where some of the ink particles collect.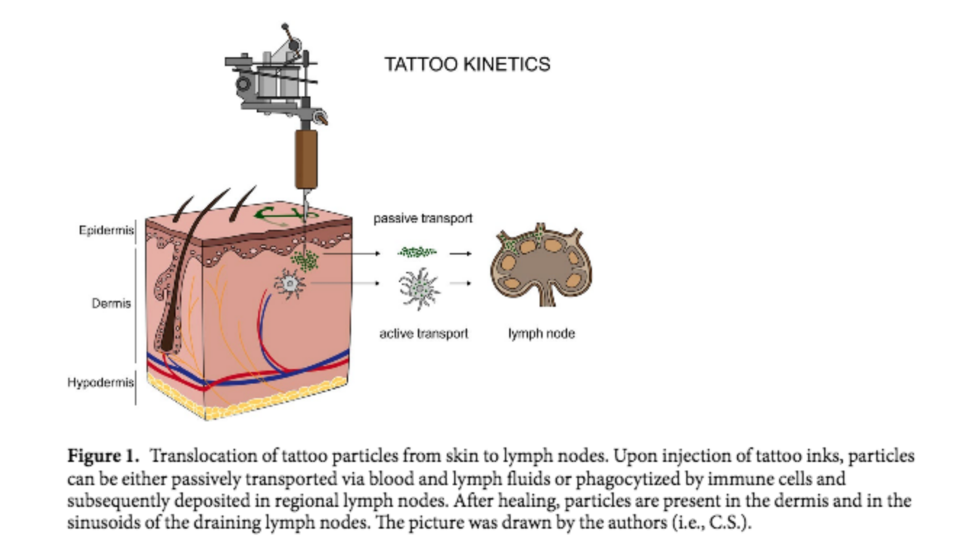 Image by authors of the study.
Titanium dioxide appears to be the thing that travels. It's a white tattoo ink pigment that's mixed with other colors all the time to control shades.
The study's authors will keep working on this in the meantime.
"In future experiments we will also look into the pigment and heavy metal burden of other, more distant internal organs and tissues in order to track any possible bio-distribution of tattoo ink ingredients throughout the body. The outcome of these investigations not only will be helpful in the assessment of the health risks associated with tattooing but also in the judgment of other exposures such as, e.g., the entrance of TiO2 nanoparticles present in cosmetics at the site of damaged skin."
Do you have a magnetic compass in your head?
Big think's weekly newsletter.
Get smarter faster from the comfort of your inbox.
See our newsletter privacy policy
here
Most Popular
Most Recent
Big think's weekly newsletter.
Get smarter faster from the comfort of your inbox.
See our newsletter privacy policy
here
© Copyright 2007-2018 & BIG THINK, BIG THINK EDGE,
SMARTER FASTER trademarks owned by The Big Think, Inc. All rights reserved.