Big ideas.
Once a week.
Subscribe to our weekly newsletter.
Google's Self-Driving Cars Are Ridiculously Safe
After 1.8 million miles, Google's self-driving car has been involved in only 13 accidents — all of which were caused by the other car.
07 June, 2015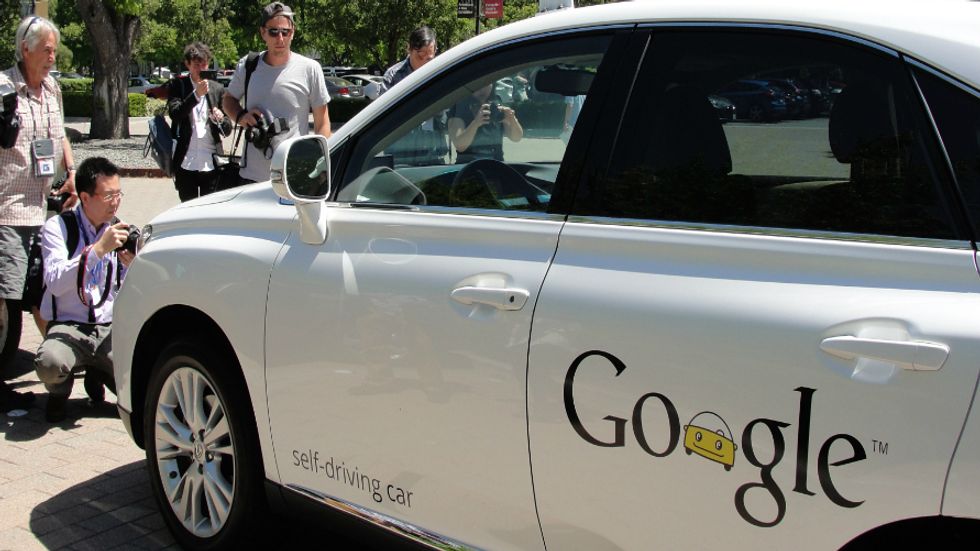 A few weeks ago, I attended a wedding just outside Richmond, Virginia, 100 miles from my home in Washington D.C., so I needed to rent a car for the weekend. There's no feeling quite like getting back behind a steering wheel after time away from driving. It's a liberating feeling, a taste of freedom, the ability to go anywhere. Wawas suddenly become accessible. Hamburgers taste better from the drive-thru. That ecstasy you feel is control; it's a small bit of autonomy in a world where we too often feel like objects acted-on rather than autonomous actors.
---
It's this sort of feeling that fuels many people's anxiety (and, in some cases, enmity) toward the idea of self-driving cars. One example: That weekend trip to Richmond also reintroduced me to the cultural affliction that is sports talk radio. One of the topics on this sports show, curiously enough, was whether the hosts and their callers would feel comfortable in an autonomous vehicle. The overwhelming number of voices dripping from my speakers put on a top-notch demonstration of the Dunning-Kruger Effect, the cognitive bias wherein people who don't know what they're talking about assume their expertise on a subject is much higher than it is. The common refrain that afternoon was something akin to: "I wouldn't feel safe trusting my life to a computer."
While that's an understandable take — remember all that talk above about freedom and autonomy? — such reasoning leads to a dead end when you consider our current bevy of empirical evidence. Consider the sterling track record of their fleet of automated prototypes, most of which have the ability to switch between human driver and computer driver. Google spokeswoman Jacquelyn Miller (via Cyrus Farivar of Ars Technica) recently made the following announcement regarding her company's fleet of self-driving death machines:
"We just got rear-ended again yesterday while stopped at a stoplight in Mountain View. That's two incidents just in the last week where a driver rear-ended us while we were completely stopped at a light! So that brings the tally to 13 minor fender-benders in more than 1.8 million miles of autonomous and manual driving — and still, not once was the self-driving car the cause of the accident."
Farivar's piece focuses mostly on Google's announcement that they've updated their self-driving car site with accident reports after calls for more transparency. At this point, they're just logs for whenever someone rear-ends the car. Several of Farivar's commenters aptly note that the accident referenced above likely would not have happened had both cars been self-driving.
At some point, this technology will become so advanced that lawmakers will be forced to debate whether or not to outlaw manual driving, according to Tesla CEO Elon Musk. There's an argument for it: Deaths and injuries from auto accidents are bad. They would decrease drastically if human error were to cease to be a liability. Plus, you can't drive drunk if you can't actually drive. The counterargument against this perspective, outside of the rah-rah "freedom" appeals, would necessarily center on security. Could hackers take control of your car while it's on the road?
It's important to nudge Google and other self-driving carmakers toward transparency. The evidence at the moment indicates the technology is moving along nicely, but that doesn't mean we ought to do away with our steering wheels quite yet.
It's as important to shed preconceived notions of what driving means to us, because despite the great feeling I get when I'm in control, I have to be aware that I'm always one human error away from causing myself or someone else great bodily harm. That's why we have to be prepared to be unselfish if this technology improves to a level where a switch to full automation (at least on public roads) is in the best interest of society.
If you don't know much about autonomous cars, but want to learn, Brad Templeton goes over all the basics in the video below:
Photo credit: GLENN CHAPMAN/AFP/Getty Images 
There are good historical reasons why Germans are suspicious of surveillance — but is Google as bad as Gestapo or Stasi?
Image: Google Maps
Strange Maps
Since its launch in 2007, Google Street View has mapped millions of miles of roads across the world — and even gone to space and into the ocean.
Germany and Austria are a conspicuous gap in the mess of blue lines that covers the rest of Europe.
It's to do with Germans' curious sense of privacy: they'd rather flaunt their private parts than their personal data.
Regions unknown
The only other European countries as yet virtually unmapped are Belarus, Moldova and Bosnia
Image: Google Maps
In Google Maps, drag Pegman over Europe and you'll see a curious picture emerge: virtually the entire continent is covered in the blue lines that indicate Street View is available – but Germany and Austria are almost entirely blank.

It's an image reminiscent of those late-19th-century maps of Africa with the center of the continent left empty, marked Regions Unknown. Germany and Austria are among the world's most advanced economies, so why do Google's camera cars find those countries as inaccessible and/or inhospitable as European explorers found Africa's interior?
It's because Germans are famously jealous of their privacy – an attitude that also resonates with their culturally close neighbors in Austria. But it all depends on what you mean by "privacy." For example, Germans are not that private about their private parts.
Totalitarian traumas
"Social nudity," for health and vigor and to commune with nature, is very accepted in Germany.
Image: FKK Gelande Sudstrand / CC BY 2.0
While public nudity is a big no-no in the United States for example, Germany has a long tradition with what is known as FKK – short for Freikörperkultur, or "Free Body Culture." Certain beaches and areas of city parks are dedicated to nude sunbathing, and even Nacktwanderung ("nude rambling") is a thing.
On the other hand, Germans are extremely possessive of their personal data — and are shocked by the readiness with which Americans (and others) share their names, addresses, friends' lists, and purchase histories online.
According to research presented in the Harvard Business Review, the average German is willing to pay as much as $184 to protect their personal health data. For the average Brit, the privacy of that information is only worth $59. For Americans and Chinese, that value declines to single-digit figures.
Why? Because Germans carry the trauma of not one, but two totalitarian systems in their recent past: the fascist Third Reich, and communist East Germany.

Nie wieder
Stasi listening post, used for spying on its own citizens, in Berlin's DDR Museum
Image source: Rakoon / CC0 1.0
Both regimes wanted total control over their citizens. In the Nazi years, the state's blunt instrument was called the Gestapo (short for Geheime Staatspolizei, or "Secret State Police"), in East Germany it was the Stasi (short for Staatssicherheit, or "State Security").
In either system, citizens effectively ceased to have a right to privacy, and could be branded criminals for private thoughts or acts, resulting in severe punishment.
As with many other aspects of the Nazi regime, post-war Germany resolved Nie wieder ("Never again") when it came to violations of privacy. That's one of the reasons why the very first article of (then still only West) Germany's post-war constitution reads:

Human dignity shall be inviolable. To respect and protect it shall be the duty of all state authority.
Informational self-determination
The EU's GDPR, adopted in May 2018, builds on Germany's tradition of strict privacy laws
Image: Dooffy / CC0 1.0
Over the decades, Germany broadened and deepened its definition of privacy.

In 1970, the German state of Hesse passed the first data protection law in the world.
In 1979, West Germany laid the foundation for the Bundesdatenschutzgesetz (BDSG), or Federal Data Protection Act, the main aim of which was to protect the inviolability of personal, private information.
In the 1980s, citizens successfully sued the government over a census questionnaire so detailed it would allow the government to identify individuals. The court recognised German citizens' right to "informational self-determination" and block the sharing of any personal information with any government agency or corporation.
In March 2010, the German Federal Constitutional Court overturned a law that allowed the authorities to store phone and email data for up to six months for security reasons, as a "grave intrusion" of personal privacy rights.
In May 2018, the EU adopted the General Data Protection Regulation (GDPR), which follows the German model of data discretion rather than the laxer American one.
Missing the train
Germany is high-tech when it comes to transport – cars, trains – but when it comes to digitisation, not so much
Image: TeaMeister / CC BY 2.0
Foreign firms operating in Germany have to adjust to some of the strictest privacy laws in the world. But Nie wieder is difficult to maintain in a world that increasingly mines and monetises data. As a result, the inexorable advance of digitization is viewed with a mixture of fatalism and misgiving.
Example one: Germany's split personality when it comes to social media. Yes, Germans are instinctively distrustful of big tech companies such as Google and Facebook. Meanwhile, Google has cornered more than 90 percent of the search engine market in Germany, and close to half of all Germans have a Facebook account.
Example two: privacy trumps efficiency. While Germany's macro-economy relies on high-tech to maintain its global pole position, on a micro-economic level, good old-fashioned cash is still king. In 2016, 80 percent of all point of sale transaction in Germany were made in notes and coins rather than via card. In the Netherlands, it was just 46 percent.
Brits, Danes or Swedes can go for months without handling cash. In Germany, you won't last a day. Why? Again, an intense desire for privacy and an instinctive distrust of surveillance. A cashless society would be more transparent and efficient, but also a lot less private.

If there's one thing Germans value even more than efficiency, it's — you guessed it — privacy. Germany seems in no hurry to catch the digitization train, when other countries are stations ahead, and generating measurable benefits.
"A million-fold violation"
The larger German cities have been mapped – Cologne, Frankfurt, Dresden and others – but the rest of the country is a blank, compared to the Benelux countries and France (to the west) and the Czech Republic (to the east)
Image: Google Maps
Case in point: Google Street View's German debacle. Launched in the US in 2007, Google Street View's mapping of interactive roadside panoramas has since expanded to cover most of the world.
In June 2012, it had mapped 5 million miles of roads in 39 countries; by its 10th anniversary in May 2017, the total was 10 million miles in 83 countries.
Street View features places as far off the beaten path as the International Space Station, gas extraction platforms in the North Sea and the coral reefs of West Nusa Tenggara in Indonesia. But not the Weimarer Strasse in Fulda, or most other normal streets in Germany, or Austria for that matter.
Not for lack of trying. In August 2010, Google announced that it would map the streets of Germany's 20 biggest cities by the end of that year. The outrage was huge. Some of Google's camera cars were vandalised. A 70-year-old Austrian who didn't want his picture taken threatened the driver of one with a garden pick.
Ilse Aigner, Germany's minister for Consumer Protection at the time, called Google's "comprehensive photo offensive" a "million-fold violation of the private sphere (…) There is not a secret service in existence that would collect photos so unabashedly."

Blurry Street
A random street in one of the cities mapped by Street View in 2010, with plenty of houses blurred out
Image: Google Maps
Google automatically blurs faces and vehicle license plates and, upon request, the fronts of houses. Fully 3 percent of households in the relevant areas requested their houses to be blurred. Faced with that unprecedentedly high level of resistance, Google in 2011 published the data already collected, but left it at that. No new Street View images have been taken since in Germany.
Following the revelation in May 2010 that Google had used data from unencrypted wifi connections when collating its roadside panoramas, Street View was banned from Austria. From 2017, Google has resumed collecting imagery in Austria, and from 2018, it is available for selected localities.
As younger generations become more familiar with the transactional aspect of their personal data, perhaps German attitudes toward data privacy will start shifting significantly toward the American model.
For now, the difference has one side of the argument at a distinct disadvantage. As one online commenter noted:
"It doesn't seem quite fair that anyone in the world including Germans can take a virtual stroll around my street and my city, but I can't do the same in their country."

Strange Maps #991
Got a strange map? Let me know at strangemaps@gmail.com.
How can researchers map something as complex as the human brain?
Mind & Brain
Brain mapping is an attempt to identify the location of everything in the brain.
An accurate map of the brain would immeasurably enhance our ability to understand how it works.
The project is massive, involving multiple fields of biomedical research and expensive cutting-edge technology.
Brain mapping is one of the hottest current areas of research.

The brain is nothing short of amazing. Billions of neurons are in there — the current best guess is about 86 billion — and a roughly equal number of non-neuronal cells. The number of interconnections, or synapses, across which neurons communicate via chemical and electrical signals is believed to be about 125 trillion. There's a whole universe in there, even though the average adult brain weighs merely three pounds and measures just 140 mm x 167 mm x 93 mm.
Though we know a lot about the anatomy of the brain, its functions remain largely enigmatic. For instance, what is the biological mechanism that encodes memories? On a computer, files are encoded digitally with a series of ones and zeroes, a type of discrete storage. Cassette tapes are analog recordings, and information is stored magnetically. How does the brain store information? We don't know. Where consciousness is located in the brain — that is, the parts and functions that make us "us" — is likewise shrouded in mystery.
The challenge is described well by the journal Nature:
"Neuroscientists know frighteningly little about the brain's complexity. They have sketched out the broad anatomy of the brain, and realize that individual functions… are mediated by circuitry that crosses anatomical borders. They can examine the detailed electrical activity of small numbers of neurons. They can wield imaging technologies that show which brain areas are activated during defined tasks, such as viewing pleasant or unpleasant pictures. But those tiny (in brain terms) pieces of information have not led neuroscientists to the big picture: what we mean by human consciousness, what makes us our individual selves or why some people develop psychiatric disorders. Neuroscientists need to be able to join the dots — and there are a lot of dots."
As intimidating as this is, neuroscience is making incremental progress. We can correlate various actions and thoughts with brain activity. Scientists at Berkeley, for example, can tell what part of your brain will exhibit electrical activity when you read certain words and phrases.
Credit: Nature
Two types of "brain mapping"
Before we dive further into the field of brain mapping, let's first define what we're talking about. There are actually two types of brain mapping.

The first type, which is what we are concerned with, is described by the Society for Brain Mapping & Therapeutics as "the study of the anatomy and function of the brain and spinal cord through the use of imaging, immunohistochemistry, molecular and optogenetics, stem cell and cellular biology, engineering, neurophysiology, and nanotechnology." One might fairly add physics and quantum physics to that list.
Credit: santiago silver / Adobe Stock / Big Think
The second type of brain mapping deals with identifying areas of the brain using qEEG technology in order to strengthen or heal them through neurofeedback training. Neurofeedback practitioners claim some impressive therapeutic value for people with all sorts of conditions relating to the brain, including ADHD, autism, depression, and anxiety. Some experts have expressed skepticism about some such claims. The jury's still out on this type of brain mapping.
What kind of map could map the brain?
A brain map, therefore, could be something like an atlas — a collection of maps that document various neural pathways. But, unlike a road map, it can't be two-dimensional. A brain map of the cortex alone would have to be three-dimensional.
The number of interconnections, or synapses, across which neurons communicate via chemical and electrical signals is believed to be about 125 trillion.
The cortex, or gray matter, which contains billions of neurons and synapses is folded in such a way that sections that would be distant from each other come into close proximity. This is useful because it shortens the distance that signals have to cross from one part of the brain to another. The folds also greatly increase the cortex's surface area, which means we can cram more gray matter inside our skulls.
Folding itself is implicated in some neural disorders, and scientists wonder if we might one day be able to modify a brain's folding.
Credit: PhD Comics
A need for unprecedented collaboration

Aside from the obvious scientific and technological difficulties, Martin La Monica, writing for The Conversation, wonders if some human barriers may also get in the way. He raises three concerns:

Maps have always betrayed the bias of their creators. Even neural cartographers will inevitably develop maps that depict the brain according to their understanding of its workings. At the same time, it's exciting to imagine breakthroughs that could occur should a map unexpectedly not conform to its makers expectations.
One size does not fit all. Scientists strongly suspect each brain is at least somewhat unique. To construct brain maps that encompass differences between us, researchers will have to engage in some generalizing that will inevitably reduce their accuracy as it enhances their universality.
Financial considerations make the requisite collaboration between scientists and institutions difficult. The hardware and expertise required mean that brain mapping will be costly. However, for those who discover new medical treatments or technologies along the way, the endeavor could prove profitable. Thus, some will no doubt feel that they have financial incentives not to share information.
Ultimately, La Monica's third consideration touches upon what may be the human brain mapping's biggest underlying challenge. As UCLA Health notes, the project is the polar opposite of "reductionistic approaches in medical science." Instead, "brain mapping integrates many sources of information to produce a holistic view, the value of which is greater than the sum of its parts."
Credit: gerasimov174 / Adobe Stock
This will demand an unprecedented level of collaboration and cooperation between organizations and scientists from a broad swath of scientific disciplines.
Brain mapping for the win
There is almost nothing about mapping the human brain that will be easy. From logistical issues (like the open exchange of information) to scientific challenges (such as technological and theoretical advances), much will be required to make sense of the human brain.
With the brain so central to our being, there's a tremendous amount of research relating to it. There's a continual stream of new insights regarding the way it functions and the ways it sometimes doesn't function so well.
For scientists seeking to understand the brain, and for doctors working to help their patients enjoy life to its fullest, a comprehensive map that brings all of the best, most recent information together is more than worth the Herculean effort required to make it happen.
Without the now-obscure land investment affair, Georgia might have been a "super state."
popular
Few people today are familiar with the Yazoo Land Scandal, which broke in the mid-1790s.
Yet it sent shockwaves through American public life, influencing politics, law, and even geography.
Without it, Georgia could have been a "super state" — and the Trail of Tears might not have happened.
Seven of the original 13 states had extensive territorial claims, mainly toward the west.Credit: Library of Congress via public domain
There are no good old days.

Travel back, say, to the presidency of George Washington himself. Yes, the father of the nation, he who could tell no lie. Even under POTUS #1, there was corruption so venal and egregious that it changed the very map of America. In other words, without the Yazoo Land Scandal, the political geography of the United States might have looked quite different. Yet despite its catchy name and far-reaching consequences, few now remember the affair.
The scandal centered on Georgia, the last holdout in the process of state cessions. Of the original 13 colonies-turned-states, seven had entered into the Union with vague, contested, and often overlapping land claims, mainly in the region between the Appalachian Mountains and the Mississippi River.
The six states without claims did not want to be overshadowed by their expanding neighbors. And the federal government did not want them to get into fights where their claims overlapped. So the U.S. government spent its first few years convincing and cajoling those seven states to abandon their claims. When New York relinquished its claim to Vermont in 1790 (for a mere $30,000), that process was complete. With one exception.
Yazoo Land Fraud
Georgia continued to claim territory all the way to the Mississippi River. For various reasons, the state was loath to give up its interest in these so-called Yazoo Lands, corresponding to the larger part of the present-day states of Mississippi and Alabama. Not least because of money. Land developers were eager to acquire large chunks of the country, their guiding principle being: bribe high, pay low.
In 1794, four companies, set up especially for the purpose, paid half a million dollars for about 40 million acres of land. Even taking into account all the bribes — another half a million — that was a ridiculously low amount: four acres to a dollar.
Following the Rescinding Act, Georgia's governor and legislators burn all copies of the Yazoo Act (except one).Credit: New Georgia Encyclopedia via public domain
Infuriated by the deal, Georgians booted out the legislators who had their palms greased to approve the Yazoo Act, by which Georgia had sold all that land on the cheap. In 1795, a new state legislature voted a Rescinding Act, overturning the sale. All extant copies of the original Act were collected and burned at high noon on the grounds of the state capitol under construction, then in Louisville. (One copy escaped destruction — the one sent to President Washington).

The Yazoo hits the fan
But that was far from the end of the unpleasantries. In fact, this is where the actual scandal started. For the land companies did not admit defeat. They continued printing bonds that were being traded and sold on the financial markets of New York, Boston, and Philadelphia, raking in tidy profits.
Thousands of bond buyers acquired a stake in the Yazoo Lands. Eventually, though, the market smelled a rat. Investors started to worry: had they thrown away their money on a fraudulent land scheme?
Georgia paid back some of the duped buyers, but unable to handle the escalating scale of the scandal, the state eventually did surrender its claims to the Yazoo Lands to the federal government. Under the so-called Compact of 1802, the U.S. paid Georgia $1.25 million, took over any remaining liability for the Yazoo Lands, and promised to rid Georgia of any remaining Native American land claims.
So, the duped investors could now sue the federal government instead of Georgia. The land companies, for their part, wanted the U.S. to uphold their claims, which they continued to consider legal and valid. Who was right?
In 1810, the case reached the highest court in the land. Pronouncing on Fletcher v. Peck, the Supreme Court ruled that the Rescinding Act was unconstitutional and the original land deals remained legal. For although those deals were corrupt and not in the best interest of Georgians, the contracts were made by the Georgia legislature, which had the authority to do so. The Supreme Court ordered the U.S. government to pay out $4.5 million in compensation to the claimants.
Overview of the four separate Yazoo Act land deals that together constitute 40 million acres of land, sold for just $1 million (including bribes).Credit: New Georgia Encyclopedia via public domain
Yazoo changed the course of American history

Fletcher v. Peck was a landmark case in more ways than one. For the first time ever, the Supreme Court had ruled against a state law, that is, Georgia's Rescinding Act. This established the principle that federal laws were supreme over state laws. The case also firmly established that a legal contract could not be nullified by a later law, which became an important principle in contract law.
The Yazoo Land Scandal had two further, major consequences for the United States. Without the scandal, Georgia might conceivably have managed to hold on to its western lands. This hypothetical Greater Georgia, running from the Atlantic to the Mississippi, would have comprised most or all of the current states of Mississippi and Alabama. That would make it one of America's most populous states, its 20 million inhabitants on par with Florida and New York and surpassed only by Texas (30 million) and California (40 million).
Georgia could also have avoided one of the most ignominious events in its history. In 1830, the federal government fulfilled its promise in the Compact of 1802 to rid Georgia of all extant Native American land claims by the Indian Removal Act. Signed into law by President Andrew Jackson, the Act led to the "Trail of Tears," the forcible removal of the Cherokee, Creek, Choctaw, Seminole, and Chickasaw tribes — about 100,000 people in all — to reservations west of the Mississippi, in what would later become Oklahoma.
Although now largely forgotten, the Yazoo Land Scandal helped shape the territory, laws, and institutions of the early United States. But the affair has another lesson for our times. If there are no good old days, then our current ones perhaps aren't so bad either.
Strange Maps #1079
Got a strange map? Let me know at strangemaps@gmail.com.
Personal Growth
The pandemic has many people questioning whether they ever want to go back to the office.
Scroll down to load more…