Elon Musk is the Concerned Dad in Every Car Commercial
He just wants the best for humanity.
01 October, 2015
Elon Musk wants to make sure humanity lives and lives better. His whole legacy is built around the idea of making the world a better place. His missions to convert every home to solar and colonize Mars are a testament to his dedication. Musk has taken another step to preserve human life: Meet Model X, a Tesla SUV built to defend its passengers from a biological attack.
---


Inside the car is a bioweapon defense button in the dash display, which Musk says "gives you hospital-level air quality" when the mode is activated. It pumps up the Model X's HEPA air filter to maximum, which Musk says is strong enough to rid any toxins from a bioweapon.

The Model X not only protects your loved ones against biological incidents, but also protects against the standard car crash. Musk boasted in the announcement that the Model X has a five-star crash test rating... if there was a sixth star, the Model X would get it.

When it comes to front-end crashes, it's simple calculation of force over distance. The Model X has no gas engine, which, in standard cars, can get pushed into the passenger cabin. The Model X, therefore, has a higher "crumple zone" to absorb and distribute the force of the impact. Musk joked, "It's the difference between jumping into a pool or a pool with a rock in it, so..." 

When it came to the side-pole impact test, the same results held true, beating (what was) the highest-rated SUV.

See the results for yourself: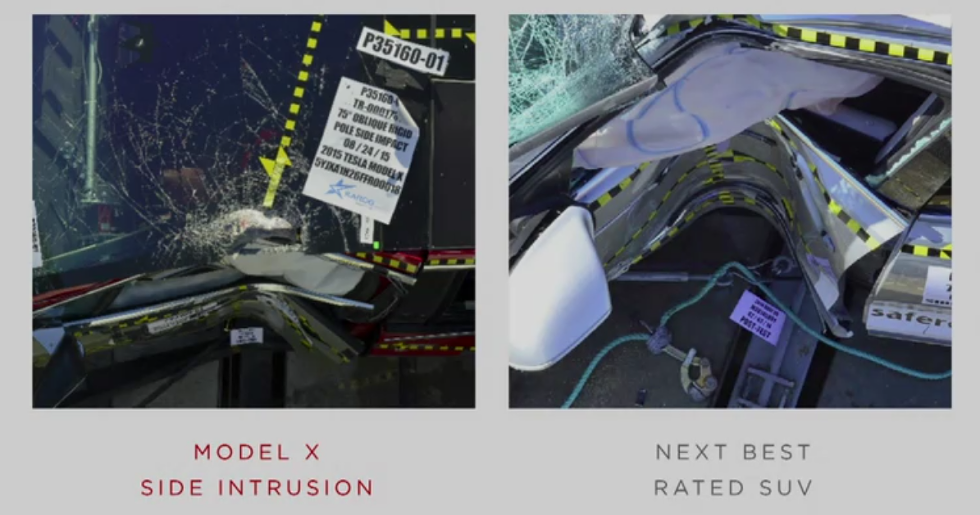 Likewise, probability of rollover is reduced; and probability of death is reduced from crashes and from inhaling toxic emissions.

Check out the full announcement here.
--
Natalie has been writing professionally for about 6 years. After graduating from Ithaca College with a degree in Feature Writing, she snagged a job at PCMag.com where she had the opportunity to review all the latest consumer gadgets. Since then she has become a writer for hire, freelancing for various websites. In her spare time, you may find her riding her motorcycle, reading YA novels, hiking, or playing video games. Follow her on Twitter: @nat_schumaker
Photo Credit: Justin Sullivan / Getty Staff
Research in plant neurobiology shows that plants have senses, intelligence and emotions.
Getty Images
Surprising Science
The field of plant neurobiology studies the complex behavior of plants.
Plants were found to have 15-20 senses, including many like humans.
Some argue that plants may have awareness and intelligence, while detractors persist.
E-cigarettes may be safer than traditional cigarettes, but they come with their own risks.
Surprising Science
A new study used an MRI machine to examine how vaping e-cigarettes affects users' cardiovascular systems immediately after inhalation.
The results showed that vaping causes impaired circulation, stiffer arteries and less oxygen in their blood.
The new study adds to a growing body of research showing that e-cigarettes – while likely safer than traditional cigarettes – are far from harmless.
Since the idea of locality is dead, space itself may not be an aloof vacuum: Something welds things together, even at great distances.

Videos
Realists believe that there is an exactly understandable way the world is — one that describes processes independent of our intervention. Anti-realists, however, believe realism is too ambitious — too hard. They believe we pragmatically describe our interactions with nature — not truths that are independent of us.
In nature, properties of Particle B may be depend on what we choose to measure or manipulate with Particle A, even at great distances.
In quantum mechanics, there is no explanation for this. "It just comes out that way," says Smolin. Realists struggle with this because it would imply certain things can travel faster than light, which still seems improbable.