Scientists Find Out How Hope Protects the Brain
Since hope appears to come from a physical place in the brain, scientists are hoping to figure out how it shields the rest of the brain from negativity. Really. 
20 October, 2017
Public domain
---
In a recent study, Chinese psychologists found out that hope protects the brain against anxiety and expanded our understanding of how that may be happening. Because hope is considered a stable personality trait, they reasoned, they might be able to figure out where in the brain they can find hope functioning. They were able not only to pinpoint where hope might potentially reside within the brain, but realized how hope may be shielding the brain from the effects of anxiety.
The scientists defined hope as an important topic in positive psychology, referring to an individual's "goal-oriented expectations" that include both agency (desire to achieve goals) and pathways (finding ways to achieve them).
The researchers used fMRI imaging on 231 high school students from Chengdu, China who were tested according to questionnaires using the DHS hope scale and the Stait-Trait Anxiety test.
The scientists analyzed the data using the fractional amplitude of low-frequency fluctuation (fALFF) approach. They found that the presence of the hope trait was related to lower fALFF values in the bilateral medial orbitofrontal cortex (mOFC) area of the brain. That is the region involved in reward-related procession, the production of motivation, solving problems and goal-oriented behavior, according to the scientists.
The orbitofrontal cortex is located just above the orbits of the eyes and goes back several centimeters into the frontal base of the brain. The scientists discovered that the hope trait worked as a "mediator" between mOFC activity and anxiety.
"Overall, this study provides the first evidence for functional brain substrates underlying trait hope and reveals a potential mechanism that trait hope mediates the protective role of spontaneous brain activity against anxiety," write the researchers.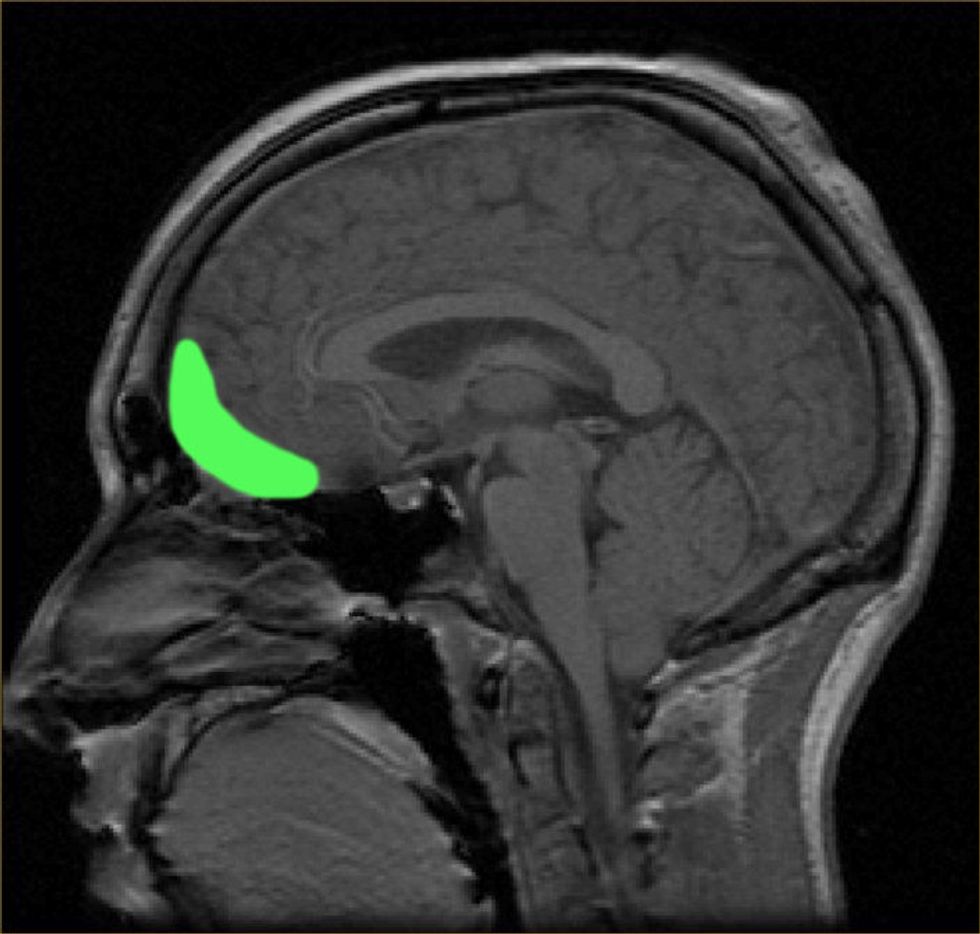 Orbitofrontal Cortex. Credit: Paul Wicks, Wikipedia
This is the first evidence that hope may have a physical presence in the brain, but the relationship between hope and anxiety has been established in a number of previous studies. A 2002 University of Kansas study, led by C.R. Snyder, looked at the role hope plays for students. The researchers found that students low in hope had greater anxiety, primarily from establishing goals that were too overwhelming and hard to achieve.
A 2011 study from Malaysian and Hong Kong scientists showed the link between having greater hope and reduced anxiety and depression in cancer patients. It was not clear, however, whether hope caused less anxiety or people with less anxiety were more hopeful.
Here you can check out the 2017 study that involved researchers from Sichuan University, Southwest University for Nationalities and Chengdu Mental Health Center in Chengdu, China.
Who is to blame for the U.S.'s dismal college graduation rate? "Radical" educator Dennis Littky has a hunch.
Sponsored by Charles Koch Foundation
COVID-19 has magnified the challenges that underserved communities face with regard to higher education, such as widening social inequality and sky-high tuition.
At College Unbound, where I am president, we get to know students individually to understand what motivates them, so they can build a curriculum based on goals they want to achieve.
My teaching mantra: Everything is permitted during COVID-19. Everything is permitted during COVID-19. Everything is permitted during COVID-19.
Meteorologists propose a stunning new explanation for the mysterious events in the Bermuda Triangle.
Surprising Science
One of life's great mysteries, the Bermuda Triangle might have finally found an explanation. This strange region, that lies in the North Atlantic Ocean between Bermuda, Miami and San Juan, Puerto Rico, has been the presumed cause of dozens and dozens of mind-boggling disappearances of ships and planes.
What does it mean to "lead without authority"?
The planet that we are searching for is a little bit smaller and closer than we originally thought.
Videos
Years ago, California Institute of Technology professor Konstantin Batygin was inspired to embark on a journey of discovering what lurked beyond Neptune. What he and his collaborator discovered was a strange field of debris.
This field of debris exhibited a clustering of orbits, and something was keeping these orbits confined. The only plausible source would be the gravitational pull of an extra planet—Planet Nine.
While Planet Nine hasn't been found directly, the pieces of the puzzle are coming together. And Batygin is confident we'll return to a nine-planet solar system within the next decade.
Scroll down to load more…