Scientists Find Out How Hope Protects the Brain
Since hope appears to come from a physical place in the brain, scientists are hoping to figure out how it shields the rest of the brain from negativity. Really. 
20 October, 2017
---
In a recent study, Chinese psychologists found out that hope protects the brain against anxiety and expanded our understanding of how that may be happening. Because hope is considered a stable personality trait, they reasoned, they might be able to figure out where in the brain they can find hope functioning. They were able not only to pinpoint where hope might potentially reside within the brain, but realized how hope may be shielding the brain from the effects of anxiety.
The scientists defined hope as an important topic in positive psychology, referring to an individual's "goal-oriented expectations" that include both agency (desire to achieve goals) and pathways (finding ways to achieve them).
The researchers used fMRI imaging on 231 high school students from Chengdu, China who were tested according to questionnaires using the DHS hope scale and the Stait-Trait Anxiety test.
The scientists analyzed the data using the fractional amplitude of low-frequency fluctuation (fALFF) approach. They found that the presence of the hope trait was related to lower fALFF values in the bilateral medial orbitofrontal cortex (mOFC) area of the brain. That is the region involved in reward-related procession, the production of motivation, solving problems and goal-oriented behavior, according to the scientists.
The orbitofrontal cortex is located just above the orbits of the eyes and goes back several centimeters into the frontal base of the brain. The scientists discovered that the hope trait worked as a "mediator" between mOFC activity and anxiety.
"Overall, this study provides the first evidence for functional brain substrates underlying trait hope and reveals a potential mechanism that trait hope mediates the protective role of spontaneous brain activity against anxiety," write the researchers.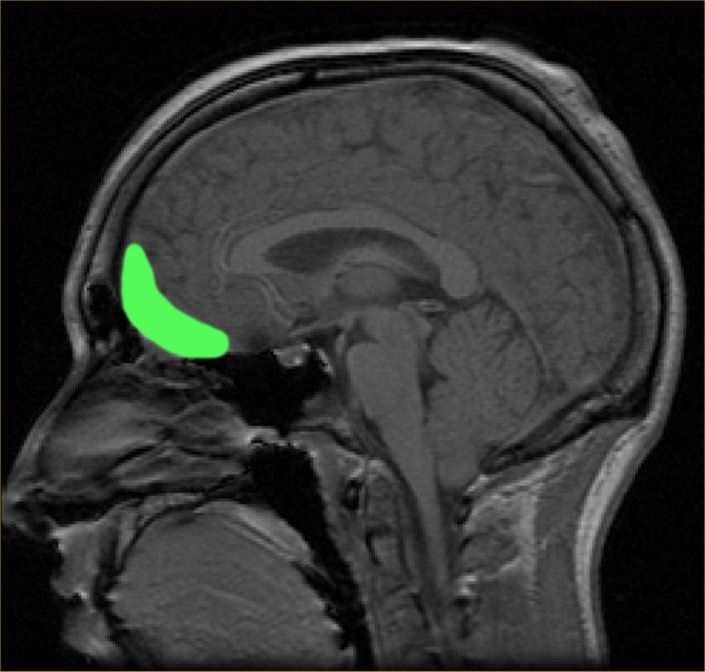 Orbitofrontal Cortex. Credit: Paul Wicks, Wikipedia
This is the first evidence that hope may have a physical presence in the brain, but the relationship between hope and anxiety has been established in a number of previous studies. A 2002 University of Kansas study, led by C.R. Snyder, looked at the role hope plays for students. The researchers found that students low in hope had greater anxiety, primarily from establishing goals that were too overwhelming and hard to achieve.
A 2011 study from Malaysian and Hong Kong scientists showed the link between having greater hope and reduced anxiety and depression in cancer patients. It was not clear, however, whether hope caused less anxiety or people with less anxiety were more hopeful.
Here you can check out the 2017 study that involved researchers from Sichuan University, Southwest University for Nationalities and Chengdu Mental Health Center in Chengdu, China.
Research in plant neurobiology shows that plants have senses, intelligence and emotions.
Getty Images
Surprising Science
The field of plant neurobiology studies the complex behavior of plants.
Plants were found to have 15-20 senses, including many like humans.
Some argue that plants may have awareness and intelligence, while detractors persist.
Most people think human extinction would be bad. These people aren't philosophers.
Shutterstock
Politics & Current Affairs
A new opinion piece in The New York Times argues that humanity is so horrible to other forms of life that our extinction wouldn't be all that bad, morally speaking.
The author, Dr. Todd May, is a philosopher who is known for advising the writers of The Good Place.
The idea of human extinction is a big one, with lots of disagreement on its moral value.
Since the idea of locality is dead, space itself may not be an aloof vacuum: Something welds things together, even at great distances.

Videos
Realists believe that there is an exactly understandable way the world is — one that describes processes independent of our intervention. Anti-realists, however, believe realism is too ambitious — too hard. They believe we pragmatically describe our interactions with nature — not truths that are independent of us.
In nature, properties of Particle B may be depend on what we choose to measure or manipulate with Particle A, even at great distances.
In quantum mechanics, there is no explanation for this. "It just comes out that way," says Smolin. Realists struggle with this because it would imply certain things can travel faster than light, which still seems improbable.