Scientists Find Out How Hope Protects the Brain
Since hope appears to come from a physical place in the brain, scientists are hoping to figure out how it shields the rest of the brain from negativity. Really. 
20 October, 2017
---
In a recent study, Chinese psychologists found out that hope protects the brain against anxiety and expanded our understanding of how that may be happening. Because hope is considered a stable personality trait, they reasoned, they might be able to figure out where in the brain they can find hope functioning. They were able not only to pinpoint where hope might potentially reside within the brain, but realized how hope may be shielding the brain from the effects of anxiety.
The scientists defined hope as an important topic in positive psychology, referring to an individual's "goal-oriented expectations" that include both agency (desire to achieve goals) and pathways (finding ways to achieve them).
The researchers used fMRI imaging on 231 high school students from Chengdu, China who were tested according to questionnaires using the DHS hope scale and the Stait-Trait Anxiety test.
The scientists analyzed the data using the fractional amplitude of low-frequency fluctuation (fALFF) approach. They found that the presence of the hope trait was related to lower fALFF values in the bilateral medial orbitofrontal cortex (mOFC) area of the brain. That is the region involved in reward-related procession, the production of motivation, solving problems and goal-oriented behavior, according to the scientists.
The orbitofrontal cortex is located just above the orbits of the eyes and goes back several centimeters into the frontal base of the brain. The scientists discovered that the hope trait worked as a "mediator" between mOFC activity and anxiety.
"Overall, this study provides the first evidence for functional brain substrates underlying trait hope and reveals a potential mechanism that trait hope mediates the protective role of spontaneous brain activity against anxiety," write the researchers.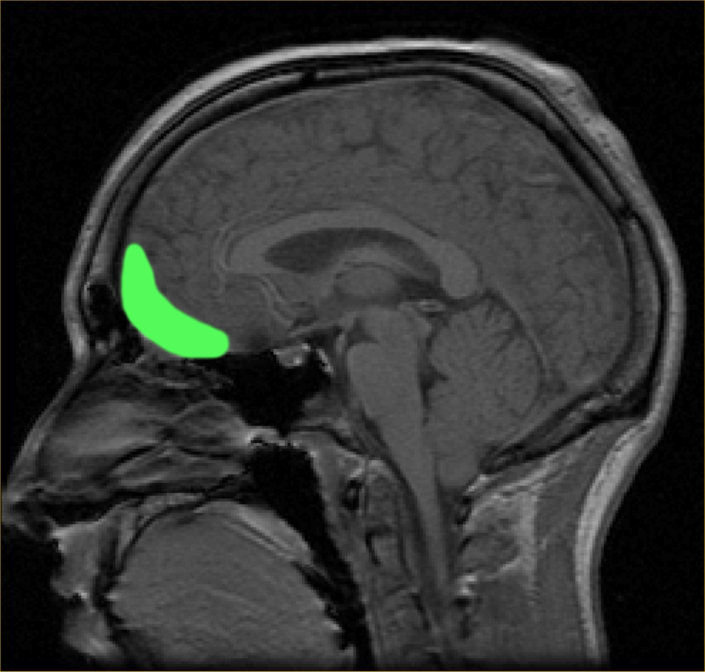 Orbitofrontal Cortex. Credit: Paul Wicks, Wikipedia
This is the first evidence that hope may have a physical presence in the brain, but the relationship between hope and anxiety has been established in a number of previous studies. A 2002 University of Kansas study, led by C.R. Snyder, looked at the role hope plays for students. The researchers found that students low in hope had greater anxiety, primarily from establishing goals that were too overwhelming and hard to achieve.
A 2011 study from Malaysian and Hong Kong scientists showed the link between having greater hope and reduced anxiety and depression in cancer patients. It was not clear, however, whether hope caused less anxiety or people with less anxiety were more hopeful.
Here you can check out the 2017 study that involved researchers from Sichuan University, Southwest University for Nationalities and Chengdu Mental Health Center in Chengdu, China.
Lumina Foundation is partnering with Big Think to unearth the next large-scale, rapid innovation in post-high school education. Enter the competition here!
Creativity can bring about unchecked harm, but it's up to us how we wield it.
Mind & Brain
Suppose you forgot it was your partner's birthday, but you know that they would appreciate the smallest of gestures, say a bouquet. It's late at night and no florists are open. The cemetery on your way home has recently had a funeral, and you walk across the site and pick up a good-looking bouquet of roses from someone's grave. You then head home, and the flowers are happily received by your partner.
Would you say that you hurt anyone?
The part of your brain responsible for ASMR catalogs music, and appears to be a stronghold against Alzheimer's and dementia.
The parts of the brain highlighted in red and yellow are thought to control your sense of attention and memory. (image c/o Brain Network Lab)
popular
Some music inspires you to move your feet, some inspires you to get out there and change the world. In any case, and to move hurriedly on to the point of this article, it's fair to say that music moves people in special ways. 
Musican. Actor. Fashion Icon. Internet Visionary?
Technology & Innovation
David Bowie was well known as a rock star, but somehow his other interests and accomplishments remain obscure.
In this 1999 interview, he explains why he knows the internet is more than just a tool and why it was destined to change the world.
He launched his own internet service provider in 1998, BowieNet. It ceased operations in 2006.
Big think's weekly newsletter.
Get smarter faster from the comfort of your inbox.
See our newsletter privacy policy
here
Most Popular
Most Recent
Big think's weekly newsletter.
Get smarter faster from the comfort of your inbox.
See our newsletter privacy policy
here
© Copyright 2007-2018 & BIG THINK, BIG THINK EDGE,
SMARTER FASTER trademarks owned by The Big Think, Inc. All rights reserved.