New images from the Redoubt Eruption
We've got images and videos of the Redoubt eruption, along with a lot of "day after" news.
Erik Klemetti
I write the Eruptions blog on Big Think. I've been mesmerized with volcanoes (and geology) all my life. It helps that part of my family comes from the shadow of Nevado del Ruiz in Colombia, where I could see first hand the deadly effects of volcanic eruptions. Since then, I've taken a bit of a winding path to become a volcanologist. I started as a history major at Williams College, almost went into radio, but ended up migrating to geology, including an undergraduate thesis on Vinalhaven Island, Maine. I followed this up by changing coast to get my Ph.D. from Oregon State University. Then I ran a MC-ICP-MS lab at University of Washington for a spell (and wrote for an indie rock website). I spent three years as a postdoctoral scholar at University of California - Davis studying the inner workings of magmatic systems. I am now an assistant professor at Denison University and have projects in New Zealand, Chile and Oregon.
I am fascinated by volcanoes, their eruptions and how those eruptions interact with the people who live around the volcanoes. I started this blog after getting frustrated with the news reports of volcanic eruptions. Most of them get the information wrong and/or are just sensationalistic. I will try to summarize eruptions as they occur, translate some of the volcanic processes that are happening and comment on the reports themselves.
And no matter what people tell you, I definitely do not have a cat named Tephra. (OK, I do).
You can find out more about my research by visiting my website. If you have any comments, questions or information, feel free to contact me at eruptionsblog at gmail dot com.
01 September, 2010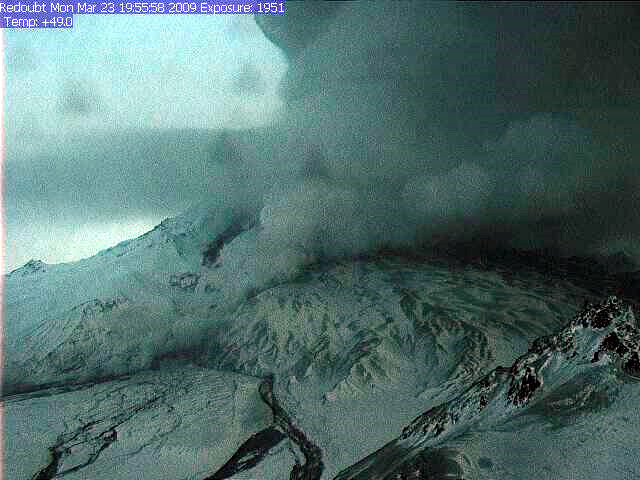 Image courtesy of AVO/USGS
---
AVO has posted a series of images taken around Redoubt and around the Cook Inlet since the new eruptions started the night of March 22nd. You can begin to see the extent of the ash fall, what the explosions have done to the Drift Glacier and the new deposits in the Drift River valley. Most of the images show a lot of meltwater mudflows and tephra deposits on the slopes of the volcano. They've also added images from satellite and radar sources that show the initial dispersal of ash from the eruptions throughout the area north of Redoubt.
Eruptions reader Akira Shirakawa has put together an excellent (and I mean excellent) video montage of images from the Hut camera (which, bizarrely, came back to like spontaneously yesterday), with a soundtrack of "converted digital seismic traces". It captures the sixth explosion that occurred yesterday (3/23) evening.
AVO's current Redoubt information reports that the seismicity is still the same as the last few days, suggesting magma is still on the move into the upper parts of the volcano. Ash advisories posted after yesterday evening's eruption has been canceled, so now we just wait and watch for more of these explosions that have been producing 50,000 foot / 15,000 meter ash columns and depositing fine ash around the region (typical activity for Redoubt). If these eruptions are similar to 1989-1990, we should expect some dome growth in the following weeks/months.
In some of the "day after" news, the brunt of the ash fall from yesterday's eruption hit the town of Skwentna (70 miles NW of Anchorage) and left Anchorage, Wasilla and other population centers virtually untouched - other than canceled flights. You can see some of the regional ash effects in this AP video. Sounds like some people had to be rescued after getting trapped in the ash fall on Mt. McKinley/Denali. And really, there is nothing like a good volcanic eruption to get people talking "earth science funding". I think it is safe to say that Redoubt caught few people truly "by surprise" with its eruption, leading to very little drama on the human side of the volcano mitigation equation.
Related Articles
These five main food groups are important for your brain's health and likely to boost the production of feel-good chemicals.
Infographics show the classes and anxieties in the supposedly classless U.S. economy.
What is the middle class now, anyway? (JEWEL SAMAD/AFP/Getty Images)
Politics & Current Affairs
For those of us who follow politics, we're used to commentators referring to the President's low approval rating as a surprise given the U.S.'s "booming" economy. This seeming disconnect, however, should really prompt us to reconsider the measurements by which we assess the health of an economy. With a robust U.S. stock market and GDP and low unemployment figures, it's easy to see why some think all is well. But looking at real U.S. wages, which have remained stagnant—and have, thus, in effect gone down given rising costs from inflation—a very different picture emerges. For the 1%, the economy is booming. For the rest of us, it's hard to even know where we stand. A recent study by Porch (a home-improvement company) of blue-collar vs. white-collar workers shows how traditional categories are becoming less distinct—the study references "new-collar" workers, who require technical certifications but not college degrees. And a set of recent infographics from CreditLoan capturing the thoughts of America's middle class as defined by the Pew Research Center shows how confused we are.
Big think's weekly newsletter.
Get smarter faster from the comfort of your inbox.
See our newsletter privacy policy
here
Most Popular
Most Recent
Big think's weekly newsletter.
Get smarter faster from the comfort of your inbox.
See our newsletter privacy policy
here
© Copyright 2007-2018 & BIG THINK, BIG THINK EDGE,
SMARTER FASTER trademarks owned by The Big Think, Inc. All rights reserved.