Global Elite MADE IN CHINA (feat. The Yenching Academy)
24 July, 2014
BEIJING – Rhodes Scholars, Fulbright Scholars, Humboldt Scholars… those are the BIG brand names on the scholarship firmament. Soon, the academic world will –hopefully- be talking about a new superlative: the Yenching Scholars.
---
RELATED And The Best University In China Is…
Peking University (PKU), China's "mother lode of higher education" (my shade, but you're welcome to try to top that), does minister to China's national flag, the five golden stars –wu xing hong qi- with an equally impressive five star Chinese scholarship program that has the People's Republic's media going uuh and ooh since June. Ah, and, yeah, they got themselves a skillful Wikipedian, too.
RELATED How A Graduation Photo Can Make You Famous In China
In the usual manner of generous non-transparency (not even its official website knows who's in charge, who's to teach, etc.), top leaders of PKU headed by Party Secretary Zhu Shanlu mandated that the center of the University, "Jing-yuan Courtyard," a postcard place of magnificent green enclosed by six vegetated, traditional building-complexes, is going to be renovated to house (!) and groom 100 "elite" graduate students (35 members of the mainland tribe, and 65 international students, including Hong Kong and Taiwan) –the so-called future "Yenching Scholars." [Not to be mistaken with the Harvard Yenching Scholars here, albeit… there are interpersonal links].
RELATED The Resurrection of Non-Western Civilizations
Although there are never any protests in China, I mean: Ever! Yet many students and faculty clearly lifted the finger of disapproval. After all, they cried, the Yenching Academy would result into a 1st and 2nd Class division on Campus [not that there wasn't already a minatory group of ultra-rich princelings (taizidang) to speak of]. "Ordinary" PKU students have to spent two (or three) years for an MA degree; the Yenching scholars just one. What is more, the Yenching program will be conducted in English (although it goes by the honor of "MA in Chinese Studies." No shit).
RELATED Like It Or Not: We Are All Going To Learn Chinese
Last, the "chosen ones" will get –allegedly- superior accommodation on the most exclusive, arguable most symbolic piece of land in entire Beijing, with the exception, perhaps, of the Forbidden City. They will also get the best teachers (non-academic superstars need not apply for lectureship), generous facilities and allowances, living fees and perks (no figures were released, sadly), and they will certainly attract plenty of national media attention.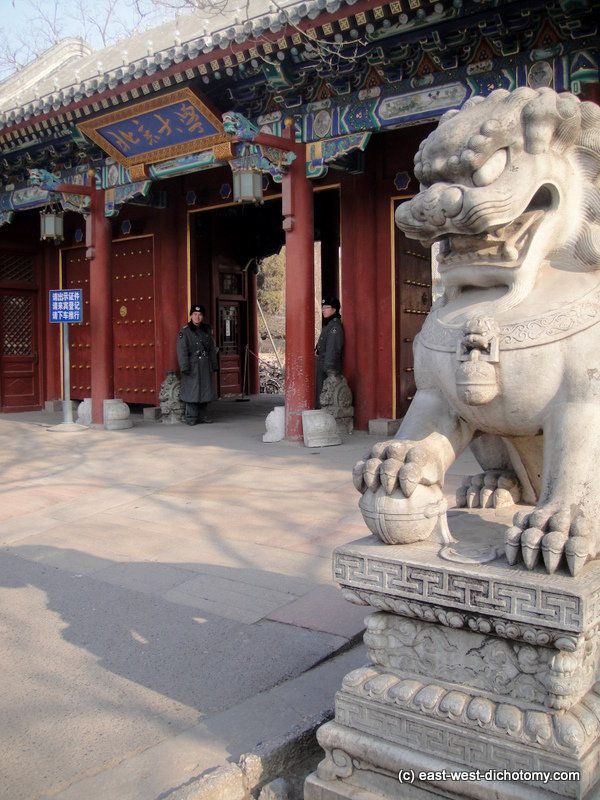 RELATED Inside Peking University
The goal, so Wang Enge, PKU's president, is to cultivate "future world leaders" –no less. There's little doubt that the project is also political. It's a state university, it's the intellectual center of the Communist Party, and it's understood, among the ranks of the sages, that the Academy will be about advancing China's (cultural) soft-power in the world.
Sure, the presence of "an elite (on top) of the elite" –the junzi or superior men- in the midst of the PKU community could ruin the humble, idyllic, egalitarian, and democratic atmosphere, letting alone breaking with the official Party line of the harmonious society –hexie shehui.
So, without further ado, read here about the viral 10 REASONS WHY YOU SHOULD APPLY FOR YENCHING ACADEMY, including rare survival tips.
Image credits: Roland IJdema/Shutterstock.com
To keep up to date with Dragons and Pandas you can also follow me on Twitter: @worldethics; my website: East-West-Dichotomy.com; or my other blog: You've Heard About It.
What can 3D printing do for medicine? The "sky is the limit," says Northwell Health researcher Dr. Todd Goldstein.
Northwell Health
Sponsored by Northwell Health
Medical professionals are currently using 3D printers to create prosthetics and patient-specific organ models that doctors can use to prepare for surgery.
Eventually, scientists hope to print patient-specific organs that can be transplanted safely into the human body.
Northwell Health, New York State's largest health care provider, is pioneering 3D printing in medicine in three key ways.
An ordained Lama in a Tibetan Buddhist lineage, Lama Rod grew up a queer, black male within the black Christian church in the American south. Navigating all of these intersecting, evolving identities has led him to a life's work based on compassion for self and others.
Think Again Podcasts
"What I'm interested in is deep, systematic change. What I understand now is that real change doesn't happen until change on the inside begins to happen."
"Masculinity is not inherently toxic. Patriarchy is toxic. We have to let that energy go so we can stop forcing other people to do emotional labor for us."
We were gaining three IQ points per decade for many, many years. Now, that's going backward. Could this explain some of our choices lately?
The Flynn effect appears to be in retrograde. (Credit: Shutterstock/Big Think)
popular
There's a new study out of Norway that indicates our—well, technically, their—IQs are shrinking, to the tune of about seven IQ points per generation.
Here's why generalists triumph over specialists in the new era of innovation.
Videos
Since the explosion of the knowledge economy in the 1990s, generalist inventors have been making larger and more important contributions than specialists.
One theory is that the rise of rapid communication technologies allowed the information created by specialists to be rapidly disseminated, meaning generalists can combine information across disciplines to invent something new.
Here, David Epstein explains how Nintendo's Game Boy was a case of "lateral thinking with withered technology." He also relays the findings of a fascinating study that found the common factor of success among comic book authors.
Big think's weekly newsletter.
Get smarter faster from the comfort of your inbox.
See our newsletter privacy policy
here
Most Popular
Most Recent
Big think's weekly newsletter.
Get smarter faster from the comfort of your inbox.
See our newsletter privacy policy
here
© Copyright 2007-2019 & BIG THINK, BIG THINK EDGE,
SMARTER FASTER trademarks owned by The Big Think, Inc. All rights reserved.