Global Elite MADE IN CHINA (feat. The Yenching Academy)
Thorsten J. Pattberg
Dr. Thorsten J. Pattberg (裴德思 Pei Desi) is a German writer, linguist, and cultural critic.
\r\n
He attended Edinburgh University, Fudan University, Tokyo University, and Harvard University, and earned his doctorate degree from The Institute of World Literature at Peking University. He studied under the guiding stars of Ji Xianlin, Gu Zhengkun, and Tu Weiming, whom he considers his spiritual masters.

Dr. Pattberg is currently a Visiting Fellow at the Institute for Advanced Studies on Asia, University of Tokyo; and a former Research Fellow at the Institute for Advanced Humanistic Studies, Peking University. He is the author of four monographs 'The East-West dichotomy,' 'Shengren,' 'Holy Confucius,' and 'Inside Peking University,' and some of his representative articles are 'Language hegemony – It's shengren, stupid!,' 'Long into the West's dragon business,' 'China: Lost in Translation,' and 'The end of translation.'

24 July, 2014
BEIJING – Rhodes Scholars, Fulbright Scholars, Humboldt Scholars… those are the BIG brand names on the scholarship firmament. Soon, the academic world will –hopefully- be talking about a new superlative: the Yenching Scholars.
---
RELATED And The Best University In China Is…
Peking University (PKU), China's "mother lode of higher education" (my shade, but you're welcome to try to top that), does minister to China's national flag, the five golden stars –wu xing hong qi- with an equally impressive five star Chinese scholarship program that has the People's Republic's media going uuh and ooh since June. Ah, and, yeah, they got themselves a skillful Wikipedian, too.
RELATED How A Graduation Photo Can Make You Famous In China
In the usual manner of generous non-transparency (not even its official website knows who's in charge, who's to teach, etc.), top leaders of PKU headed by Party Secretary Zhu Shanlu mandated that the center of the University, "Jing-yuan Courtyard," a postcard place of magnificent green enclosed by six vegetated, traditional building-complexes, is going to be renovated to house (!) and groom 100 "elite" graduate students (35 members of the mainland tribe, and 65 international students, including Hong Kong and Taiwan) –the so-called future "Yenching Scholars." [Not to be mistaken with the Harvard Yenching Scholars here, albeit… there are interpersonal links].
RELATED The Resurrection of Non-Western Civilizations
Although there are never any protests in China, I mean: Ever! Yet many students and faculty clearly lifted the finger of disapproval. After all, they cried, the Yenching Academy would result into a 1st and 2nd Class division on Campus [not that there wasn't already a minatory group of ultra-rich princelings (taizidang) to speak of]. "Ordinary" PKU students have to spent two (or three) years for an MA degree; the Yenching scholars just one. What is more, the Yenching program will be conducted in English (although it goes by the honor of "MA in Chinese Studies." No shit).
RELATED Like It Or Not: We Are All Going To Learn Chinese
Last, the "chosen ones" will get –allegedly- superior accommodation on the most exclusive, arguable most symbolic piece of land in entire Beijing, with the exception, perhaps, of the Forbidden City. They will also get the best teachers (non-academic superstars need not apply for lectureship), generous facilities and allowances, living fees and perks (no figures were released, sadly), and they will certainly attract plenty of national media attention.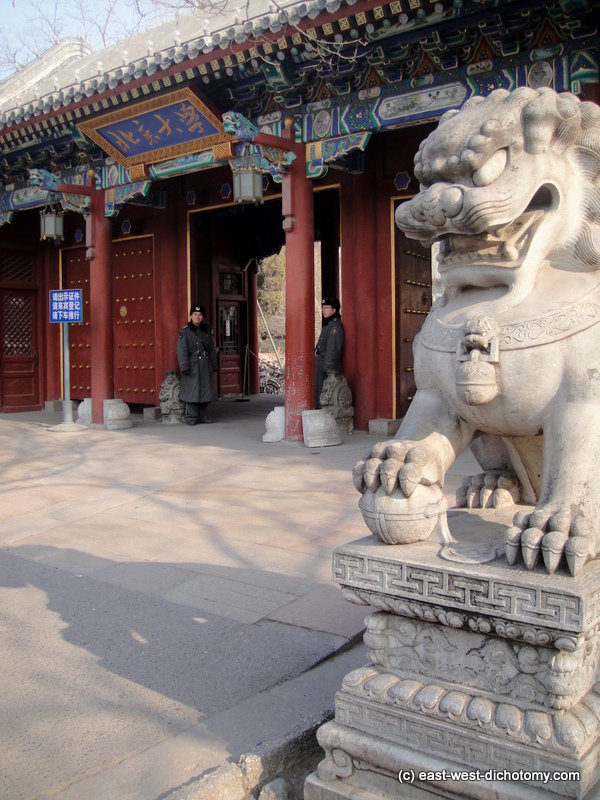 RELATED Inside Peking University
The goal, so Wang Enge, PKU's president, is to cultivate "future world leaders" –no less. There's little doubt that the project is also political. It's a state university, it's the intellectual center of the Communist Party, and it's understood, among the ranks of the sages, that the Academy will be about advancing China's (cultural) soft-power in the world.
Sure, the presence of "an elite (on top) of the elite" –the junzi or superior men- in the midst of the PKU community could ruin the humble, idyllic, egalitarian, and democratic atmosphere, letting alone breaking with the official Party line of the harmonious society –hexie shehui.
So, without further ado, read here about the viral 10 REASONS WHY YOU SHOULD APPLY FOR YENCHING ACADEMY, including rare survival tips.
Image credits: Roland IJdema/Shutterstock.com
To keep up to date with Dragons and Pandas you can also follow me on Twitter: @worldethics; my website: East-West-Dichotomy.com; or my other blog: You've Heard About It.
The ability to speak clearly, succinctly, and powerfully is easier than you think
Former U.S. President Barack Obama speaks during a Democratic Congressional Campaign Committee rally at the Anaheim Convention Center on September 8, 2018 in Anaheim, California. (Photo by Barbara Davidson/Getty Images)
Personal Growth
The ability to communicate effectively can make or break a person's assessment of your intelligence, competence, and authenticity.
Antimicrobial resistance is growing worldwide, rendering many "work horse" medicines ineffective. Without intervention, drug-resistant pathogens could lead to millions of deaths by 2050. Thankfully, companies like Pfizer are taking action.
Image courtesy of Pfizer.
Sponsored
Antimicrobial-resistant pathogens are one of the largest threats to global health today.
As we get older, our immune systems age, increasing our risk of life threatening infections. Without reliable antibiotics, life expectancy could decline for the first time in modern history.
If antibiotics become ineffective, common infections could result in hospitalization or even death. Life-saving interventions like cancer treatments and organ transplantation would become more difficult, more often resulting in death. Routine procedures would become hard to perform.
Without intervention, resistant pathogens could result in 10 million annual deaths by 2050.
By taking a multi-faceted approach—inclusive of adherence to good stewardship, surveillance and responsible manufacturing practices, as well as an emphasis on prevention and treatment—companies like Pfizer are fighting to help curb the spread.
Journalism got a big wake up call in 2016. Can we be optimistic about the future of media?
Big think's weekly newsletter.
Get smarter faster from the comfort of your inbox.
See our newsletter privacy policy
here
Most Popular
Most Recent
Big think's weekly newsletter.
Get smarter faster from the comfort of your inbox.
See our newsletter privacy policy
here
© Copyright 2007-2018 & BIG THINK, BIG THINK EDGE,
SMARTER FASTER trademarks owned by The Big Think, Inc. All rights reserved.