How A Graduation Photo Can Make You Famous In China
23 June, 2014
Xue Yifan And Her Cool Graduation 'Group-Photo' Inspire A Nation
---
BEIJING – In China's over-populated and ultra-competitive education system –the largest in the world with 200 million students in elementary schools and 20 million students in higher education- it is difficult to stand out.
Except if you have the coolest graduation 'group photo' in the entire country in 2014: Ms Xue Yifan (薛逸凡) is THE ONLY GRADUATE IN PALEONTOLOGY major of Peking University (PKU), the China Daily reports, largely because few parents and students lack understanding what the subject is all about: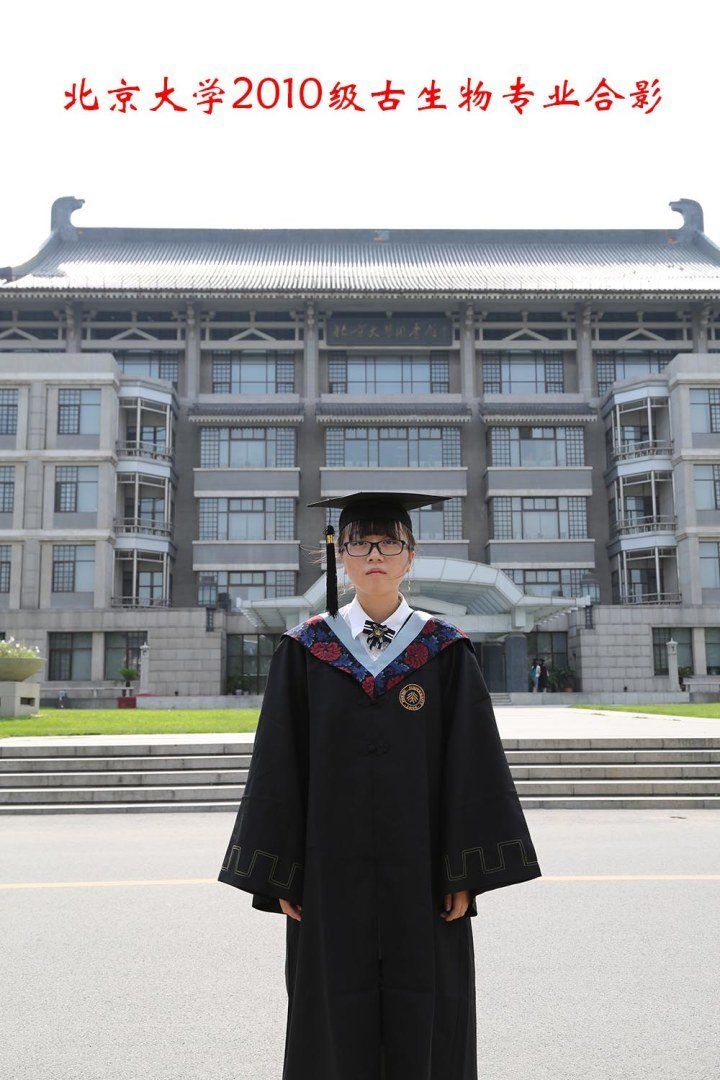 RELATED How A Single Picture Can Make You Famous In China
When Yifan posted her somber official 2014 graduation "group photo" (in front of the iconic PKU main library), little could she know that the shot would soon get viral. (China has over 500 million active internet users).
This wouldn't be China if there wasn't a Confucian twist to it. In this country, education is holy and often seen as the golden way to shine in an ocean of eager people, letting alone earning respect and saving face for oneself and one's family. It also makes education supremely competitive, creates an over-supply of scholars, and drives down salaries. Once an occupational niche is discovered, within a single year competitors are drawn to it.
It is Good To Be The Only One
In an interview with the People's Daily, a humble and modest Xue Yifan describes herself as ordinary but determined and motivated woman doted by the love of her parents. At the age of three, she recalls, she liked to draw a lot, and watched a lot of Wild Life documentaries on TV as well as popular cartoons such as Tom and Jerry or Journey to the West. Her parents were always supportive of her educational goals: "As long as you do what you love, everything will turn out just fine," they said.
But being the only one isn't always easy, the scholar recounts her experiences at one of China's most elite universities: "It also generates a lot of stress and loneliness."
RELATED Parenting – Why some cultural groups seem to do a better job
The Dean of PKU's Yuanpei College explained that despite the popularity of science majors in China and the allure of "mammoths and dinosaurs" stuff, letting alone evolutionary history, most Chinese students (including their parents, who often push their careers) "have limited understanding of the major."
This may now have changed, partly because of brave Ms Xue Yifan.
READ MORE In China, paleontology is going the way of the dinosaur (by Lily Kuo)
Image credits: (c) Yuanpei College, Peking University, 2014
To keep up to date with Dragons and Pandas you can follow me on Twitter: @worldethics; my website: East-West-Dichotomy.com; or my other blog: You've Heard About It.
A new study estimated the untapped potential of wind energy across Europe.
Pixabay
Surprising Science
A new report calculated how much electricity Europe could generate if it built onshore wind farms on all of its exploitable land.
The results indicated that European onshore wind farms could supply the whole world with electricity from now until 2050.
Wind farms come with a few complications, but the researchers noted that their study was meant to highlight the untapped potential of the renewable energy source in Europe.
Scientists make an important discovery for the future of computing.
Pixabay
Surprising Science
Researchers find a new state of matter called "topological superconductivity".
The state can lead to important advancements in quantum computing.
Utilizing special particles that emerge during this state can lead to error-free data storage and blazing calculation speed.
You want one. Now you may be able to survive one.
Technology & Innovation
Cats live in a quarter of Western households.
Allergies to them are common and can be dangerous.
A new approach targets the primary trouble-causing allergen.