How A Graduation Photo Can Make You Famous In China
Thorsten J. Pattberg
Dr. Thorsten J. Pattberg (裴德思 Pei Desi) is a German writer, linguist, and cultural critic.
\r\n
He attended Edinburgh University, Fudan University, Tokyo University, and Harvard University, and earned his doctorate degree from The Institute of World Literature at Peking University. He studied under the guiding stars of Ji Xianlin, Gu Zhengkun, and Tu Weiming, whom he considers his spiritual masters.

Dr. Pattberg is currently a Visiting Fellow at the Institute for Advanced Studies on Asia, University of Tokyo; and a former Research Fellow at the Institute for Advanced Humanistic Studies, Peking University. He is the author of four monographs 'The East-West dichotomy,' 'Shengren,' 'Holy Confucius,' and 'Inside Peking University,' and some of his representative articles are 'Language hegemony – It's shengren, stupid!,' 'Long into the West's dragon business,' 'China: Lost in Translation,' and 'The end of translation.'

23 June, 2014
Xue Yifan And Her Cool Graduation 'Group-Photo' Inspire A Nation
---
BEIJING – In China's over-populated and ultra-competitive education system –the largest in the world with 200 million students in elementary schools and 20 million students in higher education- it is difficult to stand out.
Except if you have the coolest graduation 'group photo' in the entire country in 2014: Ms Xue Yifan (薛逸凡) is THE ONLY GRADUATE IN PALEONTOLOGY major of Peking University (PKU), the China Daily reports, largely because few parents and students lack understanding what the subject is all about: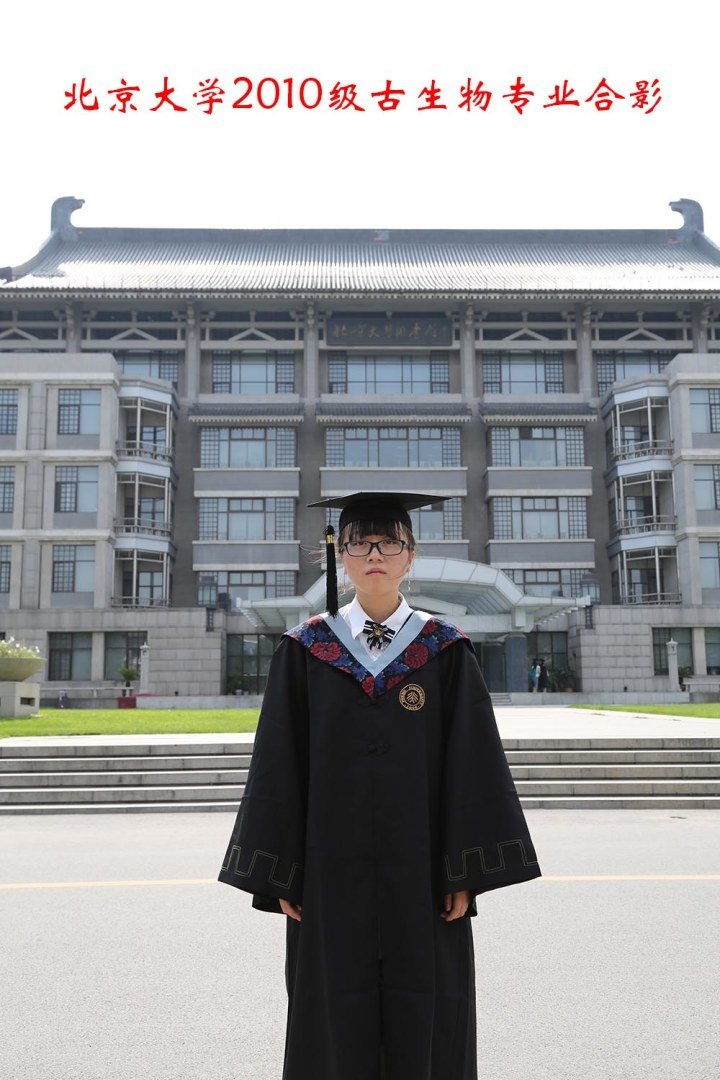 RELATED How A Single Picture Can Make You Famous In China
When Yifan posted her somber official 2014 graduation "group photo" (in front of the iconic PKU main library), little could she know that the shot would soon get viral. (China has over 500 million active internet users).
This wouldn't be China if there wasn't a Confucian twist to it. In this country, education is holy and often seen as the golden way to shine in an ocean of eager people, letting alone earning respect and saving face for oneself and one's family. It also makes education supremely competitive, creates an over-supply of scholars, and drives down salaries. Once an occupational niche is discovered, within a single year competitors are drawn to it.
It is Good To Be The Only One
In an interview with the People's Daily, a humble and modest Xue Yifan describes herself as ordinary but determined and motivated woman doted by the love of her parents. At the age of three, she recalls, she liked to draw a lot, and watched a lot of Wild Life documentaries on TV as well as popular cartoons such as Tom and Jerry or Journey to the West. Her parents were always supportive of her educational goals: "As long as you do what you love, everything will turn out just fine," they said.
But being the only one isn't always easy, the scholar recounts her experiences at one of China's most elite universities: "It also generates a lot of stress and loneliness."
RELATED Parenting – Why some cultural groups seem to do a better job
The Dean of PKU's Yuanpei College explained that despite the popularity of science majors in China and the allure of "mammoths and dinosaurs" stuff, letting alone evolutionary history, most Chinese students (including their parents, who often push their careers) "have limited understanding of the major."
This may now have changed, partly because of brave Ms Xue Yifan.
READ MORE In China, paleontology is going the way of the dinosaur (by Lily Kuo)
Image credits: (c) Yuanpei College, Peking University, 2014
To keep up to date with Dragons and Pandas you can follow me on Twitter: @worldethics; my website: East-West-Dichotomy.com; or my other blog: You've Heard About It.
Giving our solar system a "slap in the face"
Surprising Science
A stream of galactic debris is hurtling at us, pulling dark matter along with it
It's traveling so quickly it's been described as a hurricane of dark matter
Scientists are excited to set their particle detectors at the onslffaught
Bernardo Kastrup proposes a new ontology he calls "idealism" built on panpsychism, the idea that everything in the universe contains consciousness. He solves problems with this philosophy by adding a new suggestion: The universal mind has dissociative identity disorder.
We're all one mind in "idealism." (Credit: Alex Grey)
Mind & Brain
There's a reason they call it the "hard problem." Consciousness: Where is it? What is it? No one single perspective seems to be able to answer all the questions we have about consciousness. Now Bernardo Kastrup thinks he's found one. He calls his ontology idealism, and according to idealism, all of us and all we perceive are manifestations of something very much like a cosmic-scale dissociative identity disorder (DID). He suggests there's an all-encompassing universe-wide consciousness, it has multiple personalities, and we're them.
Firefighters in California are still struggling to contain several wildfires nearly one week after they broke out.
(Photo by Elijah Nouvelage/Getty Images)
Politics & Current Affairs
Hundreds of people are still missing after three wildfires spread across Northern and Southern California last week.
48 of the 50 deaths occurred after the Camp Fire blazed through the town of Paradise, north of Sacramento.
On Tuesday night, a fourth wildfire broke out, though it's mostly contained.
Big think's weekly newsletter.
Get smarter faster from the comfort of your inbox.
See our newsletter privacy policy
here
Most Popular
Most Recent
Big think's weekly newsletter.
Get smarter faster from the comfort of your inbox.
See our newsletter privacy policy
here
© Copyright 2007-2018 & BIG THINK, BIG THINK EDGE,
SMARTER FASTER trademarks owned by The Big Think, Inc. All rights reserved.