How A Graduation Photo Can Make You Famous In China
23 June, 2014
Xue Yifan And Her Cool Graduation 'Group-Photo' Inspire A Nation
---
BEIJING – In China's over-populated and ultra-competitive education system –the largest in the world with 200 million students in elementary schools and 20 million students in higher education- it is difficult to stand out.
Except if you have the coolest graduation 'group photo' in the entire country in 2014: Ms Xue Yifan (薛逸凡) is THE ONLY GRADUATE IN PALEONTOLOGY major of Peking University (PKU), the China Daily reports, largely because few parents and students lack understanding what the subject is all about: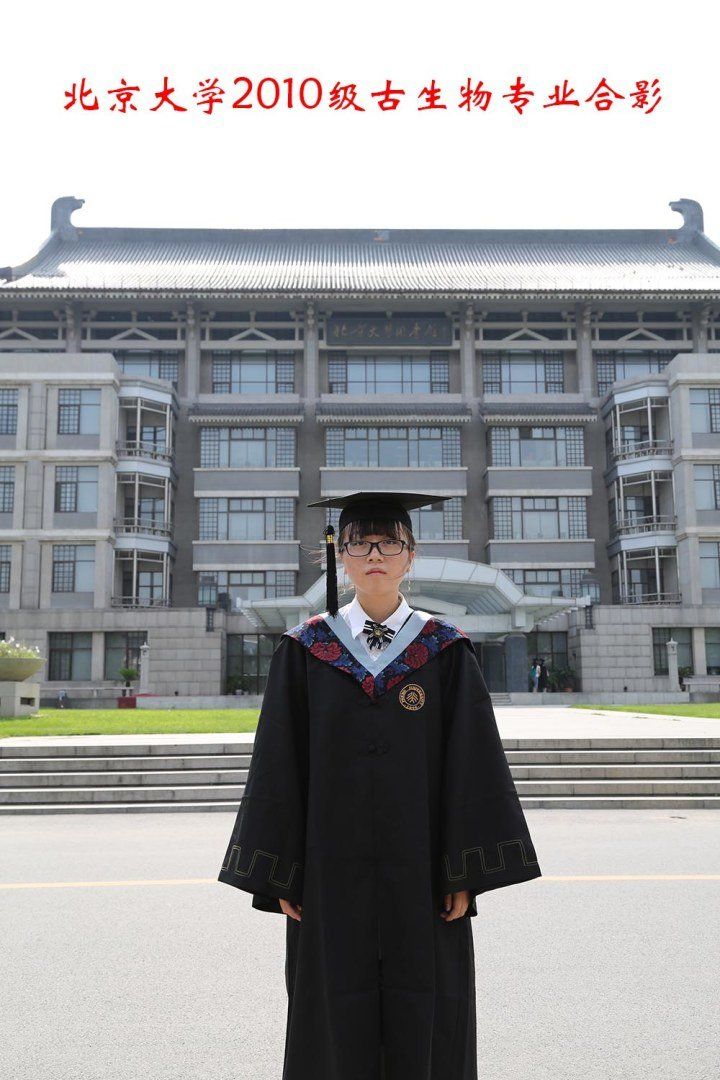 RELATED How A Single Picture Can Make You Famous In China
When Yifan posted her somber official 2014 graduation "group photo" (in front of the iconic PKU main library), little could she know that the shot would soon get viral. (China has over 500 million active internet users).
This wouldn't be China if there wasn't a Confucian twist to it. In this country, education is holy and often seen as the golden way to shine in an ocean of eager people, letting alone earning respect and saving face for oneself and one's family. It also makes education supremely competitive, creates an over-supply of scholars, and drives down salaries. Once an occupational niche is discovered, within a single year competitors are drawn to it.
It is Good To Be The Only One
In an interview with the People's Daily, a humble and modest Xue Yifan describes herself as ordinary but determined and motivated woman doted by the love of her parents. At the age of three, she recalls, she liked to draw a lot, and watched a lot of Wild Life documentaries on TV as well as popular cartoons such as Tom and Jerry or Journey to the West. Her parents were always supportive of her educational goals: "As long as you do what you love, everything will turn out just fine," they said.
But being the only one isn't always easy, the scholar recounts her experiences at one of China's most elite universities: "It also generates a lot of stress and loneliness."
RELATED Parenting – Why some cultural groups seem to do a better job
The Dean of PKU's Yuanpei College explained that despite the popularity of science majors in China and the allure of "mammoths and dinosaurs" stuff, letting alone evolutionary history, most Chinese students (including their parents, who often push their careers) "have limited understanding of the major."
This may now have changed, partly because of brave Ms Xue Yifan.
READ MORE In China, paleontology is going the way of the dinosaur (by Lily Kuo)
Image credits: (c) Yuanpei College, Peking University, 2014
To keep up to date with Dragons and Pandas you can follow me on Twitter: @worldethics; my website: East-West-Dichotomy.com; or my other blog: You've Heard About It.
What can 3D printing do for medicine? The "sky is the limit," says Northwell Health researcher Dr. Todd Goldstein.
Northwell Health
Sponsored by Northwell Health
Medical professionals are currently using 3D printers to create prosthetics and patient-specific organ models that doctors can use to prepare for surgery.
Eventually, scientists hope to print patient-specific organs that can be transplanted safely into the human body.
Northwell Health, New York State's largest health care provider, is pioneering 3D printing in medicine in three key ways.
An ordained Lama in a Tibetan Buddhist lineage, Lama Rod grew up a queer, black male within the black Christian church in the American south. Navigating all of these intersecting, evolving identities has led him to a life's work based on compassion for self and others.
Think Again Podcasts
"What I'm interested in is deep, systematic change. What I understand now is that real change doesn't happen until change on the inside begins to happen."
"Masculinity is not inherently toxic. Patriarchy is toxic. We have to let that energy go so we can stop forcing other people to do emotional labor for us."
We were gaining three IQ points per decade for many, many years. Now, that's going backward. Could this explain some of our choices lately?
The Flynn effect appears to be in retrograde. (Credit: Shutterstock/Big Think)
popular
There's a new study out of Norway that indicates our—well, technically, their—IQs are shrinking, to the tune of about seven IQ points per generation.
Here's why generalists triumph over specialists in the new era of innovation.
Videos
Since the explosion of the knowledge economy in the 1990s, generalist inventors have been making larger and more important contributions than specialists.
One theory is that the rise of rapid communication technologies allowed the information created by specialists to be rapidly disseminated, meaning generalists can combine information across disciplines to invent something new.
Here, David Epstein explains how Nintendo's Game Boy was a case of "lateral thinking with withered technology." He also relays the findings of a fascinating study that found the common factor of success among comic book authors.
Big think's weekly newsletter.
Get smarter faster from the comfort of your inbox.
See our newsletter privacy policy
here
Most Popular
Most Recent
Big think's weekly newsletter.
Get smarter faster from the comfort of your inbox.
See our newsletter privacy policy
here
© Copyright 2007-2019 & BIG THINK, BIG THINK EDGE,
SMARTER FASTER trademarks owned by The Big Think, Inc. All rights reserved.