Big ideas.
Once a week.
Subscribe to our weekly newsletter.
The Technological Singularity and Merging With Machines
The idea of a coming Singularity refers to a point in time of radical exponential progress, beyond which our minds can't imagine—the technological counterpart to an event horizon in a black hole.
26 February, 2011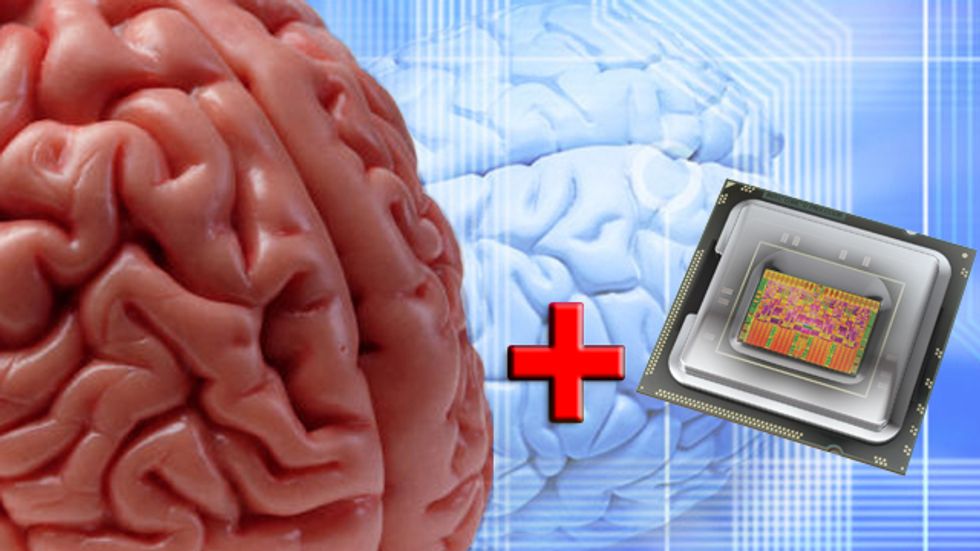 The term "singularity," which is often heard today, comes originally from my field, theoretical physics. It denotes a point in space and time where the gravitational field becomes infinite. At the center of a black hole, for example, we might find a singularity. It also refers to a mathematical term where a certain function also becomes infinite. But the type of singularity that you have probably been hearing about the most lately is called "The Technological Singularity" and although its not a new concept, it's definitely becoming more of a mainstream topic of conversation.
---
Countless books on the subject are being published on a consistent basis, and Ray Kurzweil just recently launched his documentary, "The Transcendent Man" which shares his vision of a world in which humans merge with machines and is currently screening in sold-out screenings around the planet, web forums, blogs and video sites.
Recently it was part of a TIME Magazine cover story entitled "2045: The Year Man Becomes Immortal" which includes a five page narrative. Not to mention that there are an increased number of institutes, dozens of annual singularity conferences and even the 2008 founding of the Singularity University by X-Prize's Peter Diamandis & Ray Kurzweil which is based at the NASA Ames campus in Silicon Valley. The Singularity University offers a variety of programs including one in particular called "The Exponential Technologies Executive Program" which they state has a main goal to "educate, inform, and prepare executives to recognize the opportunities and disruptive influences of exponentially growing technologies and understand how these fields affect their future, business, and industry."  
My television series Sci Fi Science, on the The Science Channel aired an episode entitled A.I. Uprising which maintained a focus on the coming technological singularity and on the fear that mankind will one day create a machine that could quite possibly threaten our very existence. One cannot rule out the point in time when machine intelligence will eventually surpass human intelligence. These super intelligent machine creations will become self-aware, have their own agenda and may even one day be able to create copies of themselves that are more intelligent than they are.  
Common questions I'm often asked are: 
When will this tipping point transpire?
What are the implications for the creation of a self-aware machine?
What does it mean for the advancement of the human race i.e. On what level will humans merge with them?
What happens when machine intelligence exponentially surpasses human intelligence?
But the road to the singularity is not going to be a smooth one. As I originally mentioned in my Big Think interview, "How to Stop Robots from Killing Us", Moore's law states that computing power doubles about every 18 months and it's a curve that has held sway for about 50 years. Chip manufacturing and the technology behind the development of transistors will eventually hit a wall where they are just too small, too powerful and generate way too much heat resulting in a chip meltdown and electrons leaking out due to the Heisenberg Uncertainty Principle.
Needless to say, it's time to find a replacement for silicon and it's my belief that eventual replacement will essentially take things to the next level. Graphene is a potential candidate replacement and far superior to that of silicon but the technology to construct a large scale manufacturing of graphene (carbon nanotube sheets) is still up in the air. It's not clear at all what will replace silicon, but a variety of technologies have been proposed, including molecular transistors, DNA computers, protein computers, quantum dot computers, and quantum computers. However, none of them is ready for prime time. Each has its own formidable technical problems which, at present, keep them on the drawing boards. 
Well, because of all these uncertainties, no one knows exactly when this tipping point will happen although there are many predictions when computing power will finally meet and then eventually tower above that of human intelligence. For example, Ray Kurzweil whom I've interviewed several times on my radio programs stated in his Big Think interview that he feels by 2020 we'll have computers that are powerful enough to simulate the human brain but we won't be finished with the reverse engineering of the brain until about the year 2029. He also estimates that by the year 2045, we'll have expanded the intelligence of our human machine civilization a billion fold.
But in all fairness, we should also point out there are many different points of view on this question. The New York Times asked a variety of experts at the recent Asilomar Conference on AI in California when machines might become as powerful as humans. The answer was quite surprising. The answers ranged from 20 years to 1,000 years. I once interviewed Marvin Minsky for my national science radio show and asked him the same question. He was very careful to say that he does not make predictions like that. 
We should also point out that there are a variety of measures proposed by AI specialists about what do to about it. One simple proposal is to put a chip in the brains of our robots, which automatically shut them off if they get murderous thoughts. Right now, our most advanced robots have the intellectual capability of a cockroach (a mentally challengead cockroach, at that). But over the years, they will become as intelligent as a mouse, rabbit, fox, dog, cat, and eventually a monkey. When they become that smart, they will be able to set their own goals and agendas, and could be dangerous. We might also put a fail safe device in them so that any human could shut them off by a simple verbal command. Or, we might create an elite corps of robot fighters, like in Blade Runner, who have superior powers and can track down and hunt for errant robots. 
But the proposal that is getting the most traction is merging with our creations. Perhaps one day in the future, we might find ourselves waking up with a superior body, intellect, and living forever. For more, visit the Facebook Fanpage for my latest book, Physics of the Future.
Inventions with revolutionary potential made by a mysterious aerospace engineer for the U.S. Navy come to light.
Credit: Getty Images
Surprising Science
U.S. Navy holds patents for enigmatic inventions by aerospace engineer Dr. Salvatore Pais.
Pais came up with technology that can "engineer" reality, devising an ultrafast craft, a fusion reactor, and more.
While mostly theoretical at this point, the inventions could transform energy, space, and military sectors.
The U.S. Navy controls patents for some futuristic and outlandish technologies, some of which, dubbed "the UFO patents," came to life recently. Of particular note are inventions by the somewhat mysterious Dr. Salvatore Cezar Pais, whose tech claims to be able to "engineer reality." His slate of highly-ambitious, borderline sci-fi designs meant for use by the U.S. government range from gravitational wave generators and compact fusion reactors to next-gen hybrid aerospace-underwater crafts with revolutionary propulsion systems, and beyond.
Of course, the existence of patents does not mean these technologies have actually been created, but there is evidence that some demonstrations of operability have been successfully carried out. As investigated and reported by The War Zone, a possible reason why some of the patents may have been taken on by the Navy is that the Chinese military may also be developing similar advanced gadgets.
Among Dr. Pais's patents are designs, approved in 2018, for an aerospace-underwater craft of incredible speed and maneuverability. This cone-shaped vehicle can potentially fly just as well anywhere it may be, whether air, water or space, without leaving any heat signatures. It can achieve this by creating a quantum vacuum around itself with a very dense polarized energy field. This vacuum would allow it to repel any molecule the craft comes in contact with, no matter the medium. Manipulating "quantum field fluctuations in the local vacuum energy state," would help reduce the craft's inertia. The polarized vacuum would dramatically decrease any elemental resistance and lead to "extreme speeds," claims the paper.
Not only that, if the vacuum-creating technology can be engineered, we'd also be able to "engineer the fabric of our reality at the most fundamental level," states the patent. This would lead to major advancements in aerospace propulsion and generating power. Not to mention other reality-changing outcomes that come to mind.
Among Pais's other patents are inventions that stem from similar thinking, outlining pieces of technology necessary to make his creations come to fruition. His paper presented in 2019, titled "Room Temperature Superconducting System for Use on a Hybrid Aerospace Undersea Craft," proposes a system that can achieve superconductivity at room temperatures. This would become "a highly disruptive technology, capable of a total paradigm change in Science and Technology," conveys Pais.
High frequency gravitational wave generator.
Credit: Dr. Salvatore Pais
Another invention devised by Pais is an electromagnetic field generator that could generate "an impenetrable defensive shield to sea and land as well as space-based military and civilian assets." This shield could protect from threats like anti-ship ballistic missiles, cruise missiles that evade radar, coronal mass ejections, military satellites, and even asteroids.
Dr. Pais's ideas center around the phenomenon he dubbed "The Pais Effect". He referred to it in his writings as the "controlled motion of electrically charged matter (from solid to plasma) via accelerated spin and/or accelerated vibration under rapid (yet smooth) acceleration-deceleration-acceleration transients." In less jargon-heavy terms, Pais claims to have figured out how to spin electromagnetic fields in order to contain a fusion reaction – an accomplishment that would lead to a tremendous change in power consumption and an abundance of energy.
According to his bio in a recently published paper on a new Plasma Compression Fusion Device, which could transform energy production, Dr. Pais is a mechanical and aerospace engineer working at the Naval Air Warfare Center Aircraft Division (NAWCAD), which is headquartered in Patuxent River, Maryland. Holding a Ph.D. from Case Western Reserve University in Cleveland, Ohio, Pais was a NASA Research Fellow and worked with Northrop Grumman Aerospace Systems. His current Department of Defense work involves his "advanced knowledge of theory, analysis, and modern experimental and computational methods in aerodynamics, along with an understanding of air-vehicle and missile design, especially in the domain of hypersonic power plant and vehicle design." He also has expert knowledge of electrooptics, emerging quantum technologies (laser power generation in particular), high-energy electromagnetic field generation, and the "breakthrough field of room temperature superconductivity, as related to advanced field propulsion."
Suffice it to say, with such a list of research credentials that would make Nikola Tesla proud, Dr. Pais seems well-positioned to carry out groundbreaking work.
A craft using an inertial mass reduction device.
Credit: Salvatore Pais
The patents won't necessarily lead to these technologies ever seeing the light of day. The research has its share of detractors and nonbelievers among other scientists, who think the amount of energy required for the fields described by Pais and his ideas on electromagnetic propulsions are well beyond the scope of current tech and are nearly impossible. Yet investigators at The War Zone found comments from Navy officials that indicate the inventions are being looked at seriously enough, and some tests are taking place.
If you'd like to read through Pais's patents yourself, check them out here.
Laser Augmented Turbojet Propulsion System
Credit: Dr. Salvatore Pais
The research also raises an intriguing question: Can we get around the Heisenberg uncertainty principle?
Credit: Aalto University.
Surprising Science
New experiments with vibrating drums push the boundaries of quantum mechanics.
Two teams of physicists create quantum entanglement in larger systems.
Critics question whether the study gets around the famous Heisenberg uncertainty principle.
Recently published research pushes the boundaries of key concepts in quantum mechanics. Studies from two different teams used tiny drums to show that quantum entanglement, an effect generally linked to subatomic particles, can also be applied to much larger macroscopic systems. One of the teams also claims to have found a way to evade the Heisenberg uncertainty principle.
One question that the scientists were hoping to answer pertained to whether larger systems can exhibit quantum entanglement in the same way as microscopic ones. Quantum mechanics proposes that two objects can become "entangled," whereby the properties of one object, such as position or velocity, can become connected to those of the other.
An experiment performed at the U.S. National Institute of Standards and Technology in Boulder, Colorado, led by physicist Shlomi Kotler and his colleagues, showed that a pair of vibrating aluminum membranes, each about 10 micrometers long, can be made to vibrate in sync, in such a way that they can be described to be quantum entangled. Kotler's team amplified the signal from their devices to "see" the entanglement much more clearly. Measuring their position and velocities returned the same numbers, indicating that they were indeed entangled.
Tiny aluminium membranes used by Kotler's team.Credit: Florent Lecoq and Shlomi Kotler/NIST
Evading the Heisenberg uncertainty principle?

Another experiment with quantum drums — each one-fifth the width of a human hair — by a team led by Prof. Mika Sillanpää at Aalto University in Finland, attempted to find what happens in the area between quantum and non-quantum behavior. Like the other researchers, they also achieved quantum entanglement for larger objects, but they also made a fascinating inquiry into getting around the Heisenberg uncertainty principle.
The team's theoretical model was developed by Dr. Matt Woolley of the University of New South Wales. Photons in the microwave frequency were employed to create a synchronized vibrating pattern as well as to gauge the positions of the drums. The scientists managed to make the drums vibrate in opposite phases to each other, achieving "collective quantum motion."
The study's lead author, Dr. Laure Mercier de Lepinay, said: "In this situation, the quantum uncertainty of the drums' motion is canceled if the two drums are treated as one quantum-mechanical entity."
This effect allowed the team to measure both the positions and the momentum of the virtual drumheads at the same time. "One of the drums responds to all the forces of the other drum in the opposing way, kind of with a negative mass," Sillanpää explained.
Theoretically, this should not be possible under the Heisenberg uncertainty principle, one of the most well-known tenets of quantum mechanics. Proposed in the 1920s by Werner Heisenberg, the principle generally says that when dealing with the quantum world, where particles also act like waves, there's an inherent uncertainty in measuring both the position and the momentum of a particle at the same time. The more precisely you measure one variable, the more uncertainty in the measurement of the other. In other words, it is not possible to simultaneously pinpoint the exact values of the particle's position and momentum.
Quantum skepticism
Big Think contributor astrophysicist Adam Frank, known for the 13.8 podcast, called this "a really fascinating paper as it shows that it's possible to make larger entangled systems which behave like a single quantum object. But because we're looking at a single quantum object, the measurement doesn't really seem to me to be 'getting around' the uncertainty principle, as we know that in entangled systems an observation of one part constrains the behavior of other parts."
Ethan Siegel, also an astrophysicist, commented, "The main achievement of this latest work is that they have created a macroscopic system where two components are successfully quantum mechanically entangled across large length scales and with large masses. But there is no fundamental evasion of the Heisenberg uncertainty principle here; each individual component is exactly as uncertain as the rules of quantum physics predicts. While it's important to explore the relationship between quantum entanglement and the different components of the systems, including what happens when you treat both components together as a single system, nothing that's been demonstrated in this research negates Heisenberg's most important contribution to physics."
The papers, published in the journal
Science
, could help create new generations of ultra-sensitive measuring devices and quantum computers.
As bad as this sounds, a new essay suggests that we live in a surprisingly egalitarian age.
Getty Open Content
Politics & Current Affairs
A new essay depicts 700 years of economic inequality in Europe.
The only stretch of time more egalitarian than today was the period between 1350 to approximately the year 1700.
Data suggest that, without intervention, inequality does not decrease on its own.
Economic inequality is a constant topic. No matter the cycle — boom or bust — somebody is making a lot of money, and the question of fairness is never far behind.
A recently published essay in the Journal of Economic Literature by Professor Guido Alfani adds an intriguing perspective to the discussion by showing the evolution of income inequality in Europe over the last several hundred years. As it turns out, we currently live in a comparatively egalitarian epoch.
Seven centuries of economic history
Figure 8 from Guido Alfani, Journal of Economic Literature, 2021.
This graph shows the amount of wealth controlled by the top ten percent in certain parts of Europe over the last seven hundred years. Archival documentation similar to — and often of a similar quality as — modern economic data allows researchers to get a glimpse of what economic conditions were like centuries ago. Sources like property tax records and documents listing the rental value of homes can be used to determine how much a person's estate was worth. (While these methods leave out those without property, the data is not particularly distorted.)
The first part of the line, shown in black, represents work by Prof. Alfani and represents the average inequality level of the Sabaudian State in Northern Italy, The Florentine State, The Kingdom of Naples, and the Republic of Venice. The latter part, in gray, is based on the work of French economist Thomas Piketty and represents an average of inequality in France, the United Kingdom, and Sweden during that time period.
Despite the shift in location, the level of inequality and rate of increase are very similar between the two data sets.
Apocalyptic events cause decreases in inequality
Note that there are two substantial declines in inequality. Both are tied to truly apocalyptic events. The first is the Black Death, the common name for the bubonic plague pandemic in the 14th century, which killed off anywhere between 30 and 50 percent of Europe. The second, at the dawn of the 20th century, was the result of World War I and the many major events in its aftermath.
The 20th century as a whole was a time of tremendous economic change, and the periods not featuring major wars are notable for having large experiments in distributive economic policies, particularly in the countries Piketty considers.
The slight stall in the rise of inequality during the 17th century is the result of the Thirty Years' War, a terrible religious conflict that ravaged Europe and left eight million people dead, and of major plagues that affected South Europe. However, the recurrent outbreaks of the plague after the Black Death no longer had much effect on inequality. This was due to a number of factors, not the least of which was the adaptation of European institutions to handle pandemics without causing such a shift in wealth.
In 2010, the last year covered by the essay, inequality levels were similar to those of 1340, with 66 percent of the wealth of society being held by the top ten percent. Also, inequality levels were continuing to rise, and the trends have not ended since. As Prof. Alfani explained in an email to BigThink:
"During the decade preceding the Covid pandemic, economic inequality has shown a slow tendency towards further inequality growth. The Great Recession that began in 2008 possibly contributed to slow down inequality growth, especially in Europe, but it did not stop it. However, the expectation is that Covid-19 will tend to increase inequality and poverty. This, because it tends to create a relatively greater economic damage to those having unstable occupations, or who need physical strength to work (think of the effects of the so-called "long-Covid," which can prove physically invalidating for a long time). Additionally, and thankfully, Covid is not lethal enough to force major leveling dynamics upon society."
Can only disasters change inequality?
That is the subject of some debate. While inequality can occur in any economy, even one that doesn't grow all that much, some things appear to make it more likely to rise or fall.
Thomas Piketty suggested that the cause of changes in inequality levels is the difference in the rate of return on capital and the overall growth rate of the economy. Since the return on capital is typically higher than the overall growth rate, this means that those who have capital to invest tend to get richer faster than everybody else.
While this does explain a great deal of the graph after 1800, his model fails to explain why inequality fell after the Black Death. Indeed, since the plague destroyed human capital and left material goods alone, we would expect the ratio of wealth over income to increase and for inequality to rise. His model can provide explanations for the decline in inequality in the decades after the pandemic, however- it is possible that the abundance of capital could have lowered returns over a longer time span.
The catastrophe theory put forth by Walter Scheidel suggests that the only force strong enough to wrest economic power from those who have it is a world-shattering event like the Black Death, the fall of the Roman Empire, or World War I. While each event changed the world in a different way, they all had a tremendous leveling effect on society.
But not even this explains everything in the above graph. Pandemics subsequent to the Black Death had little effect on inequality, and inequality continued to fall for decades after World War II ended. Prof. Alfani suggests that we remember the importance of human agency through institutional change. He attributes much of the post-WWII decline in inequality to "the redistributive policies and the development of the welfare states from the 1950s to the early 1970s."
What does this mean for us now?
As Professor Alfani put it in his email:
"[H]istory does not necessarily teach us whether we should consider the current trend toward growth in economic inequality as an undesirable outcome or a problem per se (although I personally believe that there is some ground to argue for that). Nor does it teach us that high inequality is destiny. What it does teach us, is that if we do not act, we have no reason whatsoever to expect that inequality will, one day, decline on its own. History also offers abundant evidence that past trends in inequality have been deeply influenced by our collective decisions, as they shaped the institutional framework across time. So, it is really up to us to decide whether we want to live in a more, or a less unequal society."
Scroll down to load more…