This App Collects Data on How Frequently Women Are "Manterrupted"
There's an app that detects manterruptions—but we round up the research to find out which groups of people are really doing the most interrupting.
12 March, 2017
Introducing our word of the day – "manterruption". It's a pretty self-explanatory term, describing a behavior when men interrupt women unnecessarily, which leads to a pretty serious imbalance in the amount of female vs. male contributions in a conversation.
---
The phenomenon of women's voices being heard less for one reason or another has been studied and discussed. Indeed, early studies "seem to indicate a larger tendency on the part of men to interrupt in cross-sex conversations." Men also tend to talk more readily than women. A 2004 study on gender issues at Harvard Law School found that men were 50% more likely than women to volunteer at least one comment during class and 144% more likely to volunteer three or more comments. 
Another study from Brigham Young University and Princeton found that during board meetings men dominate 75% of the conversation, which as a consequence leaves decision-making mostly to men. Interestingly, when the researchers instructed the participants in the study to decide by a unanimous vote, the time inequality disappeared and more importantly the group arrived at different decisions. Meaning, women's voices bring a different and valuable perspective in a conversation and should be heard more.
To raise awareness about this issue, a Brazilian ad agency created the Woman Interrupted APP. The app tracks the amount of times a woman is being interrupted by men during a conversation. It uses the mic on the phone to analyze the conversation (without recording it) and based on female and male voice frequencies as well as personal voice calibration, it creates a graph of interruptions, including the time that they happened. Furthermore, daily, weekly and monthly statistics can be produced.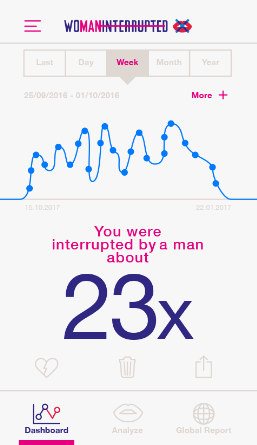 The app launched on International Women's Day together with a beautiful collection of posters from artists around the world, who created them to promote the fight against manterruption.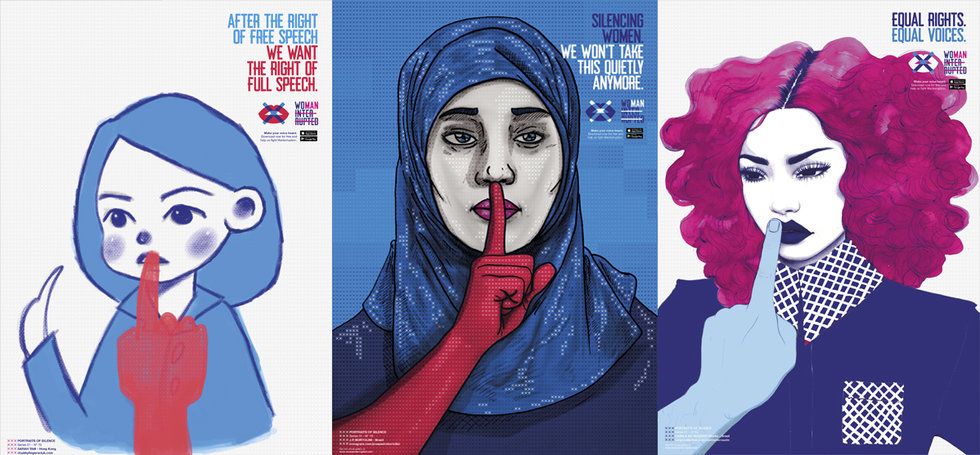 Here's the thing, though: while fighting for the cause of hearing the female perspective equally in all matters of business, government, and life is definitely worthwhile, blaming it all on interrupting men doesn't seem fair. Because it is not just men who interrupt women, women do it too. As a matter of fact, a study done in a tech company showed that 87% of the time that women interrupt, they are interrupting other women.
There are also other dynamics at play, for example, seniority. It is still more likely that men will hold a more senior position in a professional environment and, generally, people with a higher rank tend to interrupt more and be interrupted less. In that same study, it turned out that when women hold more senior positions they also tend to interrupt more men and women.
Hearing the voices and perspectives of both genders equally is incredibly important, but we should make sure we are addressing the right root causes and are not antagonizing those who need to be on the same side for progress to be made. 
Photos: Woman Interrupted App
Former president of the ACLU Nadine Strossen discusses whether our society should always defend free speech rights, even for groups who would oppose such rights.
Sponsored by Charles Koch Foundation
Former ACLU president Nadine Strossen understands that protecting free speech rights isn't always a straightforward proposition.
In this video, Strossen describes the reasoning behind why the ACLU defended the free speech rights of neo-Nazis in Skokie, Illinois, 1977.
The opinions expressed in this video do not necessarily reflect the views of the Charles Koch Foundation, which encourages the expression of diverse viewpoints within a culture of civil discourse and mutual respect.
When it comes to sniffing out whether a source is credible or not, even journalists can sometimes take the wrong approach.
Sponsored by Charles Koch Foundation
We all think that we're competent consumers of news media, but the research shows that even journalists struggle with identifying fact from fiction.
When judging whether a piece of media is true or not, most of us focus too much on the source itself. Knowledge has a context, and it's important to look at that context when trying to validate a source.
The opinions expressed in this video do not necessarily reflect the views of the Charles Koch Foundation, which encourages the expression of diverse viewpoints within a culture of civil discourse and mutual respect.
Steve Wozniak doesn't know if his phone is listening, but he's minimizing risks.
Photo by Bryan Steffy/Getty Images
Technology & Innovation
Steve Wozniak didn't hold back his feelings about the social media giant when stopped at an airport.
The Apple co-founder admitted that devices spying on his conversations is worrisome.
Wozniak deleted his Facebook account last year, recommending that "most people" should do the same.
A new paradigm for machine vision has just been demonstrated.
Technology & Innovation
Scientists have invented a way for a sheet of glass to perform neural computing.
The glass uses light patterns to identify images without a computer or power.
It's image recognition at the speed of light.