All Roads Paved with Asphalt Trap 90% of the Sun's Heat—That's a Problem
Concrete buildings, asphalt paved roads radiating accumulated heat throughout the night, and lack of trees contribute to the making of scorching cities.
13 September, 2017
---
Heat will be a huge problem in the future. According to NASA, 2016 was the third year in a row to set a new record for global average surface temperatures. And 2016 report from the journal Climate Change concluded that "globally, the probability that any summer during the period 2061–2081 will be warmer than the hottest on record during 1920–2014, is 80%."
For cities the problem is even bigger. On top of the rising temperatures, the urban heat island effect results in an additional 1.8 to 5.4°F burden for urban dwellers during the day and up to 22°F in the evenings. Concrete buildings, asphalt paved roads radiating accumulated heat throughout the night, and lack of trees contribute to the making of scorching cities. Active measures will be needed to reduce the risk of heat-related health problems.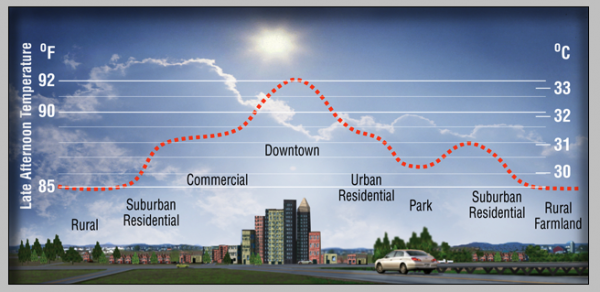 On a sunny summer afternoon, urban air can be 1-3°C (2-5°F) warmer than nearby rural air / Berkeley Lab
It is no surprise that LA is one of the first cities to take such measures. The urban heat island effect makes LA almost six degrees hotter than the surrounding desert, and the heat causes 60 to 70 deaths every summer. Mayor Eric Garcetti has an ambitious plan to reduce the city's average temperature by 3 degrees Fahrenheit over the next 20 years.  
KCRW reports that the plan will employ several measures. One is planting 40,000 more trees in the next two years, with a potential for 1 million more for the whole city. Studies show that trees have many positive effects on a city - from reducing temperatures and pollution to improving the mental health of citizens. Another measure from the plan is installing heat-reflecting roofs on new houses (12,000 have already been installed), which reflect more light and keep houses cooler. 
The third measure is still in its trial phase, but is already spiking interest in municipalities around the world. It consists of covering the city streets with a special type of light-colored coating called CoolSeal, which makes them more reflective and reduces the amount of heat trapped by asphalt. Traditional asphalt absorbs up to 90% of the sun's radiation and contributes to warming up the surrounding air not only during the day, but also at night.
The LA Street Services twitter account has been providing updates of streets being treated with the new coating and comparing the surface temperatures of the treated and untreated asphalt. The difference can come up to 15 degrees Fahrenheit.
Ambient temp on Jordan Av this afternoon is over 100F
Regular asphalt is 153F
Cool Seal is only 138F!@BobBlumenfield cc @LHansenLA pic.twitter.com/pstO5F4NvO
— Greg Spotts (@Spottnik) August 30, 2017
The bid to buy Greenland is unlikely to become seriously considered.
Politics & Current Affairs
Greenland and Danish officials alike think the idea is ridiculous.
The island is an autonomous state, and it's unlikely the Danish would sell it because of yearly subsidies costs.
After hearing the Danish Prime Minister call the idea absurd, Trump cancelled their forthcoming meeting.
Some games are just for fun, others are for thought provoking statements on life, the universe, and everything.
(Photo from Flickr)
Culture & Religion
Video games are often dismissed as fun distractions, but some of them dive into deep issues.
Through their interactive play elements, these games approach big issues intelligently and leave you both entertained and enlightened.
These five games are certainly not the only games that cover these topics or do so well, but are a great starting point for somebody who wants to play something thought provoking.
In a new study, people who posted a lot of selfies were generally viewed as less likeable and more lonely.
Kim Kardashian/Instagram
Surprising Science
A new study examined how people perceive others' Instagram accounts, and whether those perceptions match up with how the posters rate their own personalities.
The results show that people react far more positively to "posies," which are photos of the poster taken by another person.
Still, it remains unclear exactly why people view selfies relatively negatively.