A Surprising Strategy Makes Kids Persevere at Boring Tasks
Kids say the darndest things. They're also far more adept at workflow management than adults are. What can we learn from them?
10 November, 2017
Most likely, you don't need to be convinced in the utility of perseverance - the ability to stick to a boring task, despite the fact that the Facebook tab is blinking with notifications in your browser. Implementing tactics that help us resist distractions in order to work towards long-term goals is crucial for success. Now, researchers have found an interesting strategy that has been proven to work for kids - imagining they're Batman. The study was published in the journal Child Development.
---
With the onset of early childhood and attending preschool, increased demands are placed on the self-regulatory skills of kids. Children need to start completing tasks that may be much less interesting than the myriad of entertaining distractions around them. Researchers have been interested in how to develop self-control and perseverance in children by teaching them tactics like averting their attention away from distractions. 
Another strategy they have found effective is called "self-distancing"— the ability to look at your own situation from an outsider's perspective. Doing this helps people distance themselves from their current feelings and the particular distractions of the moment and instead reflect on the situation more objectively, with the long-term goal in a sharper focus. In a more scientific language, this sounds like "transitioning from stimulus control to volitional control of one's thoughts and behaviors" and is what we need to be able to self-regulate successfully.
This same tactic appears to work for kids as well. In an interesting experiment, researchers found that when kids (ages 4 and 6) are asked to imagine they are Batman (or another exemplary character) they perform markedly better on a test designed to measure their perseverance. 
The researchers simulated a typical grown-up dilemma: choosing between working on something that is beneficial in the long-run but tedious in the moment (completing a boring task on a computer but being a "good helper") or giving in to immediate gratification in the form of playing a game on an iPad. 
The children were separated into three different groups. The first group was asked to reflect on the task from a first-person perspective, the second was asked to reflect on the task while referring to themselves by name (third-person perspective), and the third group was encouraged to reflect on the task from the perspective of a character like Batman or Dora the Explorer. The "encouragement" came in the form of a question the kids had to ask themselves: "Am I working hard?" vs. "Is [child's name] working hard?" vs. "Is Batman working hard?"
As expected, the older kids persevered longer on the work task than the younger kids as they've had more time to develop self-control. However, the extent to which the children were self-distanced affected their performance regardless of age, with the kids in the Batman group spending the most time on the tedious task.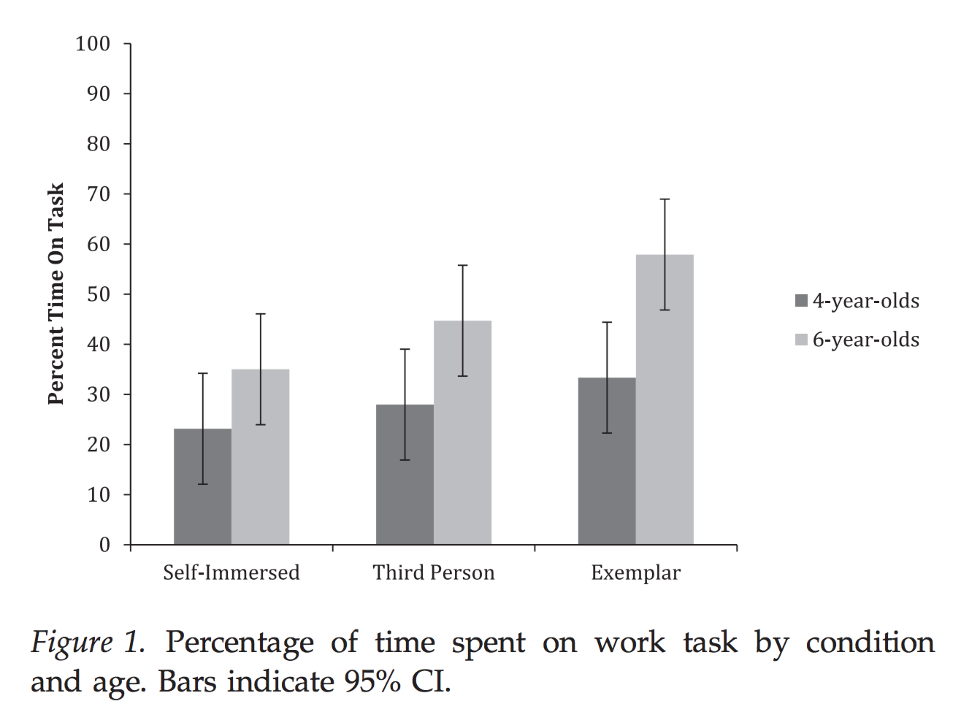 Credit: Child Development / The "Batman Effect": Improving Perseverance in Young Children
In addition to the self-distancing theory, the researchers suggest several other potential reasons why this tactic works for kids. One is that the kids were able to identify with powerful features of the impersonated character and the other is that role-playing in general is considered a fun and familiar activity at this age. 
The researchers conclude that: 
Perseverance can pave the pathway to success. The current research suggests that perseverance can be taught through role play, a skill that is accessible to even very young children.
So, who is ready for a role-playing day at work?
Understanding thinking talents in yourself and others can build strong teams and help avoid burnout.
Big Think Edge
Learn to collaborate within a team and identify "thinking talent" surpluses – and shortages.

Angie McArthur teaches intelligent collaboration for Big Think Edge.

Subscribe to Big Think Edge before we launch on March 30 to get 20% off monthly and annual memberships.
Archeologists had been doubtful since no such ship had ever been found.
(Christoph Gerigk/Franck Goddio/Hilti Foundation)
Surprising Science
In 450 BCE, Greek historian Herodotus described a barge that's never been found.
When the ancient port of Thonis-Heracleion was discovered, some 70 sunken ships were found resting in its waters.
One boat, Ship 17, uncannily matches the Herodotus' description.
The blood of horseshoe crabs is harvested on a massive scale in order to retrieve a cell critical to medical research. However, recent innovations might make this practice obsolete.
Credit: Business Insider (video)
Surprising Science
Horseshoe crabs' blue blood is so valuable that a quart of it can be sold for $15,000.
This is because it contains a molecule that is crucial to the medical research community.
Today, however, new innovations have resulted in a synthetic substitute that may end the practice of farming horseshoe crabs for their blood.
The Canadian professor has been on the Joe Rogan Experience six times. There's a lot of material to discuss.
Personal Growth
Jordan Peterson has constantly been in the headlines for his ideas on gender over the last three years.
While on Joe Rogan's podcast, he explains his thoughts on the gender differences in society.
On another episode, Peterson discusses the development of character through competition.
Big think's weekly newsletter.
Get smarter faster from the comfort of your inbox.
See our newsletter privacy policy
here
Most Popular
Most Recent
Big think's weekly newsletter.
Get smarter faster from the comfort of your inbox.
See our newsletter privacy policy
here
© Copyright 2007-2018 & BIG THINK, BIG THINK EDGE,
SMARTER FASTER trademarks owned by The Big Think, Inc. All rights reserved.