RIP, Privacy? The Strange Paradox of How We Act Online.
Do we really care about privacy? An interview with Manoush Zomorodi, host of WNYC's Note to Self, about The Privacy Paradox campaign. She discusses an ethical code needed for technologists, why the typical ad-based business model online is not sustainable, and why it's time for internet users to be "digitally woke."
06 February, 2017
Privacy is dead. Long live privacy.
---
One of the greatest paradoxes regarding our tech use is how we profess to care about controlling our private information online, yet appear so willing to give it away. Although 92% of American internet users are worried about their online privacy and 64% feel it should be a human right, only 31% understand how companies share their information. There is a yawning gap between the expressed concern and the actions users take.
"Some people say we don't care about privacy," says Manoush Zomorodi. Manoush is the host and managing editor of the popular podcast Note to Self, produced by WNYC Studios. She disagrees with the typical Silicon Valley assessment that users are apathetic towards their privacy. In her view, users are faced with a conundrum where they must balance their privacy concerns with a competing desire to utilize popular services and advance professional careers. "To be a person in the modern age, you need to be searchable."
How do we balance our desire to be connected with our desire for privacy?
This is the question that Manoush is tackling with Note to Self's latest project, The Privacy Paradox, which seeks to better educate users so that they are able to weigh the tradeoffs and make smart decisions. She has assembled a diverse range of leading thinkers, such as technologist Anil Dash and Sir Tim Berners-Lee (inventor of the World Wide Web), to offer a fresh interdisciplinary perspective on privacy.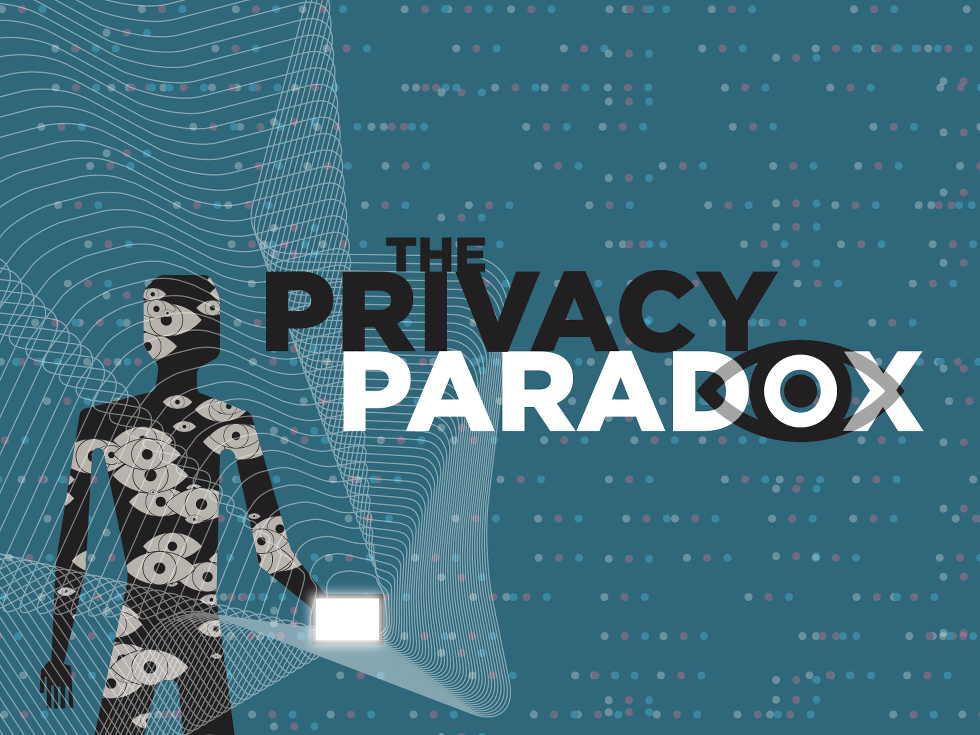 Unlike traditional tech shows discussing what our devices can do for us, Note to Self digs deep into what our devices are doing to us. Their tagline is, "A tech show about being human." Last year the show enlisted 30,000 listeners to take part in Informagical, an interactive experience that tackled information overload. The year before, Manoush and Note to Self launched Bored and Brilliant--an interactive project that shed light on boredom's role in being creative and feeling human. Later this year Manoush will release Bored and Brilliant: Rediscovering the Lost Art of Spacing Out (St. Martin's Press).
With The Privacy Project, Manoush is setting out to change not only consumer behavior but hopefully how Silicon Valley operates. The typical business model for apps and social networks is based on zero upfront cost of the consumer, with revenue derived on the backend from data monetization/targeted ads. Instead of paying a monthly fee a la Netflix, you are paying with your privacy.
How is the tradeoff going?
"People feel uncomfortable but they don't know why they feel uncomfortable," says Manoush. "This stuff is built to take away our attention." Manoush sees a strong connection between a growing awareness around how tech products work with a changing consumer expectation. Marketers, in particular, have reached out to her privately to express their conflicted feelings with big data and targeted ads. According to last year's study by the National Cyber Security Alliance and TRUSTe, 44% of American internet users believe that online privacy will improve with greater consumer awareness.
For example, 57% of Note to Self listeners have ditched an app over privacy concerns. If growing awareness leads consumers to not use apps with poor privacy protection, consumers would be sending a signal using something that has always been persuasive to alter business practices--their purchasing power.
Design ethicist Tristan Harris has likened this movement to the recent rise in organic foods. With organic foods, the more aware consumers understood the nutritional value the more they demanded nutritious food. With apps and social media, consumers are relatively in the dark about how their choices will impact them long-term. There are no "nutritional labels."
What do consumers want?
"People want to find something that works for them," says Manoush. She points to her own nuanced social media use, where she is guarded with access to family while extremely open with her personal thoughts. "I will not post pictures of my kids, but I will post about my inner neuroses." Trying to fully grasp obtuse legalese and boxes to check and when to opt-out puts a heavy burden on the user. "It's like a game of digital whack-a-mole."
She is hopeful that the future will include both greater consumer awareness along with better access to how products impact our privacy. "It's totally unfair that we have the full responsibility of being safe." While she believes that Silicon Valley shouldn't be in the position of having to police itself, Manoush suggests both an independent oversight agency and an ethical code that technologists should take. 
Christian Rudder, co-founder of the dating site OKCupid, discussed the competing interests of data ownership in a previous Big Think video. Rudder, the author of Dataclysm: Love, Sex, Race, and Identity--What Our Online Lives Tell Us about Our Offline Selves, argues that consumers shouldn't have full control over their data but should be able to remove their data when the business relationship (data-for-service) is over. 
I think there's a good argument for you being able to – when you're tired of that exchange I don't want to use Facebook anymore, you should be able to exit that experience wholly rather than leaving whatever vestige of yourself you have to leave now. I know that they give you tools for that and the world I think generally is coming around this idea, but it is scary even to me as an owner of one of these websites, if you're going to sit there and live online, and for whatever reason you want to break up with the site that you're still beholden to them even after you've made that decision.
How did we get here?
Although George Orwell seems to be on the tip of everyone's tongue these days, Manoush finds greater relevance with Aldous Huxley's work. Instead of an in-your-face change, it has been a subtle drifting towards our current state of online privacy. The goal of The Privacy Paradox it to be digitally woke, cognizant of the underlying trade-offs and capable of making informed decisions. "Let the tech companies and marketers know that their model is not a sustainable model," says Manoush. 
Manoush is heartened by the conversation that is happening over in Europe around online privacy and the "right to be forgotten," and optimistic that Americans will at least join the discussion.  The right to be forgotten recognizes an internet user's desire to remove unwanted information from a search engine. "They are having a conversation that we are not having," says Manoush. "I don't know why our brains shut off with the right to be forgotten." 
Let's see if 2017 is the year of being digitally woke. 
===
Want to connect with me? Reach out @TechEthicist and on Facebook. 
What can 3D printing do for medicine? The "sky is the limit," says Northwell Health researcher Dr. Todd Goldstein.
Northwell Health
Sponsored by Northwell Health
Medical professionals are currently using 3D printers to create prosthetics and patient-specific organ models that doctors can use to prepare for surgery.
Eventually, scientists hope to print patient-specific organs that can be transplanted safely into the human body.
Northwell Health, New York State's largest health care provider, is pioneering 3D printing in medicine in three key ways.
Neuroscience is working to conquer some of the human body's cruelest conditions: Paralysis, brain disease, and schizophrenia.
Videos
Neuroscience and engineering are uniting in mind-blowing ways that will drastically improve the quality of life for people with conditions like epilepsy, paralysis or schizophrenia.
Researchers have developed a brain-computer interface the size of a baby aspirin that can restore mobility to people with paralysis or amputated limbs. It rewires neural messages from the brain's motor cortex to a robotic arm, or reroutes it to the person's own muscles.
Deep brain stimulation is another wonder of neuroscience that can effectively manage brain conditions like epilepsy, Parkinson's, and may one day mitigate schizophrenia so people can live normal, independent lives.
Is this proof of a dramatic shift?
Strange Maps
Map details dramatic shift from CNN to Fox News over 10-year period
Does it show the triumph of "fake news" — or, rather, its defeat?
A closer look at the map's legend allows for more complex analyses
Dramatic and misleading
Image: Reddit / SICResearch
The situation today: CNN pushed back to the edges of the country.
Over the course of no more than a decade, America has radically switched favorites when it comes to cable news networks. As this sequence of maps showing TMAs (Television Market Areas) suggests, CNN is out, Fox News is in.
The maps are certainly dramatic, but also a bit misleading. They nevertheless provide some insight into the state of journalism and the public's attitudes toward the press in the US.
Let's zoom in:
It's 2008, on the eve of the Obama Era. CNN (blue) dominates the cable news landscape across America. Fox News (red) is an upstart (°1996) with a few regional bastions in the South.
By 2010, Fox News has broken out of its southern heartland, colonizing markets in the Midwest and the Northwest — and even northern Maine and southern Alaska.
Two years later, Fox News has lost those two outliers, but has filled up in the middle: it now boasts two large, contiguous blocks in the southeast and northwest, almost touching.
In 2014, Fox News seems past its prime. The northwestern block has shrunk, the southeastern one has fragmented.
Energised by Trump's 2016 presidential campaign, Fox News is back with a vengeance. Not only have Maine and Alaska gone from entirely blue to entirely red, so has most of the rest of the U.S. Fox News has plugged the Nebraska Gap: it's no longer possible to walk from coast to coast across CNN territory.
By 2018, the fortunes from a decade earlier have almost reversed. Fox News rules the roost. CNN clings on to the Pacific Coast, New Mexico, Minnesota and parts of the Northeast — plus a smattering of metropolitan areas in the South and Midwest.
"Frightening map"
Image source: Reddit / SICResearch
This sequence of maps, showing America turning from blue to red, elicited strong reactions on the Reddit forum where it was published last week. For some, the takeover by Fox News illustrates the demise of all that's good and fair about news journalism. Among the comments?
"The end is near."
"The idiocracy grows."
"(It's) like a spreading disease."
"One of the more frightening maps I've seen."
For others, the maps are less about the rise of Fox News, and more about CNN's self-inflicted downward spiral:
"LOL that's what happens when you're fake news!"
"CNN went down the toilet on quality."
"A Minecraft YouTuber could beat CNN's numbers."
"CNN has become more like a high-school production of a news show."
Not a few find fault with both channels, even if not always to the same degree:
"That anybody considers either of those networks good news sources is troubling."
"Both leave you understanding less rather than more."
"This is what happens when you spout bullsh-- for two years straight. People find an alternative — even if it's just different bullsh--."
"CNN is sh-- but it's nowhere close to the outright bullsh-- and baseless propaganda Fox News spews."
"Old people learning to Google"
Image: Google Trends
CNN vs. Fox News search terms (200!-2018)
But what do the maps actually show? Created by SICResearch, they do show a huge evolution, but not of both cable news networks' audience size (i.e. Nielsen ratings). The dramatic shift is one in Google search trends. In other words, it shows how often people type in "CNN" or "Fox News" when surfing the web. And that does not necessarily reflect the relative popularity of both networks. As some commenters suggest:
"I can't remember the last time that I've searched for a news channel on Google. Is it really that difficult for people to type 'cnn.com'?"
"More than anything else, these maps show smart phone proliferation (among older people) more than anything else."
"This is a map of how old people and rural areas have learned to use Google in the last decade."
"This is basically a map of people who don't understand how the internet works, and it's no surprise that it leans conservative."
A visual image as strong as this map sequence looks designed to elicit a vehement response — and its lack of context offers viewers little new information to challenge their preconceptions. Like the news itself, cartography pretends to be objective, but always has an agenda of its own, even if just by the selection of its topics.
The trick is not to despair of maps (or news) but to get a good sense of the parameters that are in play. And, as is often the case (with both maps and news), what's left out is at least as significant as what's actually shown.
One important point: while Fox News is the sole major purveyor of news and opinion with a conservative/right-wing slant, CNN has more competition in the center/left part of the spectrum, notably from MSNBC.
Another: the average age of cable news viewers — whether they watch CNN or Fox News — is in the mid-60s. As a result of a shift in generational habits, TV viewing is down across the board. Younger people are more comfortable with a "cafeteria" approach to their news menu, selecting alternative and online sources for their information.
It should also be noted, however, that Fox News, according to Harvard's Nieman Lab, dominates Facebook when it comes to engagement among news outlets.
CNN, Fox and MSNBC
Image: Google Trends
CNN vs. Fox (without the 'News'; may include searches for actual foxes). See MSNBC (in yellow) for comparison
For the record, here are the Nielsen ratings for average daily viewer total for the three main cable news networks, for 2018 (compared to 2017):

Fox News: 1,425,000 (-5%)
MSNBC: 994,000 (+12%)
CNN: 706,000 (-9%)
And according to this recent overview, the top 50 of the most popular websites in the U.S. includes cnn.com in 28th place, and foxnews.com in... 27th place.
The top 5
, in descending order, consists of google.com, youtube.com, facebook.com, amazon.com and yahoo.com — the latter being the highest-placed website in the News and Media category.
A recent study gives new meaning to the saying "fake it 'til you make it."
Pixabay
Surprising Science
The study involves four experiments that measured individuals' socioeconomic status, overconfidence and actual performance.
Results consistently showed that high-class people tend to overestimate their abilities.
However, this overconfidence was misinterpreted as genuine competence in one study, suggesting overestimating your abilities can have social advantages.
Big think's weekly newsletter.
Get smarter faster from the comfort of your inbox.
See our newsletter privacy policy
here
Most Popular
Most Recent
Big think's weekly newsletter.
Get smarter faster from the comfort of your inbox.
See our newsletter privacy policy
here
© Copyright 2007-2019 & BIG THINK, BIG THINK EDGE,
SMARTER FASTER trademarks owned by The Big Think, Inc. All rights reserved.
//This will actually fire event. Should be called after consent was verifed