5 secret societies purported to be Illuminati fronts
Elite organizations tend to get conspiracy theorists going.
11 April, 2019
More than a few powerful men throughout world history have been part of the Freemasons and elite Skull and Bones society.
Organizations such as the Bilderberg Group and Trilateral Commission foster international cooperation, but stir discontent with the conspiratorial-minded populace.
Famous leaders and executives have routinely engaged with these groups, fueling only more intrigue over the years.
---
Leave it to the conspiracists to leave no stone unturned when it comes to the rich, powerful, and global elite. According to some conspiracy theorists, the Illuminati, New World Order or extraterrestrial satanic Zionist cabal — or what have you — has many international organizational fronts to further their conquest of the world and your mind.
Most of these absurd conspiracies sound like fodder for some hack superhero film plot. You can really only pity them, after all the Illuminati conspiracy started from a humble satirical book. Though, the existence of such organizations can't be entirely ruled out — people in power may very well scheme to stay in power.
This said, the following are the few organizations and secret societies that are supposedly involved in the shady dealings of the world's elite coterie. Some of their origins are shrouded in mystery or intrigue. Many famous leaders have cavorted around in their secret halls. For the most part, they're also not open to the public and have had a hand in major world historical decisions throughout the years.
Freemasons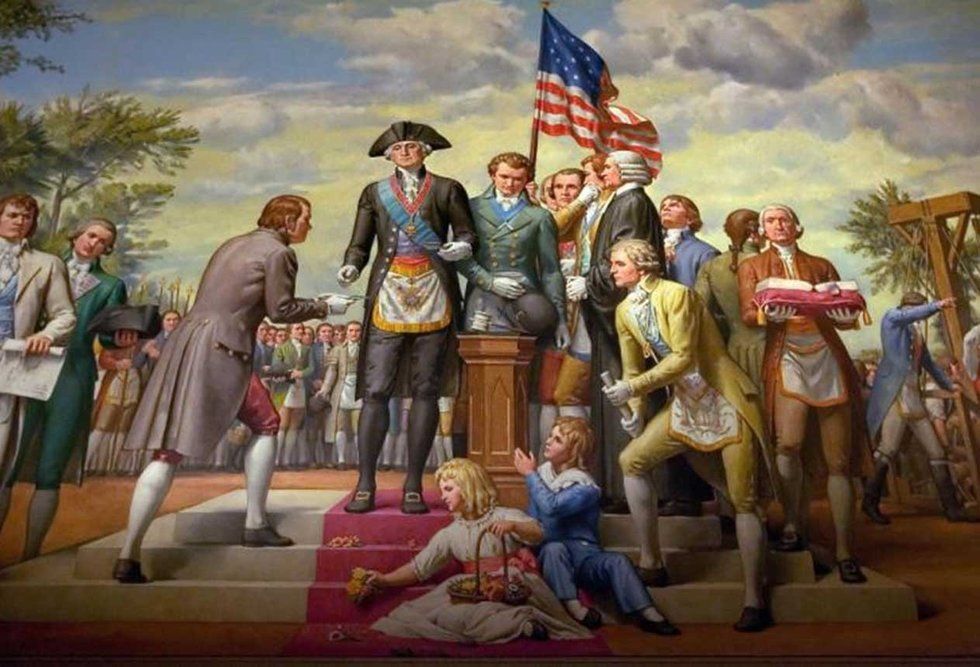 Mural of George Washington in Masonic National Memorial Hall — Allyn Cox. Creative Commons Wikimedia
The Freemasons encompass one of the largest secret fraternal organizations worldwide. Spread through the conquest and advancement of the British Empire throughout the last few centuries, Freemasonry remains popular in countries that were once under British rule. Estimates of membership in this group number anywhere from 2–6 million. Anyone is allowed to join. If you're an American, you've most likely passed a Freemason lodge in your town or even went to some kind of local event there.
Freemasonry evolved from the guild culture that was flourishing during the Middle ages. As the name implies, it was originally for stonemasons and church builders. During the 17th and 18th centuries, the Masons began to take on a more religious and ritualistic role in their organization. It became a place for men to meet, philosophize, and deal with political issues. The first Grand Lodge opened up in England 1717.
There are numerous independent lodges around the world with millions of members. There is no controlling governance from a central lodge. While men like George Washington were Masons and held political sway back in the day, it's unlikely that the local boy scouts troop leader camped out in the lodge basement is involved with any elite plot of world domination.
The Bohemian Club
There are very few public comments about the the Bohemian Club from its many members. Mostly old Republicans and other conservative men. The existence of the club and its members is no secret. Every Republican president since Herbert Hoover has either been a member or visited the summer camp — the Bohemian Grove. It was said that in 1942, J. Robert Oppenheimer who headed the Manhattan Project, led a meeting in one of the clubhouses just a few years before the atomic bomb was set off over Hiroshima and Nagasaki.
The Bohemian Club was founded in 1872 and, in its earlier days, had more of a liberal and artistic flair to it back then. Mark Twain and Jack London were members. Over the years it's turned into what we know commonly know it as — a gathering where rich conservative men can let loose and put on bad theater… Supposedly, a number of low-level employees of the summer camp gave their experiences on the innocuous and somewhat boring retreat for the rich and powerful.
Oscar Wilde, who once visited the camp, snarkily remarked: "I never saw so many well-dressed, well-fed, business-looking Bohemians in my life."
Bilderberg Group 
Purported to be a wing of the shadowy world government, the Bilderberg Group is a secretive gathering where the elites of the world go to discuss a wider range of topics. An annual conference, the Bilderberg group was created in 1954 by Prince Bernhard of the Netherlands. The goal was to create a better connection between Europe and North America.
Big tech CEOs, heads of state and other powerful people of the world are routinely invited to the yearly conference.
Though members of the media are allegedly also invited, the inner dealings of the Bilderberg conference are largely private. This said, not much has been reported on their discussions in detail — including who said what. Though it seems little leaves the rooms of these conferences, we can get an idea of topics they discuss from their public agenda. For instance, the group's members purportedly talked about populism in Europe, Russia, artificial intelligence, quantum computing, and the future of work, among other things, at last year's conference.
Bilderberg abides by the Chatham House Rule, which means that anyone attending the meeting can talk about the information gained there, but cannot disclose who said it. Aside from the usual run of the mill conspiracies, there have been some valid academic critiques of this kind of organization.
Skull and Bones
Yale University Secret Society Skull and Bones Tomb. Image source: Wikimedia Commons
This not-so-secret secret society goes a few levels deep in the elite cadre of the ruling plutocracy. First, it's only open up to undergraduates of Yale University. And it's only open to the best in class. . . or to those with an established tie to the group. Nepotism.
Founded in 1832, the Skull and Bones selects 15 members of the junior class to join. Once accepted, members are called "Bonesmen."

The late President George H.W. Bush and his son George W. Bush were members, as well as John Kerry and a number of other highly connected and powerful alumni. Of course this has led to the reputation of the Skull and Bones being part of the Illuminati conspiracy. Some people believe that the Skull and Bones controls the CIA and others think it has some kind of connection to the Kennedy assassinations.
The club was also immortalized by F. Scott Fitzgerald in 1925 when some of his rich East Coast characters were described as belonging to the highly selective group.
Adding to the intrigue, Skull and Bones members meet in a crypt-like building called the Tomb. The number "322" is part of their insignia and is said to represent the year 322 BCE, when Athens lost the Lamian War and their democracy was destroyed.
Trilateral commission
The Trilateral commission was created by every conspiracist favorite scapegoat — David Rockefeller. Conspiracy theorists often lump this group together with the United Nations, Bilderberg Conference, and the aforementioned hoax — the Illuminati. These fronts or wings of the super conspiracy all help guide along the world controlled by a couple of elites.
Founded in 1973, David Rockefeller's initiative was to confront the challenges that grew from the new dependence on foreign allies that included the likes of Canada, Japan and Western Europe. Similar to the Bilderberg Group, the goal was to encourage greater international cooperation.
There are three regional chairs for Europe, North America, and the Asia-Pacific region. Meetings are held throughout the year, with regional headquarters in Paris, Washington, D.C., and Tokyo. Its members includes influential statesmen, politicians, business executives, and intellectuals. Membership is, as you'd expect, by invite only.
Related Articles Around the Web
From Your Site Articles
What can 3D printing do for medicine? The "sky is the limit," says Northwell Health researcher Dr. Todd Goldstein.
Northwell Health
Sponsored by Northwell Health
Medical professionals are currently using 3D printers to create prosthetics and patient-specific organ models that doctors can use to prepare for surgery.
Eventually, scientists hope to print patient-specific organs that can be transplanted safely into the human body.
Northwell Health, New York State's largest health care provider, is pioneering 3D printing in medicine in three key ways.
The periodic table was a lot simpler at the beginning of the universe.
Great ideas in philosophy often come in dense packages. Then there is where the work of Marcus Aurelius.
(Getty Images)
Personal Growth
Meditations is a collection of the philosophical ideas of the Roman Emperor Marcus Aurelius.
Written as a series of notes to himself, the book is much more readable than the dry philosophy most people are used to.
The advice he gave to himself 2,000 years ago is increasingly applicable in our hectic, stressed-out lives.
Can dirt help us fight off stress? Groundbreaking new research shows how.
University of Colorado Boulder
Surprising Science
New research identifies a bacterium that helps block anxiety.
Scientists say this can lead to drugs for first responders and soldiers, preventing PTSD and other mental issues.
The finding builds on the hygiene hypothesis, first proposed in 1989.
Are modern societies trying too hard to be clean, at the detriment to public health? Scientists discovered that a microorganism living in dirt can actually be good for us, potentially helping the body to fight off stress. Harnessing its powers can lead to a "stress vaccine".
Researchers at the University of Colorado Boulder found that the fatty 10(Z)-hexadecenoic acid from the soil-residing bacterium Mycobacterium vaccae aids immune cells in blocking pathways that increase inflammation and the ability to combat stress.
The study's senior author and Integrative Physiology Professor Christopher Lowry described this fat as "one of the main ingredients" in the "special sauce" that causes the beneficial effects of the bacterium.
The finding goes hand in hand with the "hygiene hypothesis," initially proposed in 1989 by the British scientist David Strachan. He maintained that our generally sterile modern world prevents children from being exposed to certain microorganisms, resulting in compromised immune systems and greater incidences of asthma and allergies.
Contemporary research fine-tuned the hypothesis, finding that not interacting with so-called "old friends" or helpful microbes in the soil and the environment, rather than the ones that cause illnesses, is what's detrimental. In particular, our mental health could be at stake.
"The idea is that as humans have moved away from farms and an agricultural or hunter-gatherer existence into cities, we have lost contact with organisms that served to regulate our immune system and suppress inappropriate inflammation," explained Lowry. "That has put us at higher risk for inflammatory disease and stress-related psychiatric disorders."
University of Colorado Boulder
Christopher Lowry
This is not the first study on the subject from Lowry, who published previous work showing the connection between being exposed to healthy bacteria and mental health. He found that being raised with animals and dust in a rural environment helps children develop more stress-proof immune systems. Such kids were also likely to be less at risk for mental illnesses than people living in the city without pets.
Lowry's other work also pointed out that the soil-based bacterium Mycobacterium vaccae acts like an antidepressant when injected into rodents. It alters their behavior and has lasting anti-inflammatory effects on the brain, according to the press release from the University of Colorado Boulder. Prolonged inflammation can lead to such stress-related disorders as PTSD.
The new study from Lowry and his team identified why that worked by pinpointing the specific fatty acid responsible. They showed that when the 10(Z)-hexadecenoic acid gets into cells, it works like a lock, attaching itself to the peroxisome proliferator-activated receptor (PPAR). This allows it to block a number of key pathways responsible for inflammation. Pre-treating the cells with the acid (or lipid) made them withstand inflammation better.
Lowry thinks this understanding can lead to creating a "stress vaccine" that can be given to people in high-stress jobs, like first responders or soldiers. The vaccine can prevent the psychological effects of stress.
What's more, this friendly bacterium is not the only potentially helpful organism we can find in soil.
"This is just one strain of one species of one type of bacterium that is found in the soil but there are millions of other strains in soils," said Lowry. "We are just beginning to see the tip of the iceberg in terms of identifying the mechanisms through which they have evolved to keep us healthy. It should inspire awe in all of us."
Check out the study published in the journal Psychopharmacology.
Big think's weekly newsletter.
Get smarter faster from the comfort of your inbox.
See our newsletter privacy policy
here
Most Popular
Most Recent
Big think's weekly newsletter.
Get smarter faster from the comfort of your inbox.
See our newsletter privacy policy
here
© Copyright 2007-2019 & BIG THINK, BIG THINK EDGE,
SMARTER FASTER trademarks owned by The Big Think, Inc. All rights reserved.