5 secret societies purported to be Illuminati fronts
Elite organizations tend to get tinfoil hats and conspiracy theorists going.
11 April, 2019
More than a few powerful men throughout world history have been part of the Freemasons and elite Skull and Bones society.
Organizations like the Bilderberg Group and Trilateral Commission foster international cooperation, but stir discontent with the conspiratorial minded populace.
Famous leaders and executives have routinely engaged with these groups, fueling only more intrigue over the years.
---
Leave it to the conspiracists to leave no stone unturned when it comes to the rich, powerful and global elite. According to some conspiracy theorists, the Illuminati, New World Order or extraterrestrial satanic Zionist cabal – or what have you... has many international organizational fronts to further their conquest of the world and your mind. Most of these absurd conspiracies sound like fodder for some hack superhero film plot. You can really only pity them, afterall the Illuminati conspiracy started from a humble satirical book.
These are the few organizations and secret societies that fit the bill. Some of their origins are shrouded in mystery or intrigue. Many famous leaders have cavorted around in their secret halls. For the most part, they're also not open to the public and have had a hand in major world historical decisions throughout the years.
Here are the five secret societies and organizations supposedly involved in the shady dealings of the world's elite coterie.
Freemasons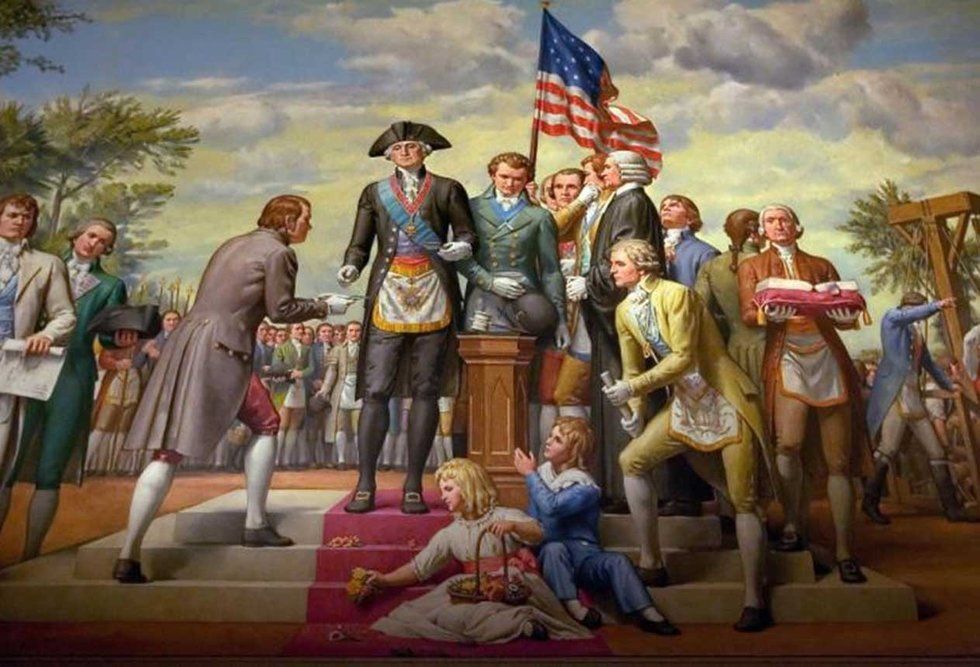 Creative Commons Wikimedia
Mural of George Washington in Masonic National Memorial Hall - Allyn Cox
The Freemasons encompass one of the largest secret fraternal organizations world wide. Spread through the conquest and advancement of the British Empire throughout the last few centuries, Freemasonry remains popular in countries that were once under British rule. Estimates of membership in this group number anywhere from two to six million. Anyone is allowed to join. If you're an American, you've most likely passed a Freemason lodge in your town or even went to some kind of local event there.
Freemasonry evolved from the guild culture that was flourishing during the Middle ages. As the name implies, it was originally for stonemasons and church builders. During the 17th and 18th centuries, the Masons began to take on a more religious and ritualistic role in their organization. It became a place for men to meet, philosophize and deal with political issues. The first Grand Lodge opened up in England 1717.
There are numerous independent lodges around the world with millions of members. There is no controlling governance from a central lodge. While men like George Washington were Masons and held political sway back in the day, it's unlikely that the local boy scouts troop leader camped out in the lodge basement is involved with any elite plot of world domination.
The Bohemian Club
There are very few public comments about the The Bohemian Club from its many members. Mostly old Republicans and other conservative men. The existence of the club and its members is no secret. Every Republican president since Herbert Hoover has either been a member or visited the summer camp – the Bohemian Grove. It was said that in 1942, J. Robert Oppenheimer who headed the Manhattan Project, led a meeting in one of the clubhouses just a few years before the atomic bomb was set off over Hiroshima and Nagasaki.
The Bohemian Club was founded in 1872 and in its earlier days had more of a liberal and artistic flair to it back then. Mark Twain and Jack London were members. Over the years it's turned into what we know commonly know it as – a gathering where rich conservative men can let loose and put on bad theater… Supposedly, a number of low-level employees of the summer camp gave their experiences on the innocuous and somewhat boring retreat for the rich and powerful.
Oscar Wilde who once visited the camp snarkily remarked: "I never saw so many well-dressed, well-fed, business-looking Bohemians in my life."
Bilderberg Group 
Purported to be a wing of the shadowy world government, The Bilderberg Group is a secretive gathering where the elites of the world go to discuss a wider range of topics. An annual conference, the Bilderberg group was created in 1954 by Prince Bernhard of the Netherlands. The goal was to create a better connection between Europe and North America.
There is not much to report on, for the inner dealings of the Bilderberg conference are secretive and the private meetings do not allow journalists. Little has left the rooms of these conferences. Big tech CEOs, heads of state and other powerful people of the world are routinely invited to the yearly conference.
Bilderberg abides by the Chatham House Rule, which means that anyone attending the meeting can talk about the information gained there, but cannot disclose who said it. Aside from the usual run of the mill conspiracies, there have been some valid academic critiques of this kind of organization.
Skull and Bones
Wikimedia
Yale University Secret Society Skull and Bones Tomb
This not-so-secret secret society goes a few levels deep in the elite cadre of the ruling plutocracy. First it's only open up to undergraduates of Yale University. And it's only open to the best in class… or the nepotistic name your father had from the old boy's club. Founded in 1832, the Skull and Bones selects fifteen members of the junior class to join. Once accepted, members are called "Bonesmen."
The late President George H.W. Bush and his son George W. Bush were members, as well as John Kerry and a number of other highly connected and powerful alumni. Of course this has led to the reputation of the Skull and Bones being part of the Illuminati conspiracy. Some people believe that the Skull and Bones controls the CIA and others think it has some kind of connection to the Kennedy assassinations.
The club was also immortalized by F. Scott Fitzgerald in 1925 when some of his rich East Coast elites were described as belonging to the highly selective group.
Adding to the intrigue, Skull and Bones members meet in a crypt-like building called the Tomb. The number '322' is part of their insignia and is said to represent the year 322 BCE, when Athens lost the Lamian War and their democracy was destroyed.
Trilateral commission
The Trilateral commission was created by every conspiracist favorite scapegoat – David Rockefeller. Conspiracy theorists often lump this group together with the United Nations, Bilderberg Conference and the aforementioned hoax – the Illuminati. These fronts or wings of the super conspiracy all help guide along the world controlled by a couple of elites.
Founded in 1973, David Rockefeller's initiative was to confront the challenges that grew from the new dependence on foreign allies that included the likes of Canada, Japan and western Europe. Similar to the Bilderberg Group, the goal was to encourage greater international cooperation.
There are three regional chairs for Europe, North America and the Asia-Pacific region. Meetings are held throughout the year, with regional headquarters in Paris, Washington, D.C., and Tokyo. Its members includes influential statesmen, politicians, business executives and intellectuals. Membership is invite only.
Upstreamism advocate Rishi Manchanda calls us to understand health not as a "personal responsibility" but a "common good."
Sponsored by Northwell Health
Upstreamism tasks health care professionals to combat unhealthy social and cultural influences that exist outside — or upstream — of medical facilities.
Patients from low-income neighborhoods are most at risk of negative health impacts.
Thankfully, health care professionals are not alone. Upstreamism is increasingly part of our cultural consciousness.
In most states, LGBTQ Americans have no legal protections against discrimination in the workplace.
(Photo by Andres Pantoja/SOPA Images/LightRocket via Getty Images)
Politics & Current Affairs
The Supreme Court will decide whether the Civil Rights Act of 1964 also applies to gay and transgender people.
The court, which currently has a probable conservative majority, will likely decide on the cases in 2020.
Only 21 states and the District of Columbia have passed laws effectively extending the Civil Rights of 1964 to gay and transgender people.
A new method promises to capture an elusive dark world particle.
Surprising Science
Scientists working on the Large Hadron Collider (LHC) devised a method for trapping dark matter particles.
Dark matter is estimated to take up 26.8% of all matter in the Universe.
The researchers will be able to try their approach in 2021, when the LHC goes back online.
No, depression is not just a type of "affluenza" — poor people in conflict zones are more likely candidates
Strange Maps
Often seen as typical of rich societies, depression is actually more prevalent in poor, conflict-ridden countries
More than one in five Afghans is clinically depressed – a sad world record
But are North Koreans really the world's 'fourth least depressed' people?
Big think's weekly newsletter.
Get smarter faster from the comfort of your inbox.
See our newsletter privacy policy
here
Most Popular
Most Recent
Big think's weekly newsletter.
Get smarter faster from the comfort of your inbox.
See our newsletter privacy policy
here
© Copyright 2007-2019 & BIG THINK, BIG THINK EDGE,
SMARTER FASTER trademarks owned by The Big Think, Inc. All rights reserved.