Yes, Buzz Aldrin DID see something odd in space. Here's the real story.
One of the latest things that has people all abuzz is the claim that Buzz Aldrin saw "an L-shaped object" when he went to the moon.\r\n
09 April, 2018
The U.K. tabloid Daily Star published an "exclusive" report over the weekend that stated, "Aldrin has always maintained he spotted a UFO on the way to the moon." It quoted some words attributed to Aldrin that stated: "There was something out there that was close enough to be observed, sort of L-shaped."
---
Only those words are not sourced anywhere.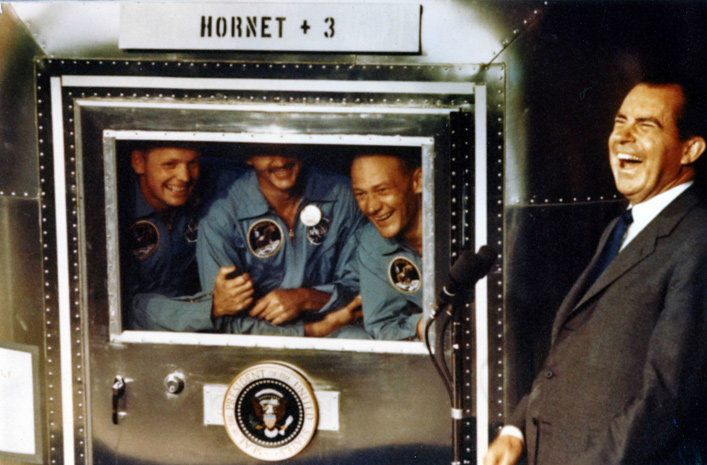 What he definitely has said about what he actually saw is recorded in a Reddit Ask Me Anything from 2014:
"On Apollo 11 in route to the Moon, I observed a light out the window that appeared to be moving alongside us. There were many explanations of what that could be, other than another spacecraft from another country or another world - it was either the rocket we had separated from, or the 4 panels that moved away when we extracted the lander from the rocket and we were nose to nose with the two spacecraft. So in the close vicinity, moving away, were 4 panels. And i feel absolutely convinced that we were looking at the sun reflected off of one of these panels. Which one? I don't know. So technically, the definition could be 'unidentified.'

We well understood exactly what that was. And when we returned, we debriefed and explained exactly what we had observed. And I felt that this had been distributed to the outside world, the outside audience, and apparently it wasn't, and so many years later, I had the time in an interview to disclose these observations, on another country's television network. And the UFO people in the United States were very very angry with me, that i had not given them the information.

It was not an alien. Extraordinary observations require extraordinary evidence. That's what Carl Sagan said.

There may be aliens in our Milky Way galaxy, and there are billions of other galaxies. The probability is almost CERTAIN that there is life somewhere in space. It was not that remarkable, that special, that unusual, that life here on earth evolved gradually, slowly, to where we are today.

But the distances involved in where some evidence of life may be, they may be hundreds of light years away."
The heart of the Daily Star assertion is that a voice recording by Aldrin describing the experience of seeing the odd light was processed by a company called Institute of BioAcoustic Biology using "new, top-secret technology" to study his vocal patterns.  
If your skeptical flag is not raised by now, it should be.
In fact, Buzz Aldrin's representatives replied to a request from Pedestrian about the BioAcoustic Biology report with these words:
"This is bogus and we don't know where it came from."
There you have it. 
The ability to speak clearly, succinctly, and powerfully is easier than you think
Former U.S. President Barack Obama speaks during a Democratic Congressional Campaign Committee rally at the Anaheim Convention Center on September 8, 2018 in Anaheim, California. (Photo by Barbara Davidson/Getty Images)
Personal Growth
The ability to communicate effectively can make or break a person's assessment of your intelligence, competence, and authenticity.
The results come from a 15-year study that used ultrasound scans to track blood vessels in middle-aged adults starting in 2002.
Mind & Brain
The study measured the stiffness of blood vessels in middle-aged patients over time.
Stiff blood vessels can lead to the destruction of delicate blood vessels in the brain, which can contribute to cognitive decline.
The scans could someday become a widely used tool to identify people at high risk of developing dementia and Alzheimer's.
Facing mounting pressure from the public and government agencies, the e-cigarette maker announced major changes to its business model on Tuesday.
(Photo by Scott Olson/Getty Images)
Politics & Current Affairs
Juul makes flavored e-cigarettes and currently dominates the vaping industry, with 70% of the market share.
The FDA is planning to ban the sale of flavored e-cigarettes in gas stations and convenient stores this week.
Some have called teenage vaping an epidemic. Data from 2018 show that about 20% of high school students had used an e-cigarette in the past 30 days.
Big think's weekly newsletter.
Get smarter faster from the comfort of your inbox.
See our newsletter privacy policy
here
Most Popular
Most Recent
Big think's weekly newsletter.
Get smarter faster from the comfort of your inbox.
See our newsletter privacy policy
here
© Copyright 2007-2018 & BIG THINK, BIG THINK EDGE,
SMARTER FASTER trademarks owned by The Big Think, Inc. All rights reserved.