Yes, Buzz Aldrin DID see something odd in space. Here's the real story.
One of the latest things that has people all abuzz is the claim that Buzz Aldrin saw "an L-shaped object" when he went to the moon.\r\n
09 April, 2018
The U.K. tabloid Daily Star published an "exclusive" report over the weekend that stated, "Aldrin has always maintained he spotted a UFO on the way to the moon." It quoted some words attributed to Aldrin that stated: "There was something out there that was close enough to be observed, sort of L-shaped."
---
Only those words are not sourced anywhere.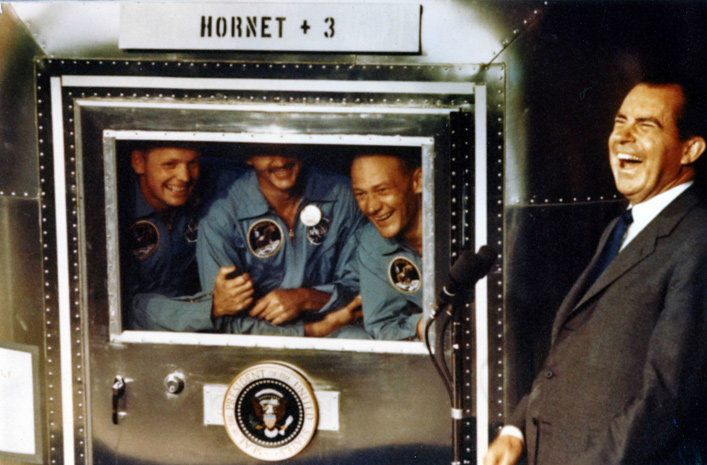 What he definitely has said about what he actually saw is recorded in a Reddit Ask Me Anything from 2014:
"On Apollo 11 in route to the Moon, I observed a light out the window that appeared to be moving alongside us. There were many explanations of what that could be, other than another spacecraft from another country or another world - it was either the rocket we had separated from, or the 4 panels that moved away when we extracted the lander from the rocket and we were nose to nose with the two spacecraft. So in the close vicinity, moving away, were 4 panels. And i feel absolutely convinced that we were looking at the sun reflected off of one of these panels. Which one? I don't know. So technically, the definition could be 'unidentified.'

We well understood exactly what that was. And when we returned, we debriefed and explained exactly what we had observed. And I felt that this had been distributed to the outside world, the outside audience, and apparently it wasn't, and so many years later, I had the time in an interview to disclose these observations, on another country's television network. And the UFO people in the United States were very very angry with me, that i had not given them the information.

It was not an alien. Extraordinary observations require extraordinary evidence. That's what Carl Sagan said.

There may be aliens in our Milky Way galaxy, and there are billions of other galaxies. The probability is almost CERTAIN that there is life somewhere in space. It was not that remarkable, that special, that unusual, that life here on earth evolved gradually, slowly, to where we are today.

But the distances involved in where some evidence of life may be, they may be hundreds of light years away."
The heart of the Daily Star assertion is that a voice recording by Aldrin describing the experience of seeing the odd light was processed by a company called Institute of BioAcoustic Biology using "new, top-secret technology" to study his vocal patterns.  
If your skeptical flag is not raised by now, it should be.
In fact, Buzz Aldrin's representatives replied to a request from Pedestrian about the BioAcoustic Biology report with these words:
"This is bogus and we don't know where it came from."
There you have it. 
Malcolm Gladwell teaches "Get over yourself and get to work" for Big Think Edge.
Big Think Edge
Learn to recognize failure and know the big difference between panicking and choking.

At Big Think Edge, Malcolm Gladwell teaches how to check your inner critic and get clear on what failure is.

Subscribe to Big Think Edge before we launch on March 30 to get 20% off monthly and annual memberships.
Can sensitive coral reefs survive another human generation?
Videos
Coral reefs may not be able to survive another human decade because of the environmental stress we have placed on them, says author David Wallace-Wells. He posits that without meaningful changes to policies, the trend of them dying out, even in light of recent advances, will continue.
The World Wildlife Fund says that 60 percent of all vertebrate mammals have died since just 1970. On top of this, recent studies suggest that insect populations may have fallen by as much as 75 percent over the last few decades.
If it were not for our oceans, the planet would probably be already several degrees warmer than it is today due to the emissions we've expelled into the atmosphere.
Image source: Topical Press Agency / Getty Images
Politics & Current Affairs
Though we know today that his policies eventually ended the Great Depression, FDR's election was seen as disastrous by some.
A group of wealthy bankers decided to take things into their own hands; they plotted a coup against FDR, hoping to install a fascist dictator in its stead.
Ultimately, the coup was brought to light by General Smedley Butler and squashed before it could get off the ground.
Michael Dowling, Northwell Health's CEO, believes we're entering the age of smart medicine.
Sponsored by Northwell Health
The United States health care system has much room for improvement, and big tech may be laying the foundation for those improvements.
Technological progress in medicine is coming from two fronts: medical technology and information technology.
As information technology develops, patients will become active participants in their health care, and value-based care may become a reality.
Big think's weekly newsletter.
Get smarter faster from the comfort of your inbox.
See our newsletter privacy policy
here
Most Popular
Most Recent
Big think's weekly newsletter.
Get smarter faster from the comfort of your inbox.
See our newsletter privacy policy
here
© Copyright 2007-2018 & BIG THINK, BIG THINK EDGE,
SMARTER FASTER trademarks owned by The Big Think, Inc. All rights reserved.