The Sahara Desert might become a place where solar and wind power can change the world
A new study asks the question: can a massive solar and wind farm be implemented in the Sahara? According to at least one of the authors, it's possible to create these solar and wind farms with technology available right now.
10 September, 2018
The Sahara desert is the largest region of its kind in the world, second only to Antarctica and the Arctic, and it's the biggest "hot desert" of any on our planet. Next to that, on its southern border, is the Sahel, a "transition" region that is not nearly as dry or barren.
---
Together, these regions are spread throughout 10 countries, including North Africa, Egypt, and Sudan, which means that the total area is roughly the size of China or the United States. Despite its size, the central Sahara itself receives about an inch of water per year in precipitation. Think about that.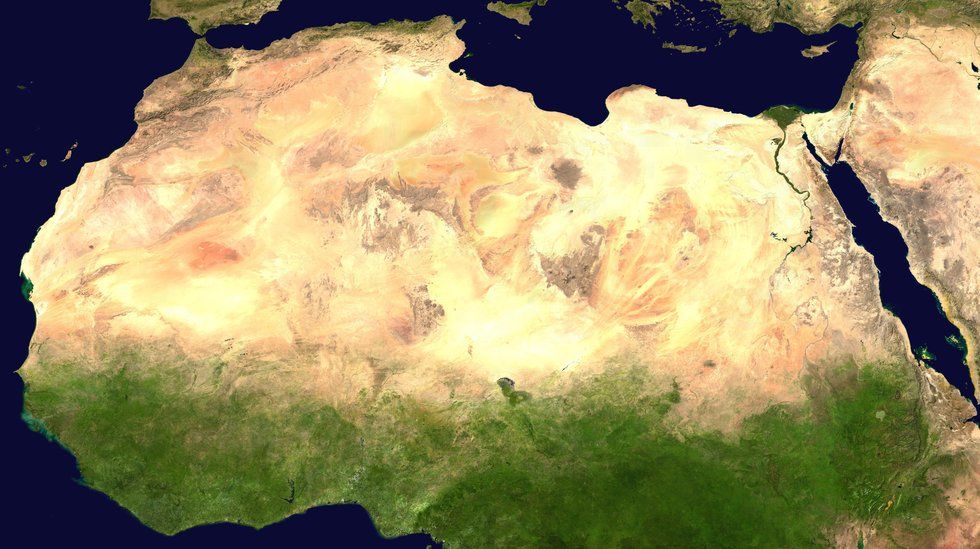 It hasn't always been this way; every 41,000 years or so, because of the tilt of the Earth's axis (and therefore, the North African monsoon season), it becomes a lush savannah, teeming with life and water.
A team of scientists has concluded that deploying solar and wind farms across the region will produce significantly more rain (and therefore, more natural vegetation) in the areas that they would exist. Because of what the study referred to as the "albedo—precipitation—vegetation feedback" (albedo is basically the reflection of light and electromagnetic radiation), the models that scientists used showed that deploying solar and wind farms in the Sahara would increase precipitation by 1.12 mm per day (.0441 inches). Translation? Sixteen inches per year of increased rain. That's 16 times what normally occurs in the most arid parts of the Sahara, and double that of the Sahel.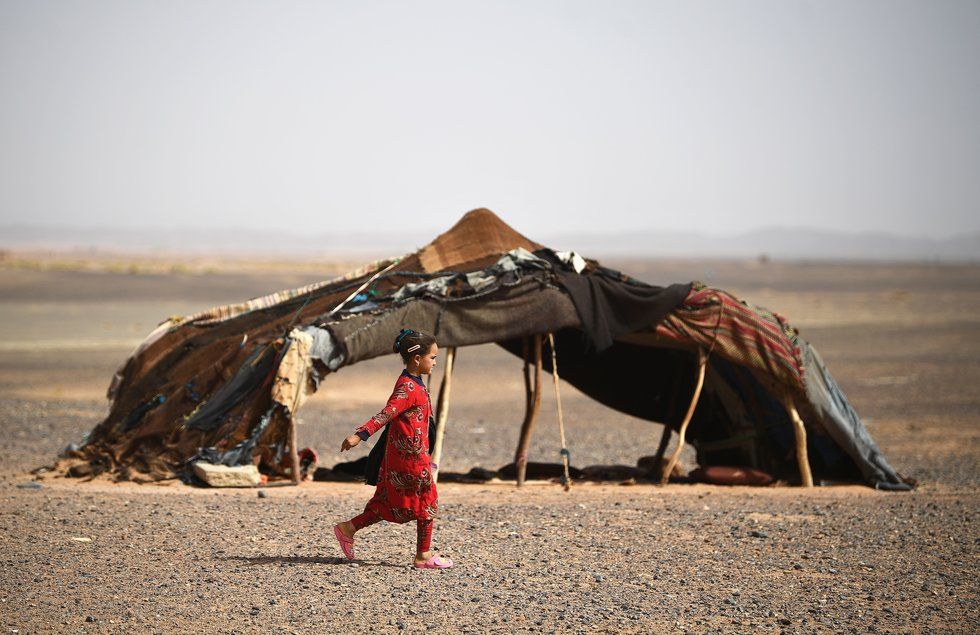 As with most scientific proposals, it's not practical to implement just yet; the models used require 9 million square kilometers, which presents challenges for the political, social, and economic systems of all 10 countries in the region. Also, wind farms would initially—before natural vegetation grew and began to cool things and change the cycles—raise temperatures by 2 degrees Celsius. Solar systems would raise temperatures by 1 degree Celsius. However, that's a far cry from what fossil fuels do: they raise temperatures 30 times that of solar voltaic cells.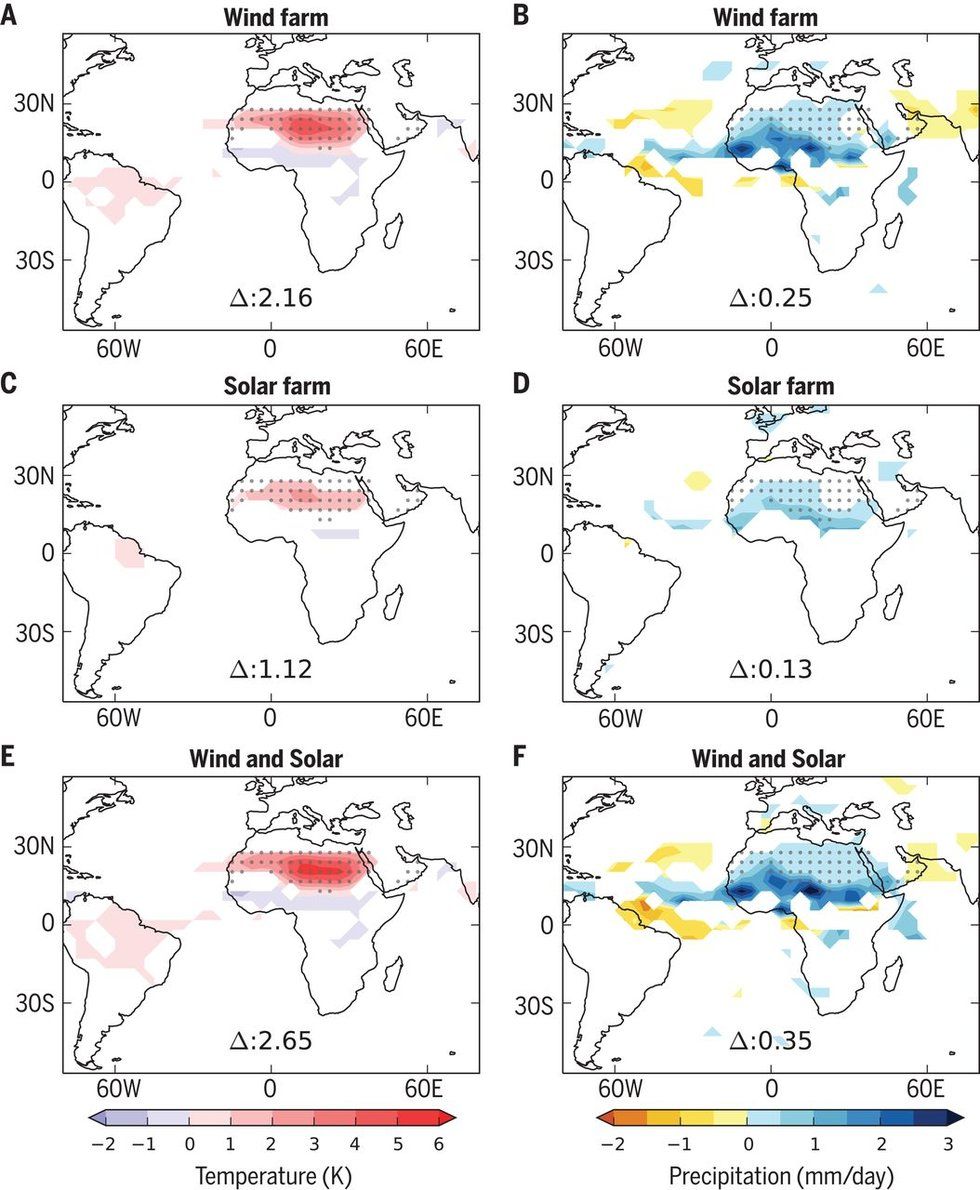 Still, the potential benefit is tantalizing; such a monumental installation of solar and wind farms has the potential to produce, each year, four times the energy that the world consumes.
"Our results obtained from experiments performed with a climate model suggest that, for installations of wind and solar farms with current conversion efficiency in the desert at a scale large enough to power the entire world, the impacts on regional climate would be beneficial rather than detrimental, and the impacts on global mean temperature are still small compared with those induced by CO2 emission from fossil fuels."

As religious diversity increases in the United States, we must learn to channel religious identity into interfaith cooperation.
Sponsored by Charles Koch Foundation
Religious diversity is the norm in American life, and that diversity is only increasing, says Eboo Patel.
Using the most painful moment of his life as a lesson, Eboo Patel explains why it's crucial to be positive and proactive about engaging religious identity towards interfaith cooperation.
The opinions expressed in this video do not necessarily reflect the views of the Charles Koch Foundation, which encourages the expression of diverse viewpoints within a culture of civil discourse and mutual respect.
Two Apollo 11 astronauts question NASA's planetary safety procedures.
Credit: Bettmann, Getty Images.
Surprising Science
Buzz Aldrin and Michael Collins revealed that there were deficiencies in NASA's safety procedures following the Apollo 11 mission.
Moon landing astronauts were quarantined for 21 days.
Earth could be contaminated with lunar bacteria.
Here's why you might eat greenhouse gases in the future.
Technology & Innovation
The company's protein powder, "Solein," is similar in form and taste to wheat flour.
Based on a concept developed by NASA, the product has wide potential as a carbon-neutral source of protein.
The man-made "meat" industry just got even more interesting.
When it comes to sniffing out whether a source is credible or not, even journalists can sometimes take the wrong approach.
Sponsored by Charles Koch Foundation
We all think that we're competent consumers of news media, but the research shows that even journalists struggle with identifying fact from fiction.
When judging whether a piece of media is true or not, most of us focus too much on the source itself. Knowledge has a context, and it's important to look at that context when trying to validate a source.
The opinions expressed in this video do not necessarily reflect the views of the Charles Koch Foundation, which encourages the expression of diverse viewpoints within a culture of civil discourse and mutual respect.