35% of all known exoplanets are 'water worlds', researchers find
The coming few years should really tell us a lot more about them.
20 August, 2018
Do atmospheres of steam, with oceans of liquid water, and ice-encrusted rocks sound like the kind of planet you'd expect anywhere but here? 
---
Turns out, after scientists studied 4,000 known exoplanets (a planet surrounding a star outside of our solar system), fully one-third of them—or 1,400 of those 4,000—were found to be water-rich worlds. In some cases, as much as 50% of the weight of the planets is water. (By comparison, the Earth is only 0.02 per cent water weight.)
"It was a huge surprise to realize that there must be so many water-worlds," said lead researcher Dr Li Zeng of Harvard University.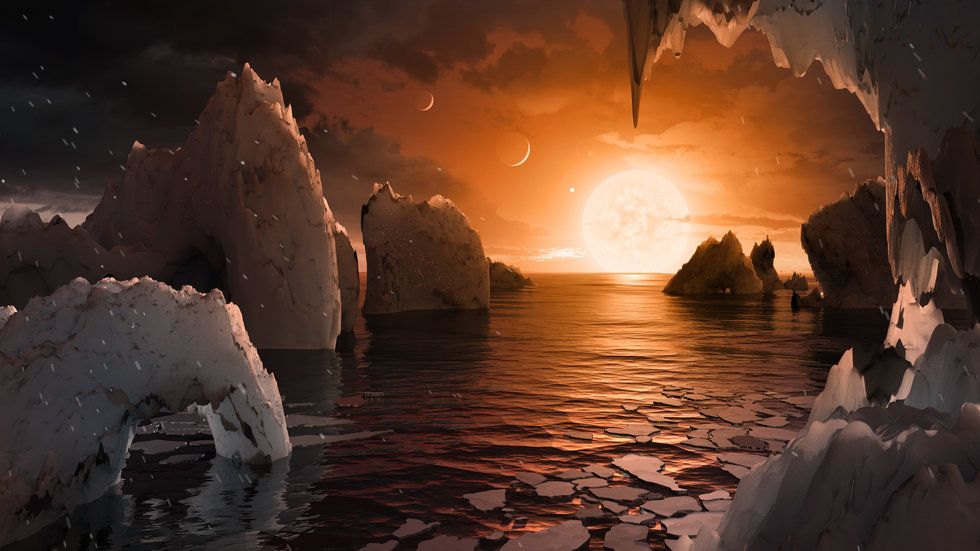 A hand out image made available by the European Southern Observatory on August 24 2016, shows an artist's impression of a view of the surface of the planet Proxima b orbiting the red dwarf star Proxima Centauri, the closest star to the Solar System. (Photo credit M. KORNMESSER/AFP/Getty Images)
Water of some kind means they could have life on them ... but perhaps not anything we've conceived of before. 
"This is water, but not as commonly found here on Earth," said Li Zeng. "Their surface temperature is expected to be in the 200 to 500 degree Celsius range. Their surface may be shrouded in a water-vapor-dominated atmosphere, with a liquid water layer underneath.
Li Zeng continued, "Our data indicate that about 35% of all known exoplanets which are bigger than Earth should be water-rich. These water worlds likely formed in similar ways to the giant planet cores (Jupiter, Saturn, Uranus, Neptune) which we find in our own solar system."
Interestingly, all of the planets studied ended up being 1.5 to 2.5 times the size of Earth. And there's a correlation between the sizes; using their models, it turns out that planets 1.5 times the size of the Earth are very likely to be rocky, and 2.5 times our size, water worlds.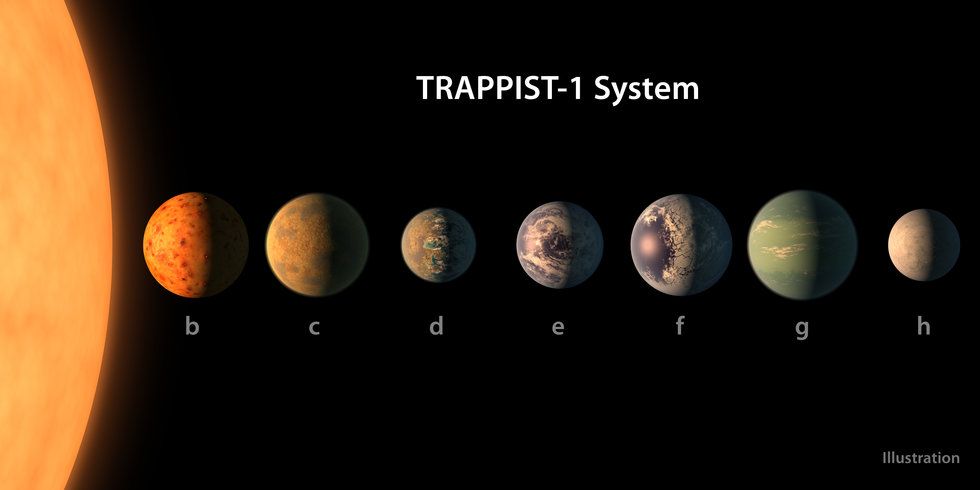 The paper and research, presented at the Goldschmidt Conference in Boston this week, confirms what has long been suspected: We're not the only water-rich world out there. 
Scientists used the Kepler Space Telescope, specifically designed to hunt for exoplanets, and the Gaia mission to find these planets, but two new tools will soon be available to dig much deeper. 
Li Zeng continued. "The newly-launched TESS mission will find many more of them, with the help of ground-based spectroscopic follow-up. The next generation space telescope, the James Webb Space Telescope, will hopefully characterize the atmosphere of some of them. This is an exciting time for those interested in these remote worlds."
TESS (Transiting Exoplanet Survey Satellite) was launched in April, 2018, and the James Webb Space Telescope is due to be launched in 2021.
What can 3D printing do for medicine? The "sky is the limit," says Northwell Health researcher Dr. Todd Goldstein.
Northwell Health
Sponsored by Northwell Health
Medical professionals are currently using 3D printers to create prosthetics and patient-specific organ models that doctors can use to prepare for surgery.
Eventually, scientists hope to print patient-specific organs that can be transplanted safely into the human body.
Northwell Health, New York State's largest health care provider, is pioneering 3D printing in medicine in three key ways.
The phenomenon that makes our favourite drinks bubbly is, alarmingly, the same one that causes decompression sickness in divers. Why do we still love it?
Surprising Science
Think of the last time you had something to celebrate. If you toasted the happy occasion, your drink was probably alcoholic – and bubbly.
As Game of Thrones ends, a revealing resolution to its perplexing geography.
Strange Maps
The fantasy world of Game of Thrones was inspired by real places and events.
But the map of Westeros is a good example of the perplexing relation between fantasy and reality.
Like Britain, it has a Wall in the North, but the map only really clicks into place if you add Ireland.
Big think's weekly newsletter.
Get smarter faster from the comfort of your inbox.
See our newsletter privacy policy
here
Most Popular
Most Recent
Big think's weekly newsletter.
Get smarter faster from the comfort of your inbox.
See our newsletter privacy policy
here
© Copyright 2007-2019 & BIG THINK, BIG THINK EDGE,
SMARTER FASTER trademarks owned by The Big Think, Inc. All rights reserved.