35% of all known exoplanets are 'water worlds', researchers find
The coming few years should really tell us a lot more about them.
20 August, 2018
Do atmospheres of steam, with oceans of liquid water, and ice-encrusted rocks sound like the kind of planet you'd expect anywhere but here? 
---
Turns out, after scientists studied 4,000 known exoplanets (a planet surrounding a star outside of our solar system), fully one-third of them—or 1,400 of those 4,000—were found to be water-rich worlds. In some cases, as much as 50% of the weight of the planets is water. (By comparison, the Earth is only 0.02 per cent water weight.)
"It was a huge surprise to realize that there must be so many water-worlds," said lead researcher Dr Li Zeng of Harvard University.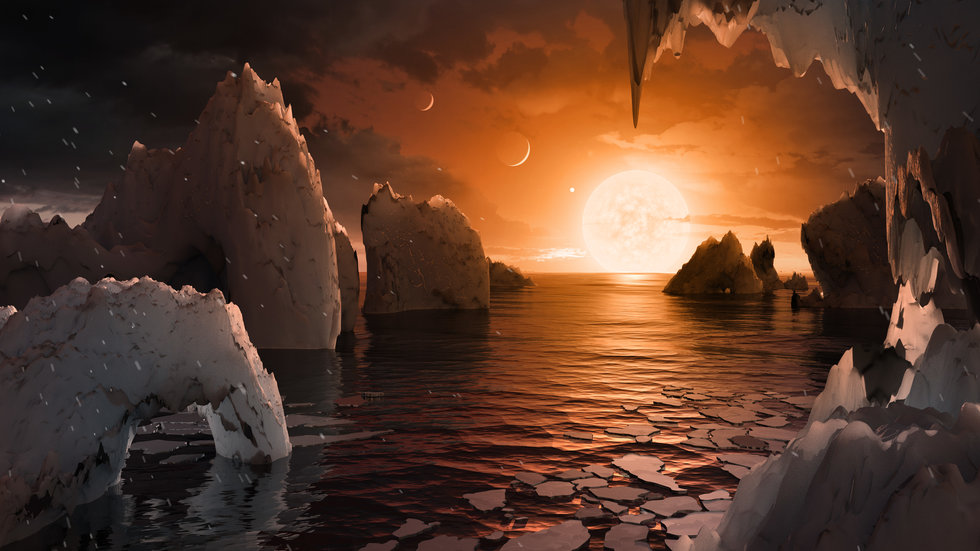 A hand out image made available by the European Southern Observatory on August 24 2016, shows an artist's impression of a view of the surface of the planet Proxima b orbiting the red dwarf star Proxima Centauri, the closest star to the Solar System. (Photo credit M. KORNMESSER/AFP/Getty Images)
Water of some kind means they could have life on them ... but perhaps not anything we've conceived of before. 
"This is water, but not as commonly found here on Earth," said Li Zeng. "Their surface temperature is expected to be in the 200 to 500 degree Celsius range. Their surface may be shrouded in a water-vapor-dominated atmosphere, with a liquid water layer underneath.
Li Zeng continued, "Our data indicate that about 35% of all known exoplanets which are bigger than Earth should be water-rich. These water worlds likely formed in similar ways to the giant planet cores (Jupiter, Saturn, Uranus, Neptune) which we find in our own solar system."
Interestingly, all of the planets studied ended up being 1.5 to 2.5 times the size of Earth. And there's a correlation between the sizes; using their models, it turns out that planets 1.5 times the size of the Earth are very likely to be rocky, and 2.5 times our size, water worlds.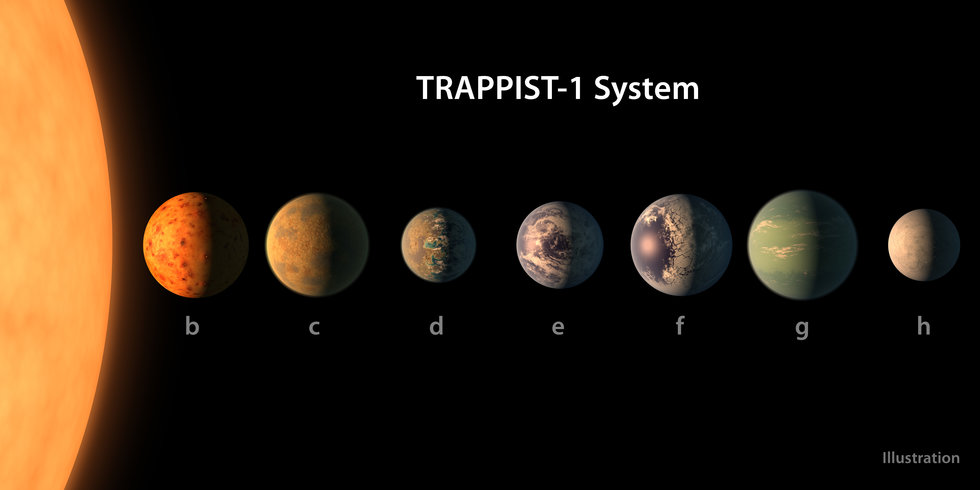 The paper and research, presented at the Goldschmidt Conference in Boston this week, confirms what has long been suspected: We're not the only water-rich world out there. 
Scientists used the Kepler Space Telescope, specifically designed to hunt for exoplanets, and the Gaia mission to find these planets, but two new tools will soon be available to dig much deeper. 
Li Zeng continued. "The newly-launched TESS mission will find many more of them, with the help of ground-based spectroscopic follow-up. The next generation space telescope, the James Webb Space Telescope, will hopefully characterize the atmosphere of some of them. This is an exciting time for those interested in these remote worlds."
TESS (Transiting Exoplanet Survey Satellite) was launched in April, 2018, and the James Webb Space Telescope is due to be launched in 2021.
Malcolm Gladwell teaches "Get over yourself and get to work" for Big Think Edge.
Big Think Edge
Learn to recognize failure and know the big difference between panicking and choking.

At Big Think Edge, Malcolm Gladwell teaches how to check your inner critic and get clear on what failure is.

Subscribe to Big Think Edge before we launch on March 30 to get 20% off monthly and annual memberships.
Here's why universal basic income will hurt the 99%, and make the 1% even richer.
Videos
Universal basic income is a band-aid solution that will not solve wealth inequality, says Rushkoff.
Funneling money to the 99% perpetuates their roles as consumers, pumping money straight back up to the 1% at the top of the pyramid.
Rushkoff suggests universal basic assets instead, so that the people at the bottom of the pyramid can own some means of production and participate in the profits of mega-rich companies.
Pugs and bulldogs are incredibly trendy, but experts have massive animal welfare concerns about these genetically manipulated breeds. 
'No nose, no thermoregulation, no health, no welfare.' Photo by terriermandotcom.blogspot.com
popular
Pugs, Frenchies, boxers, shih-tzus and other flat-faced dog breeds have been trending for at least the last decade, thanks to higher visibility (usually in a celebrity's handbag), an increase in city living (smaller dogs for smaller homes), and possibly even the fine acting of Frank the Pug in 1997's Men in Black. We're not ruling it out. These small, specialty pure breeds are seen as the pinnacle of cuteness – they have friendly personalities, endearing odd looks, and are perfect for Stranger Things video montages.
Both panoramic and detailed, this infographic manages to show both the size and distribution of world religions.
Strange Maps
At a glance, this map shows both the size and distribution of world religions.
See how religions mix at both national and regional level.
There's one country in the Americas without a Christian majority – which?
Big think's weekly newsletter.
Get smarter faster from the comfort of your inbox.
See our newsletter privacy policy
here
Most Popular
Most Recent
Big think's weekly newsletter.
Get smarter faster from the comfort of your inbox.
See our newsletter privacy policy
here
© Copyright 2007-2018 & BIG THINK, BIG THINK EDGE,
SMARTER FASTER trademarks owned by The Big Think, Inc. All rights reserved.