No surprise to those who've been there: Losing a pet can hurt more than losing a fellow human
Research is proving that "just get over it" when it comes to losing a companion animal is simply not normal. So, if friends and family are telling you that … just ignore them. And if you're a friend or family member of someone who lost a pet, there are things you can do to help them through it.
01 May, 2018
There are a number of reasons the death of a pet is as hard as—or sometimes, even worse than—losing a human.  
---
Pets are increasingly such close family members because we spend every day, sometimes all day, with them and, especially in their later years, we are the caregivers and providers. And they are frequently our alarm clocks, as well. 
Much of the time, it's the first experience we have with a close death; even children who grow up with pets will likely see them pass before they go off to college.
Grieving for a family member or friend is socially acceptable, and people generally don't tell us to "just get over it" or offer to find a new substitute like they do with pets.
Euthanasia is usually the end-of-life choice for older pets, and that's also something outside the "normal" human experience, because that just isn't done with humans.
There's also the 'love hormone' known as oxytocin, which is released when humans stare into each other's eyes, or when parents look at their children. A 2015 study found that dogs and humans both experience increased oxytocin levels when they look into each others eyes.
"I'm sure if you did the study with other animals it would be the same," says Cori Bussolari, a psychologist at the University of San Francisco, reasoned.
The social stigma
Wendy Packman, a psychologist at Palo Alto University, refers to the social stigma around grieving a pet as "disenfranchised grief." 
"With disenfranchised grief is there is less support, and the grief can be even worse than for a person because there are no rituals, and when people do go out and do a ritual, when they feel brave enough, they can be ostracized."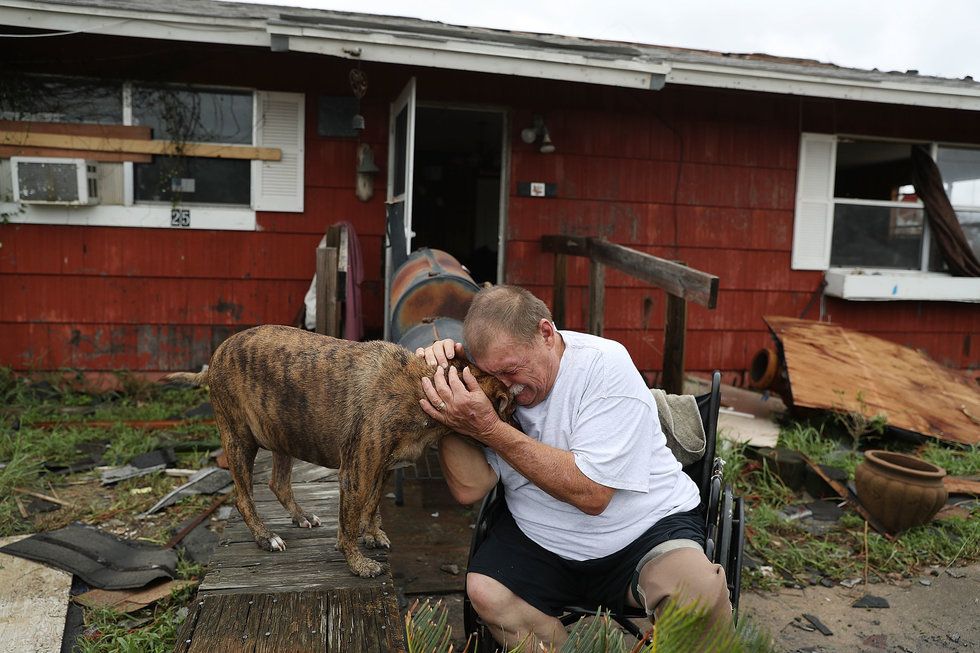 Steve Culver cries with his dog Otis as he talks about what he said was the, 'most terrifying event in his life,' when Hurricane Harvey blew in and destroyed most of his home (Photo by Joe Raedle/Getty Images)
How can you help?
Be a listening friend or family member, acknowledge their grief, and don't try to minimize it or dismiss it as trivial. 
Packman sums it up: "The reality is that the more we talk about grief, the more we normalize grief."
Step inside the unlikely friendship of a former ACLU president and an ultra-conservative Supreme Court Justice.

Sponsored by Charles Koch Foundation
Former president of the ACLU Nadine Strossen and Supreme Court Justice Antonin Scalia were unlikely friends. They debated each other at events all over the world, and because of that developed a deep and rewarding friendship – despite their immense differences.
Scalia, a famous conservative, was invited to circles that were not his "home territory", such as the ACLU, to debate his views. Here, Strossen expresses her gratitude and respect for his commitment to the exchange of ideas.
"It's really sad that people seem to think that if you disagree with somebody on some issues you can't be mutually respectful, you can't enjoy each other's company, you can't learn from each other and grow in yourself," says Strossen.
The opinions expressed in this video do not necessarily reflect the views of the Charles Koch Foundation, which encourages the expression of diverse viewpoints within a culture of civil discourse and mutual respect.
Learn how to redesign your job for maximum reward.
Videos
Broaching the question "What is my purpose?" is daunting – it's a grandiose idea, but research can make it a little more approachable if work is where you find your meaning. It turns out you can redesign your job to have maximum purpose.
There are 3 ways people find meaning at work, what Aaron Hurst calls the three elevations of impact. About a third of the population finds meaning at an individual level, from seeing the direct impact of their work on other people. Another third of people find their purpose at an organizational level. And the last third of people find meaning at a social level.
"What's interesting about these three elevations of impact is they enable us to find meaning in any job if we approach it the right way. And it shows how accessible purpose can be when we take responsibility for it in our work," says Hurst.
Erik Verlinde has been compared to Einstein for completely rethinking the nature of gravity.
Photo by Willeke Duijvekam
Surprising Science
The Dutch physicist Erik Verlinde's hypothesis describes gravity as an "emergent" force not fundamental.
The scientist thinks his ideas describe the universe better than existing models, without resorting to "dark matter".
While some question his previous papers, Verlinde is reworking his ideas as a full-fledged theory.
TuSimple, an autonomous trucking company, has also engaged in test programs with the United States Postal Service and Amazon.
Technology & Innovation
This week, UPS announced that it's working with autonomous trucking startup TuSimple on a pilot project to deliver cargo in Arizona using self-driving trucks.
UPS has also acquired a minority stake in TuSimple.
TuSimple hopes its trucks will be fully autonomous — without a human driver — by late 2020, though regulatory questions remain.