Humpback whales are having a 'baby boom' in Antarctica
Once hunted to near-extinction, humpback whales living in southern oceans near Antarctica are making a comeback. But will it last?
04 May, 2018
Once hunted to near-extinction, humpback whales living in southern oceans near Antarctica are making a comeback. 
---
Some quick facts about humpbacks:
They live long lives, about the same as humans.
Treaties were signed to protect them in 1959; otherwise, they probably wouldn't be here anymore.
Estimates are that, before the treaties were signed, whale populations were down to less than 10 percent of their pre-whaling levels.
A new study found there were more pregnant females in a group of humpback whales on the Western Antarctic Peninsula than had previously been noted. In addition, the number of pregnant females has been trending upward for several years.
Humpback whales are actually benefiting from global warming; there are now 80 more ice-free days per year, which allows them to feed on krill in the open water 
However, that last fact is not likely to last; krill stock is being fished by some countries, and reduced sea ice actually endangers the crustaceans.
Some other species rebounding, though not as quickly as the humpback, are fin whales, blue whales, and the southern right whale.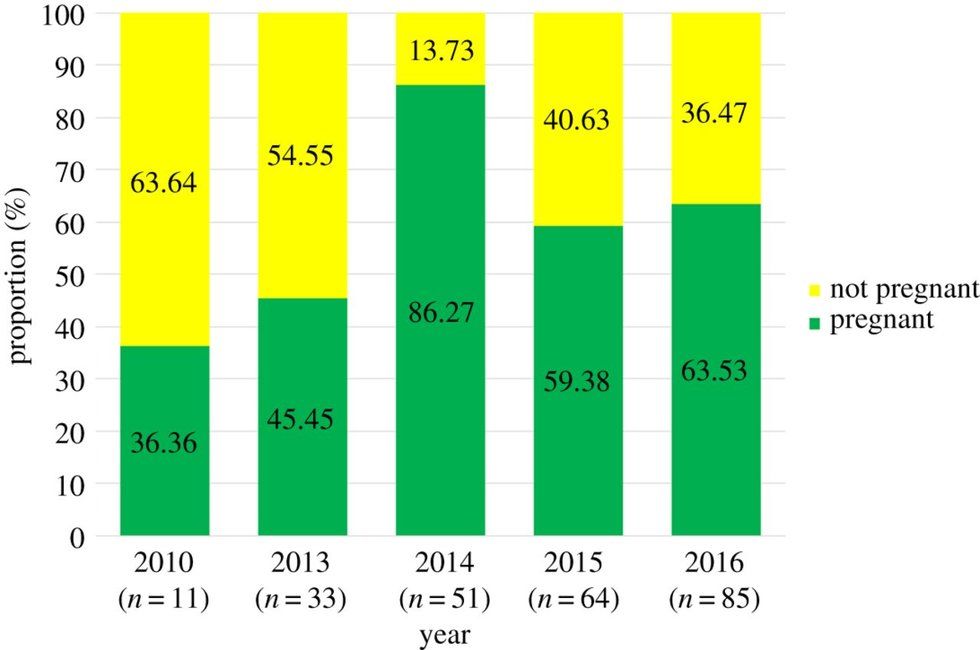 From the published study:
"Our research demonstrates that this feeding aggregation of humpbacks exhibits high pregnancy rates and a high proportion of females that are simultaneously pregnant and lactating. Both of these findings are consistent with a rapidly growing population."
Step inside the unlikely friendship of a former ACLU president and an ultra-conservative Supreme Court Justice.

Sponsored by Charles Koch Foundation
Former president of the ACLU Nadine Strossen and Supreme Court Justice Antonin Scalia were unlikely friends. They debated each other at events all over the world, and because of that developed a deep and rewarding friendship – despite their immense differences.
Scalia, a famous conservative, was invited to circles that were not his "home territory", such as the ACLU, to debate his views. Here, Strossen expresses her gratitude and respect for his commitment to the exchange of ideas.
"It's really sad that people seem to think that if you disagree with somebody on some issues you can't be mutually respectful, you can't enjoy each other's company, you can't learn from each other and grow in yourself," says Strossen.
The opinions expressed in this video do not necessarily reflect the views of the Charles Koch Foundation, which encourages the expression of diverse viewpoints within a culture of civil discourse and mutual respect.
Scientists make an important discovery for the future of computing.
Pixabay
Surprising Science
Researchers find a new state of matter called "topological superconductivity".
The state can lead to important advancements in quantum computing.
Utilizing special particles that emerge during this state can lead to error-free data storage and blazing calculation speed.
Erik Verlinde has been compared to Einstein for completely rethinking the nature of gravity.
Photo by Willeke Duijvekam
Surprising Science
The Dutch physicist Erik Verlinde's hypothesis describes gravity as an "emergent" force not fundamental.
The scientist thinks his ideas describe the universe better than existing models, without resorting to "dark matter".
While some question his previous papers, Verlinde is reworking his ideas as a full-fledged theory.
As tempting as it may be to run away from emotionally-difficult situations, it's important we confront them head-on.
Videos
Impossible-sounding things are possible in hospitals — however, there are times when we hit dead ends. In these moments, it's important to not run away, but to confront what's happening head-on.
For a lot of us, one of the ways to give meaning to terrible moments is to see what you can learn from them.
Sometimes certain information can "flood" us in ways that aren't helpful, and it's important to figure out what types of data you are able to take in — process — at certain times.