Study: When Trump tweets about Muslims, hate crimes increase
"We find that Trump's anti-Muslim tweets are highly correlated with the number of anti-Muslim hate crimes, particularly where Twitter usage is high, but only after the start of his presidential campaign."
18 July, 2018
It's not your imagination, folks. An increase in hate speech on social media—and especially, Twitter—is leading to increased hate crimes and violence away from social media.
---
The study, published in Social Science Research Network, focuses specifically on anti-Muslim hate speech and violence in the Trump era. There's a strong correlation between accounts with high numbers of followers (such as the president of the United States) tweeting hate speech and racist remarks, and follow-up violence and hatred in public and even in private settings. In other words, offline.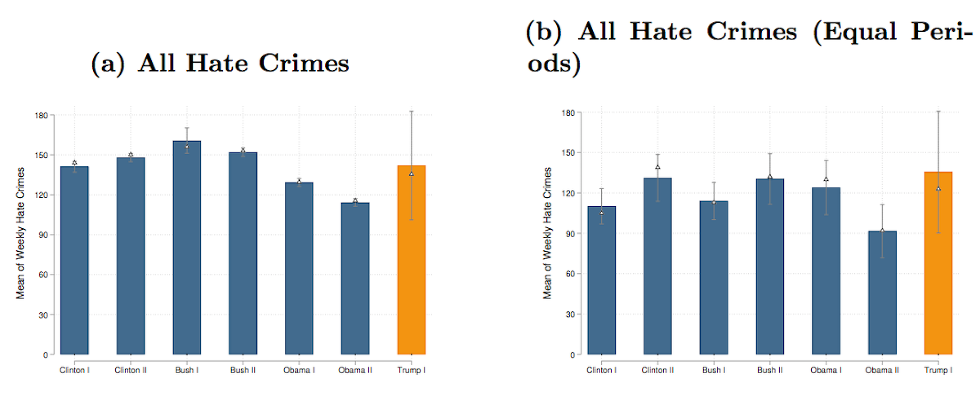 "Weekly Hate Crimes in the United States since 1990, by President: This figure plots the average weekly number of hate crimes, by president. Panel (a) shows the full period of the presidency. Panel (b) shows the bar graphs for the identical end-of-year periods after the election. The bars indicate the 95% confidence intervals. The triangle marks the median." (Source: Karsten Müller and Carlo Schwarz)
This doesn't just happen in the United States, but all over the world. In fact, one rather chilling observation from a previous study by Karsten Müller and Carlo Schwarz is that in parts of the world that suffer an Internet outage, the actions of hate and violence actually decreased during that time. Major Internet and Facebook outages "fully undo the correlation between social media and hate crime."
Müller and Schwarz's latest 30-page paper is based on publicly available documents recorded by law enforcement and the FBI.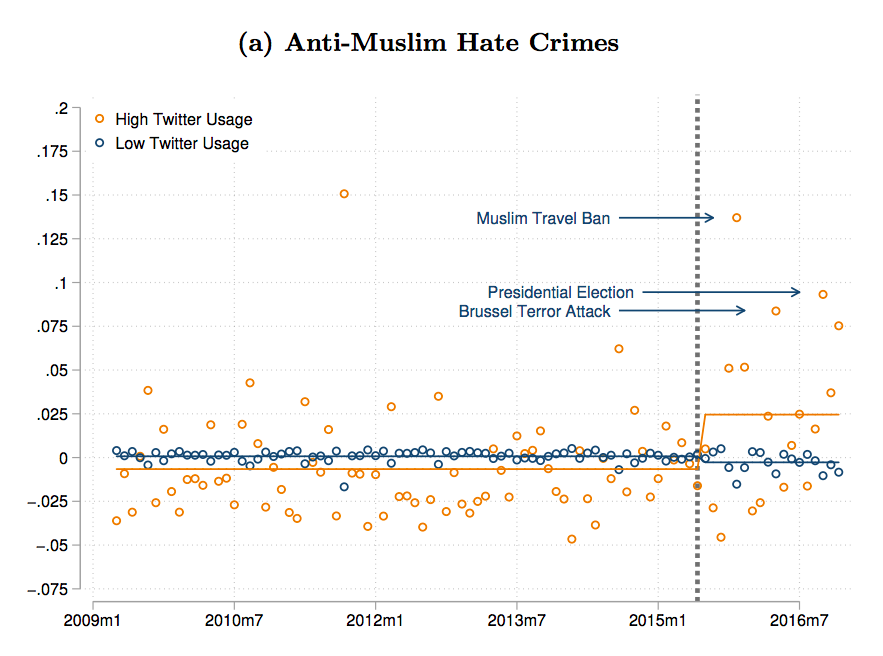 Monthly Hate Crimes by Twitter Usage: This figure plots the monthly number of anti-Muslim hate crimes per capita for counties above and below the 90th percentile of Twitter usage. The vertical line marks the beginning of Trump's presidential campaign. (Source: Karsten Muller and Carlo Schwarz)
In the abstract for the study, the authors postulate: "We show that the rise in anti-Muslim hate crimes since Donald Trump's presidential campaign has been concentrated in counties with high Twitter usage. Consistent with a role for social media, Trump's tweets on Islam-related topics are highly correlated with anti-Muslim hate crime after, but not before the start of his presidential campaign, and are uncorrelated with other types of hate crimes. These patterns stand out in historical comparison: Counties with many Twitter users today did not consistently experience more anti-Muslim hate crimes during previous presidencies."
The correlation holds when certain keywords are used—for example, when hashtags or keywords such as 'Islam' or 'Muslim' are used by the president in a tweet. It's also quite clear that in counties with a higher number of Twitter users, the hate crimes against Muslims are correspondingly higher after the original tweets go out.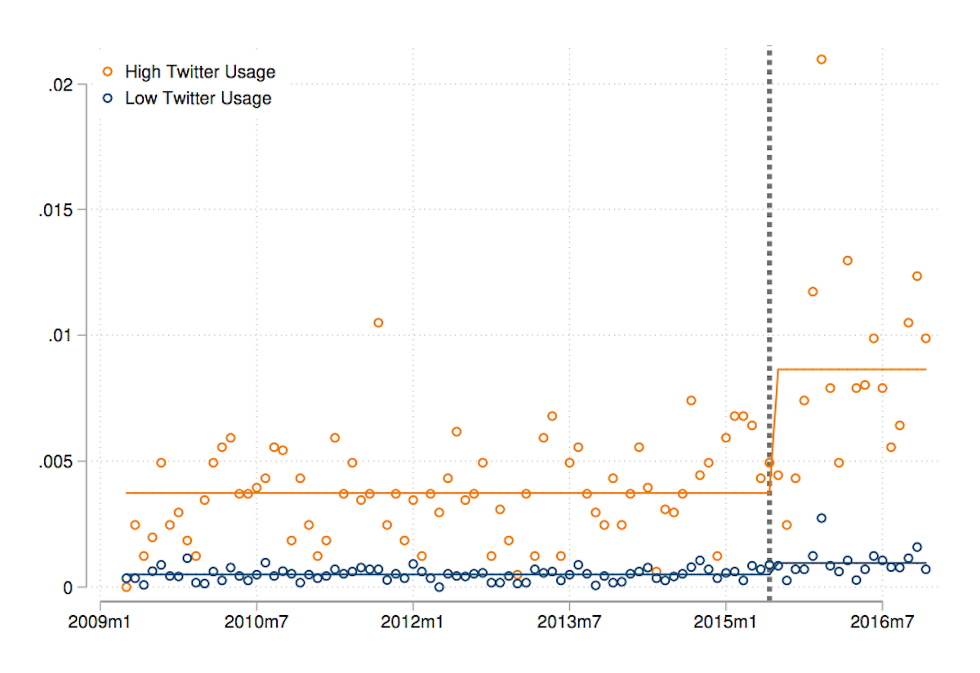 Interestingly, there is no correlation between counties that are poorer or those that have higher crime rates and those with a higher percentage of anti-Muslim hate crimes.
It appears that social media—and more exactly, Twitter—is what is amplifying the problem. 
So... what to do about that? 
What can 3D printing do for medicine? The "sky is the limit," says Northwell Health researcher Dr. Todd Goldstein.
Northwell Health
Sponsored by Northwell Health
Medical professionals are currently using 3D printers to create prosthetics and patient-specific organ models that doctors can use to prepare for surgery.
Eventually, scientists hope to print patient-specific organs that can be transplanted safely into the human body.
Northwell Health, New York State's largest health care provider, is pioneering 3D printing in medicine in three key ways.
Big Think Edge
Push Past Negative Self-Talk: Give Yourself the Proper Fuel to Attack the World, with David Goggins, Former NAVY SealIf you've ever spent 5 minutes trying to meditate, you know something most people don't realize: that our minds are filled, much of the time, with negative nonsense. Messaging from TV, from the news, from advertising, and from difficult daily interactions pulls us mentally in every direction, insisting that we focus on or worry about this or that. To start from a place of strength and stability, you need to quiet your mind and gain control. For former NAVY Seal David Goggins, this begins with recognizing all the negative self-messaging and committing to quieting the mind. It continues with replacing the negative thoughts with positive ones.
If you don't want to know anything about your death, consider this your spoiler warning.
Culture & Religion
For centuries cultures have personified death to give this terrifying mystery a familiar face.
Modern science has demystified death by divulging its biological processes, yet many questions remain.
Studying death is not meant to be a morbid reminder of a cruel fate, but a way to improve the lives of the living.
Big Think Edge
Master Execution: How to Get from Point A to Point B in 7 Steps, with Rob Roy, Retired Navy SEALUsing the principles of SEAL training to forge better bosses, former Navy SEAL and founder of the Leadership Under Fire series Rob Roy, a self-described "Hammer", makes people's lives miserable in the hopes of teaching them how to be a tougher—and better—manager. "We offer something that you are not going to get from reading a book," says Roy. "Real leaders inspire, guide and give hope."Anybody can make a decision when everything is in their favor, but what happens in turbulent times? Roy teaches leaders, through intense experiences, that they can walk into any situation and come out ahead. In this lesson, he outlines seven SEAL-tested steps for executing any plan—even under extreme conditions or crisis situations.
Big think's weekly newsletter.
Get smarter faster from the comfort of your inbox.
See our newsletter privacy policy
here
Most Popular
Most Recent
Big think's weekly newsletter.
Get smarter faster from the comfort of your inbox.
See our newsletter privacy policy
here
© Copyright 2007-2019 & BIG THINK, BIG THINK EDGE,
SMARTER FASTER trademarks owned by The Big Think, Inc. All rights reserved.