NASA finds best evidence yet of a water vapor plume on Europa
The evidence of water vapor plumes on Europa is enough for NASA to plan a probe that will take samples in 5 to 10 years.
15 May, 2018
NASA's Hubble telescope kinda sorta caught water vapor plumes on Europa, but they were just beyond the limits of its capability to positively identify them.
---
Now, the NASA Galileo Jupiter probe, which snapped massive amounts of photos from 1995 to 2003, has also detected a water vapor plume on the moon orbiting Jupiter. 
It's exciting for astrobiologists because they can possibly sample the buried ocean of liquid water that's on Europa without actually touching down, which makes that concept much, much easier—and NASA is planning a mission to do exactly that.
Europa is slightly smaller than our own moon, but it holds an estimated twice the amount of water that planet Earth does—and that water is trapped within an icy shell that may be all but impenetrable if it had to be studied that way. This gives scientists a much more feasible shot at gathering a sample.
That very same water is in contact with Europa's rocky core, which makes the moon (as well as Saturn's moon Enceladus) the most likely to have alien life of some form, due to the interactions between the ocean and the hot mantle. 
In the case of Enceladus, there are 100 geysers that blast ice and organic molecules so far into space, they form Saturn's 'E' ring.
Actual, photographable water vapor or geysers have been elusive so far on Europa, however. This is the first time that a water vapor plume has been identified, but it took poring over images from as far back as 1997, shot by Galileo, and hinted at but never confirmed by Hubble.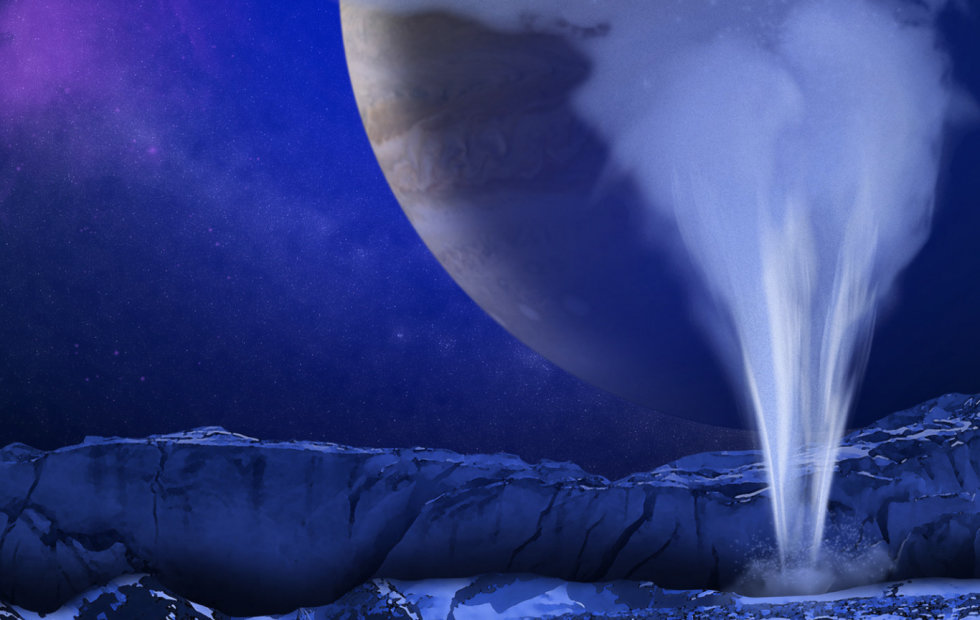 According to lead researcher Xianzhe Jia, an associate professor in the Department of Climate and Space Sciences and Engineering at the University of Michigan, what accompanied Galileo's observation of an apparent plume was a change in the moon's magnetic field, as well as a big increase in the density of plasma, also known as ionized gas. That provides "compelling independent evidence that there seems to be a plume on Europa," according to Jia.
The plumes that scientists thought they spotted with Hubble, in 2014 and 2016, also emanate from the same hotspot that the 1997 one did, further bolstering the evidence. 
So basically, multiple sets of data and images from multiple separate encounters with Europa have more or less confirmed the presence of water vapor plumes.  
Next up… Europa Clipper!
NASA plans to launch a craft that will orbit Jupiter in the next decade, and possibly in the next five years. It will make 45 flybys of Europa and take samples of the plume(s) so that the moon's ocean can be studied further.
The only hitch? These plumes appear to be intermittent, so it's possible that Clipper will be able to get itself into place, but the geysers might not be active when it does.
Still, 45 flybys should make the odds quite high. 
The findings are based on a phenomenon known as the "Mighty Girl Effect."
Pixabay
Culture & Religion
The study tracked the responses of more than 5,000 men over the course of a decade.
The results showed that men who lived with daughters were less likely to hold traditional views on gender relations and roles.
This effect seemed to be strongest as the daughters entered secondary-school age.
There might be hope for our oceans, thanks to one clumsy moment in a coral tank.
Photo by Preet Gor on Unsplash.
Surprising Science
David Vaughan at the Mote Laboratory is growing coral 40 times faster than in the wild.
It typically takes coral 25 to 75 years to reach sexual maturity. With a new coral fragmentation method, it takes just 3.
Scientists and conservationists plan to plant 100,000 pieces of coral around the Florida Reef Tract by 2019 and millions more around the world in the years to come.
The billionaire entrepreneur predicts the rise of technology will soon force society to rethink the modern work week.
(Photo by Rob Kim/Getty Images)
Technology & Innovation
Branson made the argument in a recent blog post published on the Virgin website.
The 40-hour work week stems from labor laws created in the early 20th century, and many have said this model is becoming increasingly obsolete.
The average American currently works 47 hours per week, on average.
Big think's weekly newsletter.
Get smarter faster from the comfort of your inbox.
See our newsletter privacy policy
here
Most Popular
Most Recent
Big think's weekly newsletter.
Get smarter faster from the comfort of your inbox.
See our newsletter privacy policy
here
© Copyright 2007-2018 & BIG THINK, BIG THINK EDGE,
SMARTER FASTER trademarks owned by The Big Think, Inc. All rights reserved.