76 years ago today, a Jewish family went into hiding when they couldn't immigrate to the USA
Desperation made their family, and others, try to escape their home country.
06 July, 2018
The Frank family, including Otto—Anne Frank's father—saw what was coming in Germany as Hitler rose to power in the 1930s and began attacking Jewish people, as well as Roma people, gays, leaders of labor unions, political opponents… you get the picture. 
---
Knowing what was headed their way, in 1938, Otto applied to have the Frank family emigrate to the United States, which allowed limited immigration at the time.  
'I am forced to look out for emigration and as far as I can see USA is the only country we could go to," Otto Frank wrote in English to a friend in the United States in 1941.
However, as citizens of the Netherlands, all applications for such were housed in Rotterdam and were destroyed when Germany bombed that city in May 1940. Every single person and family who had applied had to re-apply.
Meanwhile, the Netherlands had fallen to Nazi Germany's invasion, so any chance of the Franks getting out of the country was lost. That is when they went into hiding in the house today known as the Anne Frank House—on July 6, 1942.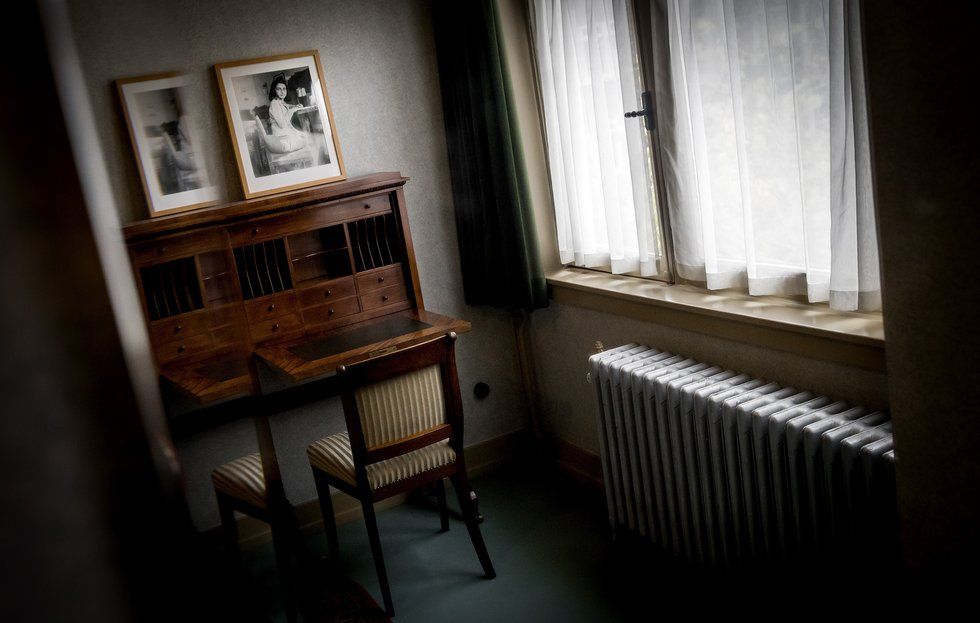 A picture taken on November 16, 2017, shows the room of Anne Frank in her former house in the Rivierenbuurt in Amsterdam. The Ymere housing association and the Anne Frank Foundation reached an agreement to sell the house to the foundation. KOEN VAN WEEL/AFP/Getty Images)
The rest of the story has been told in Anne Frank's The Diary of a Young Girl, as well as countless historical accounts. 
New research by the Anne Frank House in Amsterdam and the U. S. Holocaust Memorial Museum shows that even if their original paperwork had survived, it's possible they would have never gotten out of the Netherlands; as war erupted all over Europe, more and more people sought refuge in the United States, visas were trimmed back to just 30,000 per year by 1939. The political sentiment of U.S. citizens at the time also favored immigration restrictions.
The report released today studied the paperwork involved in order for the Frank family to immigrate into the U.S., and it indicates they weren't explicitly denied visas, but "their efforts were thwarted by American bureaucracy, war, and time," according to the historians. Quite simply, the processing of a visa application to the USA was extremely cumbersome and required affidavits from friends or relatives, as well as mounds of other paperwork. In short, the Franks probably wouldn't have succeeded. 
The family became so desperate, they tried to come to the USA via Cuba, but that route was closed down as well after Pearl Harbor, Hawaii was bombed by Japan. 
"All their attempts failed, so going into hiding was their last attempt trying to get out of the hands of the Nazis," said Annemarie Bekker from the Anne Frank House.
To reach a breakthrough solution to any problem, it's necessary to first understand the underlying causes.
Videos
Companies often jump right into workshopping solutions to a problem before they truly understand the underlying source and "pain points" of the issue.
Deliberate Innovation CEO, Dan Seewald, advises companies to visualize and map out those unmet needs in order to discover a new path to a fresh solution. Only then should you move onto brainstorming and ideation techniques.
These important steps allow for more meaningful experimentation, as well as greater opportunity for learning and breakthroughs.
Atheism doesn't offer much beyond non-belief, can Secular Humanism fill the gaps?
Culture & Religion
Atheism is increasingly popular, but the lack of an organized community around it can be problematic.
The decline in social capital once offered by religion can cause severe problems.
Secular Humanism can offer both community and meaning, but it has also attracted controversy.
What makes a life worth living as you grow older?
Culture & Religion
Dr. Ezekiel Emanuel revisits his essay on wanting to die at 75 years old.
The doctor believes that an old life filled with disability and lessened activity isn't worth living.
Activists believe his argument stinks of ageism, while advances in biohacking could render his point moot.