Big ideas.
Once a week.
Subscribe to our weekly newsletter.
Does your ego serve you, or do you serve it? What Buddhism and Freud say about self-slavery
"Buddhist psychology and Western psychotherapy both hold out hope for a more flexible ego, one that does not pit the individual against everyone else in a futile attempt to gain total surety."
02 February, 2018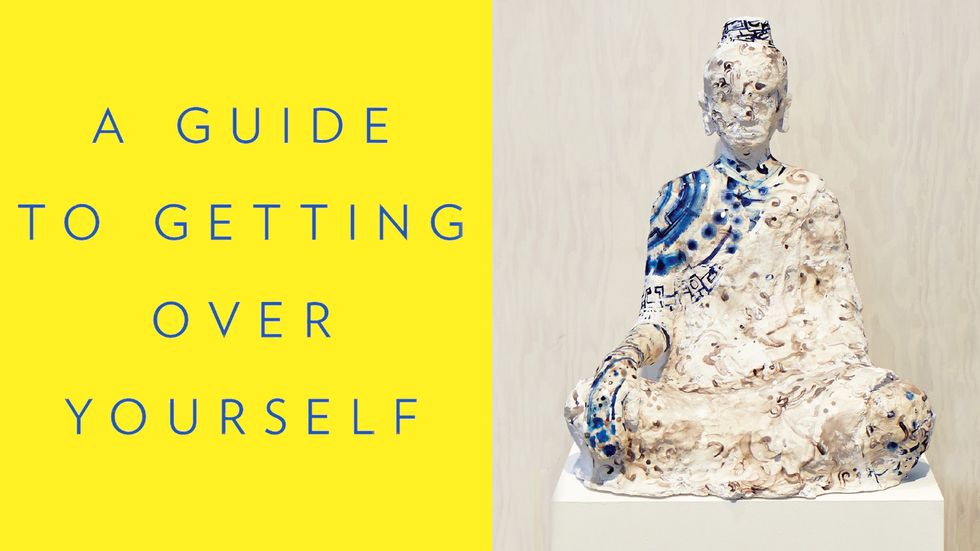 Advice Not Given, by Mark Epstein
Ego is the one affliction we all have in common. Because of our understandable efforts to be bigger, better, smarter, stronger, richer, or more attractive, we are shadowed by a nagging sense of weariness and self-doubt. Our very efforts at self-improvement orient us in an unsustainable direction since we can never be certain whether we have achieved enough. We want our lives to be better but we are hamstrung in our approach. Disappointment is the inevitable consequence of endless ambition, and bitterness a common refrain when things do not work out. Dreams are a good window into this. They hurl us into situations in which we feel stuck, exposed, embarrassed, or humiliated, feelings we do our best to keep at bay during our waking hours. Our disturbing dreams are trying to tell us something, however. The ego is not an innocent bystander. While it claims to have our own best interests at heart, in its relentless pursuit of attention and power it undermines the very goals it sets out to achieve. The ego needs our help. If we want a more satisfying existence, we have to teach it to loosen its grip.
---
There are many things in life we can do nothing about—the circumstances of our childhoods; natural events in the outer world; the chaos and catastrophe of illness, accident, loss, and abuse—but there is one thing we can change. How we interact with our own egos is up to us. We get very little help with this in life. No one really teaches us how to be with ourselves in a constructive way. There is a lot of encouragement in our culture for developing a stronger sense of self. Self-love, self-esteem, self-confidence, and the ability to aggressively get one's needs met are all goals that most people subscribe to. As important as these accomplishments may be, however, they are not enough to guarantee well-being. People with a strong sense of self still suffer. They may look like they have it all together, but they cannot relax without drinking or taking drugs. They cannot unwind, give affection, improvise, create, or sympathize with others if they are steadfastly focused only on themselves. Simply building up the ego leaves a person stranded. The most important events in our lives, from falling in love to giving birth to facing death, all require the ego to let go.
This is not something the ego knows how to do. If it had a mind of its own, it would not see this as its mission. But there is no reason for the untutored ego to hold sway over our lives, no reason for a permanently selfish agenda to be our bottom line. The very ego whose fears and attachments drive us is also capable of a profound and far-reaching development. We have the capacity, as conscious and self-reflecting individuals, to talk back to the ego. Instead of focusing solely on success in the external world, we can direct ourselves to the internal one. There is much self-esteem to be gained from learning how and when to surrender.
While our culture does not generally support the conscious de-escalation of the ego, there are silent advocates for it in our midst. Buddhist psychology and Western psychotherapy both hold out hope for a more flexible ego, one that does not pit the individual against everyone else in a futile attempt to gain total surety. These two traditions developed in completely different times and places and, until relatively recently, had nothing to do with each other. But the originators of each tradition—Siddhartha Gautama, the South Asian prince who renounced his luxurious lifestyle to seek an escape from the indignities of old age, illness, and death; and Sigmund Freud, the Viennese doctor whose interpretation of his own dreams set him on a path to illuminate the dark undercurrents of the human psyche—both identified the untrammeled ego as the limiting factor in our well-being. As different as these two individuals were, they came to a virtually identical conclusion. When we let the ego have free rein, we suffer. But when it learns to let go, we are free.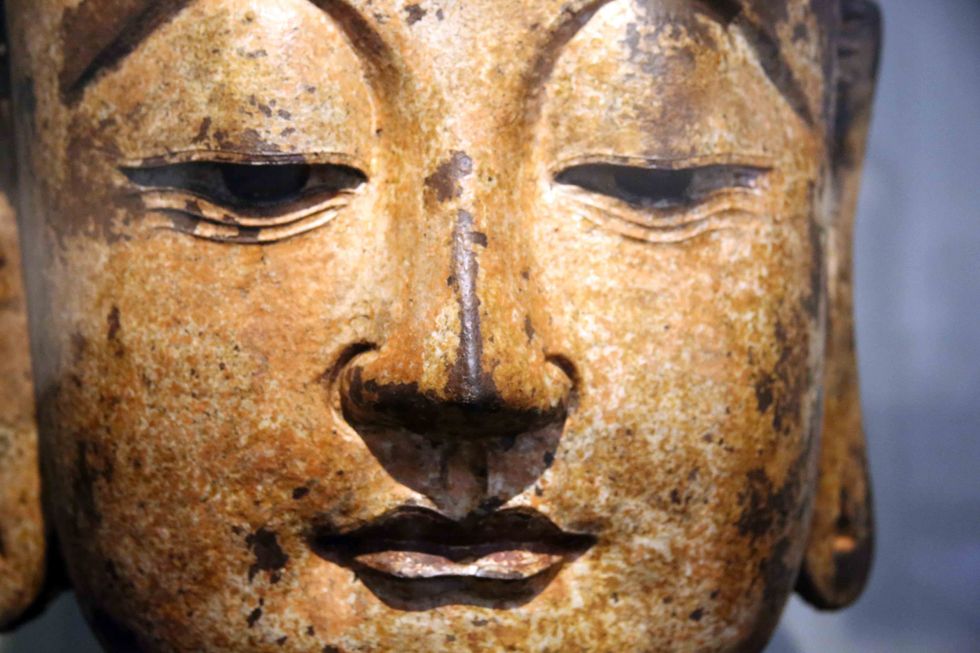 Detail of 'Head of the Buddha' on display at the Victoria and Albert Museum on October 16, 2016 in London, Great Britain, United Kingdom. (Waring Abbott/Getty Images)
Neither Buddhism nor psychotherapy seeks to eradicate the ego. To do so would render us either helpless or psychotic. We need our egos to navigate the world, to regulate our instincts, to exercise our executive function, and to mediate the conflicting demands of self and other. The therapeutic practices of both Buddhism and psychotherapy are often used to build up the ego in just these ways. When someone is depressed or suffers from low self-esteem because he or she has been mistreated, for example, therapy must focus on repairing a battered ego. Similarly, many people have embraced the meditation practices of the East to help build up their self-confidence. Focus and concentration diminish stress and anxiety and help people adapt to challenging home and work environments. Meditation has found a place in hospitals, on Wall Street, in the armed forces, and in sports arenas, and much of its benefit lies in the ego strength it confers by giving people more control over their minds and bodies. The ego-enhancing aspects of both of these approaches are not to be minimized. But ego enhancement, by itself, can get us only so far.
Both Western psychotherapy and Buddhism seek to empower the observing "I" over the unbridled "me." They aim to rebalance the ego, diminishing self-centeredness by encouraging self-reflection. They do this in different, although related, ways and with different, although related, visions. For Freud, free association and the analysis of dreams were the primary methods. By having his patients lie prone and stare into space while saying whatever came to mind, he shifted the usual equilibrium of the ego toward the subjective. Although few people lie on the couch anymore, this kind of self-reflection remains one of the most therapeutic aspects of psychotherapy. People learn to make room for themselves, to be with uncomfortable emotional experiences, in a more accepting way. They learn to make sense of their internal conflicts and unconscious motivations, to relax against the strain of the ego's perfectionism.

Buddhism counsels something similar. Although its central premise is that suffering is an inextricable aspect of life, it is actually a cheerful religion. Its meditations are designed to teach people to watch their own minds without necessarily believing everything they think. Mindfulness, the ability to be with whatever is happening in a moment-to-moment way, helps one not be victimized by one's most selfish impulses. Meditators are trained to not push away the unpleasant nor cling to the pleasant but to make room for whatever arises. Impulsive reactions, in the form of likes and dislikes, are given the same kind of attention as everything else, so that people learn to dwell more consistently in their observing awareness, just as one does in classic modes of therapy. This observing awareness is an impersonal part of the ego, unconditioned by one's usual needs and expectations. Mindfulness pulls one away from the immature ego's insistent self-concern, and in the process it enhances one's equilibrium in the face of incessant change. This turns out to be enormously helpful in dealing with the many indignities life throws at us.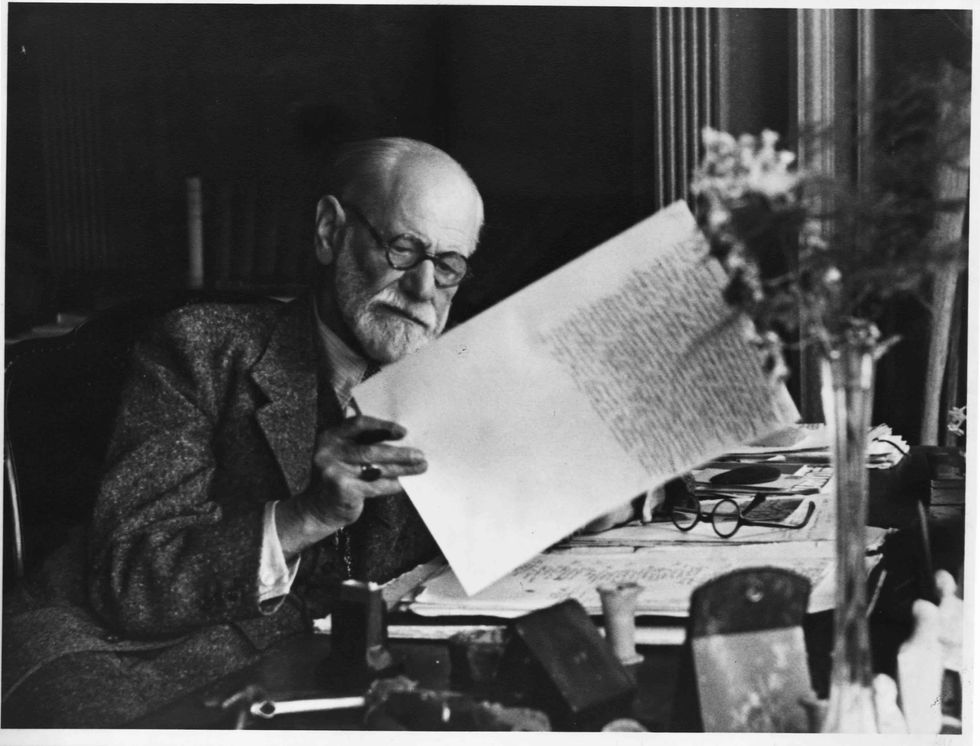 While the two approaches are very similar, the primary areas of concern turned out to be different. Freud became interested in the roiling instincts and passions that rise to the surface when the ego is put under observation. He saw himself as a conjuror of the unconscious, an illuminator of the dark undercurrents of human behavior. When not prompted, people reveal themselves, often to their own surprise, and what they discover, while not always pretty, gives them a deeper and richer appreciation of themselves. Out of the dark earth, after a night's rain, flowers grow. Freud took delight in poking fun at the belief that we are masters in our own houses, comparing his discoveries to those of Copernicus, who insisted that the sun does not revolve around the earth, and Darwin, who claimed that man "bears in his bodily frame the indelible stamp of his lowly origin." For Freud, the ego could evolve only by giving up its ambitions of mastery. The ego he encouraged was a humbled one, wider in scope but aware of its own limitations, not driven so much by instinctual cravings but able to use its energies creatively and for the benefit of others.
While maintaining a similar reliance on self-observation, Buddhism has a different focus. It seeks to give people a taste of pure awareness. Its meditation practices, like those of therapy, are built on the split between subject and object. But rather than finding uncovered instincts to be the most illuminating, Buddhism finds inspiration in the phenomenon of consciousness itself. Mindfulness holds up a mirror to all the activity of mind and body. This image of the mirror is central to Buddhist thought. A mirror reflects things without distortion. Our consciousness is like that mirror. It reflects things just as they are. In most people's lives, this is taken for granted; no special attention is given to this mysterious occurrence. But mindfulness takes this knowing consciousness as its most compelling object. The bell is ringing. I hear it and on top of that I know that "I" am hearing it and, when mindful, I might even know that I know that I am hearing it. But once in a while in deep meditation, this whole thing collapses and all that is left is one's mirrorlike knowing. No "I," no "me," just pure subjective awareness. The bell, the sound, that's it! It is very hard to talk about, but when it happens the freedom from one's usual identity comes as a relief. The contrast with one's habitual ego-driven state is overwhelming, and much of the Buddhist tradition is designed to help consolidate the perspective of this "Great Perfect Mirror Wisdom" with one's day-to-day personality.
--
Adapted from ADVICE NOT GIVEN: A Guide to Getting Over Yourself by Mark Epstein, published by Penguin Press, an imprint of Penguin Publishing Group, a division of Penguin Random House, LLC. Copyright © 2018 by Mark Epstein.
Inventions with revolutionary potential made by a mysterious aerospace engineer for the U.S. Navy come to light.
Credit: Getty Images
Surprising Science
U.S. Navy holds patents for enigmatic inventions by aerospace engineer Dr. Salvatore Pais.
Pais came up with technology that can "engineer" reality, devising an ultrafast craft, a fusion reactor, and more.
While mostly theoretical at this point, the inventions could transform energy, space, and military sectors.
The U.S. Navy controls patents for some futuristic and outlandish technologies, some of which, dubbed "the UFO patents," came to light recently. Of particular note are inventions by the somewhat mysterious Dr. Salvatore Cezar Pais, whose tech claims to be able to "engineer reality." His slate of highly-ambitious, borderline sci-fi designs meant for use by the U.S. government range from gravitational wave generators and compact fusion reactors to next-gen hybrid aerospace-underwater crafts with revolutionary propulsion systems, and beyond.
Of course, the existence of patents does not mean these technologies have actually been created, but there is evidence that some demonstrations of operability have been successfully carried out. As investigated and reported by The War Zone, a possible reason why some of the patents may have been taken on by the Navy is that the Chinese military may also be developing similar advanced gadgets.
Among Dr. Pais's patents are designs, approved in 2018, for an aerospace-underwater craft of incredible speed and maneuverability. This cone-shaped vehicle can potentially fly just as well anywhere it may be, whether air, water or space, without leaving any heat signatures. It can achieve this by creating a quantum vacuum around itself with a very dense polarized energy field. This vacuum would allow it to repel any molecule the craft comes in contact with, no matter the medium. Manipulating "quantum field fluctuations in the local vacuum energy state," would help reduce the craft's inertia. The polarized vacuum would dramatically decrease any elemental resistance and lead to "extreme speeds," claims the paper.
Not only that, if the vacuum-creating technology can be engineered, we'd also be able to "engineer the fabric of our reality at the most fundamental level," states the patent. This would lead to major advancements in aerospace propulsion and generating power. Not to mention other reality-changing outcomes that come to mind.
Among Pais's other patents are inventions that stem from similar thinking, outlining pieces of technology necessary to make his creations come to fruition. His paper presented in 2019, titled "Room Temperature Superconducting System for Use on a Hybrid Aerospace Undersea Craft," proposes a system that can achieve superconductivity at room temperatures. This would become "a highly disruptive technology, capable of a total paradigm change in Science and Technology," conveys Pais.
High frequency gravitational wave generator.
Credit: Dr. Salvatore Pais
Another invention devised by Pais is an electromagnetic field generator that could generate "an impenetrable defensive shield to sea and land as well as space-based military and civilian assets." This shield could protect from threats like anti-ship ballistic missiles, cruise missiles that evade radar, coronal mass ejections, military satellites, and even asteroids.
Dr. Pais's ideas center around the phenomenon he dubbed "The Pais Effect". He referred to it in his writings as the "controlled motion of electrically charged matter (from solid to plasma) via accelerated spin and/or accelerated vibration under rapid (yet smooth) acceleration-deceleration-acceleration transients." In less jargon-heavy terms, Pais claims to have figured out how to spin electromagnetic fields in order to contain a fusion reaction – an accomplishment that would lead to a tremendous change in power consumption and an abundance of energy.
According to his bio in a recently published paper on a new Plasma Compression Fusion Device, which could transform energy production, Dr. Pais is a mechanical and aerospace engineer working at the Naval Air Warfare Center Aircraft Division (NAWCAD), which is headquartered in Patuxent River, Maryland. Holding a Ph.D. from Case Western Reserve University in Cleveland, Ohio, Pais was a NASA Research Fellow and worked with Northrop Grumman Aerospace Systems. His current Department of Defense work involves his "advanced knowledge of theory, analysis, and modern experimental and computational methods in aerodynamics, along with an understanding of air-vehicle and missile design, especially in the domain of hypersonic power plant and vehicle design." He also has expert knowledge of electrooptics, emerging quantum technologies (laser power generation in particular), high-energy electromagnetic field generation, and the "breakthrough field of room temperature superconductivity, as related to advanced field propulsion."
Suffice it to say, with such a list of research credentials that would make Nikola Tesla proud, Dr. Pais seems well-positioned to carry out groundbreaking work.
A craft using an inertial mass reduction device.
Credit: Salvatore Pais
The patents won't necessarily lead to these technologies ever seeing the light of day. The research has its share of detractors and nonbelievers among other scientists, who think the amount of energy required for the fields described by Pais and his ideas on electromagnetic propulsions are well beyond the scope of current tech and are nearly impossible. Yet investigators at The War Zone found comments from Navy officials that indicate the inventions are being looked at seriously enough, and some tests are taking place.
If you'd like to read through Pais's patents yourself, check them out here.
Laser Augmented Turbojet Propulsion System
Credit: Dr. Salvatore Pais
The symbol for love is the heart, but the brain may be more accurate.
Videos
How love makes us feel can only be defined on an individual basis, but what it does to the body, specifically the brain, is now less abstract thanks to science.
One of the problems with early-stage attraction, according to anthropologist Helen Fisher, is that it activates parts of the brain that are linked to drive, craving, obsession, and motivation, while other regions that deal with decision-making shut down.
Dr. Fisher, professor Ted Fischer, and psychiatrist Gail Saltz explain the different types of love, explore the neuroscience of love and attraction, and share tips for sustaining relationships that are healthy and mutually beneficial.
A new study suggests that reports of the impending infertility of the human male are greatly exaggerated.
Sex & Relationships
A new review of a famous study on declining sperm counts finds several flaws.
The old report makes unfounded assumptions, has faulty data, and tends toward panic.
The new report does not rule out that sperm counts are going down, only that this could be quite normal.
Several years ago, a meta-analysis of studies on human fertility came out warning us about the declining sperm counts of Western men. It was widely shared, and its findings were featured on the covers of popular magazines. Indeed, its findings were alarming: a nearly 60 percent decline in sperm per milliliter since 1973 with no end in sight. It was only a matter of time, the authors argued, until men were firing blanks, literally.
Well… never mind.
It turns out that the impending demise of humanity was greatly exaggerated. As the predicted infertility wave crashed upon us, there was neither a great rush of men to fertility clinics nor a sudden dearth of new babies. The only discussions about population decline focus on urbanization and the fact that people choose not to have kids rather than not being able to have them.
Now, a new analysis of the 2017 study says that lower sperm counts is nothing to be surprised by. Published in Human Fertility, its authors point to flaws in the original paper's data and interpretation. They suggest a better and smarter reanalysis.
Counting tiny things is difficult
The original 2017 report analyzed 185 studies on 43,000 men and their reproductive health. Its findings were clear: "a significant decline in sperm counts… between 1973 and 2011, driven by a 50-60 percent decline among men unselected by fertility from North America, Europe, Australia and New Zealand."
However, the new analysis points out flaws in the data. As many as a third of the men in the studies were of unknown age, an important factor in reproductive health. In 45 percent of cases, the year of the sample collection was unknown- a big detail to miss in a study measuring change over time. The quality controls and conditions for sample collection and analysis vary widely from study to study, which likely influenced the measured sperm counts in the samples.
Another study from 2013 also points out that the methods for determining sperm count were only standardized in the 1980s, which occurred after some of the data points were collected for the original study. It is entirely possible that the early studies gave inaccurately high sperm counts.
This is not to say that the 2017 paper is entirely useless; it had a much more rigorous methodology than previous studies on the subject, which also claimed to identify a decline in sperm counts. However, the original study had more problems.
Garbage in, garbage out
Predictable as always, the media went crazy. Discussions of the decline of masculinity took off, both in mainstream and less-than-reputable forums; concerns about the imagined feminizing traits of soy products continued to increase; and the authors of the original study were called upon to discuss the findings themselves in a number of articles.
However, as this new review points out, some of the findings of that meta-analysis are debatable at best. For example, the 2017 report suggests that "declining mean [sperm count] implies that an increasing proportion of men have sperm counts below any given threshold for sub-fertility or infertility," despite little empirical evidence that this is the case.
The WHO offers a large range for what it considers to be a healthy sperm count, from 15 to 250 million sperm per milliliter. The benefits to fertility above a count of 40 million are seen as minimal, and the original study found a mean sperm concentration of 47 million sperm per milliliter.
Healthy sperm, healthy man?
The claim that sperm count is evidence of larger health problems is also scrutinized in this new article. While it is true that many major health problems can impact reproductive health, there is little evidence that it is the "canary in the coal mine" for overall well-being. A number of studies suggest that any relation between lifestyle choices and this part of reproductive health is limited at best.
Lastly, ideas that environmental factors could be at play have been debunked since 2017. While the original paper considered the idea that pollutants, especially from plastics, could be at fault, it is now known that this kind of pollution is worse in the parts of the world that the original paper observed higher sperm counts in (i.e., non-Western nations).
There never was a male fertility crisis
The authors of the new review do not deny that some measurements are showing lower sperm counts, but they do question the claim that this is catastrophic or part of a larger pathological issue. They propose a new interpretation of the data. Dubbed the "Sperm Count Biovariability hypothesis," it is summarized as:
"Sperm count varies within a wide range, much of which can be considered non-pathological and species-typical. Above a critical threshold, more is not necessarily an indicator of better health or higher probability of fertility relative to less. Sperm count varies across bodies, ecologies, and time periods. Knowledge about the relationship between individual and population sperm count and life-historical and ecological factors is critical to interpreting trends in average sperm counts and their relationships to human health and fertility."
Still, the authors note that lower sperm counts "could decline due to negative environmental exposures, or that this may carry implications for men's health and fertility."
However, they disagree that the decline in absolute sperm count is necessarily a bad sign for men's health and fertility. We aren't at civilization ending catastrophe just yet.
Scroll down to load more…