NASA Updates Star Calendar, Upsets Astrologers with New Zodiac Sign
NASA's updated celestial observations have forced astrology enthusiasts to revise the 3,000 year-old zodiac calendar – but let it be known that NASA does not care.
17 October, 2016
A constellation is a largely vacuous concept. NASA defines it as "a group of stars that forms a particular shape in the sky and has been given a name." In other words, a group of stars is a constellation merely because some people say it is. The members of the constellation need not share anything else in common.
---
Recently, NASA has unwittingly come under criticism yet again by aficionados of astrology for ostensibly claiming that the zodiac calendar needs to be revised according to how the corresponding constellations are arranged. Under these revisions, people upset with NASA bemoan that the administration has restructured the zodiac calendar so that different signs correspond to different parts of the year by incorporating a 13th constellation with a 13th sign. For example of the outrage, a writer at Yahoo! wrote this in September:
We don't want to be dramatic, but NASA just ruined our lives. For the first time in 3,000 years, they've decided to update the astrological signs. This means that the majority of us are about to experience a total identity crisis. Apparently, these changes are due to the fact that the constellations are not in the same position in the sky that they once were, and the star signs are about a month off now, as a result.
The writer may not want to be dramatic, but that may be difficult to avoid when fretting over "a total identity crisis" whose factual foundation is demonstrably flimsy.
Moreover, such aspersions about how the traditional zodiac calendar is being altered may be reasonably frustrating to NASA workers, who never were making claims about astrology to begin with. Rather, they were doing what astronomers do: observing the stars and analyzing describing what they saw.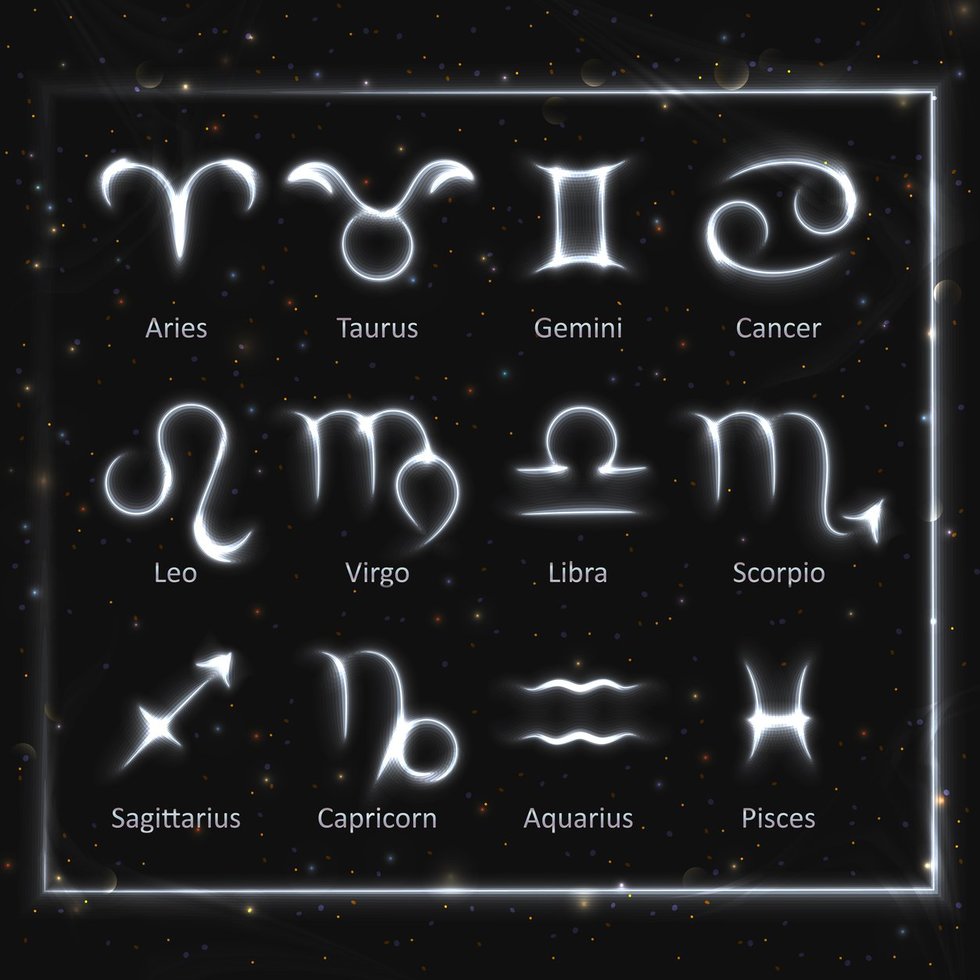 Indeed, the article from NASA in question (which was aimed primarily at children) gives an account of how humans have observed the stars across history.
The Babylonians lived over 3,000 years ago. They divided the zodiac into 12 equal parts--like cutting a pizza into 12 equal slices. They picked 12 constellations in the zodiac, one for each of the 12 "slices." So, as Earth orbits the Sun, the Sun would appear to pass through each of the 12 parts of the zodiac. Since the Babylonians already had a 12-month calendar (based on the phases of the Moon), each month got a slice of the zodiac all to itself.
But even according to the Babylonians' own ancient stories, there were 13 constellations in the zodiac. (Other cultures and traditions have recognized as many as 24 constellations in the zodiac.) So the Babylonians picked one, Ophiuchus, to leave out. Even then, some of the chosen 12 didn't fit neatly into their assigned slice of the pie and slopped over into the next one.
People in Babylon saw stars, grouped them together according to imagined patterns, and forced a one-to-one correspondence to the 12 months of the year to generate the zodiac calendar by leaving out the constellation Ophiuchus (pronounced 'oh-fee-yoo-ki'), photographed below by the Rosetta spacecraft from 3 million miles away.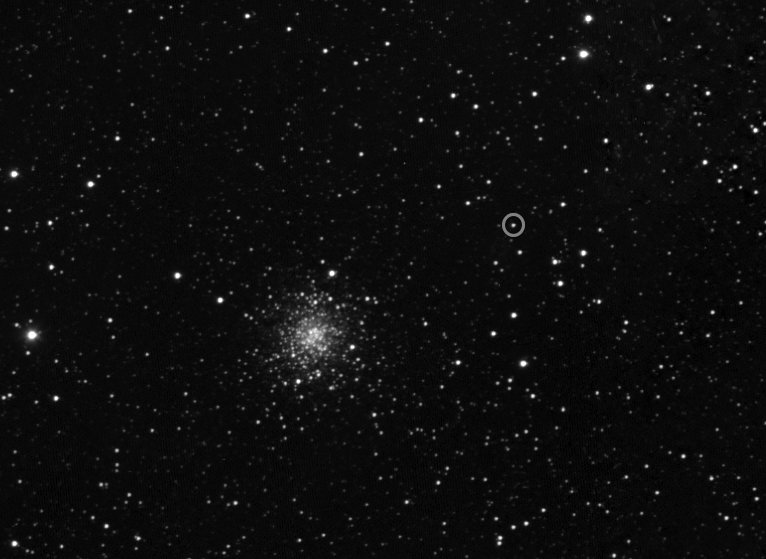 Merely pointing out and acknowledging the existence of an additional constellation observed by ancient stargazers is not the same as making an astrological argument. Rather, NASA was acknowledging a group of stars visible both to the Babylonians and astronomers now, maybe with an added touch of a little historical narrative.
Indeed, the movement of the constellations – including the new zodiac sign, Ophiuchus – is essential to the conception of the zodiac calendar, yet NASA describes that the movement is merely perceived based on the movement of the Earth (and the enormous distances across light from the stars must travel), as visualized below.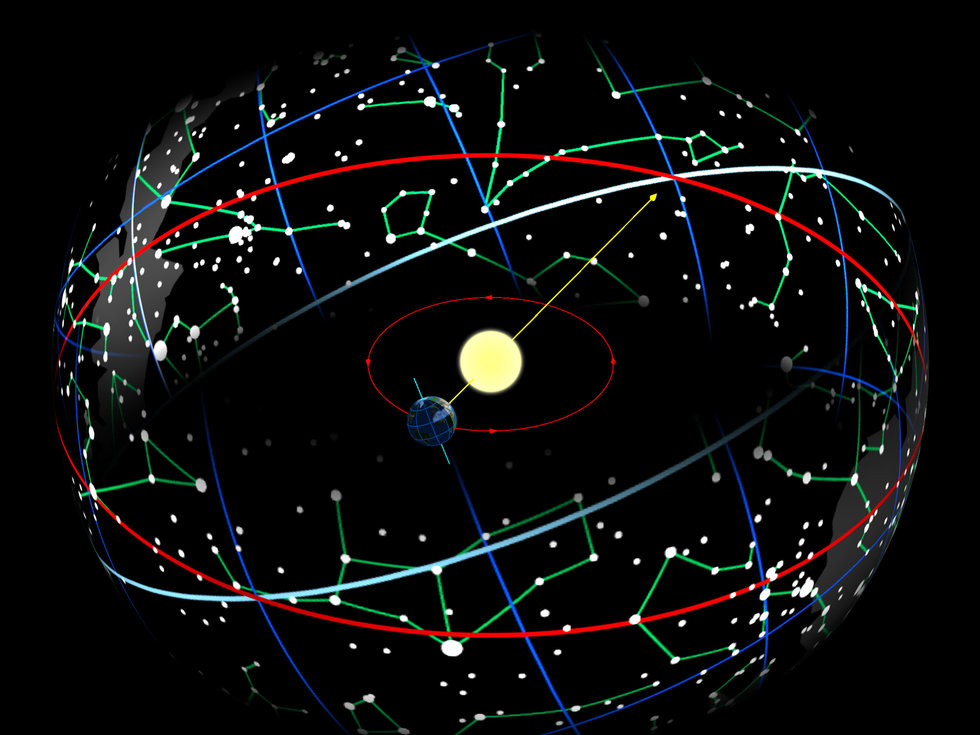 Ultimately, NASA is in the enterprise of science and not in the astrology business, so complaints against it about changes to the zodiac calendar could not be more misdirected. As NASA posted on Tumblr:
Did you recently hear that NASA changed the zodiac signs? Nope, we definitely didn't… Here at NASA, we study astronomy, not astrology. We didn't change any zodiac signs, we just did the math.
NASA records and analyzes data, and shouldn't be held accountable for ruining a pastime, even if it has spanned millennia. Zodiac enthusiasts who aren't resistant to change may well choose to apply NASA's observations to how they configure and interpret the narratives they ascribe to the stars. 
If you're curious, you can find out if your star sign has shifted over at Inverse. 
Related Articles
How a cataclysm worse than what killed the dinosaurs destroyed 90 percent of all life on Earth.
Credit: Ron Miller
Surprising Science
While the demise of the dinosaurs gets more attention as far as mass extinctions go, an even more disastrous event called "the Great Dying" or the "End-Permian Extinction" happened on Earth prior to that. Now scientists discovered how this cataclysm, which took place about 250 million years ago, managed to kill off more than 90 percent of all life on the planet.
A new study discovers the "liking gap" — the difference between how we view others we're meeting for the first time, and the way we think they're seeing us.
New acquaintances probably like you more than you think. (Photo by Simone Joyner/Getty Images)
Surprising Science
We tend to be defensive socially. When we meet new people, we're often concerned with how we're coming off. Our anxiety causes us to be so concerned with the impression we're creating that we fail to notice that the same is true of the other person as well. A new study led by Erica J. Boothby, published on September 5 in Psychological Science, reveals how people tend to like us more in first encounters than we'd ever suspect.
Using advanced laser technology, scientists at NASA will track global changes in ice with greater accuracy.
Firing three pairs of laser beams 10,000 times per second, the ICESat-2 satellite will measure how long it takes for faint reflections to bounce back from ground and sea ice, allowing scientists to measure the thickness, elevation and extent of global ice
popular
Leaving from Vandenberg Air Force base in California this coming Saturday, at 8:46 a.m. ET, the Ice, Cloud, and Land Elevation Satellite-2 — or, the "ICESat-2" — is perched atop a United Launch Alliance Delta II rocket, and when it assumes its orbit, it will study ice layers at Earth's poles, using its only payload, the Advance Topographic Laser Altimeter System (ATLAS).
Big think's weekly newsletter.
Get smarter faster from the comfort of your inbox.
See our newsletter privacy policy
here
Most Popular
Most Recent
Big think's weekly newsletter.
Get smarter faster from the comfort of your inbox.
See our newsletter privacy policy
here
© Copyright 2007-2018 & BIG THINK, BIG THINK EDGE,
SMARTER FASTER trademarks owned by The Big Think, Inc. All rights reserved.