Big ideas.
Once a week.
Subscribe to our weekly newsletter.
How diversity can launch startups even higher
Startups create the tech and products that set the tone for our collective future. It's pivotal that founders lead by example to make diversity and inclusion a priority—and reap the rewards.
29 June, 2018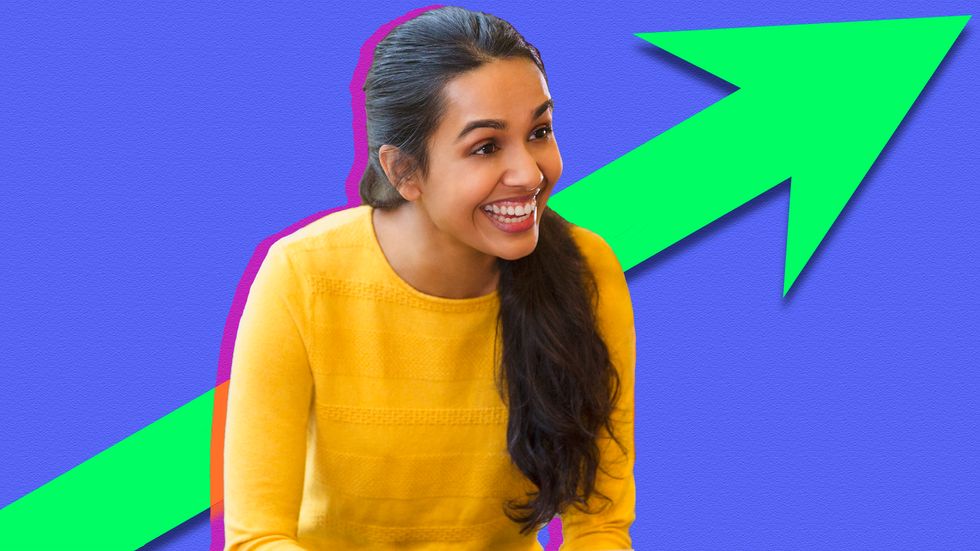 Passion builds startups. Diversity sustains them. (Credit: Caiaimage/Sam Edwards/Getty Images/Big Think)
---
This series on diversity and inclusion is sponsored by Amway, which supports a prosperous economy through having a diverse workplace. Companies committed to diversity and inclusion are better equipped to innovate and drive performance. For more information, visit amwayglobal.com/our-story.
Startups have become the new engine for growth in our economy. By creating jobs and coming up with novel solutions for a wide range of problems, these companies play an important role in putting millions to work and changing the fabric of our day to day lives. With such an integral role in our society and on the way we do business, it's pivotal that business leaders and startup founders make diversity and inclusion a priority.
Diversity creates opportunities for an upstart company. In a chaotic and fast-paced environment, being able to capitalize on the full potential of a diverse group of people will set many startups leagues ahead of their competitors. It's not just a matter of principle in an increasingly diverse society, it's smart business sense too.
Diversity from the get-go
Unique differences that come from various cultural, gender and ethnic backgrounds help break down silos and create an environment with many viewpoints. Fostering diverse hiring and inclusivity from the start is an important step to ensure it's built into the company culture right away.
Companies can fall into the trap of setting up programs as afterthoughts or they can wait too long to create a diversity initiative. Building a culture of diversity starts from the top down. As the Great British Diversity Experiment found, it's "action at the upper echelons of our industry" that models behavior and leads to lasting change. An early initiative from leadership can set the company's mission, encourage individual responsibility in fulfilling that mission, and ultimately grow a more creative workplace.
There is evidence to show that being exposed to varying viewpoints leads to greater creativity within a team. Sometimes we take it for granted that different technical, emotional and creative perspectives are needed to solve complex problems, but research is also beginning to show that social diversity works in a similar way.
In a study conducted by the Credit Suisse Research Institute team, researchers examined 2,360 companies between 2005 and 2011. They were looking for a relationship between gender-diverse corporate management teams and financial performance, and what they found was that when there were one or a few women on the board, the companies delivered higher and more profitable returns on equity and had better growth prospects as a company.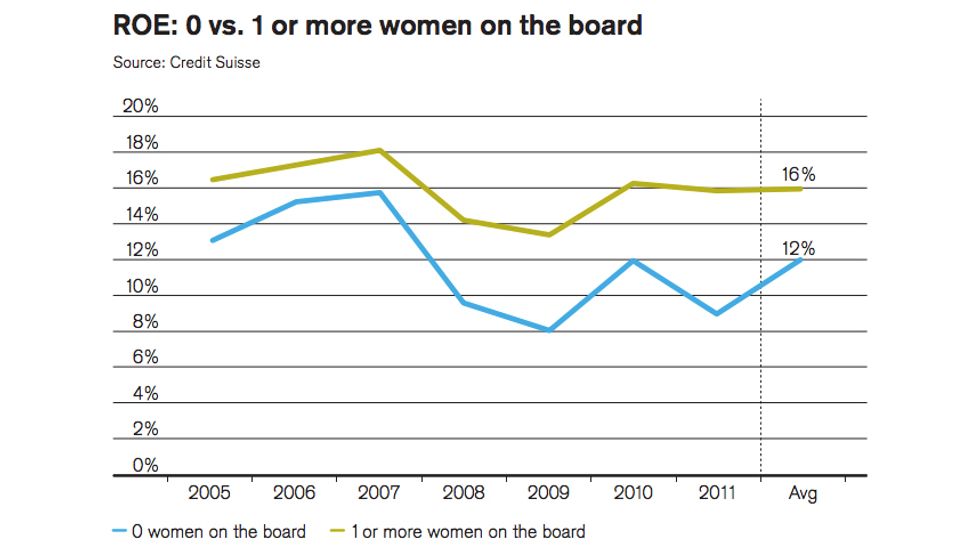 Just the act of interacting with people from different backgrounds is beneficial as it leads to greater business opportunities. Unfortunately, this is not always prevalent in the startup field. Researchers in 2017 found that only 17% of startups have been founded by women. Nearly 40% of female founders encountered sexism and gender discrimination in their business.
Diversity helps companies avoid crises
The world is going through a seismic shift because of the advent of smart technology and scalable innovations, most of which are coming out of startup culture. Women and underrepresented minorities need to have a part in the creation of new technologies so products and services cater to all demographics, and so that blind spots (like racist and sexist A.I.) are discovered sooner rather than later.
In that respect, startups can learn something important from corporate America. Sallie Krawcheck, former President of Global Wealth at Bank of America and current CEO and founder of Ellevest, shares how lack of diversity on Wall Street led to one of America's largest crises:
"There is no doubt in my mind that the financial crisis that the United States and the world suffered would have been less severe if we'd had more diversity on Wall Street," she tells Big Think. "There's no doubt. We know this intuitively. If all of us think about those cavernous trading floors where the individuals populating the trading desks looked the same, that if those had been incredibly diverse, sort of the United Nations of every different kind of person you could have, we intuitively know that the crisis would have been less severe. We intuitively know that if there were more women at the senior leadership tables that the crisis would have been less severe. And not only do we know it intuitively, the research tells us this. The research tells us that homogenous teams tend to over-trust each other."

The current state of startups
The U.S. Bureau of Statistics reports that the STEM workforce in the United States is projected to grow 17% in the next decade, compared to other industries that are only going to see an increase of 12%. If startup and technical jobs are set to increase at that rate, you have to wonder why more women and minorities are not seeking out these careers. The answer is that lingering biases remain, both implicit and overt, and many diverse workers often end up leaving the field early on.
A study by Jennifer L. Glass titled 'What's So Special about STEM? A Comparison of Women's Retention in STEM and Professional Occupations', found that after 12 years, half of the women in the study switched to other fields, evidence that points to a systemic problem in the culture.
The challenge may not only be hiring more diverse people but also making sure they don't leave at higher rates. Studies have shown that women in these fields are "less satisfied with their careers, perceive that they are less likely to advance at their current organizations, or believe they must change jobs in order to reach the next level."
Unfortunately, this is because a safe and inclusive work environment is not on the list of priorities for a lot of companies. Recent data published by venture firm First Round Capital found that of 869 startups, half of their founders have been harassed in some way or are aware of somebody who has. Despite the rising reportage and dialogue around harassment, only a small percentage of startups have a strategy in place to promote diversity and inclusion; 58.4% of the 869 startups surveyed claim they have a D&I strategy but "nothing formal", and 24.5% have no D&I strategy in place at all.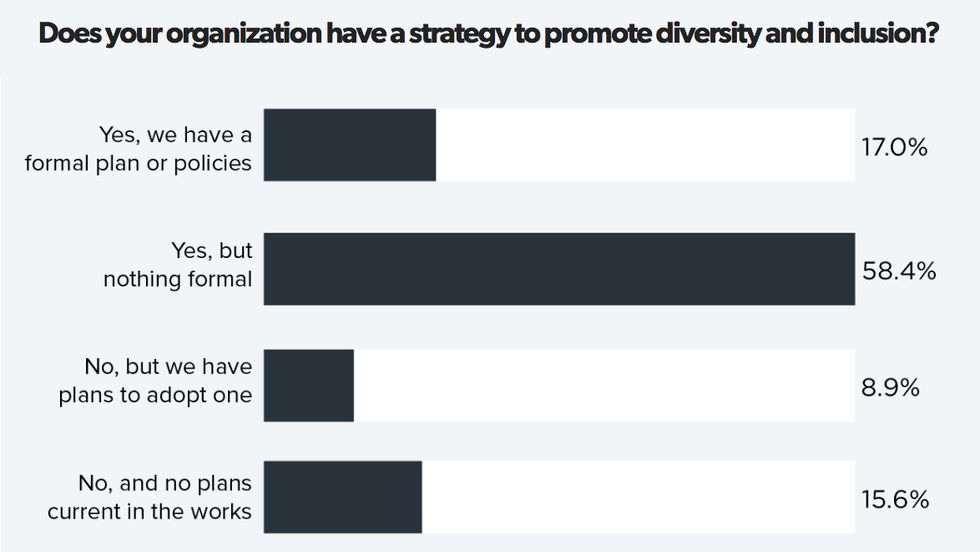 (Credit: First Round Capital)
Steps toward creating a thriving atmosphere
Building a diverse company is not a simple endeavor, but small actions throughout the company can lead to meaningful results.
The first thing to do is to assess whether a startup is already diverse or it has intentions to go in that direction. Here's a practical list of questions and ideas to think about when determining diversity.
Create a list of the last five hires. Ask yourself the reasoning for why they were hired and consider their unique backgrounds.
Create a similar list for some of the leading executives in the company and ask the same questions.
Begin to use this pattern-recognizing assessment in areas of promotions, raises and employees acknowledged for their hard work and contributions.
Another key question for companies who value diversity is: Do we also value inclusivity? The two terms are used interchangeably but they aren't the same. Recruiting diverse talent into a place they feel like they don't belong will have a negative effect; the two concepts go hand in hand.
These small but potent questions and efforts can show a lot about where a startup places its priorities. For example, Amway has a "real talk" open communication channel that goes a long way in inspiring people to ask questions, challenge their assumptions and allow for deeper talks to take place.
How do you know if your programs are working? Get data. Digital marketing startup MatchCraft runs an anonymous internal survey on D&I every quarter: "We also survey employees... to ensure that we are keeping our finger on the pulse and inspire diversity through anonymity for those who don't feel comfortable speaking up on company practices," Nicole Webb, Head of People and Culture, tells Built in LA. Webb continues: "We've seen increasingly positive feedback in our employee happiness index surveys as MatchCraft grows and continues to evolve."
As the startup space grows and increasingly becomes more responsible for the future of work and innovation, the corporate setting must change with the times. When diversity is encouraged, everybody wins.
Scientists discover what our human ancestors were making inside the Wonderwerk Cave in South Africa 1.8 million years ago.
Credit: Michael Chazan / Hebrew University of Jerusalem
Surprising Science
Researchers find evidence of early tool-making and fire use inside the Wonderwerk Cave in Africa.
The scientists date the human activity in the cave to 1.8 million years ago.
The evidence is the earliest found yet and advances our understanding of human evolution.
One of the oldest activities carried out by humans has been identified in a cave in South Africa. A team of geologists and archaeologists found evidence that our ancestors were making fire and tools in the Wonderwerk Cave in the country's Kalahari Desert some 1.8 million years ago.
A new study published in the journal Quaternary Science Reviews from researchers at the Hebrew University of Jerusalem and the University of Toronto proposes that Wonderwerk — which means "miracle" in Afrikaans — contains the oldest evidence of human activity discovered.
"We can now say with confidence that our human ancestors were making simple Oldowan stone tools inside the Wonderwerk Cave 1.8 million years ago," shared the study's lead author Professor Ron Shaar from Hebrew University.
Oldowan stone tools are the earliest type of tools that date as far back as 2.6 million years ago. An Oldowan tool, which was useful for chopping, was made by chipping flakes off of one stone by hitting it with another stone.
An Oldowan stone toolCredit: Wikimedia / Public domain
Professor Shaar explained that Wonderwerk is different from other ancient sites where tool shards have been found because it is a cave and not in the open air, where sample origins are harder to pinpoint and contamination is possible.
Studying the cave, the researchers were able to pinpoint the time over one million years ago when a shift from Oldowan tools to the earliest handaxes could be observed. Investigating deeper in the cave, the scientists also established that a purposeful use of fire could be dated to one million years back.
This is significant because examples of early fire use usually come from sites in the open air, where there is the possibility that they resulted from wildfires. The remnants of ancient fires in a cave — including burned bones, ash, and tools — contain clear clues as to their purpose.
To precisely date their discovery, the researchers relied on paleomagnetism and burial dating to measure magnetic signals from the remains hidden within a sedimentary rock layer that was 2.5 meters thick. Prehistoric clay particles that settled on the cave floor exhibit magnetization and can show the direction of the ancient earth's magnetic field. Knowing the dates of magnetic field reversals allowed the scientists to narrow down the date range of the cave layers.
The Kalahari desert Wonderwerk CaveCredit: Michael Chazan / Hebrew University of Jerusalem
Professor Ari Matmon of Hebrew University used another dating method to solidify their conclusions, focusing on isotopes within quartz particles in the sand that "have a built-in geological clock that starts ticking when they enter a cave." He elaborated that in their lab, the scientists were "able to measure the concentrations of specific isotopes in those particles and deduce how much time had passed since those grains of sand entered the cave."
Finding the exact dates of human activity in the Wonderwerk Cave could lead to a better understanding of human evolution in Africa as well as the way of life of our early ancestors.
With the rise of Big Data, methods used to study the movement of stars or atoms can now reveal the movement of people. This could have important implications for cities.
Credit: Getty Images
13-8
A treasure trove of mobility data from devices like smartphones has allowed the field of "city science" to blossom.
I recently was part of team that compared mobility patterns in Brazilian and American cities.
We found that, in many cities, low-income and high-income residents rarely travel to the same geographic locations. Such segregation has major implications for urban design.
Almost 55 percent of the world's seven billion people live in cities. And unless the COVID-19 pandemic puts a serious — and I do mean serious — dent in long-term trends, the urban fraction will climb almost to 70 percent by midcentury. Given that our project of civilization is staring down a climate crisis, the massive population shift to urban areas is something that could really use some "sciencing."
Is urbanization going to make things worse? Will it make things better? Will it lead to more human thriving or more grinding poverty and inequality? These questions need answers, and a science of cities, if there was such a thing, could provide answers.
Good news. There already is one!
The science of cities
With the rise of Big Data (for better or worse), scientists from a range of disciplines are getting an unprecedented view into the beating heart of cities and their dynamics. Of course, really smart people have been studying cities scientifically for a long time. But Big Data methods have accelerated what's possible to warp speed. As "exhibit A" for the rise of a new era of city science, let me introduce you to the field of "human mobility" and a new study just published by a team I was on.
Credit: nonnie192 / 405009778 via Adobe Stock
Human mobility is a field that's been amped up by all those location-enabled devices we carry around and the large-scale datasets of our activities, such as credit card purchases, taxi rides, and mobile phone usage. These days, all of us are leaving digital breadcrumbs of our everyday activities, particularly our movements around towns and cities. Using anonymized versions of these datasets (no names please), scientists can look for patterns in how large collections of people engage in daily travel and how these movements correlate with key social factors like income, health, and education.

There have been many studies like this in the recent past. For example, researchers looking at mobility patterns in Louisville, Kentucky found that low-income residents tended to travel further on average than affluent ones. Another study found that mobility patterns across different socioeconomic classes exhibit very similar characteristics in Boston and Singapore. And an analysis of mobility in Bogota, Colombia found that the most mobile population was neither the poorest nor the wealthiest citizens but the upper-middle class.
These were all excellent studies, but it was hard to make general conclusions from them. They seemed to point in different directions. The team I was part of wanted to get a broader, comparative view of human mobility and income. Through a partnership with Google, we were able to compare data from two countries — Brazil and the United States — of relatively equal populations but at different points on the "development spectrum." By comparing mobility patterns both within and between the two countries, we hoped to gain a better understanding of how people at different income levels moved around each day.
Mobility in Brazil vs. United States
Socioeconomic mobility "heatmaps" for selected cities in the U.S. and Brazil. The colors represent destination based on income level. Red depicts destinations traveled by low-income residents, while blue depicts destinations traveled by high-income residents. Overlapping areas are colored purple.Credit: Hugo Barbosa et al., Scientific Reports, 2021.
The results were remarkable. In a figure from our paper (shown above), it's clear that we found two distinct kinds of relationship between income and mobility in cities.

The first was a relatively sharp distinction between where people in lower and higher income brackets traveled each day. For example, in my hometown of Rochester, New York or Detroit, the places visited by the two income groups (e.g., job sites, shopping centers, doctors' offices) were relatively partitioned. In other words, people from low-income and high-income neighborhoods were not mixing very much, meaning they weren't spending time in the same geographical locations. In addition, lower income groups traveled to the city center more often, while upper income groups traveled around the outer suburbs.
The second kind of relationship was exemplified by cities like Boston and Atlanta, which didn't show this kind of partitioning. There was a much higher degree of mixing in terms of travel each day, indicating that income was less of a factor for determining where people lived or traveled.
In Brazil, however, all the cities showed the kind of income-based segregation seen in U.S. cities like Rochester and Detroit. There was a clear separation of regions visited with practically no overlap. And unlike the U.S., visits by the wealthy were strongly concentrated in the city centers, while the poor largely traversed the periphery.
Data-driven urban design
Our results have straightforward implications for city design. As we wrote in the paper, "To the extent that it is undesirable to have cities with residents whose ability to navigate and access resources is dependent on their socioeconomic status, public policy measures to mitigate this phenomenon are the need of the hour." That means we need better housing and public transportation policies.
But while our study shows there are clear links between income disparity and mobility patterns, it also shows something else important. As an astrophysicist who spent decades applying quantitative methods to stars and planets, I am amazed at how deep we can now dive into understanding cities using similar methods. We have truly entered a new era in the study of cities and all human systems. Hopefully, we'll use this new power for good.
A small percentage of people who consume psychedelics experience strange lingering effects, sometimes years after they took the drug.
Mind & Brain
LSD flashbacks have been studied for decades, though scientists still aren't quite sure why some people experience them.
A subset of people who take psychedelics and then experience flashbacks develop hallucinogen persisting perception disorder (HPPD), a rare condition in which people experience regular or near-constant psychedelic symptoms.
There's currently no cure for the disorder, though some studies suggest medications may alleviate symptoms.
In February 2021, Josh was in his room and looking at his phone when he was struck by a strange feeling.
"The room looked normal, nothing was moving, but I felt as though I was under the influence of a psychedelic," he told Big Think. As a teenager, Josh had experimented with LSD, mushrooms, and other psychedelics a couple dozen times. Now 25, he had been sober for about a year. He brushed off the incident.
But soon, Josh, which is not his real name, was struck again by the same strange feeling.
"I had no idea what was going on in my brain at that time and the anxiety and paranoia grew so intense that I became fearful I had developed everything from brain cancer to schizophrenia," he said. The physical and psychological symptoms he began suffering were "devastating."
"The world [looked] crooked and out of focus, pictures had an eerie quality to them, things would go in and out of focus, at night while falling asleep I would experience vivid and terrifying hypnagogic hallucinations that made rest impossible."
After three weeks, Josh said his visual symptoms amplified with "unbelievable intensity."
"The floors would [breathe], paint on the walls looked wet, visual snow was so intense [that] pure black looked like it was glowing, at night I would see tracers everywhere, halos appeared around text. [...] I did not sleep, my thoughts were anxious and at times deranged, I had unbelievably intense dereliction that made the world seem fake."
LSD flashbacks
What Josh experienced is commonly called an LSD flashback. It's a mysterious phenomenon in which someone who's previously taken a hallucinogenic drug suddenly and temporarily experiences the effects of that drug days, weeks, or even years after consuming it.
Flashbacks can occur after taking a wide range of psychedelic drugs. But compared to other hallucinogens, flashbacks seem to be most common among people who have consumed LSD, according to studies
Antique old clock abstract fractal spiral
Antique old clock abstract fractal spiralNewwup via Adobe Stock
People have reported acid flashbacks for decades. The earliest recorded case may be Havelock Ellis' 1898 report of taking mescaline and then experiencing sustained heightened sensitization to "the more delicate phenomena of light and shade and color."

But it wasn't until the 1950s, little more than a decade after Albert Hoffman first synthesized LSD, that scientists started researching LSD and its potential long-term effects. While studies have illuminated some aspects of how psychedelics affect the brain, scientists still have much to learn about the nature of acid flashbacks, what causes them, and how to treat them.
What's certain, however, is that a small percentage of people who consume psychedelics report bizarre and sometimes debilitating effects that emerge long after taking hallucinogens.
Symptoms of acid flashbacks
Among the most common symptoms of LSD flashbacks are visual distortions. In a 1983 study titled "Visual Phenomenology of the LSD Flashback," the psychiatrist and LSD researcher Dr. Henry David Abraham described 16 common visual disturbances reported by people with LSD flashbacks. To name a few:
Acquired color confusion: The color of objects changed or presented a newly discovered problem of color confusion.
Difficulty reading: Text may appear jumbled or leave afterimages of the type against the background of the page.
Geometric phosphenes: Phosphenes, or eigengrau, are non-specific luminous perceptions that occur when the eyes are closed and may originate from entopic (i.e., arising from within the eye itself) stimuli in normal persons. They also may be induced by gentle pressure on the closed eyelid.
Pareidolias: This is literally an image within an image. These were described when a subject gazed into a finely reticulated design in linoleum, veneer, or a cloud formation. Besides the abstract pattern of the linoleum, subjects often would be able to see a series of concrete images as well, such as "a fish," "a face," and "a little boy."
Macropsia: Macropsia is the perception of an object larger than it really is. A characteristic description of this phenomenon came from a subject who noticed that his hand was enormous and then of normal size a few seconds later.
Micropsia: Micropsia is the perception of an object smaller than reality. One subject said, "My feet looked so tiny, like they were a million miles away."
The effects of acid flashbacks aren't limited to visual distortions. In a 1970 study called "Analysis of the LSD Flashback," researchers sorted LSD flashbacks into three broad categories: perceptual, somatic (meaning of the body), and emotional.
The emotional flashback is "far more distressing" than the other two, the researchers wrote, providing a case study of a 21-year-old woman who was suffering from acid flashbacks:
"The patient had these frightening flashbacks during the day, while walking down the street, after smoking marijuana or drinking wine, during the night, and occasionally even while asleep. In one situation she awoke during the middle of the night with a feeling of panic and began running around her house fleeing an imagined threat she could not identify or comprehend. She had taken LSD a number of times, but her last few trips were bad ones with panic and fright followed by loneliness to the point of suicidal despair when she 'came down.' The combination of bad trips and emotional flashbacks made her seek professional help because of her fear that she would harm herself."
To be sure, acid flashbacks aren't always emotionally distressing. A 2010 survey of 600 hallucinogen users found that, of the minority of users who reported experiencing at least one flashback, only 3 percent described it as a negative experience. In fact, some people enjoyed their flashbacks. On the website Erowid, which promotes research of psychedelic drugs, one user wrote:
"After 2 years of my last acid trip, while on vacation in a very nice wilderness place I was sitting on a rock and then I experienced a clear acid high. I was looking at a very steep hill and suddenly it started moving in nice patterns, exactly as one sees patterns while on acid. It wasn't something uncomfortable. In fact it was really pleasant and there was absolutely no trace of the nasty anxiousness after effects common to LSD. It lasted approximately 2 minutes and I enjoyed it very much."
But some LSD flashbacks are neither brief nor pleasant. A subset of people who use psychedelics develop hallucinogen persisting perception disorder (HPPD), a rare and poorly understood condition in which people experience omnipresent or recurring flashbacks. While the symptoms of HPPD vary, the condition can cause intense pain, irreversible perceptual distortions, emotional and psychological distress, and even suicidal thoughts.
HPPD: The never-ending trip
HPPD is estimated to affect between one to five percent of LSD users, though the actual figure is impossible to determine without better data. The disorder was first described formally in 1986 by the American Psychiatric Association's Diagnostic & Statistical Manual of Mental Disorders, 3rd edition, revised (DSM-III-R). The current edition of the manual (DSM-5) says patients need to meet several criteria to be diagnosed with HPPD:
Patients must reexperience perceptual symptoms they experienced while intoxicated with the hallucinogen.
These symptoms must cause "significant distress or impairment in social, occupational, or other important areas of functioning."
These symptoms aren't due to a separate medical condition or mental disorder.
So, what's the difference between a flashback and HPPD? Mainly frequency and duration. A 2017 review published in Frontiers in Psychiatry noted that while "a flashback is usually reported to be infrequent and episodic, HPPD is usually persisting and long-lasting."
A 2014 review published in the Israel Journal of Psychiatry and Related Sciences outlined two types of HPPD. The first, HPPD I, is the "flashback type," which is a generally short-term, non-distressing, benign and reversible state accompanied by a pleasant affect. The severity of HPPD I varies, with some people describing their mild flashbacks as annoying, while others say it's like getting "free trips."
But HPPD II is a different beast. The condition can be permanent, with perceptual distortions and other symptoms manifesting irregularly or almost constantly. "The symptoms usually include palinopsia (afterimages effects), the occurrence of haloes, trails, akinetopsia, visual snows, etc.," according to the aforementioned 2017 review. "Sounds and other perceptions are usually not affected. Visual phenomena have been reported to be uncontrollable and disturbing. Symptomatology may be accompanied by depersonalization, derealization, anxiety, and depression."
What causes flashbacks and HPPD?
When asked what causes flashbacks and HPPD, Dr. Abraham told Popular Science, "I've spent my life studying this problem and I don't know, is the short answer."
But researchers have proposed explanations. One centers on memory. Because psychedelics can cause extremely powerful and emotional experiences, it's theoretically possible that certain environmental stimuli can remind people of those experiences, and then memory "transports" them back into that subjective mindset — similar to how a soldier with post-traumatic stress disorder might suffer an episode after hearing a loud, sudden noise.
Another hypothesis involves how LSD interacts with the brain's visual processing center. Dr. Abraham proposed that HPPD may arise due to "disinhibition of visual processing related to a loss of serotonin receptors on inhibitory interneurons," which may be caused by consuming LSD.
The basic idea is that LSD somehow changes the way the brain interprets visual stimuli. That might explain why people with HPPD have difficulty properly "disengaging" from the things they see around them. For example, a red stoplight might appear as a discrete red circle but as a streak of red light painted across their field of vision; or a strobe light might not appear as a flickering light but a light that's constantly on.
LSD on paperYurok Aleksandrovich via Adobe Stock
"Such a locking of visual circuitry into an 'on' position following perception of a visual stimulus would explain such diverse complaints as trailing, color intensification, positive afterimages, phosphenes, and color confusions, each of which may represent a failure of the respective visual function to turn off the brain's response to the stimulus once the stimulus is gone," Dr. Abraham wrote.

It's also possible that people are genetically predisposed to HPPD and that ingesting LSD is the key that unlocks the disorder. This hypothesis would help explain why people have reportedly developed HPPD after taking a single, moderate dose of LSD.
Ultimately, the exact causes of HPPD are unclear. Partially as a result, there's currently no cure for the disorder, though studies show that people with HPPD have reported improvements in symptomatology after taking benzodiazepines. There's also anecdotal evidence that fasting can alleviate the disorder.
Despite uncertainty over the causes of HPPD, researchers do have a good idea of what can trigger "flare-ups" of HPPD. Dr. Abraham's 1983 study listed the most common triggers, some of which include:
Emergence into a dark environment
Intention (intentionally inducing visual aberrations by, say, staring at a blank wall)
Marijuana
Phenothiazines
Anxiety
Fatigue
People with HPPD describe the condition
To get a better understanding of HPPD, Big Think posted a questionnaire to the HPPD community on Reddit. Here are some of the responses:
How did HPPD first manifest for you?
IBeatMyGlied wrote:
"First I noticed highly enhanced creativity and intense visuals when [high on] weed and I really enjoyed that part. The realization that this is not going to go away soured the whole experience tho."
"My enhanced creativity left me after about a week and what I was left with was mild visual snow. I hardly knew anything about HPPD at the time and just didn't really care about my symptoms and still thought they were just going to vanish at some point, which they didn't. I kept taking drugs simply because I was addicted and felt like life is no fun without them. My HPPD got gradually worse over time and more symptoms appeared. First, I noticed mild tracers, which got worse over time (again due to continued drug use) and then tinnitus and brain fog. But primarily my symptoms are visual."
Are your symptoms episodic or constant?
"Both constant and episodic," wrote user LotsOfShungite. "A stressful event can trigger my symptoms off into the deep end."
Halven89 wrote:
"Except the brain fog and head pressure that varies, my visual disturbances are constant. The most debilitating ones are the visual snow, especially when I'm inside except if I watch the TV since it filters some of it out. It's also VERY frustrating that I no longer can focus on objects/details (can't stare) and the astigmatism-like symptoms that I got, like blurriness, especially in the distance and ghosting (double vision) plus starbursts from strong light sources. When I'm outside, the pattern glare is really annoying, same with the excessive amount of floaters that came with this. I also see halos from light sources."
IBeatMyGlied wrote:
"My symptoms are mostly constant and only change through rather obvious outside influences, such as certain drugs (almost all drugs), stress, lack of sleep, etc. Although my HPPD is quite pronounced, I have learned to accept it and almost only notice it when I pay attention to it. I always [know] it's there and it somewhat bugs me but I get along."
What are some common misconceptions about HPPD?
IBeatMyGlied wrote:
"One of if not the biggest 'misconception' is that many people believe that HPPD does not exist. But I guess there is no way to prove to another person that it does, so this is gonna stay the case until HPPD enters the public consciousness of the psychedelic community."
Halven89 wrote:
"They usually don't understand anything about it since most haven't heard about it, which really is crazy considering how debilitating this disorder is for many. And as Dr. Abraham said: in the medical field it's highly under- and misdiagnosed. Often as psychosis."
Futuristic view from inside of a fractalLopyriev via Adobe Stock
Hope for HPPD

Since experiencing his first flashback in February, Josh has found a few helpful strategies to minimize symptoms, including seeing a psychologist, staying sober, getting enough sleep, staying productive, and talking regularly with friends. He seemed optimistic about the future:
"The symptoms will lessen with time and sobriety, and HPPD provides an opportunity to improve yourself. That being said, because thoughts of suicide are apparently common with people that have HPPD, the medical community should take the condition seriously. Especially given how many people use psychedelics today."
While the future of HPPD research remains unclear, general psychedelic research is going through something of a renaissance. In recent years, researchers have published a growing body of studies showing how psychedelics like psilocybin, LSD, and MDMA can help treat conditions like depression, anxiety, post-traumatic stress disorder, and existential distress. But, among people with HPPD, opinions on the utility of psychedelics vary. Josh advised caution:
"I would not recommend [hallucinogenic] drugs be taken for recreational purposes. They are tools to help us treat illnesses and should be treated as such. If someone has depression or other mental health issue, maybe psychedelics administered in a clinical setting by a doctor is appropriate, but otherwise, playing with your brain like it's a chemistry playset is asking for trouble down the road."
Mind & Brain
Studies show that religion and spirituality are positively linked to good mental health. Our research aims to figure out how and why.
Scroll down to load more…