How diversity can launch startups even higher
Startups create the tech and products that set the tone for our collective future. It's pivotal that founders lead by example to make diversity and inclusion a priority—and reap the rewards.
29 June, 2018
---
This series on diversity and inclusion is sponsored by Amway, which supports a prosperous economy through having a diverse workplace. Companies committed to diversity and inclusion are better equipped to innovate and drive performance. For more information, visit amwayglobal.com/our-story.
Startups have become the new engine for growth in our economy. By creating jobs and coming up with novel solutions for a wide range of problems, these companies play an important role in putting millions to work and changing the fabric of our day to day lives. With such an integral role in our society and on the way we do business, it's pivotal that business leaders and startup founders make diversity and inclusion a priority.
Diversity creates opportunities for an upstart company. In a chaotic and fast-paced environment, being able to capitalize on the full potential of a diverse group of people will set many startups leagues ahead of their competitors. It's not just a matter of principle in an increasingly diverse society, it's smart business sense too.
Diversity from the get-go
Unique differences that come from various cultural, gender and ethnic backgrounds help break down silos and create an environment with many viewpoints. Fostering diverse hiring and inclusivity from the start is an important step to ensure it's built into the company culture right away.
Companies can fall into the trap of setting up programs as afterthoughts or they can wait too long to create a diversity initiative. Building a culture of diversity starts from the top down. As the Great British Diversity Experiment found, it's "action at the upper echelons of our industry" that models behavior and leads to lasting change. An early initiative from leadership can set the company's mission, encourage individual responsibility in fulfilling that mission, and ultimately grow a more creative workplace.
There is evidence to show that being exposed to varying viewpoints leads to greater creativity within a team. Sometimes we take it for granted that different technical, emotional and creative perspectives are needed to solve complex problems, but research is also beginning to show that social diversity works in a similar way.
In a study conducted by the Credit Suisse Research Institute team, researchers examined 2,360 companies between 2005 and 2011. They were looking for a relationship between gender-diverse corporate management teams and financial performance, and what they found was that when there were one or a few women on the board, the companies delivered higher and more profitable returns on equity and had better growth prospects as a company.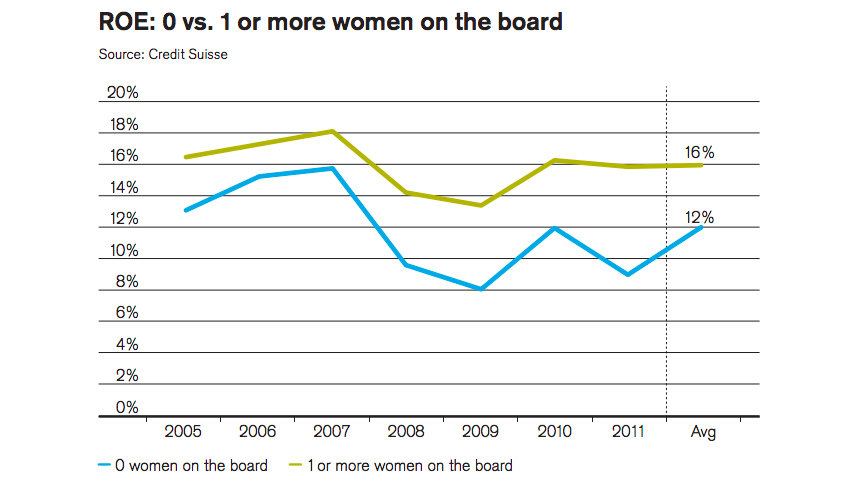 Just the act of interacting with people from different backgrounds is beneficial as it leads to greater business opportunities. Unfortunately, this is not always prevalent in the startup field. Researchers in 2017 found that only 17% of startups have been founded by women. Nearly 40% of female founders encountered sexism and gender discrimination in their business.
Diversity helps companies avoid crises
The world is going through a seismic shift because of the advent of smart technology and scalable innovations, most of which are coming out of startup culture. Women and underrepresented minorities need to have a part in the creation of new technologies so products and services cater to all demographics, and so that blind spots (like racist and sexist A.I.) are discovered sooner rather than later.
In that respect, startups can learn something important from corporate America. Sallie Krawcheck, former President of Global Wealth at Bank of America and current CEO and founder of Ellevest, shares how lack of diversity on Wall Street led to one of America's largest crises:
"There is no doubt in my mind that the financial crisis that the United States and the world suffered would have been less severe if we'd had more diversity on Wall Street," she tells Big Think. "There's no doubt. We know this intuitively. If all of us think about those cavernous trading floors where the individuals populating the trading desks looked the same, that if those had been incredibly diverse, sort of the United Nations of every different kind of person you could have, we intuitively know that the crisis would have been less severe. We intuitively know that if there were more women at the senior leadership tables that the crisis would have been less severe. And not only do we know it intuitively, the research tells us this. The research tells us that homogenous teams tend to over-trust each other."

The current state of startups
The U.S. Bureau of Statistics reports that the STEM workforce in the United States is projected to grow 17% in the next decade, compared to other industries that are only going to see an increase of 12%. If startup and technical jobs are set to increase at that rate, you have to wonder why more women and minorities are not seeking out these careers. The answer is that lingering biases remain, both implicit and overt, and many diverse workers often end up leaving the field early on.
A study by Jennifer L. Glass titled 'What's So Special about STEM? A Comparison of Women's Retention in STEM and Professional Occupations', found that after 12 years, half of the women in the study switched to other fields, evidence that points to a systemic problem in the culture.
The challenge may not only be hiring more diverse people but also making sure they don't leave at higher rates. Studies have shown that women in these fields are "less satisfied with their careers, perceive that they are less likely to advance at their current organizations, or believe they must change jobs in order to reach the next level."
Unfortunately, this is because a safe and inclusive work environment is not on the list of priorities for a lot of companies. Recent data published by venture firm First Round Capital found that of 869 startups, half of their founders have been harassed in some way or are aware of somebody who has. Despite the rising reportage and dialogue around harassment, only a small percentage of startups have a strategy in place to promote diversity and inclusion; 58.4% of the 869 startups surveyed claim they have a D&I strategy but "nothing formal", and 24.5% have no D&I strategy in place at all.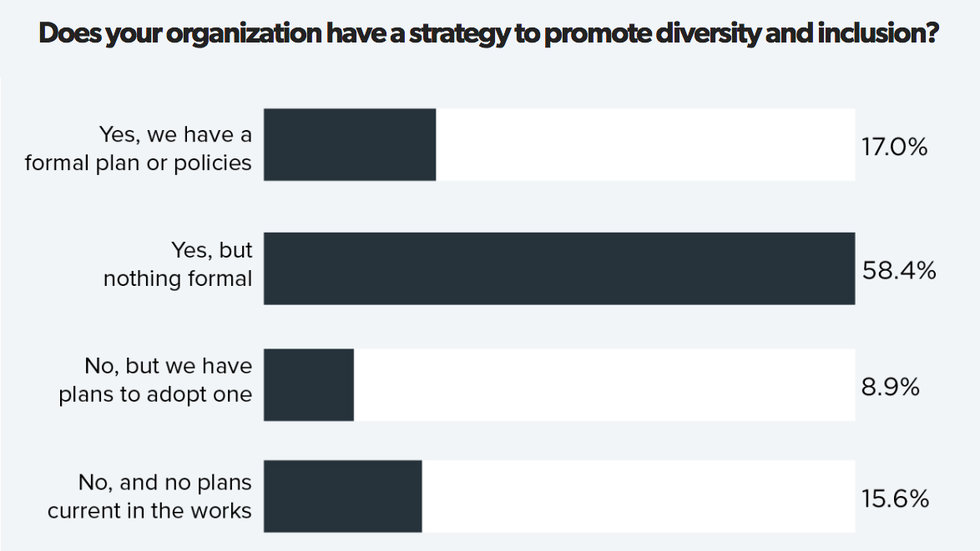 (Credit: First Round Capital)
Steps toward creating a thriving atmosphere
Building a diverse company is not a simple endeavor, but small actions throughout the company can lead to meaningful results.
The first thing to do is to assess whether a startup is already diverse or it has intentions to go in that direction. Here's a practical list of questions and ideas to think about when determining diversity.
Create a list of the last five hires. Ask yourself the reasoning for why they were hired and consider their unique backgrounds.
Create a similar list for some of the leading executives in the company and ask the same questions.
Begin to use this pattern-recognizing assessment in areas of promotions, raises and employees acknowledged for their hard work and contributions.
Another key question for companies who value diversity is: Do we also value inclusivity? The two terms are used interchangeably but they aren't the same. Recruiting diverse talent into a place they feel like they don't belong will have a negative effect; the two concepts go hand in hand.
These small but potent questions and efforts can show a lot about where a startup places its priorities. For example, Amway has a "real talk" open communication channel that goes a long way in inspiring people to ask questions, challenge their assumptions and allow for deeper talks to take place.
How do you know if your programs are working? Get data. Digital marketing startup MatchCraft runs an anonymous internal survey on D&I every quarter: "We also survey employees... to ensure that we are keeping our finger on the pulse and inspire diversity through anonymity for those who don't feel comfortable speaking up on company practices," Nicole Webb, Head of People and Culture, tells Built in LA. Webb continues: "We've seen increasingly positive feedback in our employee happiness index surveys as MatchCraft grows and continues to evolve."
As the startup space grows and increasingly becomes more responsible for the future of work and innovation, the corporate setting must change with the times. When diversity is encouraged, everybody wins.
Malcolm Gladwell teaches "Get over yourself and get to work" for Big Think Edge.
Big Think Edge
Learn to recognize failure and know the big difference between panicking and choking.

At Big Think Edge, Malcolm Gladwell teaches how to check your inner critic and get clear on what failure is.

Subscribe to Big Think Edge before we launch on March 30 to get 20% off monthly and annual memberships.
We take fewer mental pictures per second.
Mind & Brain
Recent memories run in our brains like sped-up old movies.
In childhood, we capture images in our memory much more quickly.
The complexities of grownup neural pathways are no match for the direct routes of young brains.
It's not just a case of "what doesn't kill you makes you stronger."
Mind & Brain
A new study suggests children who endure trauma grow up to be adults with more empathy than others.
The effect is not universal, however. Only one kind of empathy was greatly effected.
The study may lead to further investigations into how people cope with trauma and lead to new ways to help victims bounce back.
It's one of the most consistent patterns in the unviverse. What causes it?
Videos
Spinning discs are everywhere – just look at our solar system, the rings of Saturn, and all the spiral galaxies in the universe.
Spinning discs are the result of two things: The force of gravity and a phenomenon in physics called the conservation of angular momentum.
Gravity brings matter together; the closer the matter gets, the more it accelerates – much like an ice skater who spins faster and faster the closer their arms get to their body. Then, this spinning cloud collapses due to up and down and diagonal collisions that cancel each other out until the only motion they have in common is the spin – and voila: A flat disc.
Big think's weekly newsletter.
Get smarter faster from the comfort of your inbox.
See our newsletter privacy policy
here
Most Popular
Most Recent
Big think's weekly newsletter.
Get smarter faster from the comfort of your inbox.
See our newsletter privacy policy
here
© Copyright 2007-2018 & BIG THINK, BIG THINK EDGE,
SMARTER FASTER trademarks owned by The Big Think, Inc. All rights reserved.