How the Venus de Milo Changed Female Beauty
More than just a pretty face, the Venus de Milo (rediscovered on this date in 1820) has changed ideas of female beauty ever since, often in surprising ways.
29 March, 2016
When Greek farmer Yorgos Kentrotas found some broken pieces of a statue buried in the ancient ruins on the island of Milos on April 8, 1820, he had no idea what he had found.  Experts later identified the statue as depicting the Greek goddess of beauty, Aphrodite.  Today, we know that statue better by the goddess' Roman name—Venus.  The Venus de Milo quickly left Milos for Paris and the Louvre Museum, where it still resides today.  That (re)discovery of the Venus de Milo—nearly two centuries ago now—changed the idea of female beauty in the 19th century and ever since, for better and worse.  In the age of the selfie and its prime practitioner Kim Kardashian (above right), what does the Venus de Milo still say about female beauty?
---
Video: 3D reconstruction of Aphrodite of Milo, better known as the Venus de Milo.
We're used to the Venus de Milo disarmed, but scholars believe that the fully armed statue (shown in the video above) depicted the Greek myth of "The Judgment of Paris."  Eris, goddess of discord, pouting over not being invited to a feast, crashed the party with a golden apple from the Garden of the Hesperides upon which was inscribed "for the fairest one."  Goddesses Hera, Athena and Aphrodite all staked claims. Zeus, smelling trouble, refused to act as judge, declaring instead that the mortal Paris of Troy would do the job.  All three goddesses tried to bribe the mortal judge, but Aphrodite's bribe—Helen, the most beautiful woman on Earth (and wife of Greek king Menelaus)—won.  As Helen's face "launched a thousand ships" and set the Trojan War in motion, Aphrodite/Venus admired her prize, as shown in the Venus de Milo.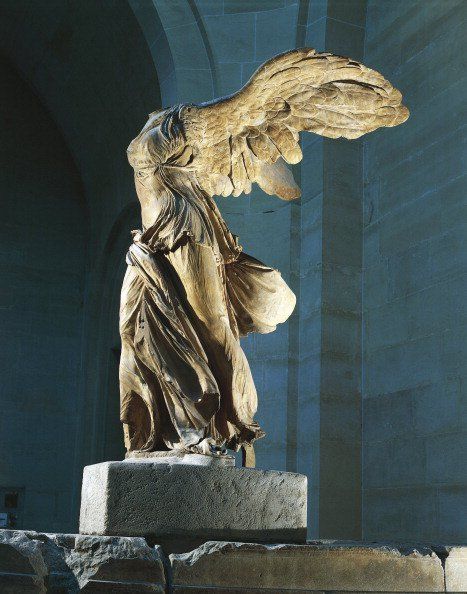 Image: Greek civilization, 2nd century B.C. - The Nike or Victory of Samothrace, marble, height 328 cm. (Photo By DEA / G. DAGLI ORTI/De Agostini/Getty Images)
It's appropriate that the Venus de Milo depicts the results of a beauty contest, because it's launched a beauty contest ever since in Western Civilization.  From the beginnings of Greek art, male nudity was as common due in large part to men frequently being seen nude in athletic competitions.  Female nudity, however, remained under wraps for centuries.  The Nike of Samothrace, another Louvre landmark, shows Greek art hinting at the female form through wet, clinging drapery—the ancient equivalent of a wet t-shirt contest.  Not until 350 BC did Praxiteles sculpt female goddesses.  The Venus de Milo comes after Praxiteles' breakthrough, but still clings to the wet t-shirt days with her covered lower half.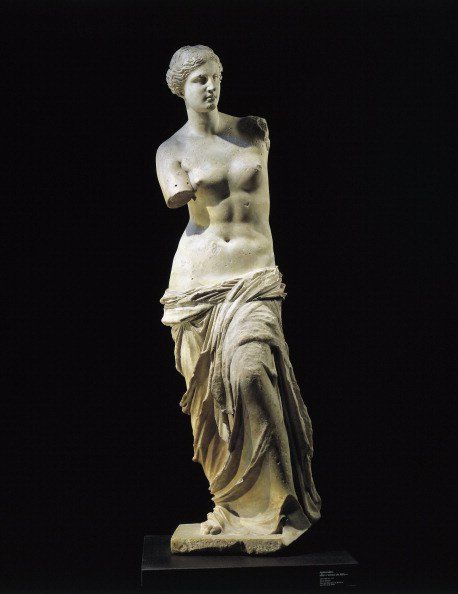 Image: Greek civilization, 2nd century B.C. Marble statue of Aphrodite of Milos known as Venus de Milo, circa 100 B.C. Height 202 cm. From the Island of Milos, Cyclades, Greece. (Photo By DEA / G. DAGLI ORTI/De Agostini/Getty Images)
Why wait so long to unveil the female nude?   The Greek even coined a word, "kaloskagathos," for how good looks equaled a good person, so showing off what you had was just part of being a good person, at least if you were a man.  Greek author Hesiod called the first woman "kalon kakon" or "a beautiful-evil thing." The Greek double standard lets you look upon male nudes risk free, but, as anyone who's read Greek mythology can tell you, it's dangerous to look upon the nude female form, especially that of a goddess.  For example, when Actaeon caught a glimpse of a bathing Artemis, she turned him into a deer so his own hunting dogs would devour him.  When you looked at the nude Venus de Milo in her entirety, musing upon her prize and the Trojan War she started, you knew she was trouble.  The Greeks invented the concept of the irresistible "bad girl" long before Kim Kardashian.
Video: Women's ideal body types throughout history.
But how did we get to Kim Kardashian as today's Venus de Milo?  The video above showing women's ideal body types throughout history starts with ancient Egypt and ends with KK as the epitome of "post-modern" beauty, stopping briefly in the middle to visit the Venus de Milo and ancient Greece.  In many ways, the Venus de Milo's rediscovery in 1820 begins the politicization of female beauty.  A Greek may have unearthed her, but it took a Frenchman, Jules Dumont d'Urville, to recognize her value.  Like so many educated men in the 19th century, d'Urville knew the work of art historian Johann Joachim Winckelmann.  "Winckelmann's belief that Greek art flourished because of the political freedom in classical times became almost a mantra for orators during the French Revolution," Gregory Curtis writes in Disarmed: The Story of the Venus de Milo. "And his belief that art can reveal the divine as well as or better than religion is still with us today." The goddess of Greek religion thus became the new "goddess" of faith in modern democracy.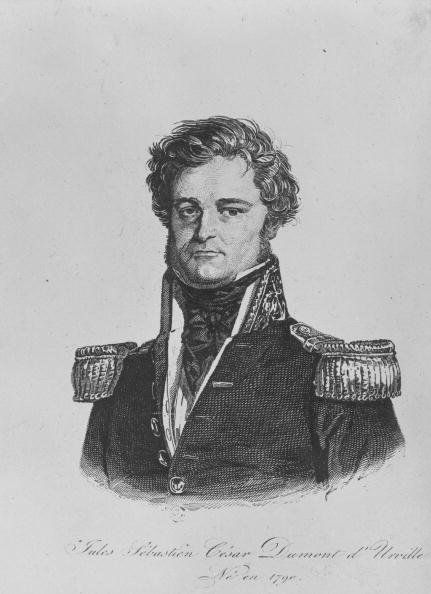 Image: Circa 1830: Jules Sebastien Cesar Dumont d'Urville (1790-1842), French naval officer and explorer of the South Pacific and Antarctica. In 1820 he recognized the Venus de Milo on an expedition to the Greek archipelago and secured its acquisition by the French government. (Photo by Rischgitz/Getty Images)
Following Winckelmann's cue, d'Urville (shown above) and the French government purchased the statue and made her the "face" of their propaganda program.  Beauty became a commodity and political weapon like never before.  The old Greek symbolism of good looks equals good person transformed into modern political theory that possessing good looks (in statue form) equals good government.  Obviously, the American government doesn't use Kim Kardashian for propaganda purposes, but who can argue that she's not the "face" of contemporary America's obsession with social media and reality television?  If our main export is our popular culture, we've been shipping a lot of Kim around the world lately.  The American Society of Plastic Surgeons used to have the Venus de Milo as part of their official seal.  How long before they put "post-modern" beauty ideal Kim Kardashian in her place?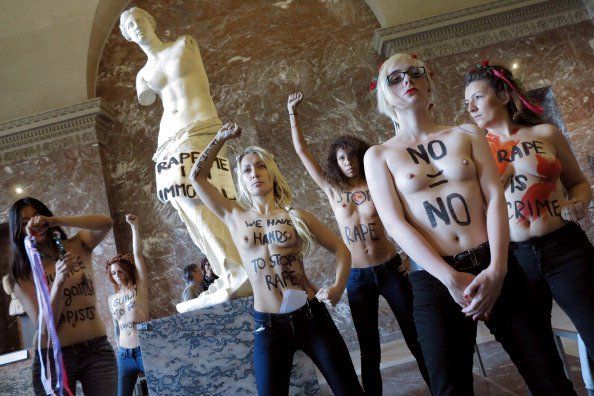 Image: Topless activists of the Ukrainian women movement Femen protest against anti-women's politics in front of the Venus de Milo statue where they hung a banner, at the Louvre Museum on October 3, 2012 in Paris. AFP Photo Lionel Bonaventure (Photo credit should read Lionel Bonaventure/AFP/GettyImages)
Although men have used the beauty of the Venus de Milo for two centuries now for their political purposes, women are starting to claim her as one of their own.  In October 2012, the activists Femen France protested ineffectual French laws against rape by posing topless in front of the Venus de Milo (shown above).  They placed a sign on the statue reading "Rape Me, I Am Immortal," alluding to the statue's missing arms, which they used to symbolize female vulnerability to sexual violence.  "We have hands to stop rape," the protesters shouted in contrast, calling for female empowerment at the feat of the helpless goddess.  As ideas of female beauty and what that beauty means (and to whom) evolve, the Venus de Milo keeps getting rediscovered and reconsidered as a game changer in history's great beauty pageant. 
[Image at top of post: (Left) The Venus de Milo at the Louvre Museum back after restoration on July 9, 2009. (Photo by Francois LOCHON/Gamma-Rapho via Getty Images). (Right) Kim Kardashian on the beach at the Shore Club on July 14, 2007 in South Beach. (Photo by John Parra/Wireimage).]
[Please follow me on Twitter (@BobDPictureThis) and Facebook (Art Blog By Bob) for more art news and views.]
Big Think
Sponsored by Lumina Foundation
Upvote/downvote each of the videos below!

As you vote, keep in mind that we are looking for a winner with the most engaging social venture pitch - an idea you would want to invest in.
Lumina Foundation and Big Think have partnered to bring this entrepreneurial competition to life, and we hope you'll participate! We have narrowed down the competition to four finalists and will be announcing an audience's choice award and a judges' choice award in May.
The creator of the winning video — chosen by Big Think's audience, the Lumina Foundation, and an independent panel of experts (bios below) — will be flown to New York for a taping in the Big Think studio as a way to further promote their vision for a new, disruptive idea in post-secondary education.
Thank you to all of the contestants who spent time submitting applications, and best of luck to our final four competitors.
Finalist: Greater Commons - Todd McLeod
Greater Commons, founded by Todd McLeod and Andrew Cull, is an organization that helps people live happier, more successful and fulfilling lives through agile learning. The current education system is inefficient and exclusionary, in which many students who end up earning a degree, if at all, enter a career not related to their field of study. Greater Commons solves this problem and gap in post-high school secondary education in a variety of ways. Passionately and diligently, Great Commons helps others obtain skills, knowledge, wisdom, motivation, and inspiration so that they may live better lives.
Finalist: PeerFoward - Keith Frome
PeerForward is an organization dedicated to increasing the education and career success rates of students in low-income schools and communities by mobilizing the power of positive peer influence. PeerForward works with partner schools to select influential students as a part of a team, systemizing the "peer effect." Research in the fields of sociology of schools, social-emotional learning, adult-youth partnerships, and civic education demonstrates that students can have a positive effect on the academic outcomes of their peers. PeerForward is unique through its systemic solutions to post-secondary education.
Finalist: Cogniss - Leon Young
Cogniss combines technology and best practice knowledge to enable anyone to innovate and share solutions that advance lifelong learning. Cogniss is the only platform to integrate neuroscience, through which it solves the problem of access by providing a low-code platform that enables both developers and non-developers to build sophisticated education apps fast, and at a much lower cost. It addresses the uneven quality of edtech solutions by embedding research-based learning design into its software. App creators can choose from a rich set of artificial intelligence, game, social and data analytics, and gamification to build their perfect customized solution.
Finalist: Practera - Nikki James
Practera's mission is to create a world where everyone can learn through experience. Today's workplaces are increasingly dynamic and diverse, however, costly and time-consuming experiential learning is not always able to offer the right opportunities at scale. Many students graduate without developing the essential skills for their chosen career. Practera's team of educators and technologists see this problem as an opportunity to transform the educational experience landscape, through a CPL pedagogical framework and opportunities to apply students' strengths through active feedback.
Thank you to our judges!
Our expert judges are Lorna Davis, Dan Rosensweig, and Stuart Yasgur.
Lorna Davis is the Senior Advisor to Danone CEO and is a Global Ambassador for the B Corp movement. Lorna has now joined B-Lab, the non-for-profit that supports the B Corporation movement on an assignment to support the journey of large multi nationals on the path to using business as a force of good.
Dan Rosensweig joined Chegg in 2010 with a vision for transforming the popular textbook rental service into a leading provider of digital learning services for high school and college students. As Chairman and CEO of Chegg, Dan commits the company to fulfilling its mission of putting students first and helping them save time, save money and get smarter.

Stuart Yasgur leads Ashoka's Social Financial Services globally. At Ashoka, Stuart works with others to initiate efforts that have mobilized more than $500 million in funding for social entrepreneurs, engaged the G20 through the Toronto, Seoul and Los Cabos summits and helped form partnerships with leading financial institutions and corporations.
Again, thank you to our incredible expert judges.
Upstreamism advocate Rishi Manchanda calls us to understand health not as a "personal responsibility" but a "common good."
Sponsored by Northwell Health
Upstreamism tasks health care professionals to combat unhealthy social and cultural influences that exist outside — or upstream — of medical facilities.
Patients from low-income neighborhoods are most at risk of negative health impacts.
Thankfully, health care professionals are not alone. Upstreamism is increasingly part of our cultural consciousness.
The Bajau people's nomadic lifestyle has given them remarkable adaptions, enabling them to stay underwater for unbelievable periods of time. Their lifestyle, however, is quickly disappearing.
Wikimedia Commons
Culture & Religion
The Bajau people travel in small flotillas throughout the Phillipines, Malaysia, and Indonesia, hunting fish underwater for food.
Over the years, practicing this lifestyle has given the Bajau unique adaptations to swimming underwater. Many find it straightforward to dive up to 13 minutes 200 feet below the surface of the ocean.
Unfortunately, many disparate factors are erasing the traditional Bajau way of life.
Big think's weekly newsletter.
Get smarter faster from the comfort of your inbox.
See our newsletter privacy policy
here
Most Popular
Most Recent
Big think's weekly newsletter.
Get smarter faster from the comfort of your inbox.
See our newsletter privacy policy
here
© Copyright 2007-2019 & BIG THINK, BIG THINK EDGE,
SMARTER FASTER trademarks owned by The Big Think, Inc. All rights reserved.