Big ideas.
Once a week.
Subscribe to our weekly newsletter.
How Paul Strand Photographed the "People's History"
20 October, 2014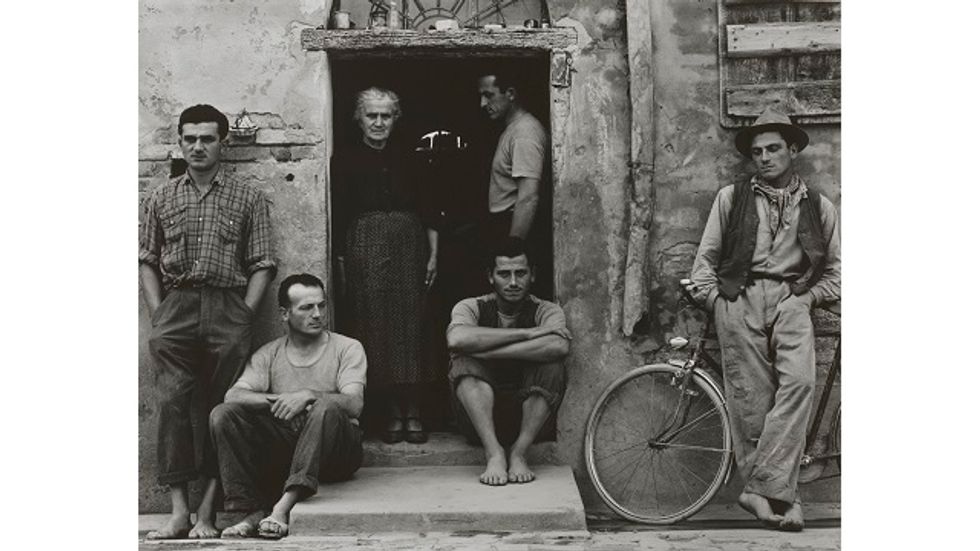 When Howard Zinn first published A People's History of the United States in 1980, he hoped to start a "quiet revolution" in the way people viewed history. By giving voice to the voiceless relegated to the wings of history while major players dominated the stage, Zinn wrote history in a wholly new, revolutionary way. Just as Zinn gave those people a voice, photographer Paul Strand gave them a face, but more than 60 years before. Paul Strand: Master of Modern Photography at the Philadelphia Museum of Art traces the development of one of the founding fathers of modern photography in search of democratic ideals not just in his native America, but all around the world. Viewing the world through Strand's lens will renew not just your faith in the power of art, but also your faith in the human spirit's resilience regardless of time or place.
---
Strand's long been recognized as part of the holy trinity of modern American photography along with Alfred Stieglitz and Edward Steichen. With such canonization sometimes comes complacency in interpretation—in Strand's case, justified praise for his early work but unfair silence regarding later projects. This exhibition represents the first retrospective of Strand's work since the 1970s, which also began at the Philadelphia Museum of Art. In 1980, Strand's estate donated almost 500 prints from that exhibition to the Philadelphia Museum of Art. Since 2009, the museum's dedicated itself to acquiring almost 4,000 more prints and other items, thus making The Paul Strand Collection at the PMA the single largest Strand collection in the world. Paul Strand: Master of Modern Photography celebrates that collection's realization as much as the artist himself.
From the very beginning, Strand learned to link politics and photography. In 1907, Strand signs up for a class at the Ethical Culture School in New York City titled "Nature Study and Photography" taught by the progressive sociologist-photographer Lewis Hine. Hine took Strand and the class to visit Alfred Stieglitz's "291" Gallery, an experience that, Strand would later claim, inspired him to become a photographer. Strand soon entered Stieglitz's circle of artists, formed friendships with Georgia O'Keeffe and others, and studied new art movements coming over from Europe such as Cubism.
The young photographer then set out on a series of "experiments" with photography—itself a young, growing medium—up to the end of the 1920s.  Amanda N. Bock, one of the curators of the exhibition, describes this time in her catalog essay as Strand's "painstakingly slow and methodical exploration of genres"—everything from landscapes to "still lifes verging on abstraction." Walking through this section of the exhibition you feel the restlessness of Strand's eye as he moved from the strikingly honest "street portraits" taken of unaware subjects to the iconic, "Hopper before Hopper" Wall Street.
What holds this period together is Strand's growing sense of modernism, both as an esthetic and as a human condition. Not for Strand was socially disengaged abstraction or just as disengaged "ironic street photography," Peter Barberie, chief curator of the exhibition explains in the catalog. "For Strand," Barberie writes, "realism could be woven out of fact or fiction, or both, but it had to say something tangible about the world." The most "tangible" element in Strand's early 20th century world was the increasing wave of modern machinery, which simultaneously excited with new promise and threatened with self-destruction. For the rest of his life, Strand pursued that modernism in different places and different people around the world.
Shocked by his own "street portraits" in 1916, Strand gave up portraiture almost entirely until the 1930s, when he traveled to Mexico and stayed for 2 years to photograph not only the local people, but also the bultos or devotional statues in their churches. Using the same prolonged exposure (sometimes up to an hour) that allowed him to milk every detail from his nature studies, Strand photographed these dramatic wooden statues of Christ's passion to reveal every detail of the fabrics and even the spots where faithful fingers had worn away paint over the years.
Strand's own prolonged exposure to the humanity of these people revealed to him new truths about the reality of modernism. "Attuned to modernity's distinct inflections in different locales," Barberie explains, Strand "wanted to show how time and history had shaped the present moment of each place he photographed… The realism he advocates involves, in his words, a dynamic approach to everyday life that engages the changing world, avoids treating subjects as immutable or timeless, and represents to ordinary people the conflicts and heroism of their own lives." The search for that everyday heroism in the face of the challenges of modernism became Strand's own heroic quest.
The exhibition gives ample room for us to follow Strand on his quest. Strand's first book project, Time in New England (published 1950), explored the nature of American modern democracy in the cradle of American democracy itself. Strand and collaborator Nancy Newhall selected texts such as the last letters of condemned anarchists Nicola Sacco and Bartolomeo Vanzetti to pair with the photographs of New England people and scenes to "evacuat[e] text and image of canonical and clichéd signifiers and giv[e] these concepts by threading them into a kind of 'people's history' of the region," argues Bock. The Great Depression's effects on American culture and inequality radicalized Strand's already leftist tendencies, leading him not only to such works as Time in New England, but also to leave American in 1950 for France, where he would live until his death in 1976. "McCarthyism" had not yet chilled free speech in American, but Strand sensed early on which direction the political winds were blowing.
Both Barberie and Bock understandably tread lightly when it comes to Strand's politics. Barberie calls Strand "undogmatic" politically, whereas Bock prefers "many degrees of left" to describe Strand's ranging from FDR "New Deal" devotee to Communist curious. But I tend to see Strand as "political" in the original, ancient sense of the word, as pertaining to citizens rather than attack ads and gridlock. Bock quotes Strand idealizing over "an artist who is also a citizen," something that he aspired to throughout his career all the way from the streets of New York City to Europe and finally to Egypt and to Ghana just as that sub-Saharan country was taking its first steps toward democracy in the 1960s. When you look at a picture such as The Family, Luzzara (The Lusettis) (shown above), taken during Strand's time photographing the people of the Italian village of Luzzara, you could easily mistake these five brothers and their mother as Americans. The similarities are strong enough that nationality doesn't even matter anymore. Strand evolved from American citizen to world citizen but never lost his sense of patriotism for the American democratic ideal he challenged his home country and all others to live up to.
Unlike so many other photography exhibitions that feel like you're witnessing a disembodied eyeball at work, Paul Strand: Master of Modern Photography makes you feel the presence of the artist throughout. The final room contains the actual cameras Strand used as well as photographs of him at work through the years, but it is the artifacts of his travels, such as the annotated map he and his wife used to navigate Ghana, that give you the full effect of his quest. Viewing the exhibit can be an exhausting experience simply from the intensity of this humanity that compels you to look closer at everything from the portraits to doorways dilapidated with character. Interactive kiosks that allow you to virtually page through Strand's books now long out of print at first seem like modernist intrusions, but I could easily imagine Strand himself, ever the modernist, enthralled with the displays. Such a combination of humanism and modernism is the exhibition's most fitting tribute to the artist.
Although Strand usually worked slowly in composing his images, one scene during his trip to Ghana made him impulsively snap away at a bus rolling by featuring the words "Never Despair" on the back. Those two words could be the emblem for all of Paul Strand's life and work. "We like to photograph people who have strength and dignity in their faces," Strand said of his and his wife's work in Italy, "whatever life has done to them, it hasn't destroyed them. They still have their own kind of humanity." Paul Strand: Master of Modern Photography demonstrates that no matter what happened to Paul Strand—even self-imposed exile—he kept his "own kind of humanity" that never despaired when Fascism, Communism, and even McCarthyism threatened democratic citizens at home and abroad. At a time when everything from Ebola to ISIS makes you question your faith in this modern world, Paul Strand: Master of Modern Photography provides a beautiful reminder of what really matters and why it will always endure.
[Image: The Family, Luzzara (The Lusettis), 1953 (negative); mid-late 1960s (print). Paul Strand, American, 1890-1976. Gelatin silver print, Image: 11 7/16 x 14 9/16 inches (29.1 x 37 cm). Sheet (irregular): 11 3/4 x 15 1/16 inches (29.8 x 38.3 cm). The Paul Strand Collection, purchased with funds contributed by Lois G. Brodsky and Julian A. Brodsky, 2014. © Paul Strand Archive/Aperture Foundation.]
[Many thanks to the Philadelphia Museum of Art for allowing me to attend the press preview for and for providing me with the image above and a review copy of the catalog to the exhibition Paul Strand: Master of Modern Photography, which runs through January 4, 2015.]
The young man died nearly 2,000 years ago in the volcanic eruption that buried Pompeii.
Culture & Religion
A team of researchers in Italy discovered the intact brain cells of a young man who died in the Mount Vesuvius eruption in A.D. 79.
The brain's cell structure was visible to researchers (who used an electron microscope) in a glassy, black material found inside the man's skull.
The material was likely the victim's brain preserved through the process of vitrification in which the intense heat followed by rapid cooling turned the organ to glass.
Almost 2,000 years ago, Mount Vesuvius — located on the gulf of what is today Naples in Campania, Italy — erupted, burying the ancient cities of Herculaneum and Pompeii beneath hot ash.
Recently, a team of researchers in Italy discovered the intact brain cells of a young man who died in the disaster in A.D. 79. The team studied remains that were first unearthed in the 1960s from Herculaneum, a city once nestled into the shadow of Mount Vesuvius. The man was around 25 years old when he perished and was discovered lying face-down on a wooden bed in Herculaneum's Collegium Augustalium (the College of the Augustales), located near the city's main street. The building was the headquarters of the cult of Emperor Augustus who was worshipped as a deity, a common Roman tradition at the time.
Discovery of cells
Electron microscope image of brain axons.
Credit: PLOS ONE
Now, subsequent research has described how the researchers, using an electron microscope, discovered cells in the vitrified brain. According to Petrone they were "incredibly well preserved with a resolution that is impossible to find anywhere else." Additionally, the team used another method called energy-dispersive X-ray spectroscopy to determine the chemical compounds of the glassy material. The sample was rich in carbon and oxygen, which indicates that it was organic. The researchers compared those ancient proteins to a database of proteins found in the human brain, and found that all of the discovered proteins are indeed present in human brain tissue.
Additionally, Petrone and his team suspect they also discovered vitrified nerve cells in the ancient victim's spinal cord and cerebellum based on the position of the sample in the mind of the skull and the concentration of the proteins.
Future research
These impeccable preservations of brain tissue are unprecedented and will undoubtedly open the door to new and exciting research opportunities on these ancient people and civilizations that weren't possible until now.
The Italian research team will continue to study the remains to learn more about the vitrification process, including the precise temperatures the victims were exposed to and the cooling rate of the ash. They also, according to Petrone, want to analyze proteins from the remains and their related genes.
New data have set the particle physics community abuzz.
Credit: Stefano Garau / Adobe Stock and Trahko / Adobe Stock
13-8
The first question ever asked in Western philosophy, "What's the world made of?" continues to inspire high energy physicists.
New experimental results probing the magnetic properties of the muon, a heavier cousin of the electron, seem to indicate that new particles of nature may exist, potentially shedding light on the mystery of dark matter.
The results are a celebration of the human spirit and our insatiable curiosity to understand the world and our place in it.
If brute force doesn't work, then look into the peculiarities of nothingness. This may sound like a Zen koan, but it's actually the strategy that particle physicists are using to find physics beyond the Standard Model, the current registry of all known particles and their interactions. Instead of the usual colliding experiments that smash particles against one another, exciting new results indicate that new vistas into exotic kinds of matter may be glimpsed by carefully measuring the properties of the quantum vacuum. There's a lot to unpack here, so let's go piecemeal.
It is fitting that the first question asked in Western philosophy concerned the material composition of the world. Writing around 350 BCE, Aristotle credited Thales of Miletus (circa 600 BCE) with the honor of being the first Western philosopher when he asked the question, "What is the world made of?" What modern high energy physicists do, albeit with very different methodology and equipment, is to follow along the same philosophical tradition of trying to answer this question, assuming that there are indivisible bricks of matter called elementary particles.
Deficits in the Standard Model
Jumping thousands of years of spectacular discoveries, we now have a very neat understanding of the material composition of the world at the subatomic level: a total of 12 particles and the Higgs boson. The 12 particles of matter are divided into two groups, six leptons and six quarks. The six quarks comprise all particles that interact via the strong nuclear force, like protons and neutrons. The leptons include the familiar electron and its two heavier cousins, the muon and the tau. The muon is the star of the new experiments.
The Standard ModelCredit: Cush via Wikimedia Commons licensed under CC0 1.0
For all its glory, the Standard Model described above is incomplete. The goal of fundamental physics is to answer the most questions with the least number of assumptions. As it stands, the values of the masses of all particles are parameters that we measure in the laboratory, related to how strongly they interact with the Higgs. We don't know why some interact much stronger than others (and, as a consequence, have larger masses), why there is a prevalence of matter over antimatter, or why the universe seems to be dominated by dark matter — a kind of matter we know nothing about, apart from the fact that it's not part of the recipe included in the Standard Model. We know dark matter has mass since its gravitational effects are felt in familiar matter, the matter that makes up galaxies and stars. But we don't know what it is.
Whatever happens, new science will be learned.
Physicists had hoped that the powerful Large Hadron Collider in Switzerland would shed light on the nature of dark matter, but nothing has come up there or in many direct searches, where detectors were mounted to collect dark matter that presumably would rain down from the skies and hit particles of ordinary matter.
Could muons fill in the gaps?
Enter the muons. The hope that these particles can help solve the shortcomings of the Standard Model has two parts to it. The first is that every particle, like a muon, that has an electric charge can be pictured simplistically as a spinning sphere. Spinning spheres and disks of charge create a magnetic field perpendicular to the direction of the spin. Picture the muon as a tiny spinning top. If it's rotating counterclockwise, its magnetic field would point vertically up. (Grab a glass of water with your right hand and turn it counterclockwise. Your thumb will be pointing up, the direction of the magnetic field.) The spinning muons will be placed into a doughnut-shaped tunnel and forced to go around and around. The tunnel will have its own magnetic field that will interact with the tiny magnetic field of the muons. As the muons circle the doughnut, they will wobble about, just like spinning-tops wobble on the ground due to their interaction with Earth's gravity. The amount of wobbling depends on the magnetic properties of the muon which, in turn, depend on what's going on with the muon in space.
Credit: Fabrice Coffrini / Getty Images
This is where the second idea comes in, the quantum vacuum. In physics, there is no empty space. The so-called vacuum is actually a bubbling soup of particles that appear and disappear in fractions of a second. Everything fluctuates, as encapsulated in Heisenberg's Uncertainty Principle. Energy fluctuates too, what we call zero-point energy. Since energy and mass are interconvertible (E=mc2, remember?), these tiny fluctuations of energy can be momentarily converted into particles that pop out and back into the busy nothingness of the quantum vacuum. Every particle of matter is cloaked with these particles emerging from vacuum fluctuations. Thus, a muon is not only a muon, but a muon dressed with these extra fleeting bits of stuff. That being the case, these extra particles affect a muon's magnetic field, and thus, its wobbling properties.
About 20 years ago, physicists at the Brookhaven National Laboratory detected anomalies in the muon's magnetic properties, larger than what theory predicted. This would mean that the quantum vacuum produces particles not accounted for by the Standard Model: new physics! Fast forward to 2017, and the experiment, at four times higher sensitivity, was repeated at the Fermi National Laboratory, where yours truly was a postdoctoral fellow a while back. The first results of the Muon g-2 experiment were unveiled on 7-April-2021 and not only confirmed the existence of a magnetic moment anomaly but greatly amplified it.
To most people, the official results, published recently, don't seem so exciting: a "tension between theory and experiment of 4.2 standard deviations." The gold standard for a new discovery in particle physics is a 5-sigma variation, or one part in 3.5 million. (That is, running the experiment 3.5 million times and only observing the anomaly once.) However, that's enough for plenty of excitement in the particle physics community, given the remarkable precision of the experimental measurements.
A time for excitement?
Now, results must be reanalyzed very carefully to make sure that (1) there are no hidden experimental errors; and (2) the theoretical calculations are not off. There will be a frenzy of calculations and papers in the coming months, all trying to make sense of the results, both on the experimental and theoretical fronts. And this is exactly how it should be. Science is a community-based effort, and the work of many compete with and complete each other.
Whatever happens, new science will be learned, even if less exciting than new particles. Or maybe, new particles have been there all along, blipping in and out of existence from the quantum vacuum, waiting to be pulled out of this busy nothingness by our tenacious efforts to find out what the world is made of.
Credit
: William Thomas Cain via Getty Images
Personal Growth
Benjamin Franklin wrote essays on a whole range of subjects, but one of his finest was on how to be a nice, likable person.
Franklin lists a whole series of common errors people make while in the company of others, like over-talking or storytelling.
His simple recipe for being good company is to be genuinely interested in others and to accept them for who they are.
Think of the nicest person you know. The person who would fit into any group configuration, who no one can dislike, or who makes a room warmer and happier just by being there.
What makes them this way? Why are they so amiable, likeable, or good-natured? What is it, you think, that makes a person good company?
There are really only two things that make someone likable.
This is the kind of advice that comes from one of history's most famously good-natured thinkers: Benjamin Franklin. His essay "On Conversation" is full of practical, surprisingly modern tips about how to be a nice person.
Franklin begins by arguing that there are really only two things that make someone likable. First, they have to be genuinely interested in what others say. Second, they have to be willing "to overlook or excuse Foibles." In other words, being good company means listening to people and ignoring their faults. Being witty, well-read, intelligent, or incredibly handsome can all make a good impression, but they're nothing without these two simple rules.
The sort of person nobody likes
From here, Franklin goes on to give a list of the common errors people tend to make while in company. These are the things people do that makes us dislike them. We might even find, with a sinking feeling in our stomach, that we do some of these ourselves.
1) Talking too much and becoming a "chaos of noise and nonsense." These people invariably talk about themselves, but even if "they speak beautifully," it's still ultimately more a soliloquy than a real conversation. Franklin mentions how funny it can be to see these kinds of people come together. They "neither hear nor care what the other says; but both talk on at any rate, and never fail to part highly disgusted with each other."
2) Asking too many questions. Interrogators are those people who have an "impertinent Inquisitiveness… of ten thousand questions," and it can feel like you're caught between a psychoanalyst and a lawyer. In itself, this might not be a bad thing, but Franklin notes it's usually just from a sense of nosiness and gossip. The questions are only designed to "discover secrets…and expose the mistakes of others."
3) Storytelling. You know those people who always have a scripted story they tell at every single gathering? Utterly painful. They'll either be entirely oblivious to how little others care for their story, or they'll be aware and carry on regardless. Franklin notes, "Old Folks are most subject to this Error," which we might think is perhaps harsh, or comically honest, depending on our age.
4) Debating. Some people are always itching for a fight or debate. The "Wrangling and Disputing" types inevitably make everyone else feel like they need to watch what they say. If you give even the lightest or most modest opinion on something, "you throw them into Rage and Passion." For them, the conversation is a boxing fight, and words are punches to be thrown.
5) Misjudging. Ribbing or mocking someone should be a careful business. We must never mock "Misfortunes, Defects, or Deformities of any kind", and should always be 100% sure we won't upset anyone. If there's any doubt about how a "joke" will be taken, don't say it. Offense is easily taken and hard to forget.
Not following Benjamin Franklin's advice.Credit: Ronald Martinez via Getty Images
On practical philosophy
Franklin's essay is a trove of great advice, and this article only touches on the major themes. It really is worth your time to read it in its entirety. As you do, it's hard not to smile along or to think, "Yes! I've been in that situation." Though the world has changed dramatically in the 300 years since Franklin's essay, much is exactly the same. Basic etiquette doesn't change.
If there's only one thing to take away from Franklin's essay, it comes at the end, where he revises his simple recipe for being nice:
"Be ever ready to hear what others say… and do not censure others, nor expose their Failings, but kindly excuse or hide them"
So, all it takes to be good company is to listen and accept someone for who they are.
Philosophy doesn't always have to be about huge questions of truth, beauty, morality, art, or meaning. Sometimes it can teach us simply how to not be a jerk.
Jonny Thomson teaches philosophy in Oxford. He runs a popular Instagram account called Mini Philosophy (@philosophyminis). His first book is Mini Philosophy: A Small Book of Big Ideas.
Surprising Science
A recent study analyzed the skulls of early Homo species to learn more about the evolution of primate brains.
Scroll down to load more…