Big ideas.
Once a week.
Subscribe to our weekly newsletter.
Less Like Poison, More Like Peanut Butter: The Case for Violent Video Games
23 June, 2010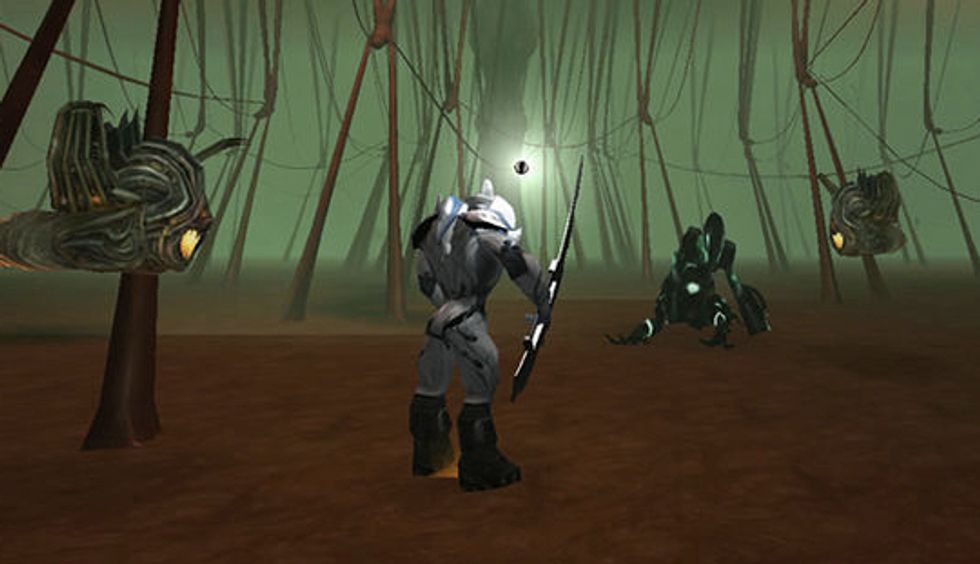 Should the government protect society from the bad effects of violent videogames? Game-makers invoke freedom of speech to stave off such laws—including California's 2005 attempt to ban violent-game sales to minors, which the U.S. Supreme Court will take up this fall. But maybe there's a better defense: According to this paper (pdf), published this month in the Review of General Psychology, there's nothing to protect against, because violent games have no bad effects.
---
Studies to the contrary, which say violent games make kids more likely to be nasty, brutish and curt, are better read as an indictment of academic psychology than of Grand Theft Auto, asserts the new paper's author, Christopher J. Ferguson, a psychologist at Texas A&M. "Violent video games are like peanut butter," Ferguson told Reuters earlier this month. "They are harmless for the vast majority of kids but are harmful to a small minority with pre-existing personality or mental health problems."
That he was able to get some press for this claim is already a tribute to Ferguson's tenacity and media-savvy. The position he seeks to debunk is consistent with public fears about new technology, and it's politically popular: In recent years, five other U.S. states beside California passed laws restricting videogames. That violent games harm kids is the official position of the American Academy of Pediatrics, American Academy of Child and Adolescent Psychiatry, American Medical Association, American Psychological Association, American Academy of Family Physicians, and the American Psychiatric Association.
Maybe it's because almost every American under 40 has played videogames, but Ferguson apparently decided society could stomach open rebellion. There's no quiet mumbling in his journal-battles with anti-game psychologists—notably, this year, with Craig A. Anderson of Iowa State. These are ferocious, with both sides accusing the other of cherry-picking data, "cynically" (Ferguson's word) massaging experimental protocols to get desired results, ignoring inconvenient evidence and misrepresenting opponents.
You can get an idea of the tone from this paper (pdf) of Ferguson's, published in March under the title "Much Ado About Nothing," and "Much Ado About Something," the reply (also pdf) from Anderson and colleagues Brad J. Bushman and Hannah R. Rothstein. The rhetoric might entertain you (in a videogamey way). More likely, it will leave you mistrustful of the "games are poison" school in particular, and psychologists' claims about any politically hot topic in general.
Here is why: Were I to hyper-cautiously set aside all the disputed points in Ferguson's indictment, I would still be left with this damning list—flaws in the "games harm kids" argument which suggest flaws in any claim that "psychologists know X hurts people."  These points struck me because they're the ones that even opponents don't dispute:
1. The link between videogames and serious violence is feeble. In their riposte, Anderson and his colleagues admit this, saying their Ferguson and his allies "probably are correct in noting that violent video games have a weaker effect on serious acts of aggression and violence than on less serious acts." But, hey, acts of serious aggression is so rare, they say, "they are difficult to predict with relation to violent video game exposure or any other single risk factor."
Ponder that one for a second: It means nobody, not even the most anti-game researchers, has evidence that violent games lead to violent acts. Instead, the studies claim that the games make it more likely that a kid will manifest "aggressive" or anti-social thoughts or behavior. (What one researcher calls aggression, though, another might label "boys at recess.")
2. The measurement of "aggression" is not consistent from one study to the next. "Ferguson and Kilburn raised a potentially valid point about the use of unstandardized aggression measures," write Anderson and Co. If I understand their argument, they're claiming this doesn't matter, because aggression is aggression, however it is quantified: Your score on one measure will be consistent with your score on another. Maybe so, but the anti-game case would be much stronger if the all those rafts of papers were referring to the same thing.
3. The correlation between violent videogames and aggressive or anti-social behavior is not very strong. In many studies it's between r=.1 and r=.3, on a scale where 1.0 is the strongest possible correlation and 0 is no relationship at all. R=.3 is not huge: As Ferguson like to point out, the correlation between rising sales of violent games and plunging rates of violent crime per 100,000 youths is much larger, a nearly perfect r=.95.
Anderson and his colleagues concede that correlations in violent-games studies are "small" to "medium" in size. But, they write in the Much Ado paper,  "effect sizes" in that range were big enough to establish a risk to physical health from lead, asbestos or second-hand smoke. (Ferguson says no; as for me, when I Googled asbestos and cancer, I turned up references to correlations ranging from r=.4 to r=.88.) Their other line of defense really gave me pause. It is that "this is the range of effects most commonly observed in social psychology." Hmm.
This journal-jousting will no doubt continue (I highly recommend a read of the three papers below for more details).  Meanwhile, the rebels are on the move: Ferguson's latest paper says it's time to examine the positive effects of violent videogames. That would include the way online games encourage socializing; the way first-person shooters hone visual acuity; and the way young cancer patients benefit from playing this.
Ferguson, C. (2010). Blazing angels or resident evil? Can violent video games be a force for good? Review of General Psychology, 14 (2), 68-81 DOI: 10.1037/a0018941  
Ferguson, C., & Kilburn, J. (2010). Much ado about nothing: The misestimation and overinterpretation of violent video game effects in Eastern and Western nations: Comment on Anderson et al. (2010). Psychological Bulletin, 136 (2), 174-178 DOI: 10.1037/a0018566
Bushman, B., Rothstein, H., & Anderson, C. (2010). Much ado about something: Violent video game effects and a school of red herring: Reply to Ferguson and Kilburn (2010). Psychological Bulletin, 136 (2), 182-187 DOI: 10.1037/a0018718
Imagine the birth of an entirely new ocean on the Martian surface.
Artist rendition of a terraformed Mars. Flickr.
Technology & Innovation
There are lots of arguments for exploring space and colonizing other planets. Exploration is a natural part of our species. The knowledge we gain is bound to propel our scientific understanding and capabilities. And admittedly, there are plenty of commercial reasons too. Plus, sooner or later, the Earth is going to die out. To survive, we'll have to become an interplanetary species.
Due to ours being a richer world today, and advances in rocketry and other technologies, a 21st century space race is just starting to heat up. This time, it isn't just the US and Russia competing, but India, China, the EU, and private organizations such as SpaceX and Mars One. They all want to build the first permanent colony on the Red Planet. Mars One has the swiftest timeline, placing people on the surface by 2025. NASA has a far more cautious plan, establishing a permanent colony by 2040. But there are lots of stumbling blocks to overcome.
From the surface, Mars looks like a cold and forbidding wasteland, devoid of a breathable atmosphere, running water, and virtually uninhabitable, without spacesuits and airtight shelters. It's worse than that, however. The planet is being constantly bombarded by solar radiation. Consistent exposure is likely to cause deadly cancers and early onset Alzheimer's among colonists. How quickly or slowly these develop however, is anyone's guess. It depends upon shielding and lots of other factors.
Astronauts working on the international space station (ISS) encounter the same amount of radiation as workers at a nuclear power plant. But those astronauts are only up there for a limited time. The longest mission to date is 215 days. What happens if you are constantly exposed for the rest of your life? There could also be serious consequences in terms of fertility. Radiation exposure can cause mutations in the genetic code, birth defects, and even infertility. How could a colony survive?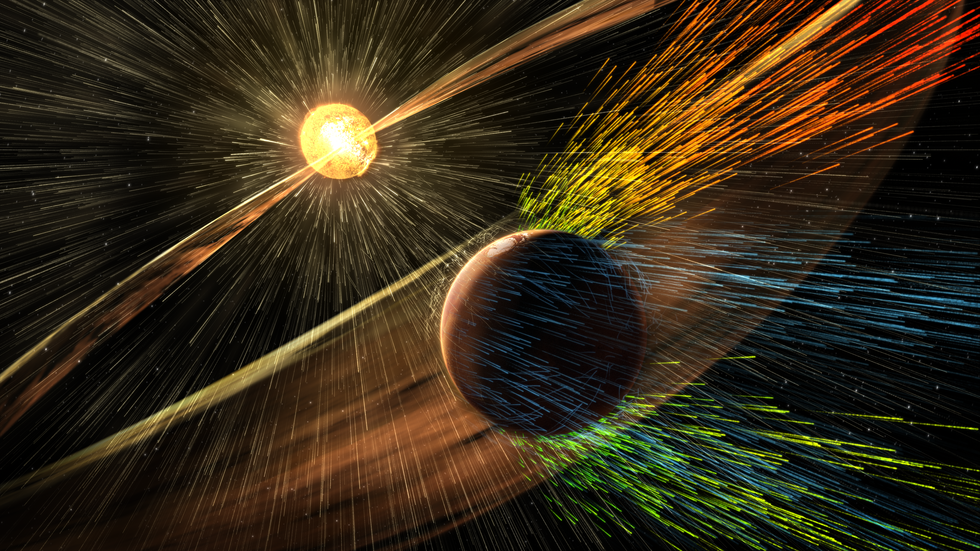 Artist rendition of Mars being buffeted by solar radiation. By: NASA/Jim Green.
Despite terrific obstacles, the planet has potential. All the things that are needed to terraform the planet are there, minus a strong magnetic field. There is water for instance, frozen at the poles and within the soil. It once had an atmosphere, free flowing water, an ocean, and perhaps even life.
Many colonization plans suggest terraforming the planet, which is expected to take hundreds of years. Some include releasing greenhouse gasses into the atmosphere from factories, or as Elon Musk has proposed, using nuclear weapons at the poles to melt the ice caps. But with this new plan, nature actually does all the work itself, without the dangers inherent in those other options.  
At a recent NASA workshop, held at its headquarters in Washington, D.C., Planetary Science Division director Jim Green, proposed a captivating alternative—encapsulate the planet in an "artificial magnetosphere." The Planetary Science Vision 2050 Workshop is an unveiling of proposals, which could occur or at least begin, by midcentury.  
Dr. Green's presentation was entitled, "A Future Mars Environment for Science and Exploration." Green and a panel of colleagues proposed an artificial "magnetic shield" provided by a device, dubbed Mars L1. This would remain in steady orbit between the planet and the sun, shielding it from solar bombardment.
The basic idea is having an object create a large electric circuit or dipole, generating enough energy to cover the planet in an artificial magnetic field. This would be composed of two oppositely charged magnets connected to inflatable structures, placed in orbit somewhere between Mars and the sun. One important aspect according to Dr. Green, "We need to be able then to also modify that direction of the magnetic field so that it always pushes the solar wind away."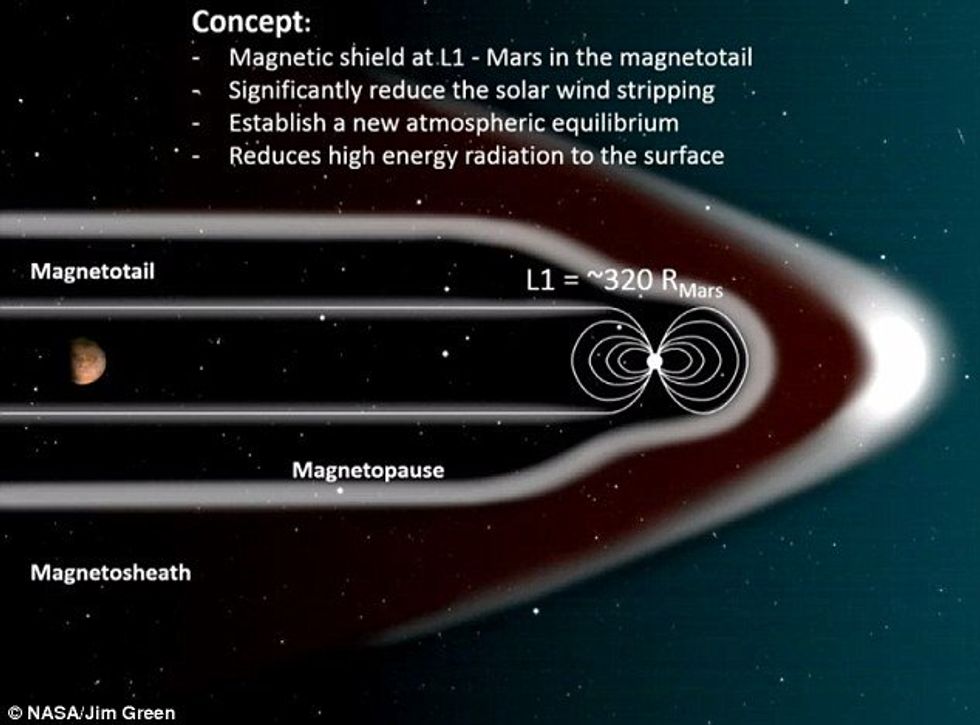 Building an artificial magnetosphere around Mars. By: NASA/Jim Green.
Though it sounds, what the presenter called "fanciful," experiments creating miniature magnetospheres are already ongoing. These are in hopes of devising a way to protect astronauts aboard the ISS as well as manned spacecraft. Green wants to scale up such a system to cover a whole planet. "It may be feasible that we can get up to these higher field strengths that are necessary to provide that shielding," he said.
Once stable, the "magnetotail" is expected to allow a revival of the atmosphere. Half the atmospheric pressure of our own planet could occur within just a few years. 4.2 billion years ago, something caused the Red Planet's magnetic field to severely weaken. Since that time, highly charged solar particles have slowly stripped it of its atmosphere, causing Mars to go from a warm, wet planet, to a dry, cold one. Today, the atmosphere is 100 times thinner than ours.
Shielding from such particles would warm the surface ~7 °F (4 °C). This would then melt the CO² at the poles, helping to build up the atmosphere. By creating a greenhouse effect, the ice on the planet's surface should melt. "Perhaps one-seventh of the ancient ocean could return to Mars," Dr. Green said. At its current rate, this would take 700 million years.
Though the plan is entirely theoretical, if it worked, the planet could actually be livable in about a century or so, NASA scientists claim. That's just a few generations. It's vital to colonization too, as any sustainable colony will sooner or later have to start growing its own food. The distance from Earth to Mars is just too great. If it works, it could add an important tool to terraforming and help us colonize other places. "The solar system is ours, let's take it," Green said.
To learn more about Terraforming Mars, click here: 
Climate change and artificial intelligence pose substantial — and possibly existential — problems for humanity to solve. Can we?
Credit: stokkete / 223237936 via Adobe Stock
13-8
Just by living our day-to-day lives, we are walking into a disaster.
Can humanity wake up to avert disaster?
Perhaps COVID was the wake-up call we all needed.
Does humanity have a chance for a better future, or are we just unable to stop ourselves from driving off a cliff? This was the question that came to me as I participated in a conference entitled The Future of Humanity hosted by Marcelo's Institute for Cross-Disciplinary Engagement. The conference hosted an array of remarkable speakers, some of whom were hopeful about our chances and some less so. But when it came to the dangers facing our project of civilization, two themes appeared in almost everyone's talks.
And here's the key aspect that unifies those dangers: we are doing it to ourselves.
The problem of climate change
The first existential crisis that was discussed was, as you might guess, climate change. Bill McKibben, the journalist and now committed activist who first began documenting the climate crisis as far back as the 1980s, gave us a history of humanity's inability to marshal action even in the face of mounting scientific evidence. He spoke of the massive, well-funded disinformation efforts paid for by the fossil fuel industry to keep that action from being taken because it would hurt their bottom lines.
It's not like some alien threat has arrived and will use a mega-laser to drive the Earth's climate into a new and dangerous state. Nope, it's just us — flying around, using plastic bottles, and keeping our houses toasty in the winter.
Next Elizabeth Kolbert, one of America's finest non-fiction writers, gave a sobering portrait of the state of efforts that attempt to deal with climate change through technological fixes. Based on her wonderful new book, she looked at the problem of control when it comes to people and the environment. She spoke of how often we get into trouble when we try to exert control over things like rivers or animal populations only to find that these efforts go awry due to unintended consequences. This requires new layers of control which, in turn, follow the same path.
Credit: Jo-Anne McArthur via Unsplash
At the end of the talk, she focused on attempts to deal with climate change through new kinds of environmental controls with the subtext being that we are likely to run into the same cycle of unintended consequences and attempts to repair the damage. In a question-and-answer period following her talk, Kolbert was decidedly not positive about the future. Because she had looked so deeply into the possibilities of using technology to get us out of the climate crisis, she was dubious that a tech fix was going to save us. The only real action that will matter, she said, is masses of people in the developed would reducing their consumption. She didn't see that happening anytime soon.

The problem of artificial intelligence
Another concern was over artificial intelligence. Here the concern was not so much existential. By this, I mean the speakers were not fearful that some computer was going to wake up into consciousness and decide that the human race needed to be enslaved. Instead, the danger was more subtle but no less potent. Susan Halpern, also one of our greatest non-fiction writers, gave an insightful talk that focused on the artificial aspect of artificial intelligence. Walking us through numerous examples of how "brittle" machine learning algorithms at the heart of modern AI systems are, Halpern was able to pinpoint how these systems are not intelligent at all but carry all the biases of their makers (often unconscious ones). For example, facial recognition algorithms can have a hard time differentiating the faces of women of color, most likely because the "training data sets" the algorithms were taught were not representative of these human beings. But because these machines supposedly rely on data and "data don't lie," these systems get deployed into everything from making decisions about justice to making decisions about who gets insurance. And these are decisions that can have profound effects on people's lives.
Then there was the general trend of AI being deployed in the service of both surveillance capitalism and the surveillance state. In the former, your behavior is always being watched and used against you in terms of swaying your purchasing decisions; in the latter, you are always being watched by those in power. Yikes!
The banality of danger
In listening to these talks I was struck by how mundane the sources of these dangers were when it comes to day-to-day life. Unlike nuclear war or some lone terrorist building a super-virus (threats that Sir Martin Rees eloquently spoke of), when it comes to the climate crisis and an emerging surveillance culture, we are collectively doing it to ourselves through our own innocent individual actions. It's not like some alien threat has arrived and will use a mega-laser to drive the Earth's climate into a new and dangerous state. Nope, it's just us — flying around, using plastic bottles, and keeping our houses toasty in the winter. And it's not like soldiers in black body armor arrive at our doors and force us to install a listening device that tracks our activities. Nope, we willingly set them up on the kitchen counter because they are so dang convenient. These threats to our existence or to our freedoms are things that we are doing just by living our lives in the cultural systems we were born into. And it would take considerable effort to untangle ourselves from these systems.
So, what's next then? Are we simply doomed because we can't collectively figure out how to build and live with something different? I don't know. It's possible that we are doomed. But I did find hope in the talk given by the great (and my favorite) science fiction writer Kim Stanley Robinson. He pointed to how different eras have different "structures of feeling," which is the cognitive and emotional background of an age. Robinson looked at some positive changes that emerged in the wake of the COVID pandemic, including a renewed sense that most of us recognize that we're all in this together. Perhaps, he said, the structure of feeling in our own age is about to change.
Let us hope, and where we can, let us act.
New research shines a light on the genetics of sudden cardiac deaths.
Photo: Pixel-Shot / Adobe Stock
Surprising Science
Soccer player Christian Eriksen of Denmark recently collapsed on the field from a cardiac arrest. Thankfully, he survived.
A new study examined the genetics underlying unexplained sudden cardiac death.
About 20 percent of these unexplained deaths are likely due to genetics.
The football world was rocked recently when Denmark's Christian Eriksen collapsed while suffering from cardiac arrest on the field during a European Championship match on June 12. The 29-year-old star has won the Danish Football Player of the year five times. Doctors are still baffled as to why an athlete in prime shape would experience sudden cardiac arrest.
While Eriksen's case remains a mystery, a large team of researchers from the University of Maryland School of Medicine recently looked into the reasons a person with no apparent health problems dies from sudden cardiac death (SCD). Their study, published in JAMA Cardiology, found that roughly 20 percent of unexplained cases involve genetics.
The mystery of sudden cardiac death
SCDs are common, with between 180,000 to 450,000 occurring every year in the United States. While coronary heart disease is involved in between 50 to 75 percent of these cases, doctors are uncertain of the reasons in 30 to 40 percent of cases.
The team notes that most research on SCDs, such as in New Zealand, Denmark, and South Korea, tend to focus on homogenous populations of people under age 35. One study based in New York investigated a racially diverse cohort but included a number of infants. While these studies looked at genetic components of SCD, they write, "No systematic comparison of the genetics underlying cases of unexplained SCD between adult White and African American descendants has ever been conducted."
The State of Maryland's medical examiner's office has been collecting data on SCDs for over two decades, which gave the team a rich collection of data to pull from — over 5,000 such cases. From that data set, the researchers looked at 683 African American and white adults (median age: 41). In total, the DNA of 413 patients who died from unexplained SCD was genetically sequenced. Thirty different cardiomyopathy genes and 38 arrhythmia genes were examined.
Genetic screens for sudden cardiac death
Clinical associate professor of medicine and corresponding author Aloke Finn explains the importance of rooting out the cause of SCDs: "Genetic screening isn't routinely used in cardiology, and far too many patients still die suddenly from a heart condition without having any previously established risk factors. We need to do more for them."
One surprising finding was the large number of the deceased that carried the genetic variant for hypertrophic cardiomyopathy (HCM), which causes the heart's muscle tissue to be abnormally thick. This could explain why people with no apparent heart disease experience cardiac arrest seemingly out of nowhere. While HCM is a somewhat common heart disorder (with a prevalence as high as 0.2 percent), we're only just now learning the role of genes in determining who suffers from a fatal attack.
What is clear, however, is that those with particular genetic variants are likelier to die from unexplained SCD earlier in life than others who die from unexplained SCD.By identifying these genes, researchers hope this information could be used in future medical screenings. E. Albert Reece, Dean of the University of Maryland School of Medicine, believes this could save lives.

"This is a fascinating study that provides important new insights into devastating deaths due to unexplained cardiac abnormalities. It certainly makes the case for more research to address this urgent health need and save lives in the future."
--
Stay in touch with Derek on Twitter. His most recent book is "Hero's Dose: The Case For Psychedelics in Ritual and Therapy."
Technology & Innovation
A new device cured the hiccups 92 percent of the time in a recent study involving more than 200 participants.
Scroll down to load more…