Which U.S. state will be the first to legalize shrooms?
Colorado and Oregon are leading the charge.
05 August, 2018
It was nice to read that Jersey City has become the first city in the state to decriminalize marijuana. Having grown up in New Jersey, and having lived in Jersey City for nine years, I recall the constant paranoia I'd feel walking from the PATH train to my various apartments near Journal Square, Exchange Place, and Grove St. Is the smell seeping out of my backpack? Am I being tailed by that security officer? Such fear does not help in enjoying the actual experience of the plant.
---
Fortunately, I was never arrested... which is not true for many marijuana users. I remember visiting Amsterdam in 2000 (I lived in Jersey City at the time), walking into a shop to purchase marijuana, sitting down at a table, and enjoying a joint alongside a cup of hash hot chocolate. The entire experience felt not only natural but civil; here is a culture that supports the simple pleasure offered by plants.
During that trip, I purchased psilocybin just as casually. Of course, "magic mushrooms" are unfairly thrown into the same batch as marijuana, LSD, ayahuasca, and MDMA. All of these substances have different (though sometimes related) interactions inside of the human body and should be treated as such. While marijuana gets the lion's share of attention, there are groups advocating for the legalization of mushrooms. Given current social trends, we might soon see this reality.
Denver For Psilocbyin is hoping to get the decriminalization of mushrooms on the ballot in 2019. Besides working for the therapeutic use of psilocybin in treating addiction and depression, their platform includes a broader application, including a directive to "exercise cognitive liberty and explore their consciousness." The lines between specific clinical usages and general overall wellness are being blurred, and for psychedelic advocates, this is the point: you can't be healthy without all of your systems working optimally.
Sickness is an imbalance, but the lines are relatively dependent upon the individual; being proactive in your health is in large part what staves off potential mental and emotional ailments. Our current model—get sick, take a pill—does not address long-term chronic problems that only become known after years or decades. Depression and anxiety don't just happen one day. Just as exercise and good diets are common prescriptions, psychedelics can be integrated as an occasional boost to your outlook.
Or, when needed, substances like psilocybin can be useful for targeted problems. We're seeing that it helps cancer patients feel less distress, helping addicts, and is having a profound effect on the depressed. The less stigmatized substances like this become, the more we'll know just how broad an application it has.
Oregon is also stepping into the spotlight in this movement. A 2017 bill passed by the legislature moved toward decriminalizing heroin, cocaine, and a host of other substances, including psychedelics. The governor signed it shortly afterward, making these drugs a misdemeanor instead of a felony. Baby steps, perhaps, but steps in the right direction.
While Denver is aiming for 2019, the Oregon Psilocybin Society has its sights trained on 2020. The group's specific goal is to better understand the treatment of mental health disorders by using this longtime ritualistic drug that bound societies together under the guidance of a spiritual leader. Outlook matters here too, though 76 percent of respondents in this 2016 study reported that even a bad psilocybin trip resulted in a net positive. (I concur; eating a bit too much can be overwhelming and frightening, but each time it happens you gain perspective and come out the other side invigorated.)
Intention matters as well. Treating psilocybin as a party drug can result in unexpected and unwanted effects. In the sixties, Timothy Leary advocated for widespread dissemination of psychedelics. While he offered disclaimers, the hype was louder than the science, resulting in the criminalization of psychedelics broadly.
We have an opportunity to change that now. While we're not sure what state will step into that role first, one thing is certain: one of them is going to. As with the marijuana industry, you're going to see a whole new world of psychedelics blossom before our eyes.
--
Malcolm Gladwell teaches "Get over yourself and get to work" for Big Think Edge.
Big Think Edge
Learn to recognize failure and know the big difference between panicking and choking.

At Big Think Edge, Malcolm Gladwell teaches how to check your inner critic and get clear on what failure is.

Subscribe to Big Think Edge before we launch on March 30 to get 20% off monthly and annual memberships.
We take fewer mental pictures per second.
Mind & Brain
Recent memories run in our brains like sped-up old movies.
In childhood, we capture images in our memory much more quickly.
The complexities of grownup neural pathways are no match for the direct routes of young brains.
It turns out, that tattoo ink can travel throughout your body and settle in lymph nodes.
17th August 1973: An American tattoo artist working on a client's shoulder. (Photo by F. Roy Kemp/BIPs/Getty Images)
popular
In the slightly macabre experiment to find out where tattoo ink travels to in the body, French and German researchers recently used synchrotron X-ray fluorescence in four "inked" human cadavers — as well as one without. The results of their 2017 study? Some of the tattoo ink apparently settled in lymph nodes.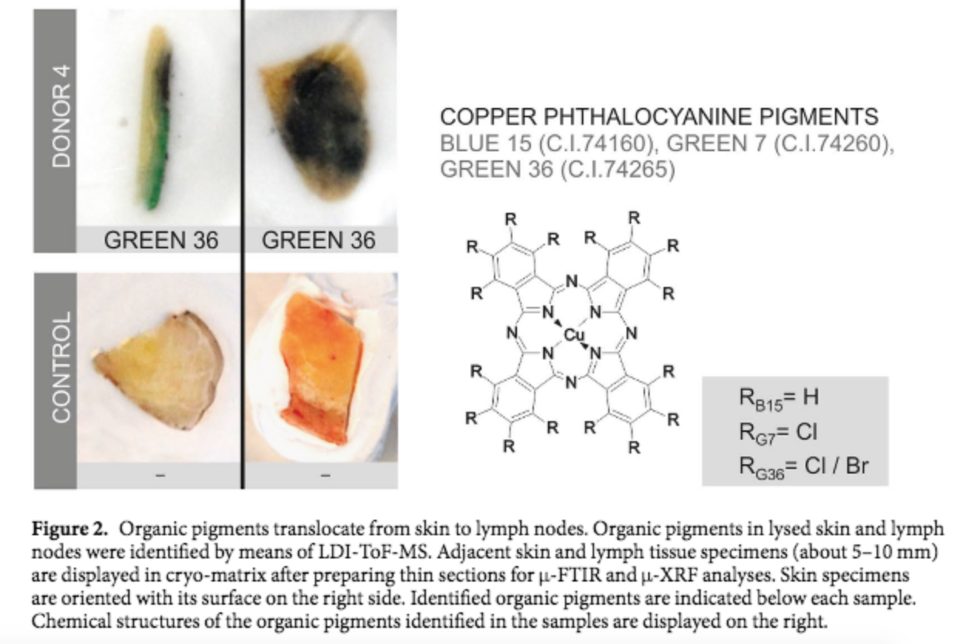 Image from the study.
As the authors explain in the study — they hail from Ludwig Maximilian University of Munich, the European Synchrotron Radiation Facility, and the German Federal Institute for Risk Assessment — it would have been unethical to test this on live animals since those creatures would not be able to give permission to be tattooed.
Because of the prevalence of tattoos these days, the researchers wanted to find out if the ink could be harmful in some way.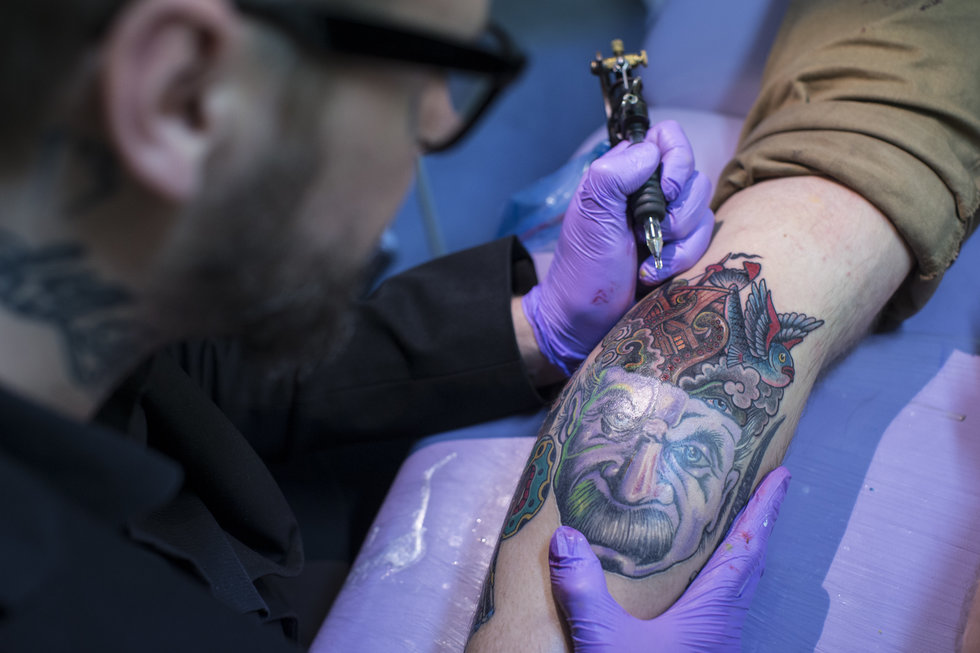 "The increasing prevalence of tattoos provoked safety concerns with respect to particle distribution and effects inside the human body," they write.
It works like this: Since lymph nodes filter lymph, which is the fluid that carries white blood cells throughout the body in an effort to fight infections that are encountered, that is where some of the ink particles collect.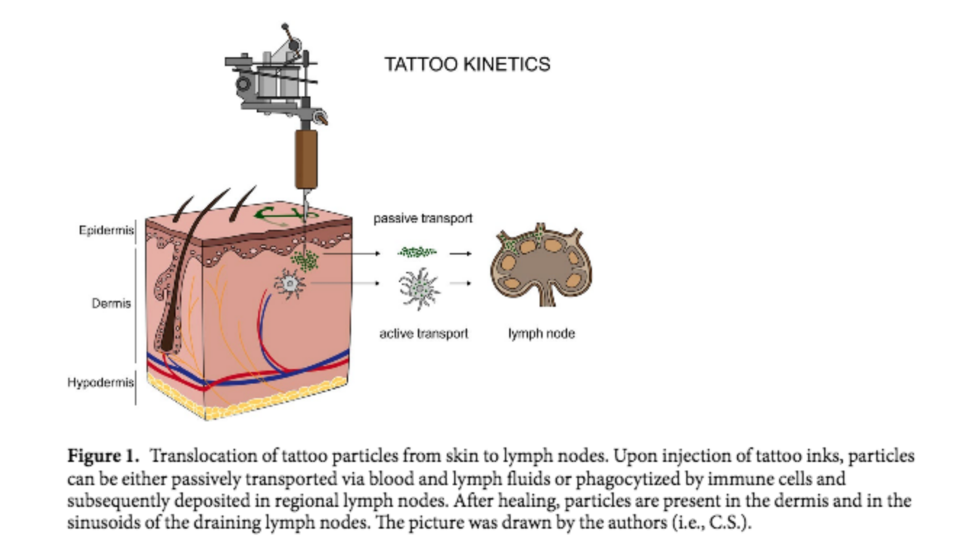 Image by authors of the study.
Titanium dioxide appears to be the thing that travels. It's a white tattoo ink pigment that's mixed with other colors all the time to control shades.
The study's authors will keep working on this in the meantime.
"In future experiments we will also look into the pigment and heavy metal burden of other, more distant internal organs and tissues in order to track any possible bio-distribution of tattoo ink ingredients throughout the body. The outcome of these investigations not only will be helpful in the assessment of the health risks associated with tattooing but also in the judgment of other exposures such as, e.g., the entrance of TiO2 nanoparticles present in cosmetics at the site of damaged skin."
Melting ice is turning up bodies on Mt. Everest. This isn't as shocking as you'd think.
Surprising Science
Mt. Everest is the final resting place of about 200 climbers who never made it down.
Recent glacial melting, caused by global warming, has made many of the bodies previously hidden by ice and snow visible again.
While many bodies are quite visible and well known, others are renowned for being lost for decades.
The bodies that remain in view are often used as waypoints for the living. Some of them are well-known markers that have earned nicknames.
For instance, the image above is of "Green Boots," the unidentified corpse named for its neon footwear. Widely believed to be the body of Tsewang Paljor, the remains are well known as a guide point for passing mountaineers. Perhaps it is too well known, as the climber David Sharp died next to Green Boots while dozens of people walked past him- many presuming he was the famous corpse.
A large area below the summit has earned the discordant nickname "rainbow valley" for being filled with the bright and colorfully dressed corpses of maintainers who never made it back down. The sight of a frozen hand or foot sticking out of the snow is so common that Tshering Pandey Bhote, vice president of Nepal National Mountain Guides Association claimed: "most climbers are mentally prepared to come across such a sight."
Other bodies are famous for not having been found yet. Sandy Irvine, the partner of George Mallory, may have been one of the first two people to reach the summit of Everest a full thirty years before Edmund Hillary and Tenzing Norgay did it. Since they never made it back down, nobody knows just how close to the top they made it.
Mallory's frozen body was found by chance in the nineties without the Kodak cameras he brought up to record the climb with. It has been speculated that Irvine might have them and Kodak says they could still develop the film if the cameras turn up. Circumstantial evidence suggests that they died on the way back down from the summit, Mallory had his goggles off and a photo of his wife he said he'd put at the peak wasn't in his coat. If Irving is found with that camera, history books might need rewriting.
As Everest's glaciers melt its morbid history comes into clearer view. Will the melting cause old bodies to become new landmarks? Will Sandy Irvine be found? Only time will tell.
<div class="ad-tag"> <div class="ad-tag__inner"> <div class="gallery_ad"></div> </div> </div>
Big think's weekly newsletter.
Get smarter faster from the comfort of your inbox.
See our newsletter privacy policy
here
Most Popular
Most Recent
Big think's weekly newsletter.
Get smarter faster from the comfort of your inbox.
See our newsletter privacy policy
here
© Copyright 2007-2018 & BIG THINK, BIG THINK EDGE,
SMARTER FASTER trademarks owned by The Big Think, Inc. All rights reserved.