Big ideas.
Once a week.
Subscribe to our weekly newsletter.
What makes Fortnite so addictive?
Fortnite surpassed 40 million users recently. What's the appeal?
29 May, 2018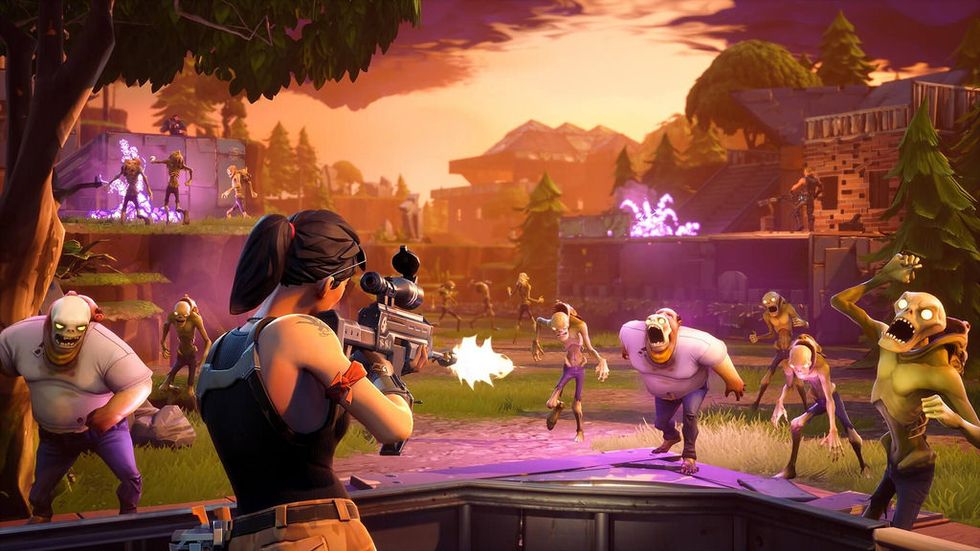 It shouldn't be surprising that over 40 million people are playing Fortnite, an Epic Games production in which 98 percent of humans disappear and the final 2 percent are left to fend off zombies-like creatures. The game is so popular that Epic announced it will be putting $100 million into eSports player pools over the next year. Even watching people play Fortnite has become a full-time occupation: 
---
People across the world have spent more than 5,000 years watching Fortnite streams on a video game streaming service called Twitch over the past two weeks alone.
That information is provided by an article on NBA players addicted to Fortnite. Some get hooked recovering from an injury while others log in hours before and after games. To some, game time is a distraction from Fortnite binges. Parallels between playing on a professional team and an online team are telling. As Orlando Magic shooting guard Terrence Ross says,
One hundred people on a map, survival game—find your supplies, weapons, materials. And basically after that, it's every man for himself.
Yet when playing in team or duo mode, collaboration matters. Communities form around games in the same manner as sports teams. While it might seem odd that people watch others play video games, consider mukbang: thousands of Koreans pay to watch other people eat. The biggest mukbang stars net $10,000 a month alongside lucrative sponsorship deals. 
Why is Fortnite so addictive?
As with most every video game, those dopamine hits for small accomplishments are riveting. Problem-solving is an important skill set we innately attempt to hone, which games like Fortnite fulfill. Feeling a part of a larger mission, in this case destroying zombie creatures, offers a sense of purpose. True, that purpose might not be saving a democracy, but in a less violent world, it fulfills a certain yearning.
In his book, A Terrible Love of War

, the late psychologist James Hillman writes that war is a "mythical happening." Veterans have a hard time reintegrating into society due to many reasons, but two are prominent: the brotherhood (and increasingly, sisterhood) one is part of, and the shared sense of meaning soldiers feel when engaged in mortal combat. The rules of battle and those of society are often at odds—a tension painfully explored in the Netflix movie, Mudbound, for one.
While we are warring less with one another these days, it is still a prominent fact of daily life, with increasing global tensions potentially throwing us in the other direction soon. As Hillman notes, in 5,600 years of recorded history there have been 14,600 wars. This does not include the daily violence that people around the world face. Yet Hillman offers caution in normalizing it:
To declare war "normal" does not eliminate the pathologies of behavior, the enormities of devastation, the unbearable pain suffered in bodies and souls. Nor does the idea that war is normal justify it.
War was a way of life for a long time. Still is, in certain regards. Homo sapiens warred against the half-dozen other homo genera before decimating them. They also waged war against other animals, enslaving billions in a process that continues to this day. Physical combat was a regular part of life until it wasn't, at least not so much. In War is a Force That Gives Us Meaning, the journalist Christopher Hedges writes,
The accepted principles of humanity, the archaic code of the warrior, became quaint and obsolete. The technological and depersonalized levels of organized killing begun in World War I have defined warfare ever since.
Returning to Mudbound, Pappy might only have killed one man in his life, but he looked that man in his eyes while doing so. This gave him the moral authority (or so he believes) to criticize his son, Jamie, a decorated World War II bomber pilot, for thinking that the hundreds of soldiers he killed from miles up in the air irrelevant. Today, with drones controlled from continents away, the entire process of war has become like…a video game.
If the choice is between actually killing others and virtually doing so, the latter is a far better option. The distance between confronting a flesh and blood human and an avatar is vast; beyond hand-eye coordination, the virtual world poorly prepares you for real-world aggression. Yet having a sense of purpose is infinitely better psychologically than not having one, even if that purpose is invented—and really, on a macro level, what sense of purpose is not in some way invented?
While video games are sometimes criticized for inciting real-world violence, a popular claim by NRA supporters whenever school shootings occur, the opposite is true. Epic is pumping so much money into Fortnite because it is the game of the moment, but someday soon gamers will grow bored and seek new adventures, the history of human mythology playing out on a screen. Perhaps the vehicle is not as relevant as the feelings it instills in the participant. If this addiction is enhancing one's experience of life, so be it. It's better than the alternative.
--
Inventions with revolutionary potential made by a mysterious aerospace engineer for the U.S. Navy come to light.
Credit: Getty Images
Surprising Science
U.S. Navy holds patents for enigmatic inventions by aerospace engineer Dr. Salvatore Pais.
Pais came up with technology that can "engineer" reality, devising an ultrafast craft, a fusion reactor, and more.
While mostly theoretical at this point, the inventions could transform energy, space, and military sectors.
The U.S. Navy controls patents for some futuristic and outlandish technologies, some of which, dubbed "the UFO patents," came to light recently. Of particular note are inventions by the somewhat mysterious Dr. Salvatore Cezar Pais, whose tech claims to be able to "engineer reality." His slate of highly-ambitious, borderline sci-fi designs meant for use by the U.S. government range from gravitational wave generators and compact fusion reactors to next-gen hybrid aerospace-underwater crafts with revolutionary propulsion systems, and beyond.
Of course, the existence of patents does not mean these technologies have actually been created, but there is evidence that some demonstrations of operability have been successfully carried out. As investigated and reported by The War Zone, a possible reason why some of the patents may have been taken on by the Navy is that the Chinese military may also be developing similar advanced gadgets.
Among Dr. Pais's patents are designs, approved in 2018, for an aerospace-underwater craft of incredible speed and maneuverability. This cone-shaped vehicle can potentially fly just as well anywhere it may be, whether air, water or space, without leaving any heat signatures. It can achieve this by creating a quantum vacuum around itself with a very dense polarized energy field. This vacuum would allow it to repel any molecule the craft comes in contact with, no matter the medium. Manipulating "quantum field fluctuations in the local vacuum energy state," would help reduce the craft's inertia. The polarized vacuum would dramatically decrease any elemental resistance and lead to "extreme speeds," claims the paper.
Not only that, if the vacuum-creating technology can be engineered, we'd also be able to "engineer the fabric of our reality at the most fundamental level," states the patent. This would lead to major advancements in aerospace propulsion and generating power. Not to mention other reality-changing outcomes that come to mind.
Among Pais's other patents are inventions that stem from similar thinking, outlining pieces of technology necessary to make his creations come to fruition. His paper presented in 2019, titled "Room Temperature Superconducting System for Use on a Hybrid Aerospace Undersea Craft," proposes a system that can achieve superconductivity at room temperatures. This would become "a highly disruptive technology, capable of a total paradigm change in Science and Technology," conveys Pais.
High frequency gravitational wave generator.
Credit: Dr. Salvatore Pais
Another invention devised by Pais is an electromagnetic field generator that could generate "an impenetrable defensive shield to sea and land as well as space-based military and civilian assets." This shield could protect from threats like anti-ship ballistic missiles, cruise missiles that evade radar, coronal mass ejections, military satellites, and even asteroids.
Dr. Pais's ideas center around the phenomenon he dubbed "The Pais Effect". He referred to it in his writings as the "controlled motion of electrically charged matter (from solid to plasma) via accelerated spin and/or accelerated vibration under rapid (yet smooth) acceleration-deceleration-acceleration transients." In less jargon-heavy terms, Pais claims to have figured out how to spin electromagnetic fields in order to contain a fusion reaction – an accomplishment that would lead to a tremendous change in power consumption and an abundance of energy.
According to his bio in a recently published paper on a new Plasma Compression Fusion Device, which could transform energy production, Dr. Pais is a mechanical and aerospace engineer working at the Naval Air Warfare Center Aircraft Division (NAWCAD), which is headquartered in Patuxent River, Maryland. Holding a Ph.D. from Case Western Reserve University in Cleveland, Ohio, Pais was a NASA Research Fellow and worked with Northrop Grumman Aerospace Systems. His current Department of Defense work involves his "advanced knowledge of theory, analysis, and modern experimental and computational methods in aerodynamics, along with an understanding of air-vehicle and missile design, especially in the domain of hypersonic power plant and vehicle design." He also has expert knowledge of electrooptics, emerging quantum technologies (laser power generation in particular), high-energy electromagnetic field generation, and the "breakthrough field of room temperature superconductivity, as related to advanced field propulsion."
Suffice it to say, with such a list of research credentials that would make Nikola Tesla proud, Dr. Pais seems well-positioned to carry out groundbreaking work.
A craft using an inertial mass reduction device.
Credit: Salvatore Pais
The patents won't necessarily lead to these technologies ever seeing the light of day. The research has its share of detractors and nonbelievers among other scientists, who think the amount of energy required for the fields described by Pais and his ideas on electromagnetic propulsions are well beyond the scope of current tech and are nearly impossible. Yet investigators at The War Zone found comments from Navy officials that indicate the inventions are being looked at seriously enough, and some tests are taking place.
If you'd like to read through Pais's patents yourself, check them out here.
Laser Augmented Turbojet Propulsion System
Credit: Dr. Salvatore Pais
China has reached a new record for nuclear fusion at 120 million degrees Celsius.
Technology & Innovation
This article was originally published on our sister site, Freethink.
China wants to build a mini-star on Earth and house it in a reactor. Many teams across the globe have this same bold goal --- which would create unlimited clean energy via nuclear fusion.
But according to Chinese state media, New Atlas reports, the team at the Experimental Advanced Superconducting Tokamak (EAST) has set a new world record: temperatures of 120 million degrees Celsius for 101 seconds.
Yeah, that's hot. So what? Nuclear fusion reactions require an insane amount of heat and pressure --- a temperature environment similar to the sun, which is approximately 150 million degrees C.
If scientists can essentially build a sun on Earth, they can create endless energy by mimicking how the sun does it.
If scientists can essentially build a sun on Earth, they can create endless energy by mimicking how the sun does it. In nuclear fusion, the extreme heat and pressure create a plasma. Then, within that plasma, two or more hydrogen nuclei crash together, merge into a heavier atom, and release a ton of energy in the process.
Nuclear fusion milestones: The team at EAST built a giant metal torus (similar in shape to a giant donut) with a series of magnetic coils. The coils hold hot plasma where the reactions occur. They've reached many milestones along the way.
According to New Atlas, in 2016, the scientists at EAST could heat hydrogen plasma to roughly 50 million degrees C for 102 seconds. Two years later, they reached 100 million degrees for 10 seconds.
The temperatures are impressive, but the short reaction times, and lack of pressure are another obstacle. Fusion is simple for the sun, because stars are massive and gravity provides even pressure all over the surface. The pressure squeezes hydrogen gas in the sun's core so immensely that several nuclei combine to form one atom, releasing energy.
But on Earth, we have to supply all of the pressure to keep the reaction going, and it has to be perfectly even. It's hard to do this for any length of time, and it uses a ton of energy. So the reactions usually fizzle out in minutes or seconds.
Still, the latest record of 120 million degrees and 101 seconds is one more step toward sustaining longer and hotter reactions.
Why does this matter? No one denies that humankind needs a clean, unlimited source of energy.
We all recognize that oil and gas are limited resources. But even wind and solar power --- renewable energies --- are fundamentally limited. They are dependent upon a breezy day or a cloudless sky, which we can't always count on.
Nuclear fusion is clean, safe, and environmentally sustainable --- its fuel is a nearly limitless resource since it is simply hydrogen (which can be easily made from water).
With each new milestone, we are creeping closer and closer to a breakthrough for unlimited, clean energy.
The symbol for love is the heart, but the brain may be more accurate.
Videos
How love makes us feel can only be defined on an individual basis, but what it does to the body, specifically the brain, is now less abstract thanks to science.
One of the problems with early-stage attraction, according to anthropologist Helen Fisher, is that it activates parts of the brain that are linked to drive, craving, obsession, and motivation, while other regions that deal with decision-making shut down.
Dr. Fisher, professor Ted Fischer, and psychiatrist Gail Saltz explain the different types of love, explore the neuroscience of love and attraction, and share tips for sustaining relationships that are healthy and mutually beneficial.
Sex & Relationships
A new study suggests that reports of the impending infertility of the human male are greatly exaggerated.
Scroll down to load more…