Big ideas.
Once a week.
Subscribe to our weekly newsletter.
The serious health consequences of not dreaming
Forty percent of Americans get less than seven hours of sleep per night. But there's another key ingredient we're missing: dreams.
25 March, 2018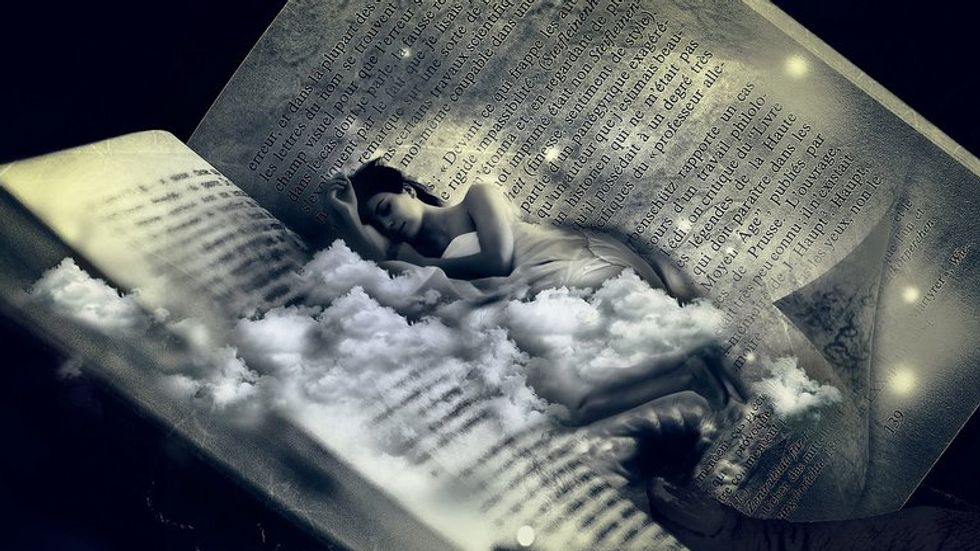 Dream deprivation is damaging our waking hours more than we know.
Carl Jung believed dreams represent archetypal realities obscured during waking consciousness. Dreams reveal more than they conceal, he wrote, countering Freud's idea that subconscious movies were by design secretive. Dreams are an integral component of Jung's theory of individuation, in which our conscious and unconscious lives are integrated.
---
In Jungian philosophy, the conflict and chaos experienced in dreams ultimately bring order to our lives. While Jung's more mystical theories are debatable given our current knowledge of neuroscience, he was not mistaken about the importance of dreaming. As it turns out, their absence is terrible for our health. 
Rowan Hooper, the managing editor at New Scientist, reports that chronic dream deprivation is damaging our waking hours in numerous ways. As I wrote about last year, 40 percent of Americans get less than seven hours of sleep every night; Hooper claims that number is 60 percent in the UK.
This trend is wreaking havoc on our immune and metabolic systems, leading to a variety of diseases and obesity. Forget about focus: the devices that keep us up late at night are ruining our sleep patterns, which has long-term consequences on our memory system. One study showed that denying mice adequate amounts of REM sleep, the cycle in which we dream, the mice couldn't consolidate memories.
We might think this is just a sleep problem, but dreaming is inseparable from our nighttime sojourn through the darkness. Dream problems and sleep problems go hand in hand. We sleep in cycles, each lasting about 90 minutes; we go through three cycles before hitting REM. The longer we sleep, the more time we spend in REM, which is why we are often dreaming when waking up in the morning. If we sleep less than seven hours, however, it becomes harder to achieve this level of REM.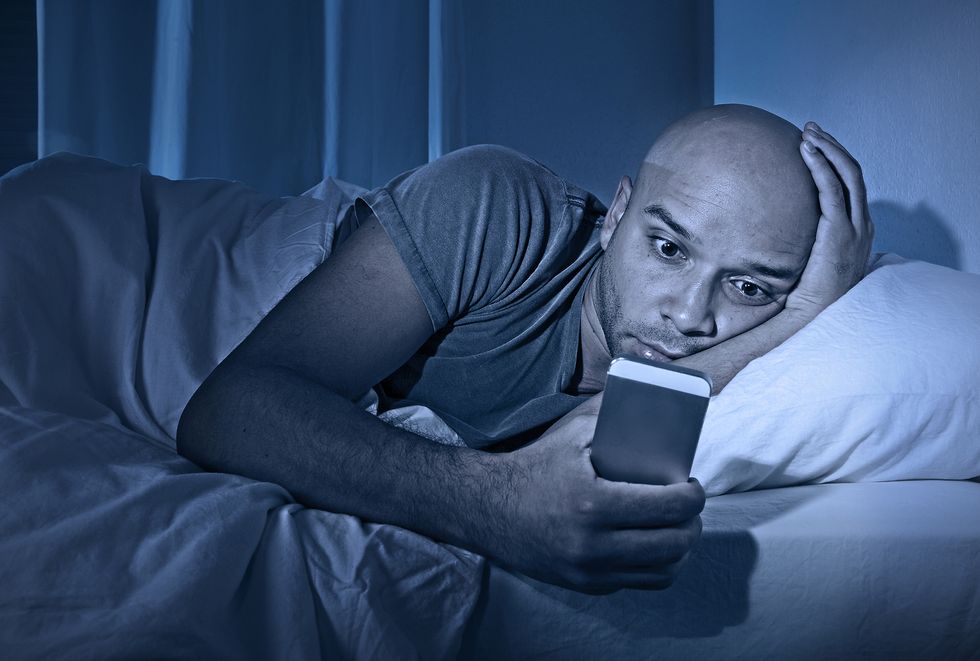 This makes us more than a little groggy. As Hooper writes, sleep problems and digestive issues are also related. Besides mood disorders, missing sleep raises our stress level during the day, which affects how we digest food. The digestive process is interrupted when we don't get the proper amount of shut-eye. 
Hooper points out a connection between the digestion of food and the digestion of emotions. Memory consolidation is a critical reason for dreaming at all. The combination of sleeping and dreaming acts as an emotional stabilizer. We're able to integrate the day's events in a place where, physically speaking, we're vulnerable—our ancestors didn't have locks on their doors. Incredibly, we heal from emotional trauma more quickly when we sleep, and dream, properly.
Except we're not getting enough sleep to cycle through the stages to take advantage of this circadian anti-depressant. Instead, we get depressed and turn to substances like alcohol and pharmaceuticals to nod off. This only makes things worse. Even one drink delays REM—forget about getting drunk. Your sleep is ruined. Antidepressants promote deep sleep at the expense of REM, which also disrupts our dream cycles. 
We're currently fighting many epidemics: the opioid crisis; the increasing wage gap between top earners and everyone else; homelessness; soaring anxiety and depression rates; an epidemic of a lack of common sense. One 2012 study declared that we're in the midst of a sleep epidemic as well.
We're paying for this lack of dreaming in numerous ways, including creativity. One 2009 study stated, "Compared with quiet rest and non-REM sleep, REM enhanced the formation of associative networks and the integration of unassociated information." Volunteers that experienced more REM sleep were better equipped for solving problems requiring creative solutions.
Hooper writes that dreams that include an "emotional core" appear to be a main function of REM sleep. He continues,
You might dream about a hard decision, and the brain monitors your emotional response to it. The next day, your ability to make the decision is easier: you have "slept on it". This phrase or similar exists in most languages, by the way.
He concludes that we should scrutinize sleep patterns as seriously as we do diet and exercise habits. I devoted a section to this idea in my last book: regeneration and restoration are primary components of optimal health. You can't train your body for cardiovascular and physical strength without including regenerative practices like fascia release, stretching, meditation, and, crucially, sleep. Not only do your intense workouts suffer, so do the most important systems in your body. The antidote to an overstimulated culture is available every single evening, but you have to take advantage of it.
As with finding the motivation to hit the gym, we need to motivate ourselves to get to bed earlier, without screens or other technological stimulation right before trying to slip into sleep. When disease strikes we often act surprised as if it "came out of nowhere." That is simply not true. We age every day. The less attention we pay to the simple biological patterns we need to honor, the more we suffer as time rolls on.
Finding meaning in life is impossible without dreams. As Jung recognized, unconscious dreams affect our conscious ability to manifest the target of our ambitions. To thrive we need all the energy we can muster. There is a space in which our daytime and nighttime dreams converge, but you have to practice both in order to discover it.
-- 
Derek Beres is the author of Whole Motion and creator of Clarity: Anxiety Reduction for Optimal Health. Based in Los Angeles, he is working on a new book about spiritual consumerism. Stay in touch on Facebook and Twitter.
So much for rest in peace.
Credit: fergregory via Adobe Stock
Surprising Science
Australian scientists found that bodies kept moving for 17 months after being pronounced dead.
Researchers used photography capture technology in 30-minute intervals every day to capture the movement.
This study could help better identify time of death.
We're learning more new things about death everyday. Much has been said and theorized about the great divide between life and the Great Beyond. While everyone and every culture has their own philosophies and unique ideas on the subject, we're beginning to learn a lot of new scientific facts about the deceased corporeal form.
An Australian scientist has found that human bodies move for more than a year after being pronounced dead. These findings could have implications for fields as diverse as pathology to criminology.
Dead bodies keep moving
Credit: Flickr
Researcher Alyson Wilson studied and photographed the movements of corpses over a 17 month timeframe. She recently told Agence France Presse about the shocking details of her discovery.
Reportedly, she and her team focused a camera for 17 months at the Australian Facility for Taphonomic Experimental Research (AFTER), taking images of a corpse every 30 minutes during the day. For the entire 17 month duration, the corpse continually moved.
"What we found was that the arms were significantly moving, so that arms that started off down beside the body ended up out to the side of the body," Wilson said.
The researchers mostly expected some kind of movement during the very early stages of decomposition, but Wilson further explained that their continual movement completely surprised the team:
"We think the movements relate to the process of decomposition, as the body mummifies and the ligaments dry out."
During one of the studies, arms that had been next to the body eventually ended up akimbo on their side.
The team's subject was one of the bodies stored at the "body farm," which sits on the outskirts of Sydney. (Wilson took a flight every month to check in on the cadaver.)
Her findings were recently published in the journal,
Forensic Science International: Synergy.
Implications of the study
The researchers believe that understanding these after death movements and decomposition rate could help better estimate the time of death. Police for example could benefit from this as they'd be able to give a timeframe to missing persons and link that up with an unidentified corpse. According to the team:
"Understanding decomposition rates for a human donor in the Australian environment is important for police, forensic anthropologists, and pathologists for the estimation of PMI to assist with the identification of unknown victims, as well as the investigation of criminal activity."
While scientists haven't found any evidence of necromancy. . . the discovery remains a curious new understanding about what happens with the body after we die.
Dealing with rudeness can nudge you toward cognitive errors.
Surprising Science
Anchoring is a common bias that makes people fixate on one piece of data.
A study showed that those who experienced rudeness were more likely to anchor themselves to bad data.
In some simulations with medical students, this effect led to higher mortality rates.
Cognitive biases are funny little things. Everyone has them, nobody likes to admit it, and they can range from minor to severe depending on the situation. Biases can be influenced by factors as subtle as our mood or various personality traits.
A new study soon to be published in the Journal of Applied Psychology suggests that experiencing rudeness can be added to the list. More disturbingly, the study's findings suggest that it is a strong enough effect to impact how medical professionals diagnose patients.
Life hack: don't be rude to your doctor
The team of researchers behind the project tested to see if participants could be influenced by the common anchoring bias, defined by the researchers as "the tendency to rely too heavily or fixate on one piece of information when making judgments and decisions." Most people have experienced it. One of its more common forms involves being given a particular value, say in negotiations on price, which then becomes the center of reasoning even when reason would suggest that number should be ignored.
It can also pop up in medicine. As co-author Dr. Trevor Foulk explains, "If you go into the doctor and say 'I think I'm having a heart attack,' that can become an anchor and the doctor may get fixated on that diagnosis, even if you're just having indigestion. If doctors don't move off anchors enough, they'll start treating the wrong thing."
Lots of things can make somebody more or less likely to anchor themselves to an idea. The authors of the study, who have several papers on the effects of rudeness, decided to see if that could also cause people to stumble into cognitive errors. Past research suggested that exposure to rudeness can limit people's perspective — perhaps anchoring them.
In the first version of the study, medical students were given a hypothetical patient to treat and access to information on their condition alongside an (incorrect) suggestion on what the condition was. This served as the anchor. In some versions of the tests, the students overheard two doctors arguing rudely before diagnosing the patient. Later variations switched the diagnosis test for business negotiations or workplace tasks while maintaining the exposure to rudeness.
Across all iterations of the test, those exposed to rudeness were more likely to anchor themselves to the initial, incorrect suggestion despite the availability of evidence against it. This was less significant for study participants who scored higher on a test of how wide of a perspective they tended to have. The disposition of these participants, who answered in the affirmative to questions like, "Before criticizing somebody, I try to imagine how I would feel if I were in his/her place," was able to effectively negate the narrowing effects of rudeness.
What this means for you and your healthcare
The effects of anchoring when a medical diagnosis is on the line can be substantial. Dr. Foulk explains that, in some simulations, exposure to rudeness can raise the mortality rate as doctors fixate on the wrong problems.
The authors of the study suggest that managers take a keener interest in ensuring civility in workplaces and giving employees the tools they need to avoid judgment errors after dealing with rudeness. These steps could help prevent anchoring.
Also, you might consider being nicer to people.
At least 222 typefaces are named after places in the U.S. — and there's still room for more.
Credit
: The Statesider, reproduced with kind permission.
Strange Maps
Here's one pandemic project we approve of: a map of the United Fonts of America.
The question was simple: How many fonts are named after places in the U.S.?
Finding them became an obsession for Andy Murdock. At 222, he stopped looking.
The Neon Museum (a.k.a. Neon Boneyard) in downtown Las Vegas, a monument to the siren call of typography. Credit: Dale Cruse, CC BY 2.0
Who isn't fond of fonts? Even if we don't know their names, we associate specific letter types with certain brands, feelings, and levels of trust.

Typography equals psychology. For example, you don't want to get a message from your doctor, or anybody else in authority, that's set in comic sans — basically, the typeface that wears clown makeup.
A new serif in town
If you want to convey reliability, tradition, and formality, you should go for a serif, a font with decorative bits stuck to its extremities. Well-known examples include Garamond, Baskerville, and Times New Roman. Remove the decoration, and you've got a clean look that communicates clarity, modernity, and innovation. Arial and Helvetica are some of the most popular sans serif fonts.
There's a lot more to font psychology, but let's veer toward another, less explored Venn diagram instead: the overlap between typography and geography. That's where Andy Murdock spent much of his pandemic.
Mr. Murdock is the co-founder of The Statesider, a newsletter about (among other things) travel and landscape in the United States. He remembers his first encounter with a home computer back in 1984 and learning from that Macintosh both the word "font" and the name for the one it used: Chicago.
A map of the United Fonts of America — well, 222 of them.Credit: The Statesider, reproduced with kind permission.
You can see where this is going. Mr Murdock retained a healthy interest in fonts named after places. Over the years, he noted Monaco, London, San Francisco, and Cairo, among many others. "And then, the question of how many fonts are named for U.S. places came up in an editorial meeting at The Statesider," Mr Murdock says.
It's the sort of topic that in other times might never have gone anywhere, but this was the start of the pandemic. "I was stuck for days on end, so I actually started looking into it. At some point, I realized that I could probably find at least one per state." Cue the idea for a map of the "United Fonts of America."
Challenge turns into obsession
But that was easier said than done. Finding location-based fonts turned out to be rather time-consuming. "I definitely didn't realize what I was getting myself into," Mr Murdock recalls. "I could quickly name a few — New York, Georgia, Chicago — but I had no idea that I'd be able to find so many."
What started as a quirky challenge turned into an obsession and a compulsion that would have the accidental font-mapper wake up in the middle of the night and think: Did I check to see if there's a Boise font? (He did; there isn't.)

"The hardest part was knowing when to stop," said Mr Murdock. "Believe me, I know I missed some." In all, he found 222 fonts referencing places in the United States and its territories.
Beautiful but fontless: Boise, Idaho.Credit: Jyoni Shuler, CC BY-SA 4.0
For the most part, these fonts are distributed as the population is: heavy on the coasts and near the Great Lakes, but thin in most parts in between. California (23 fonts) takes the cake, followed by Texas (15), and New York (9).
Some of the fonts have interesting back stories, and in his article for "The Statesider", Mr Murdock provides a few:
Georgia was named after a newspaper headline reading "Alien Heads Found in Georgia."
Fayette is based on the handwriting of the record-keeper of a place called Fayette, now a ghost town in Michigan's Upper Peninsula.
Tahoma and Tacoma are both pre-European names for Mount Rainier in Washington state.
Mostly, the fonts repeat the names of states and cities, but some offer something more interesting, such as the alliterating Cascadia Code or the lyrical Tallahassee Chassis. Other less than ordinary names include Kentuckyfried and Wyoming Spaghetti.
Capturing the spirit of a place
As an unexpected expert in the geographic distribution of location-based fonts, can Mr. Murdock offer any opinion on the qualitative relation between place and typeface?
"Good design of any sort can capture the spirit of a place, or at least one perspective on a place," he says, "but frankly, that only occasionally seems to have been the goal when it comes to typefaces."

In his opinion, the worst fonts reflect a stereotype about a place, rather than the place itself: "Saipan and Hanalei are both made to look like crude bamboo. Those are particularly awful. Pecos feels like it belongs on a bad Tex-Mex restaurant's menu."
California (lower left) is a rich source of location-based typefaces.Credit: The Statesider, reproduced with kind permission.
"Santa Barbara Streets, on the other hand, is quite nice because it captures the font that's actually used on street signs in Santa Barbara. I prefer the typefaces that have a story and a connection to a place, but it's a fine line between being artfully historic and being cartoonishly retro."
Let's finish off Route 66
Glancing over the map, some regions seem more prone to "stereotypefacing" than others: "Tucson, Tombstone, El Paso — you know you're in the Southwest. Art Deco fonts are mostly in the east or around the Great Lakes. In general, you find more sans serif fonts in the western U.S., and more serif fonts in the east, but that's not a hard-and-fast rule."
Noticing a few blank spots on the map, Mr. Murdock helpfully suggests some areas that could do with a few more fonts, including the Carolinas, the Dakotas, Maine, Missouri, West Virginia, New Jersey, and Rhode Island.
Oh, and Route 66. Nearly all of the cities mentioned in the eponymous song have a typeface named after them. "We need Gallup and Barstow to complete the set."
And finally, America's oft-overlooked overseas territories could be a rich seam for type developers: "Some of these names are perfect for a great typeface — Viejo San Juan, St. Croix, Pago Pago, Ypao Beach, Tinian."
To name but a few. Typeface designers, sharpen your pencils!
Map found here at The Statesider, reproduced with kind permission. For more dispatches from the weird interzone between geography and typography, check out Strange Maps #318: The semicolonial state of San Serriffe.
Strange Maps #1090
Got a strange map? Let me know at strangemaps@gmail.com.

Scroll down to load more…