Big ideas.
Once a week.
Subscribe to our weekly newsletter.
Researchers May Have Located the Neurological Origins of Misophonia
Certain sounds, like chewing, drive misophonia sufferers mad. New research might have found a neural misfiring.
07 February, 2017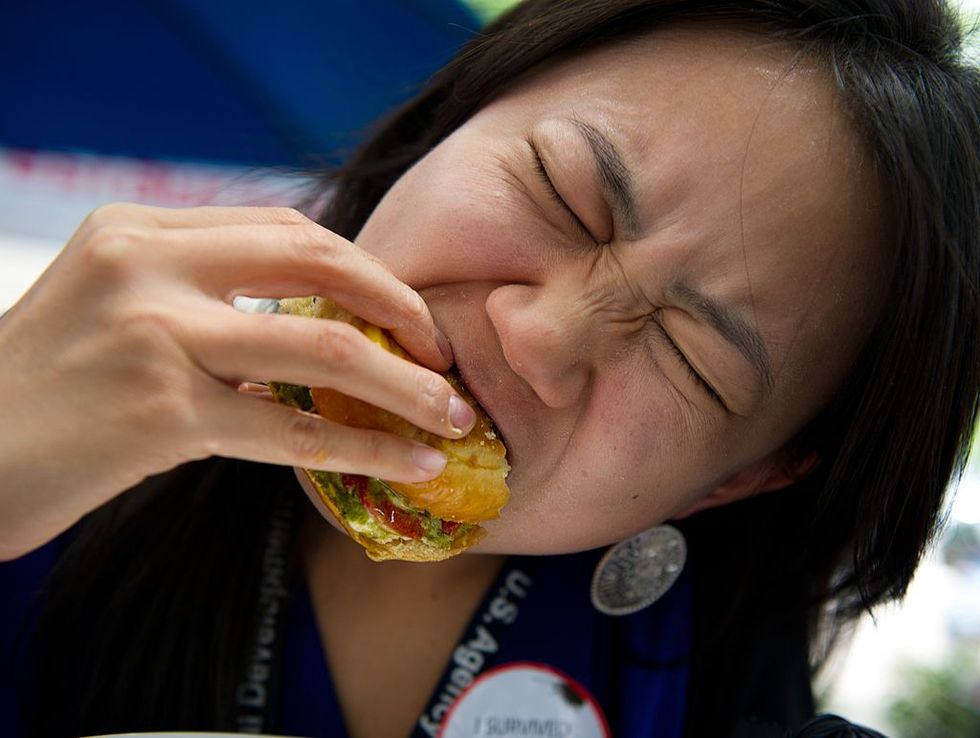 A patron takes a bite of a grasshopper burger June 4, 2014 during a global Pestaurant event sponsored by Ehrlich Pest Control, held at the Occidental Restaurant in Washington, DC. Karen Bleier/AFP/Getty Images
The sound of someone chewing with their mouth open stokes an inner rage. Ditto snapping gum. I've learned to navigate this frustration by keeping headphones in my pocket at all times and only eating with certain friends in loud restaurants. For most of my life I believed it to be a personal quirk until a friend informed me of misophonia five years ago.
---
First coined in 2001 by Emory University's Margaret and Pawel Jastreboff, the term means "hatred of sound." While it has not officially been classified in the DSM, it is speculated that it might be an emotionally-charged aural version of synesthesia or adjunct to anxiety disorder, which makes sense as I've suffered from that for as long. Regardless this condition has been of growing interest to researchers as the Internet has connected sufferers of this mysterious condition.
A new study by researchers at Britain's Newcastle University posits a potential origin. Published in Current Biology, twenty misophonic sufferers and twenty-two controls listened to three sets of sounds: trigger sounds, such as eating and breathing, which invoke negative responses in misophonic individuals; annoying sounds such as a baby crying or someone screaming; and neutral sounds like rain.
Researchers rated how annoying each sound was to each group as well as focused on specific affective reactions in misophonic individuals. Trigger sounds indeed provoked anger and anxiety in them, which researchers located in the anterior insular cortex (AIC), the region responsible for emotional processing and perception of interoceptive (stimuli produced inside of an organism) signals.
Trigger sounds provoked "abnormal functional connectivity" between the AIC and regions responsible for emotional regulation, such as the ventromedial prefrontal cortex, hippocampus, and amygdala. They also increased the heart rate and galvanic skin response of misophonic sufferers. Lastly, those subjects rated bodily perception differently than the controls, correctly indicating their perceived distress.
This is important for those dealing with anxiety disorder. As anyone who suffers panic attacks knows, the onset of certain symptoms sets off a physiological chain resulting in an attack. Dealing with anxiety disorder often involves finding ways to disrupt your nervous system when those symptoms appear so the attack never transpires. Thus far, misophonic individuals have had to utilize the same avoidance or distractive methods, such as leaving the room when someone is chewing or putting in earbuds.
Unlike panic attacks, however, the response to misophonia is usually immediate. Hear the sound and your nervous system moves into fight-flight-freeze mode. Remove the trigger and anger and anxiety are quickly resolved. Yet that is not always possible. Dr. Barron Lerner sometimes sees patients that trigger his misophonia. Thus he's had to use certain techniques for dealing with such situations:
During such encounters, I work to put aside my negative emotions and focus on the patient's concerns, reminding myself that some of the sounds that irritate me are involuntary. I also remind myself that I am a professional whose primary responsibility is to the patient.
Fleeing is not the only option. Cognitive behavioral therapy is one potential source of coping, which involves finding other sounds to focus on—a challenge in a movie theater, though entirely possible at a concert. Research on treating misophonia like tinnitus is also ongoing. Neuroscientist Aage Møller believes it to be a "physiological abnormality" rooted in the minute cells and hairs in our ears that disrupts the normal functioning of our auditory system. This pathway could be what sends the AIC into overdrive.
Initiatives like the documentary, Quiet Please, and support forums are at least educating and connecting misophonics. Dr. Sukhbinder Kumar, the Newcastle study's lead researcher, is hopeful that his group's findings will at least "convince a skeptical medical community that this is a genuine disorder." Inclusion in the next DSM would be a step in the right direction. As humans are sometimes immune to problems not directly affecting them, advice to "just get over it" would hopefully never be uttered again.
By isolating the brain regions responsible for the emotional short circuit opens up exciting areas of treatment for longtime sufferers. Until then, we cope however we can, comforted by the fact that we're not alone. While certainly not a debilitating disorder for most sufferers, there is nothing pleasant about hating sound.
--
Derek's next book, Whole Motion: Training Your Brain and Body For Optimal Health, will be published on 7/4/17 by Carrel/Skyhorse Publishing. He is based in Los Angeles. Stay in touch on Facebook and Twitter.
Certain water beetles can escape from frogs after being consumed.
Surprising Science
A Japanese scientist shows that some beetles can wiggle out of frog's butts after being eaten whole.
The research suggests the beetle can get out in as little as 7 minutes.
Most of the beetles swallowed in the experiment survived with no complications after being excreted.
In what is perhaps one of the weirdest experiments ever that comes from the category of "why did anyone need to know this?" scientists have proven that the Regimbartia attenuata beetle can climb out of a frog's butt after being eaten.
The research was carried out by Kobe University ecologist Shinji Sugiura. His team found that the majority of beetles swallowed by black-spotted pond frogs (Pelophylax nigromaculatus) used in their experiment managed to escape about 6 hours after and were perfectly fine.
"Here, I report active escape of the aquatic beetle R. attenuata from the vents of five frog species via the digestive tract," writes Sugiura in a new paper, adding "although adult beetles were easily eaten by frogs, 90 percent of swallowed beetles were excreted within six hours after being eaten and, surprisingly, were still alive."
One bug even got out in as little as 7 minutes.

Sugiura also tried putting wax on the legs of some of the beetles, preventing them from moving. These ones were not able to make it out alive, taking from 38 to 150 hours to be digested.
Naturally, as anyone would upon encountering such a story, you're wondering where's the video. Thankfully, the scientists recorded the proceedings:
The Regimbartia attenuata beetle can be found in the tropics, especially as pests in fish hatcheries. It's not the only kind of creature that can survive being swallowed. A recent study showed that snake eels are able to burrow out of the stomachs of fish using their sharp tails, only to become stuck, die, and be mummified in the gut cavity. Scientists are calling the beetle's ability the first documented "active prey escape." Usually, such travelers through the digestive tract have particular adaptations that make it possible for them to withstand extreme pH and lack of oxygen. The researchers think the beetle's trick is in inducing the frog to open a so-called "vent" controlled by the sphincter muscle.
"Individuals were always excreted head first from the frog vent, suggesting that R. attenuata stimulates the hind gut, urging the frog to defecate," explains Sugiura.
For more information, check out the study published in Current Biology.
The design of a classic video game yields insights on how to address global poverty.
Politics & Current Affairs
A new essay compares the power-up system in Mario Kart to feedback loops in real-life systems.
Both try to provide targeted benefits to those who most need them.
While games are simpler than reality, Mario's example makes the real-life cases easier to understand.
Poverty can be a self-sustaining cycle that might require an external influence to break it. A new paper published in Nature Sustainability and written by professor Andrew Bell of Boston University suggests that we could improve global anti-poverty and economic development systems by turning to an idea in a video game about a race car-driving Italian plumber.
A primer on Mario Kart
For those who have not played it, Mario Kart is a racing game starring Super Mario and other characters from the video game franchise that bears his name. Players race around tracks collecting power-ups that can directly help them, such as mushrooms that speed up their karts, or slow down other players, such as heat-seeking turtle shells that momentarily crash other karts.
The game is well known for having a mechanism known as "rubber-banding." Racers in the front of the pack get wimpy power-ups, like banana peels to slip up other karts, while those toward the back get stronger ones, like golden mushrooms that provide extra long speed boosts. The effect of this is that those in the back are pushed towards the center, and those in front don't get any boosts that would make catching them impossible.
If you're in last, you might get the help you need to make a last-minute break for the lead. If you're in first, you have to be on the lookout for these breakouts (and the ever-dreaded blue shells). The game remains competitive and fun.
Rubber-banding: A moral and economic lesson from Mario Kart
In the real world, we see rubber-banding used all the time. Welfare systems tend to provide more aid to those who need it than those who do not. Many of them are financed by progressive taxation, which is heavier on the well-off than the down-and-out. Some research suggests that these do work, as countries with lower levels of income inequality have higher social mobility levels.
It is a little more difficult to use rubber-banding in real life than in a video game, of course. While in the game, it is easy to decide who is doing well and who is not, things can be a little more muddled in reality. Furthermore, while those in a racing game are necessarily antagonistic to each other, real systems often strive to improve conditions for everybody or to reach common goals.
As Bell points out, rubber-banding can also be used to encourage sustainable, growth programs that help the poor other than welfare. They point out projects such as irrigation systems in Pakistan or Payments for Ecosystems Services (PES) schemes in Malawi, which utilize positive feedback loops to both provide aid to the poor and promote stable systems that benefit everyone.
Rubber-banding feedback loops in different systems. Mario Kart (a), irrigation systems in Pakistan (b), and PES operations in Malawi (c) are shown. Links between one better-off (blue) and one worse-off (red) individual are highlighted. Feedback in Mario Kart (a), designed to balance the racers, imprAndrew Bell/ Nature Sustainability
In the Malawi case, farmers were paid to practice conservation agriculture to reduce the amount of sediment from their farms flowing into a river. This immediately benefits hydroelectric producers and their customers but also provides real benefits to farmers in the long run as their soil doesn't erode. By providing an incentive to the farmers to conserve the soil, a virtuous cycle of conservation, soil improvement, and improved yields can begin.
While this loop differs from the rubber-banding in Mario, the game's approach can help illustrate the benefits of rubber-banding in achieving a more equitable world.
The task now, as Bell says in his paper, is to look at problems that exist and find out "what the golden mushroom might be."
Satellite imagery can help better predict volcanic eruptions by monitoring changes in surface temperature near volcanoes.
Credit:
Ammit
via Adobe Stock
Surprising Science
A recent study used data collected by NASA satellites to conduct a statistical analysis of surface temperatures near volcanoes that erupted from 2002 to 2019.
The results showed that surface temperatures near volcanoes gradually increased in the months and years prior to eruptions.
The method was able to detect potential eruptions that were not anticipated by other volcano monitoring methods, such as eruptions in Japan in 2014 and Chile in 2015.
How can modern technology help warn us of impending volcanic eruptions?
One promising answer may lie in satellite imagery. In a recent study published in Nature Geoscience, researchers used infrared data collected by NASA satellites to study the conditions near volcanoes in the months and years before they erupted.
The results revealed a pattern: Prior to eruptions, an unusually large amount of heat had been escaping through soil near volcanoes. This diffusion of subterranean heat — which is a byproduct of "large-scale thermal unrest" — could potentially represent a warning sign of future eruptions.
Conceptual model of large-scale thermal unrestCredit: Girona et al.
For the study, the researchers conducted a statistical analysis of changes in surface temperature near volcanoes, using data collected over 16.5 years by NASA's Terra and Aqua satellites. The results showed that eruptions tended to occur around the time when surface temperatures near the volcanoes peaked.

Eruptions were preceded by "subtle but significant long-term (years), large-scale (tens of square kilometres) increases in their radiant heat flux (up to ~1 °C in median radiant temperature)," the researchers wrote. After eruptions, surface temperatures reliably decreased, though the cool-down period took longer for bigger eruptions.
"Volcanoes can experience thermal unrest for several years before eruption," the researchers wrote. "This thermal unrest is dominated by a large-scale phenomenon operating over extensive areas of volcanic edifices, can be an early indicator of volcanic reactivation, can increase prior to different types of eruption and can be tracked through a statistical analysis of little-processed (that is, radiance or radiant temperature) satellite-based remote sensing data with high temporal resolution."
Temporal variations of target volcanoesCredit: Girona et al.
Although using satellites to monitor thermal unrest wouldn't enable scientists to make hyper-specific eruption predictions (like predicting the exact day), it could significantly improve prediction efforts. Seismologists and volcanologists currently use a range of techniques to forecast eruptions, including monitoring for gas emissions, ground deformation, and changes to nearby water channels, to name a few.

Still, none of these techniques have proven completely reliable, both because of the science and the practical barriers (e.g. funding) standing in the way of large-scale monitoring. In 2014, for example, Japan's Mount Ontake suddenly erupted, killing 63 people. It was the nation's deadliest eruption in nearly a century.
In the study, the researchers found that surface temperatures near Mount Ontake had been increasing in the two years prior to the eruption. To date, no other monitoring method has detected "well-defined" warning signs for the 2014 disaster, the researchers noted.
The researchers hope satellite-based infrared monitoring techniques, combined with existing methods, can improve prediction efforts for volcanic eruptions. Volcanic eruptions have killed about 2,000 people since 2000.
"Our findings can open new horizons to better constrain magma–hydrothermal interaction processes, especially when integrated with other datasets, allowing us to explore the thermal budget of volcanoes and anticipate eruptions that are very difficult to forecast through other geophysical/geochemical methods."
Surprising Science
New research from the University of Granada found that stress could help determine sex.
Scroll down to load more…