Now we're back to breakfast being important
When it comes to optimizing your workout, breakfast might be winning again.
19 August, 2018
So now breakfast is in again.
---
Over the last couple of years, we've become so focused on the proclaimed "optimal fat burning" during intermittent fasting that merely considering eating before noon has become a sin. The same holds true for the ketogenic diet, which can be achieved through carbohydrate restriction as well as fasting. This is not to disparage the keto diet (even if many hucksters have exploited the term in marketing products and "challenges"). It's just a reminder that there are many ways of staying healthy.
Which is what new research from the University of Bath is claiming, delivering a quite old message about that "most important meal" of the day:
Eating breakfast before exercise may "prime" the body to burn carbohydrates during exercise and more rapidly digest food after working out, University researchers have found.
The study, published in The American Journal of Physiology - Endocrinology and Metabolism, only used twelve healthy male volunteers, so the sample size was tiny. Dr. Javier Gonzalez was interested in whether eating breakfast before exercising—in this case, an hour of cycling—influenced meals eaten post-exercise. He discovered that porridge made with milk, consumed two hours prior to getting on a bike, increased the speed our bodies digest, absorb, and metabolize carbs from meals we consume after our workout is over.
Ph.D. student Rob Edinburgh, who was also involved in the study, claims that breakfast primes our body to burn more carbs:
We also found that breakfast before exercise increases carbohydrate burning during exercise, and that this carbohydrate wasn't just coming from the breakfast that was just eaten, but also from carbohydrate stored in our muscles as glycogen.
Fasting, like eating, alters our metabolism. The researchers believe previous studies on fasting might not be as accurate as claimed. For example, there are hosts of tests doctors regularly conduct that require baseline fasting before a blood draw. Gonzalez says this does not represent how humans actually live and should be reconsidered if you want an accurate portrayal of how our bodies metabolize nutrients.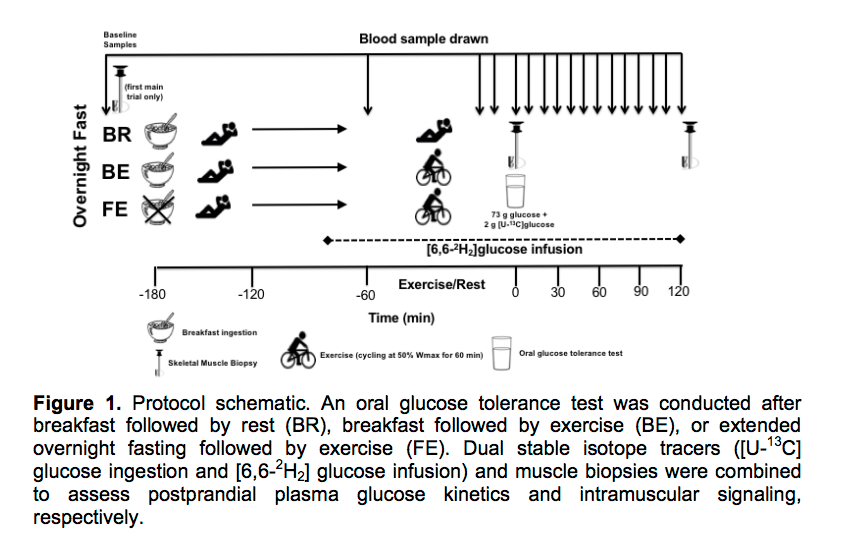 Not that this is the final word. One 2011 study conducted by cardiac researchers at the Intermountain Medical Center Heart Institute discovered that "fasting triggered a 1300% rise of human growth hormone in women, and an astounding 2000% in men." Besides muscle growth and longevity, human growth hormone is implicated in accelerating metabolism.
This is along the lines of research fans of intermittent fasting and ketogenic diets have argued for why limiting the hours during which we eat is beneficial. The most sacrificed meal continues to be breakfast, considering it's the easiest to skip after fasting overnight.
Other studies, such as this one on cancer patients, argue that while effective in the short-term, fasting is not a proper long-term approach. This meta-analysis also shows short-term metabolic improvements might prove harmful over a period of years.
While the team recognizes that more research is needed, one hopeful outcome might be in treating patients with type 2 diabetes and cardiovascular disease. Given that exercise is extremely important in these communities, having a better gauge on when they should eat could prove critical for long-term success.
--
Related Articles
There's a high social cost that comes with lighting up.
(Porch)
Sex & Relationships
The home improvement company Porch recently polled 1,009 people on their feelings about smoking.
The company recently published the results as infographics.
In terms of dating, 80 percent of nonsmokers find the habit a turnoff
While short-term results are positive, there is mounting evidence against staying in ketosis for too long.
Surprising Science
Recent studies showed volunteers lost equal or more weight on high-carb, calorie-restricted diets than low-carb, calorie restricted diets.
There might be positive benefits to short-term usage of a ketogenic diet.
One dietician warns that the ketogenic diet could put diabetics at risk for diabetic ketoacidosis.
Research shows that the way math is taught in schools and how its conceptualized as a subject is severely impairing American student's ability to learn and understand the material.
One derivative coming right up... (Photo: Getty Images)
Technology & Innovation
Americans continually score either in the mid- or bottom-tier when it comes to math and science compared to their international peers.
Students have a fundamental misunderstanding of what math is and what it can do. By viewing it as a language, students and teachers can begin to conceptualize it in easier and more practical ways.
A lot of mistakes come from worrying too much about rote memorization and speedy problem-solving and from students missing large gaps in a subject that is reliant on learning concepts sequentially.
Big think's weekly newsletter.
Get smarter faster from the comfort of your inbox.
See our newsletter privacy policy
here
Most Popular
Most Recent
Big think's weekly newsletter.
Get smarter faster from the comfort of your inbox.
See our newsletter privacy policy
here
© Copyright 2007-2018 & BIG THINK, BIG THINK EDGE,
SMARTER FASTER trademarks owned by The Big Think, Inc. All rights reserved.