Big ideas.
Once a week.
Subscribe to our weekly newsletter.
Youthful mindset can slow — even reverse — aging, research suggests
Your mindset can rewind aging, physically and mentally, as these jaw-dropping experiments show.
16 October, 2017
At the young age of 99, Tao Porchon Lynch still teaches weekly yoga classes and workshops internationally. Born prematurely on a ship crossing the English channel, her Indian mother died while giving birth. She was raised in France and India, working as a model, activist, actress, and wine enthusiast for most of her life. When I sat with her for an interview in 2010 she told me about walking on Gandhi's legendary Salt March. She was eleven.
---
A few months before I sat down with Tao, she had broken her wrist. Fractures are common as we age and can even signal the end — my grandmother's broken hip at 90 proved to be her final brush with mortality. Yet by the time I took a workshop with Tao at Manhattan's Strala Yoga, just a few months after her fracture, she was crossing her legs into lotus and lifting herself off the ground on her hands. She was 92.
When I ask her about her inspirational resilience, she tells me yoga has been a part of her life since she was young. Besides the obvious physical benefits, the mindset adjustment yoga promotes reveals the practice's true magic.
I've had a hip replacement. I'm getting dog food at A&P and got twisted, ending with a pin in hip. But health-wise I'm seldom sick. Mentally, I don't allow myself to think about tomorrow and what will happen. I don't like people to tell me what I can't do. I never thought about age.
When asked about what scares her, she laughs and tells me that the only thing she's frightened of is her assistant using her phone while in the car. To note, that's one of her two business assistants. Tao still drives herself around Hartsdale and Scarsdale to teach yoga.
Can not thinking about age really make your body younger? Fortunately, there have been a number of experiments about just that topic. The answer is yes.
Journalist Anil Ananthaswamy reports on fascinating research that shows how important your mindset is in influencing the aging process. In 1979 Ellen Langer, now a Harvard University psychology professor, invited two groups of elderly men to visit a New Hampshire monastery. One group lived inside a time capsule: everything about their week-long retreat was dialed back to reflect 1959. The other group was told to reminisce but given no specific instructions or stimulation from any era.
The control group showed no physical or biological differences, save maybe the expected vacation results. The men told to live like they did 20 years ago, however, "looked younger in the after-pictures." That's not all.
"When Langer studied the men after a week of such sensory and mindful immersion in the past, she found that their memory, vision, hearing, and even physical strength had improved," writes Ananthaswamy.
Langer never published her results. She didn't have the funding to properly control the second group and didn't want to release her data in a second-rate journal. But the experience never left her mind. Years later she conducted a study on patients with Type 2 diabetes. Forty-six subjects played computer games for an hour and a half. They had to switch games every 15 minutes. One group had a properly working clock; one had a clock that kept time slowly; the last clock was sped up. Langer wanted to know if their blood sugar levels would follow real or perceived time.
Incredibly, perceived time won out. How each subject thought about time influenced the metabolic processes inside of their bodies. Ananthaswamy writes that people between the ages of 40 and 80 tend to feel younger than their chronological age, while those in their 20 feel older. This makes sense, as Robert Sapolsky points out in Behave: after the age of 30 our metabolism slows down, which skews our perception of time. Time actually feels different. What's amazing about the research above is we have a conscious decision in how we feel about that.
Florida State University College of Medicine psychologist and gerontologist Antonio Terracciano states subjective age is correlated with factors such as walking speed, lung capacity, grip strength, and bodily inflammation. As Langer's work, among others, shows, it's not necessarily the body influencing the mind. Your mindset about aging has an equally important role in aging. Terracciano's research has shown that this affects cognition: a belief in a higher subjective age correlates with cognitive impairments and even dementia, prompting this advice:
If people think that because they are getting older they cannot do things, or cut their social ties, or incorporate this negative view which limits their life, that can be really detrimental. Fighting those negative attitudes, challenging yourself, keeping an open mind, being engaged socially, can absolutely have a positive impact.
So much can be revealed by how we talk about ourselves. How much emphasis do you place on numerical age? Do you believe age limits your physical and mental abilities? Is age an excuse for all the new things you don't try? Do you spend more time reminiscing about what once was instead of planning on what's to come? These questions and more are indicative of the mindset you have around age. And, as this research shows, will affect how you actually age.
Tao Porchon Lynch still keeps an active schedule, professionally and socially. Her body and mindset is indicative of her innate drive. As the home page of her website states: "In my head I'm still in my twenties, and I have no intention of ever growing up." Even with all her accomplishments she's still hungry for more.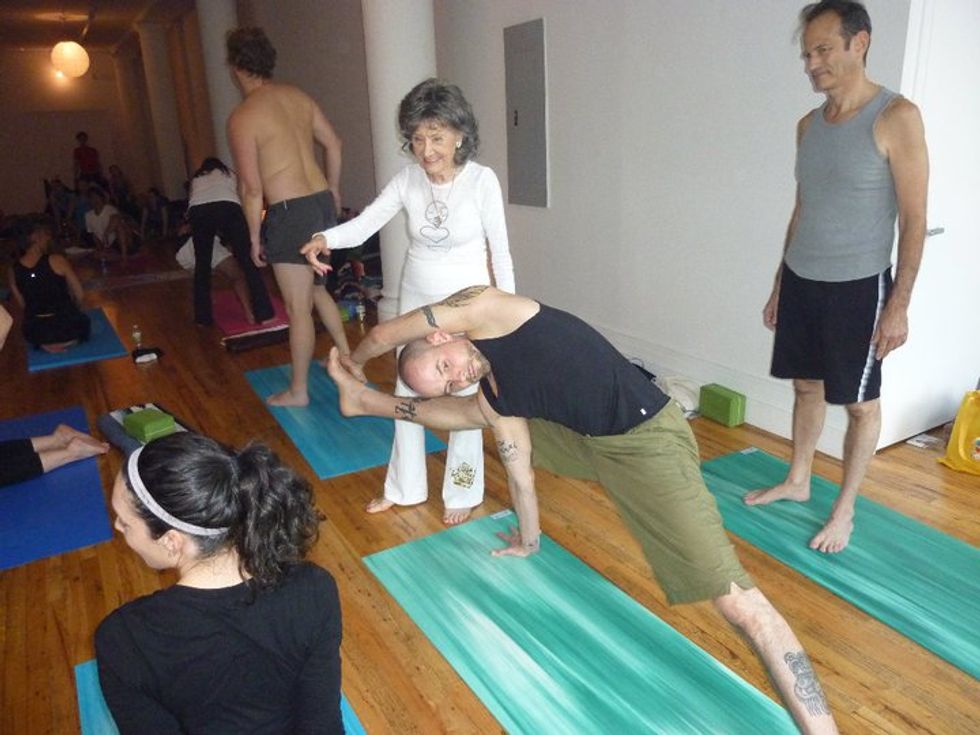 You can see Tao in the photo above, assisting me in a posture she had just flawlessly demonstrated, mere months after her wrist fracture in 2010. Fifty years from today I'll be her age in this photo. Perhaps if I keep thinking I'm in my twenties I'll still stretch myself into this shape. One thing is certain: if I don't think I'll be able to, I won't. Mindset matters. The science is on our side.
--
Derek is the author of Whole Motion: Training Your Brain and Body For Optimal Health. Based in Los Angeles, he is working on a new book about spiritual consumerism. Stay in touch on Facebook and Twitter.
All this from a wad of gum?
Tom Björklund
Surprising Science
Researchers recently uncovered a piece of chewed-on birch pitch in an archaeological dig in Denmark.
Conducting a genetic analysis of the material left in the birch pitch offered a plethora of insights into the individual who last chewed it.
The gum-chewer has been dubbed Lola. She lived 5,700 years ago; and she had dark skin, dark hair, and blue eyes.
Five thousand and seven hundred years ago, "Lola" — a blue-eyed woman with dark skin and hair — was chewing on a piece of pitch derived from heating birch bark. Then, this women spit her chewing gum out into the mud on an island in Denmark that we call Syltholm today, where it was unearthed by archaeologists thousands of years later. A genetic analysis of the chewing gum has provided us with a wealth of information on this nearly six-thousand-year-old Violet Beauregarde.
This represents the first time that the human genome has been extracted from material such as this. "It is amazing to have gotten a complete ancient human genome from anything other than bone," said lead researcher Hannes Schroeder in a statement.
"What is more," he added, "we also retrieved DNA from oral microbes and several important human pathogens, which makes this a very valuable source of ancient DNA, especially for time periods where we have no human remains."
In the pitch, researchers identified the DNA of the Epstein-Barr virus, which infects about 90 percent of adults. They also found DNA belonging to hazelnuts and mallards, which were likely the most recent meal that Lola had eaten before spitting out her chewing gum.
Insights into ancient peoples
The birch pitch was found on the island of Lolland (the inspiration for Lola's name) at a site called Syltholm. "Syltholm is completely unique," said Theis Jensen, who worked on the study for his PhD. "Almost everything is sealed in mud, which means that the preservation of organic remains is absolutely phenomenal.
"It is the biggest Stone Age site in Denmark and the archaeological finds suggest that the people who occupied the site were heavily exploiting wild resources well into the Neolithic, which is the period when farming and domesticated animals were first introduced into southern Scandinavia."
Since Lola's genome doesn't show any of the markers associated with the agricultural populations that had begun to appear in this region around her time, she provides evidence for a growing idea that hunter-gatherers persisted alongside agricultural communities in northern Europe longer than previously thought.
Her genome supports additional theories on northern European peoples. For example, her dark skin bolsters the idea that northern populations only recently acquired their light-skinned adaptation to the low sunlight in the winter months. She was also lactose intolerant, which researchers believe was the norm for most humans prior to the agricultural revolution. Most mammals lose their tolerance for lactose once they've weaned off of their mother's milk, but once humans began keeping cows, goats, and other dairy animals, their tolerance for lactose persisted into adulthood. As a descendent of hunter-gatherers, Lola wouldn't have needed this adaptation.
A hardworking piece of gum
A photo of the birch pitch used as chewing gum.
Theis Jensen
These findings are encouraging for researchers focusing on ancient peoples from this part of the world. Before this study, ancient genomes were really only ever recovered from human remains, but now, scientists have another tool in their kit. Birch pitch is commonly found in archaeological sites, often with tooth imprints.
Ancient peoples used and chewed on birch pitch for a variety of reasons. It was commonly heated up to make it pliable, enabling it to be molded as an adhesive or hafting agent before it settled. Chewing the pitch may have kept it pliable as it cooled down. It also contains a natural antiseptic, and so chewing birch pitch may have been a folk medicine for dental issues. And, considering that we chew gum today for no other reason than to pass the time, it may be that ancient peoples chewed pitch for fun.
Whatever their reasons, chewed and discarded pieces of birch pitch offer us the mind-boggling option of learning what someone several thousands of years ago ate for lunch, or what the color of their hair was, their health, where their ancestors came from, and more. It's an unlikely treasure trove of information to be found in a mere piece of gum.
The Inglehart-Welzel World Cultural map replaces geographic accuracy with closeness in terms of values.
Credit
: World Values Survey, public domain.
Strange Maps
This map replaces geography with another type of closeness: cultural values.
Although the groups it depicts have familiar names, their shapes are not.
The map makes for strange bedfellows: Brazil next to South Africa and Belgium neighboring the U.S.
Some countries value self-expression more than others.Credit: Robyn Beck / AFP via Getty Images
Question: On what map is Lithuania a neighbor of China, Poland lies next to Brazil, and Morocco and Yemen touch?

Answer: The Inglehart-Welzel World Cultural Map. To be precise, the 2017 map. Because on the 2020 version, each of those pairs has drifted apart significantly.
These are not, strictly speaking, maps but rather scatterplot diagrams. Each dot represents a country, the position of which is based on how it ranks on two different values (discussed below). The dots are corralled together into geo-cultural groups:
Catholic Europe, which comprises countries as diverse and far apart as Hungary and Andorra■ Protestant Europe, taking in both Iceland and Germany
The Orthodox world, from Belarus all the way to Armenia
The three Baltic states
The English-speaking world, including both the U.S. and Northern Ireland
The huge African-Islamic world, ranging from Azerbaijan to South Africa
Latin America, which goes from Mexico to Argentina
South Asia, which comprises both India and Cyprus
The Confucian world, encompassing China and Japan.
The placement of the dots indicates cultural proximity or distance. Some countries from different groups can be more similar than other countries in the same group.
See the examples indicated above: cultural neighbors China and Lithuania belong to the Confucian and Baltic groups, respectively. Poland is part of Catholic Europe; its 2017 neighbor Brazil is in Latin America. Morocco and Yemen are closer culturally to Armenia, in the Orthodox group, than they are to Qatar, despite all belonging to the African-Islamic group.
The 2017 version of the map places Malta deep inside South America and lets Vietnam, Portugal, and Macedonia meet.Credit: World Values Survey, public domain.
Creating a culture map

So, what exactly are the criteria used for plotting these dots in the first place?
These maps are part of the World Values Survey, first conducted by political scientist Ronald Inglehart in the late 1990s. With his colleague Christian Welzel, he produced an update in 2005. The WVS has been revised several times since, most recently in 2020.
The WVS asserts that there are two fundamental dimensions to cross-cultural variation across the world. These are used as the axes to plot the various countries on the diagram.
The X-axis measures survival versus self-expression values.
Survival values focus on economic and physical security. There is not much room for trust and tolerance of "others." Self-expression values prioritize well-being, quality of life, and self-expression. There is more room for tolerating ethnic, religious, and sexual minorities.
The Y-axis measures traditional versus secular-rational values.
Traditional values include deference to religion and parental authority as well as traditional social and family values. Societies that score high on traditions typically also are highly nationalistic. In more secular-rational societies, science and bureaucracy replace faith as the basis for authority. Secular-rational values include high tolerance of things like divorce, abortion, euthanasia, and suicide.
As indicated by the significant changes on the 2020 map, the cultural values of nations are not static:
Countries that move up on the map are shifting from traditional to more secular-rational values.
Countries that move to the right on the map are shifting from survival values to self-expression values.
And, of course, vice versa in both cases.
According to the authors of the map, changes in cultural outlook can be the result of socioeconomic changes — increasing levels of wealth, for example. But the religious and cultural heritage of each country also plays a part.
The world's cultural landscape is dynamic — you could even say promiscuous, producing new bedfellows every few years.Credit: World Values Survey, public domain.
Some notable features of the 2020 map:

The Baltic group has been dissolved; Lithuania is now part of Catholic Europe, Estonia a lone Protestant island in a Catholic sea. More worryingly, Latvia seems to have dissolved completely.
In general, survival values are strongest in African-Islamic countries, self-expression values in Protestant Europe.
Traditional values are strongest in African-Islamic countries and Latin America, while secular values dominate in Confucian countries and Protestant Europe.
The United States is an atypical member of the English-speaking group, scoring much lower on both scales (that is to say, lower and more to the left). In other words, the U.S. is more into traditional and survival values than the group's other members.
Shifting attitudes don't just separate; they also unite. Belgium and the U.S. are now culture buddies, as are New Zealand and Iceland. Kazakhstan is virtually indistinguishable from Bosnia.
The Inglehart-Welzel map is not without its critics. It has been decried as Eurocentric, simplistic, and culturally essentialist (that is, the assumption that certain cultural characteristics are essential and fixed, and that some are superior to others). Which is, of course, a very self-expressive thing to say.
For more on these maps, on the WVS surveys, and on the methodology used, visit the World Values Survey.
Strange Maps #1098
Got a strange map? Let me know at strangemaps@gmail.com.

A study finds that baby mammals dream about the world they are about to experience to prepare their senses.
Michael C. Crair et al, Science, 2021.
Surprising Science
Researchers find that babies of mammals dream about the world they are entering.
The study focused on neonatal waves in mice before they first opened their eyes.
Scientists believe human babies also prime their visual motion detection before birth.
Imagine opening your eyes for the first time as a brand new baby. The world is so mysterious, full of obstacles and strange shapes. And yet it does not take babies all that long to get their bearings, to latch on to their parents, and to start interacting. How do they do this so quickly? A new study published in Science proposes that babies of mammals dream about the world they are about to enter before being born, developing important skills.
The team, led by professor Michael Crair, who specializes in neuroscience, ophthalmology, and visual science, wanted to understand why when mammals are born, they are already somewhat prepared to interact with the world.
"At eye opening, mammals are capable of pretty sophisticated behavior," said Craig, "But how do the circuits form that allow us to perceive motion and navigate the world? It turns out we are born capable of many of these behaviors, at least in rudimentary form."
Unusual retinal activity
The scientists observed waves of activity radiating from the retinas of newborn mice before their eyes first open. Imaging shows that soon after birth, this activity disappears. In its place matures a network of neural transmissions that carries visual stimuli to the brain, as explained by a Yale press release. Once it reaches the brain, the information is encoded for storage.
What's particularly unusual about this neonatal activity is that it demonstrates a pattern that would happen if the animal was moving forward somewhere. As the researchers write in the study, "Spontaneous waves of retinal activity flow in the same pattern as would be produced days later by actual movement through the environment."
Crair explained that this "dream-like activity" makes sense from an evolutionary standpoint, as it helps the mouse get ready for what will happen to it after it opens its eyes. It allows the animal to "respond immediately to environmental threats," Crair shared.
Retinal waves in a newborn mouse prepare it for vision www.youtube.com
What is creating the waves?

The scientists also probed what is responsible for creating the retinal waves that mimic the forward motion. They turned on and off the functionality of starburst amacrine cells — retinal cells that release neurotransmitters — and discovered that blocking them stopped the retinal waves from flowing, which hindered the mouse from developing the ability to react to visual motion upon birth. These cells are also important to an adult mouse, affecting how it reacts to environmental stimuli.
Graphic showing the origin and functionality of directional retinal waves.Michael C. Crair et al, Science, 2021.
What about human babies?

While the study focused on mice, human babies also seem to be able to identify objects and motion right after birth. This suggests the presence of a similar phenomenon in babies before they are born.
"These brain circuits are self-organized at birth and some of the early teaching is already done," Crair stated. "It's like dreaming about what you are going to see before you even open your eyes."
Surprising Science
The non-contact technique could someday be used to lift much heavier objects — maybe even humans.
Scroll down to load more…