How a 4th-century Taoist concept is treating anxiety
The concept of non-action might just be the most powerful action to take for curbing anxiety.
09 April, 2018
While the Tao Te Ching is not one of the world's most discussed religious texts, at least relative to the amount of attention the Bible, Quran, and Buddhist and Hindu doctrines receive, Laozi's slim volume of instructions has massively influenced how we think about Eastern philosophy. The basis of Taoism is embedded in his series of short and punchy ideas that are rooted in, at times, paradoxical thinking.
---
Consider one of his most famous aphorisms: "The Tao does nothing, and yet nothing is left undone." The "nothing" is wu-wei, often translated as "non-action." One translation of Taoist ideas, Tao: The Watercourse Way, written by British philosopher Alan Watts and Chinese philosopher Chungliang Al Huang in 1975, state that the concept should not "be considered inertia, laziness, laissez-faire, or mere passivity."
As with those who believe meditation is "doing nothing," wu-wei is not an easily graspable concept when approached from a mindset of constant action, i.e. the perpetual distraction our brains (and by extension, technology) afford us. Rather, the idea is to not battle yourself, to, at times, let the course of life have its way with us. As the authors put it,
Wu-wei as "not forcing" is what we mean by going with the grain, rolling with the punch, swimming with the current, trimming sails to the wind, taking the tide at its flood, and stooping to conquer.
They compare the practice to judo and aikido, two martial arts that teach seasoned practitioners to use their opponent's force against themselves. By waiting for the challenger to overextend himself, you exploit their exertion and use his body weight to overthrow him. To accomplish this, you need to maintain calm and composure in the midst of potential violence and chaos.
Which is why Nick Hobson, a research psychologist and lecturer at the University of Toronto, recently suggested implementing wu-wei as an antidote to our rising rates of anxiety and depression. Instead of pinpointing a singular cause for our growing dissatisfaction with our lives, he points out the reasons are myriad: smartphones, sleep deprivation, a lack of meaningful social connection, and not enough movement. He doesn't mention diet, though plenty of research implicates bad eating habits as well. 
While the causes are many, Hobson points to our penchant for overanalyzing every situation as the elephant in the mind. Instead of holism, a cognitive trait he associates with Eastern psychology, we choose the trees over the forest, leading to an obsession with overthinking.
This stark cultural difference has been confirmed by thinkers like social psychologist Richard Nisbett, who devoted an entire book to the topic. One of the most revealing instances involves the ways in which Easterners and Westerners—these terms are generic and broad, but serve to supply a bit of yin to our yang, at least as a metaphor—view art. Americans seek out a subject, an overarching detail that exemplifies the "purpose" of the painting. Asians, by contrast, seek to understand the relationship between everything in the scene. Their focus is more on interdependence than independence.
Hobson uses the "triad test" to make this point:
Suppose you're presented with a dog, a rabbit, and a carrot, and then asked which two belong together. The analytic thinker chooses the dog and rabbit because both satisfy the internally held rule of "animal category." The holistic thinker, on the other hand, chooses the rabbit and carrot because of the interconnected and functional relationship between the two: A rabbit eats carrots.
Western "rule-based reasoning" leads us to believe every problem has a solution. Research in cognition and narrative has shown that when we aren't offered a resolution to a story, we'll invent one, often to our detriment—your partner is cheating on you if they haven't texted, while the reality is anything but. When we're not provided an answer, we tend to overanalyze the situation, heaping anxiety upon anxiety.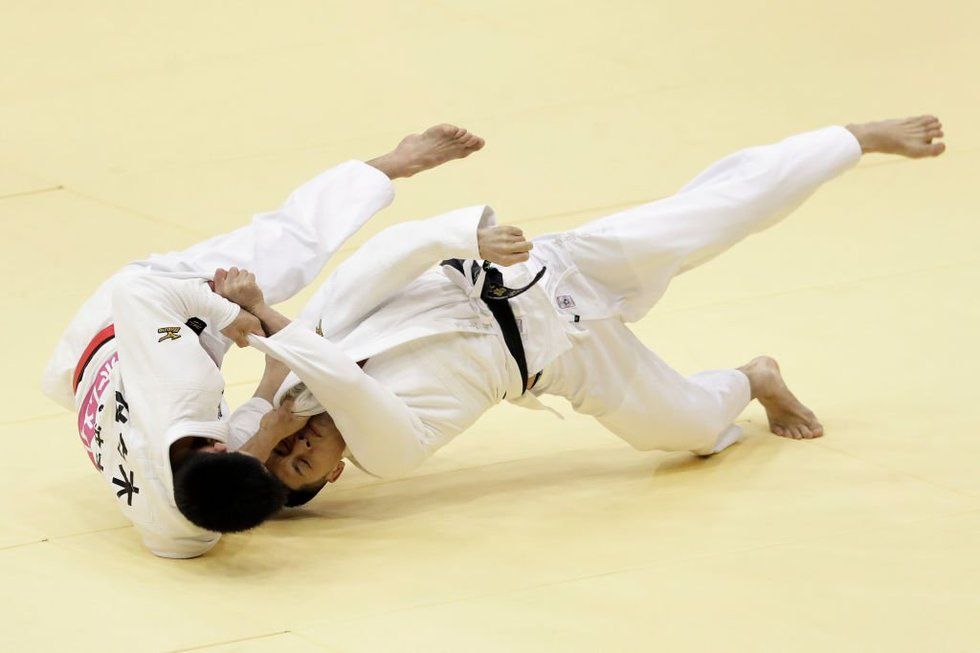 Takeshi Sasaki (L) throws Keita Nagashima in the Men's -81kg match on day two of the All Japan Judo Championships by Weight Category at Fukuoka Convention Center on April 8, 2018 in Fukuoka, Japan. (Photo by Kiyoshi Ota/Getty Images)
Which is why Hobson suggests two Laozi-era practices to calm our overactive imaginations. Wu-wei is the first, which he says means "we shouldn't hurry to action." While he prescribes "to not do anything at all," which is slightly different from Watts's and Al Huang's translation, Hobson recommends an "intuitive style of thinking" to chill our over-analyzing minds. Meditation and visualization exercises are two ways of rerouting our mental habits.
The second involves dialectical behavior therapy (DBT), an evidence-based therapy created by Dr. Marsha Linehan. Among its many applications, it is designed to promote skills for cultivating "mindfulness, emotion regulation, distress tolerance, and interpersonal effectiveness." 
 To make this connection, Hobson points to Taoism's great export, the yin-yang symbol, which denotes mutual dependence exists in everything. Hobson continues,
Two things can be mutually opposed, and at the same time, mutually connected. You can be, for example, in an anxious state and still have perfect control of your situation and your life. Thinking in this way allows a person to tolerate contradictions and to accept the uncertainties that inevitably present themselves.
Hobson writes that DBT has proven more effective than cognitive behavioral therapy (Linehan considers DBT a form of CBT) and pharmacological interventions. The goal is to make incremental changes by admitting that a) not everything is going to be exactly how you want it, and that's okay, b) certain changes will have to be implemented, so practice those changes, and c) recognize that life is worth living. In the balance between states that afflict those suffering from psychological disorders—complete control and lack of control—an emotionally salient mindset can be achieved.
Not that any of this is easy, but as Hobson mentions, neuroplasticity is a real phenomenon. Seeing the landscape instead of the singular figure walking through it is essential for breaking free of isolationism and the overwhelming burden of anxiety. As Watts and Al Huang phrased it,
Is a long life such a good thing if it is lived in daily dread or in constant search for satisfaction in a tomorrow which never comes?
We all intuitively know the answer. Putting that intuition into action, ironically through a bit of non-action, might just be an important key to healing our anxious minds.
--
A large new study uses an online game to inoculate people against fake news.
University of Cambridge
Politics & Current Affairs
Researchers from the University of Cambridge use an online game to inoculate people against fake news.
The study sample included 15,000 players.
The scientists hope to use such tactics to protect whole societies against disinformation.
Researchers hope the technology will further our understanding of the brain, but lawmakers may not be ready for the ethical challenges.
Still from John Stephenson's 1999 rendition of Animal Farm.
Surprising Science
Researchers at the Yale School of Medicine successfully restored some functions to pig brains that had been dead for hours.
They hope the technology will advance our understanding of the brain, potentially developing new treatments for debilitating diseases and disorders.
The research raises many ethical questions and puts to the test our current understanding of death.
The image of an undead brain coming back to live again is the stuff of science fiction. Not just any science fiction, specifically B-grade sci fi. What instantly springs to mind is the black-and-white horrors of films like Fiend Without a Face. Bad acting. Plastic monstrosities. Visible strings. And a spinal cord that, for some reason, is also a tentacle?
But like any good science fiction, it's only a matter of time before some manner of it seeps into our reality. This week's Nature published the findings of researchers who managed to restore function to pigs' brains that were clinically dead. At least, what we once thought of as dead.
What's dead may never die, it seems
The researchers did not hail from House Greyjoy — "What is dead may never die" — but came largely from the Yale School of Medicine. They connected 32 pig brains to a system called BrainEx. BrainEx is an artificial perfusion system — that is, a system that takes over the functions normally regulated by the organ. The pigs had been killed four hours earlier at a U.S. Department of Agriculture slaughterhouse; their brains completely removed from the skulls.
BrainEx pumped an experiment solution into the brain that essentially mimic blood flow. It brought oxygen and nutrients to the tissues, giving brain cells the resources to begin many normal functions. The cells began consuming and metabolizing sugars. The brains' immune systems kicked in. Neuron samples could carry an electrical signal. Some brain cells even responded to drugs.
The researchers have managed to keep some brains alive for up to 36 hours, and currently do not know if BrainEx can have sustained the brains longer. "It is conceivable we are just preventing the inevitable, and the brain won't be able to recover," said Nenad Sestan, Yale neuroscientist and the lead researcher.
As a control, other brains received either a fake solution or no solution at all. None revived brain activity and deteriorated as normal.
The researchers hope the technology can enhance our ability to study the brain and its cellular functions. One of the main avenues of such studies would be brain disorders and diseases. This could point the way to developing new of treatments for the likes of brain injuries, Alzheimer's, Huntington's, and neurodegenerative conditions.
"This is an extraordinary and very promising breakthrough for neuroscience. It immediately offers a much better model for studying the human brain, which is extraordinarily important, given the vast amount of human suffering from diseases of the mind [and] brain," Nita Farahany, the bioethicists at the Duke University School of Law who wrote the study's commentary, told National Geographic.
An ethical gray matter
Before anyone gets an Island of Dr. Moreau vibe, it's worth noting that the brains did not approach neural activity anywhere near consciousness.
The BrainEx solution contained chemicals that prevented neurons from firing. To be extra cautious, the researchers also monitored the brains for any such activity and were prepared to administer an anesthetic should they have seen signs of consciousness.
Even so, the research signals a massive debate to come regarding medical ethics and our definition of death.
Most countries define death, clinically speaking, as the irreversible loss of brain or circulatory function. This definition was already at odds with some folk- and value-centric understandings, but where do we go if it becomes possible to reverse clinical death with artificial perfusion?
"This is wild," Jonathan Moreno, a bioethicist at the University of Pennsylvania, told the New York Times. "If ever there was an issue that merited big public deliberation on the ethics of science and medicine, this is one."
One possible consequence involves organ donations. Some European countries require emergency responders to use a process that preserves organs when they cannot resuscitate a person. They continue to pump blood throughout the body, but use a "thoracic aortic occlusion balloon" to prevent that blood from reaching the brain.
The system is already controversial because it raises concerns about what caused the patient's death. But what happens when brain death becomes readily reversible? Stuart Younger, a bioethicist at Case Western Reserve University, told Nature that if BrainEx were to become widely available, it could shrink the pool of eligible donors.
"There's a potential conflict here between the interests of potential donors — who might not even be donors — and people who are waiting for organs," he said.
It will be a while before such experiments go anywhere near human subjects. A more immediate ethical question relates to how such experiments harm animal subjects.
Ethical review boards evaluate research protocols and can reject any that causes undue pain, suffering, or distress. Since dead animals feel no pain, suffer no trauma, they are typically approved as subjects. But how do such boards make a judgement regarding the suffering of a "cellularly active" brain? The distress of a partially alive brain?
The dilemma is unprecedented.
Setting new boundaries
Another science fiction story that comes to mind when discussing this story is, of course, Frankenstein. As Farahany told National Geographic: "It is definitely has [sic] a good science-fiction element to it, and it is restoring cellular function where we previously thought impossible. But to have Frankenstein, you need some degree of consciousness, some 'there' there. [The researchers] did not recover any form of consciousness in this study, and it is still unclear if we ever could. But we are one step closer to that possibility."
She's right. The researchers undertook their research for the betterment of humanity, and we may one day reap some unimaginable medical benefits from it. The ethical questions, however, remain as unsettling as the stories they remind us of.
Many governments do not report, or misreport, the numbers of refugees who enter their country.
David McNew/Getty Images
Politics & Current Affairs
Conflict, violence, persecution and human rights violations led to a record high of 70.8 million people being displaced by the end of 2018.
Big think's weekly newsletter.
Get smarter faster from the comfort of your inbox.
See our newsletter privacy policy
here
Most Popular
Most Recent
Big think's weekly newsletter.
Get smarter faster from the comfort of your inbox.
See our newsletter privacy policy
here
© Copyright 2007-2019 & BIG THINK, BIG THINK EDGE,
SMARTER FASTER trademarks owned by The Big Think, Inc. All rights reserved.