Big ideas.
Once a week.
Subscribe to our weekly newsletter.
A prescription for MDMA? We're getting closer
New research in PTSD might make an MDMA script reality by 2021.
05 August, 2018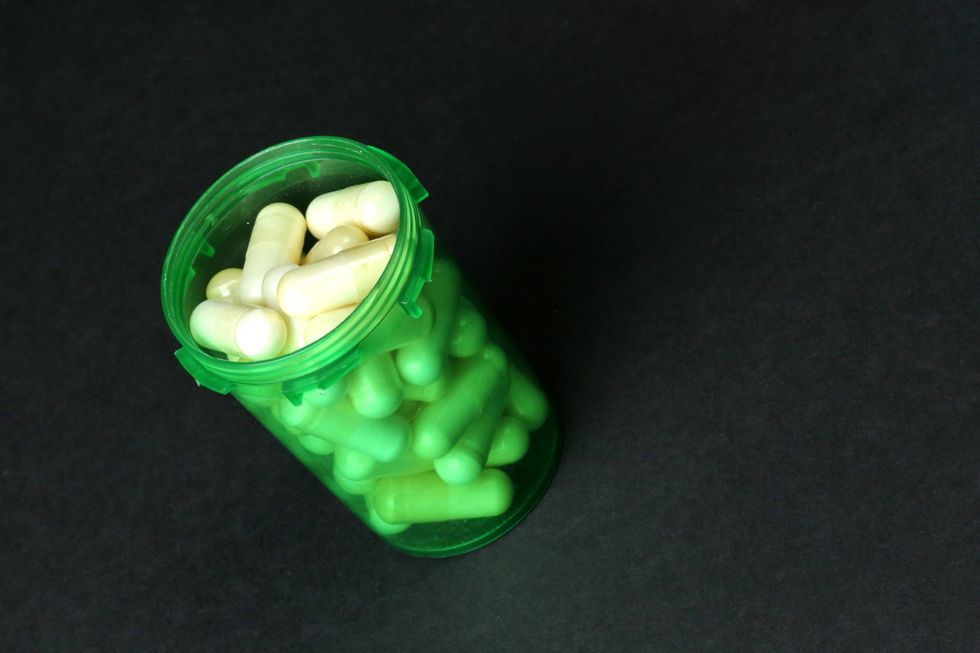 Photo by Getty Images
In the late '60s, Senator Robert F Kennedy's wife, Ethel, was reportedly treated with LSD at a Vancouver hospital, which made the politician sympathetic to psychedelic research. As the FDA planned on shutting down many ongoing research projects, Kennedy asked, "Why if [these projects] were worthwhile six months ago, why aren't they worthwhile now? Perhaps we have lost sight of the fact that [they] can be very, very helpful in our society if used properly."
---
The legal contention arose thanks to personalities like Timothy Leary, who promoted psychedelics as a panacea for all humankind's ills; though he was rigorous in his explanation of the ritualistic element of these substances, his outlandish marketing stunts, and less-than-academic trials irked many in the psychedelic community and, eventually, the government. When President Nixon needed distractions to throw the public off his trail (and to support racist initiatives), psychedelics became one of the first byproducts of his fear-mongering.
Yet sometimes another shift in perception is all that's needed. As Michael Pollan reports in his fascinating book on the history of psychedelics, How to Change Your Mind, current researchers were surprised to learn that, when applying for permission to clinically study psychedelics, government agencies like the FDA asked them to go beyond their original intent to seek potential therapeutic applications to a wide range of cognitive and emotional disorders.
It makes sense. So far the best response for anxiety and depression, SSRIs, are proving less effective as patients build a tolerance. As Lauren Slater explains in Blue Dreams, these drugs, designed for short-term use, reveal more side effects while losing efficacy over the course of years and decades. A disturbing list of modern ailments—anxiety, depression, addiction, pain management, PTSD—need new responses. Ideally, this will come in the form of treatments that are temporarily or occasionally employed and then discarded.
Enter MDMA, which was often used (and still is) by relationship counselors to bring couples closer together. First synthesized at Merck in Germany in 1912 for use as an appetite suppressant, MDMA stimulates serotonin in your brain to bind with other receptors, producing a stimulating and psychedelic response that lasts for a few hours. The chemist, Anton Köllisch, had been researching drugs to stop abnormal bleeding. Scientists at the time believed the euphoric feeling could clinically serve as a weight-loss tool.
That's not how it panned out, however. By the seventies, the drug hit the streets after becoming popular in relationship and psychotherapy counseling. It was banned in 1985, during the "Just Say No" era, but now, given its potential application in treating PTSD, it could legally return to the market for prescription usage by 2021.
The latest evidence comes from a study on 22 veterans, three firefighters, and one police officer, conducted by the Multidisciplinary Association for Psychedelic Studies (MAPS) and published in the journal, The Lancet Psychiatry. All volunteers were diagnosed with chronic PTSD. Seventy-one percent of volunteers in the "medium dose" group of 75 milligrams reported a noticeable reduction in symptom severity. After the study was over, 68% of volunteers no longer required treatment for PTSD.
Pollan reports that these substances tamp down neural regions concerning the self while opening up participants to broader expanses beyond your singular history, helping you rewrite your narrative of yourself. While we often focus on the chemical interactions of drugs in the body, little attention is paid to how that chemistry creates the narrative element of identity, which is equally important in how you perceive existence. As Marine veteran Nicholas Blackston relates after his MDMA experience,
I was finally able to process all the dark stuff that happened. I was able to forgive myself. It was like a clean sweep.

Where our mind focuses often becomes our reality. Make of it a hell and so shall it be. The same holds true for the contentment we seek.
MAPS is currently planning Phase 3 studies on MDMA therapy. For sufferers of PTSD, a breakthrough remedy is desperately needed. The organization believes it may have found it. The quicker that others conduct their own trials, the quicker we'll get to helping those in need, ending this decades-long ban on what might be a therapy we've been sorely missing.
--
The finding is remarkably similar to the Dunning-Kruger effect, which describes how incompetent people tend to overestimate their own competency.
Sex & Relationships
Recent studies asked participants to rate the attractiveness of themselves and other participants, who were strangers.
The studies kept yielding the same finding: unattractive people overestimate their attractiveness, while attractive people underrate their looks.
Why this happens is unclear, but it doesn't seem to be due to a general inability to judge attractiveness.
There's no shortage of disparities between attractive and unattractive people. Studies show that the best-looking among us tend to have an easier time making money, receiving help, avoiding punishment, and being perceived as competent. (Sure, research also suggests beautiful people have shorter relationships, but they also have more sexual partners, and more options for romantic relationships. So call it a wash.)
Now, new research reveals another disparity: Unattractive people seem less able to accurately judge their own attractiveness, and they tend to overestimate their looks. In contrast, beautiful people tend to rate themselves more accurately. If anything, they underestimate their attractiveness.
The research, published in the Scandinavian Journal of Psychology, involved six studies that asked participants to rate the attractiveness of themselves and other participants, who were strangers. The studies also asked participants to predict how others might rate them.
In the first study, lead author Tobias Greitemeyer found that the participants who were most likely to overestimate their attractiveness were among the least attractive people in the study, based on average ratings.
Ratings of subjective attractiveness as a function of the participant's objective attractiveness (Study 1)
Greitemeyer
"Overall, unattractive participants judged themselves to be of about average attractiveness and they showed very little awareness that strangers do not share this view. In contrast, attractive participants had more insights into how attractive they actually are. [...] It thus appears that unattractive people maintain illusory self‐perceptions of their attractiveness, whereas attractive people's self‐views are more grounded in reality."
Why do unattractive people overestimate their attractiveness? Could it be because they want to maintain a positive self-image, so they delude themselves? After all, previous research has shown that people tend to discredit or "forget" negative social feedback, which seems to help protect a sense of self-worth.
NBC
To find out, Greitemeyer conducted a study that aimed to put participants in a positive, non-defensive mindset before rating attractiveness. He did that by asking participants questions that affirmed parts of their personality that had nothing to do with physical appearance, such as: "Have you ever been generous and selfless to another person?" Yet, this didn't change how participants rated themselves, suggesting that unattractive people aren't overestimating their looks out of defensiveness.
The studies kept yielding the same finding: unattractive people overestimate their attractiveness. Does that bias sound familiar? If so, you might be thinking of the Dunning-Kruger effect, which describes how incompetent people tend to overestimate their own competency. Why? Because they lack the metacognitive skills needed to discern their own shortcomings.
Greitemeyer found that unattractive people were worse at differentiating between attractive and unattractive people. But the finding that unattractive people may have different beauty ideals (or, more plainly, weaker ability to judge attractiveness) did "not have an impact on how they perceive themselves."
In short, it remains a mystery exactly why unattractive people overestimate their looks. Greitemeyer concluded that, while most people are decent at judging the attractiveness of others, "it appears that those who are unattractive do not know that they are unattractive."
Unattractive people aren't completely unaware
The results of one study suggested that unattractive people aren't completely in the dark about their looks. In the study, unattractive people were shown a set of photos of highly attractive and unattractive people, and they were asked to select photos of people with comparable attractiveness. Most unattractive people chose to compare themselves with similarly unattractive people.

"The finding that unattractive participants selected unattractive stimulus persons with whom they would compare their attractiveness to suggests that they may have an inkling that they are less attractive than they want it to be," Greitemeyer wrote.
Every star we can see, including our sun, was born in one of these violent clouds.
Credit
: NASA / ESA via Getty Images
Surprising Science
This article was originally published on our sister site, Freethink.
An international team of astronomers has conducted the biggest survey of stellar nurseries to date, charting more than 100,000 star-birthing regions across our corner of the universe.
Stellar nurseries: Outer space is filled with clouds of dust and gas called nebulae. In some of these nebulae, gravity will pull the dust and gas into clumps that eventually get so big, they collapse on themselves — and a star is born.
These star-birthing nebulae are known as stellar nurseries.
The challenge: Stars are a key part of the universe — they lead to the formation of planets and produce the elements needed to create life as we know it. A better understanding of stars, then, means a better understanding of the universe — but there's still a lot we don't know about star formation.
This is partly because it's hard to see what's going on in stellar nurseries — the clouds of dust obscure optical telescopes' view — and also because there are just so many of them that it's hard to know what the average nursery is like.
The survey: The astronomers conducted their survey of stellar nurseries using the massive ALMA telescope array in Chile. Because ALMA is a radio telescope, it captures the radio waves emanating from celestial objects, rather than the light.
"The new thing ... is that we can use ALMA to take pictures of many galaxies, and these pictures are as sharp and detailed as those taken by optical telescopes," Jiayi Sun, an Ohio State University (OSU) researcher, said in a press release.
"This just hasn't been possible before."
Over the course of the five-year survey, the group was able to chart more than 100,000 stellar nurseries across more than 90 nearby galaxies, expanding the amount of available data on the celestial objects tenfold, according to OSU researcher Adam Leroy.
New insights: The survey is already yielding new insights into stellar nurseries, including the fact that they appear to be more diverse than previously thought.
"For a long time, conventional wisdom among astronomers was that all stellar nurseries looked more or less the same," Sun said. "But with this survey we can see that this is really not the case."
"While there are some similarities, the nature and appearance of these nurseries change within and among galaxies," he continued, "just like cities or trees may vary in important ways as you go from place to place across the world."
Astronomers have also learned from the survey that stellar nurseries aren't particularly efficient at producing stars and tend to live for only 10 to 30 million years, which isn't very long on a universal scale.
Looking ahead: Data from the survey is now publicly available, so expect to see other researchers using it to make their own observations about stellar nurseries in the future.
"We have an incredible dataset here that will continue to be useful," Leroy said. "This is really a new view of galaxies and we expect to be learning from it for years to come."
Tiny specks of space debris can move faster than bullets and cause way more damage. Cleaning it up is imperative.
Videos
NASA estimates that more than 500,000 pieces of space trash larger than a marble are currently in orbit. Estimates exceed 128 million pieces when factoring in smaller pieces from collisions. At 17,500 MPH, even a paint chip can cause serious damage.
To prevent this untrackable space debris from taking out satellites and putting astronauts in danger, scientists have been working on ways to retrieve large objects before they collide and create more problems.
The team at Clearspace, in collaboration with the European Space Agency, is on a mission to capture one such object using an autonomous spacecraft with claw-like arms. It's an expensive and very tricky mission, but one that could have a major impact on the future of space exploration.
This is the first episode of Just Might Work, an original series by Freethink, focused on surprising solutions to our biggest problems.

Catch more Just Might Work episodes on their channel: https://www.freethink.com/shows/just-might-work
Personal Growth
Metal-like materials have been discovered in a very strange place.
Scroll down to load more…