Separation and Segregation Breed Social Contempt
Words of wisdom from A. Philip Randolph: "Men often hate each other because they fear each other; they fear each other because they do not know each other; they do not know each other because they cannot communicate; they cannot communicate because they are separated."
25 August, 2015
Today's words of wisdom come from African-American labor leader A. Philip Randolph (1889-1979). Randolph was a major leader in the 1960s civil rights movement and the head of the 1963 March on Washington that featured Martin Luther King Jr.'s famous "I Have a Dream" speech. He had previously led the March on Washington Movement during the 1940s. Randolph is most famous for organizing and leading the Brotherhood of Sleeping Car Porters, the first predominantly African-American labor union.
---
As a keen social observer, Randolph tasked himself with analyzing problems and suggesting solution-based approaches. Below, he describes the process by which segregation and other forms of social separation can lead to a chain reaction of emotions leading to irrational hatred. Think about how Randolph's words apply to our current world.
Self-segregation is just as much a catalyst for distrust as forced separation... and we see this idea at work in our society day after day after day.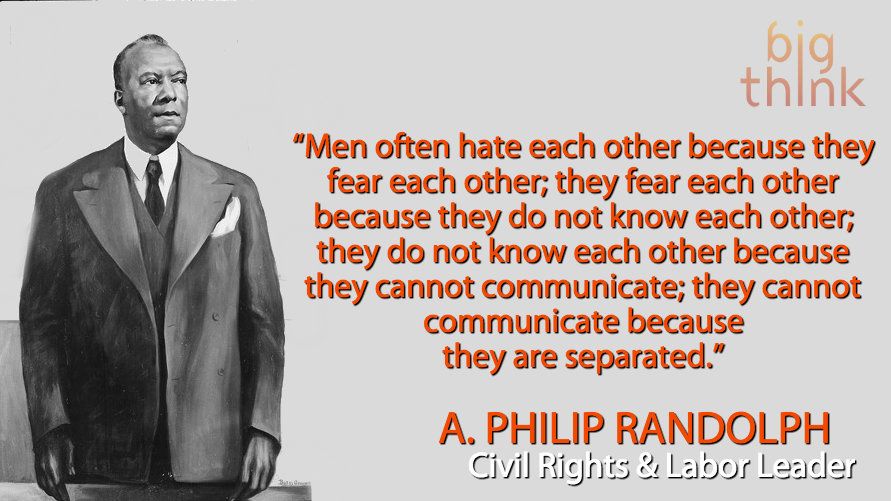 "Men often hate each other because they fear each other; they fear each other because they do not know each other; they do not know each other because they cannot communicate; they cannot communicate because they are separated." 
Below, Dr. Michael Lindsey delves into the topic of mental illness in the African-American community. The mental health researcher acknowledges how traumatic experiences dating back to slavery still resonate today.
The Russian-built FEDOR was launched on a mission to help ISS astronauts.
Most people think human extinction would be bad. These people aren't philosophers.
Shutterstock
Politics & Current Affairs
A new opinion piece in The New York Times argues that humanity is so horrible to other forms of life that our extinction wouldn't be all that bad, morally speaking.
The author, Dr. Todd May, is a philosopher who is known for advising the writers of The Good Place.
The idea of human extinction is a big one, with lots of disagreement on its moral value.
Picking up where we left off a year ago, a conversation about the homeostatic imperative as it plays out in everything from bacteria to pharmaceutical companies—and how the marvelous apparatus of the human mind also gets us into all kinds of trouble.
Think Again Podcasts
"Prior to nervous systems: no mind, no consciousness, no intention in the full sense of the term. After nervous systems, gradually we ascend to this possibility of having to this possibility of having minds, having consciousness, and having reasoning that allows us to arrive at some of these very interesting decisions."

"We are fragile culturally and socially…but life is fragile to begin with. All that it takes is a little bit of bad luck in the management of those supports, and you're cooked…you can actually be cooked—with global warming!"