An Open Mind Resists the Tyranny of Ideas
Words of wisdom from Cuban national hero José Martí: "A knowledge of different literatures is the best way to free one's self from the tyranny of any of them."
20 June, 2015
José Martí (1853-1895) was a Cuban national hero and an important figure in Latin American literary history. In his short life, he was a poet, an essayist, a journalist, a revolutionary philosopher, a translator, a professor, a publisher, and a political theorist. Through his writings and political activity, he became a symbol for Cuba's bid for independence against Spain in the 19th century, and is referred to as the "Apostle of Cuban Independence." His death was used as a cry for Cuban independence from Spain by both the Cuban revolutionaries and those Cubans previously reluctant to start a revolt.
---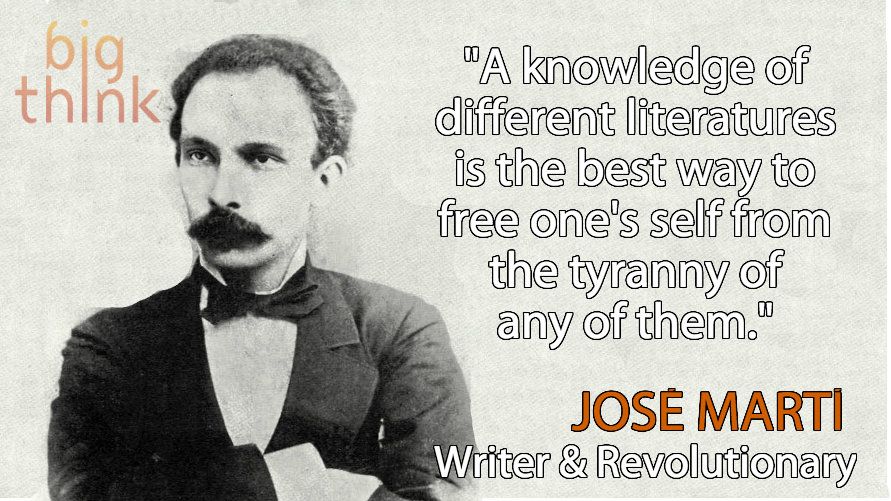 "A knowledge of different literatures is the best way to free one's self from the tyranny of any of them."
What makes a life worth living as you grow older?
Culture & Religion
Dr. Ezekiel Emanuel revisits his essay on wanting to die at 75 years old.
The doctor believes that an old life filled with disability and lessened activity isn't worth living.
Activists believe his argument stinks of ageism, while advances in biohacking could render his point moot.
The Amazon Rainforest is often called "The Planet's Lungs."
NASA
Politics & Current Affairs
For weeks, fires have been burning in the Amazon rainforest in Brazil, likely started by farmers and ranchers.
Brazil's president, Jair Bolsonaro, has blamed NGOs for starting the flames, offering no evidence to support the claim.
There are small steps you can take to help curb deforestation in the Amazon rainforest, which produces about 20 percent of the world's oxygen.
The world's largest retailer has evolved "like a flea market," according to a new report from The Wall Street Journal.
Politics & Current Affairs
The report found more than 4,000 listings for products deemed to be unsafe, banned or mislabelled.
These products included mislabelled pain relievers, dangerous children's toys, and helmets that had failed federal safety tests.
There are some steps you can take to avoid buying unsafe or counterfeit products from Amazon.