Big ideas.
Once a week.
Subscribe to our weekly newsletter.
Delayed Social Development: The Cost of Texting Instead of Talking?
08 July, 2014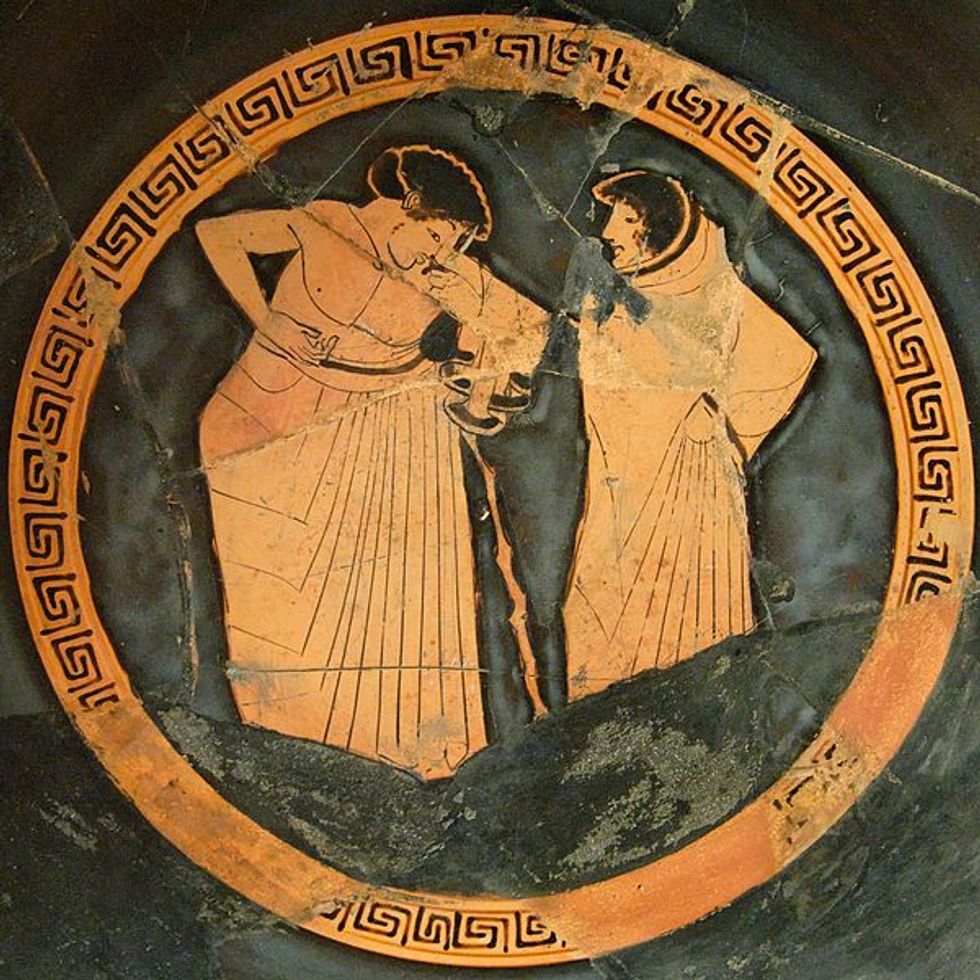 ---
We're complex beings. No one denies that. However, there are also some basic laws that explain much of our behavior. One of those laws is reinforcement: specific behaviors that we're rewarded for will occur more frequently in the future. Those that are ignored, or punished, will fizzle out. A rat that is given a piece of cheese after standing on two legs is more likely to stand on two legs in the future. If that rat continues to get cheese each time it stands on two legs, that behavior will be further strengthened. Traditionally, we received such instantaneous feedback in the social realm. Poor or rude behavior was met with a sneer or furrowed brow, while charming and kind words were met with a smile and, perhaps, a reciprocated compliment. The feedback loops for our social behaviors were tight, and so we grew and matured as civic beings with a staggering speed. Our less than desirable behaviors were shunned while our good behaviors were nurtured.
Today, this development still occurs. However, we have also introduced a large time gap into our social maturation with the advent and frequent usage of asynchronous communication mediums like text messaging, email, etc. While it's easy to tell whether or not a joke went over well in a face to face interaction, texts are often left unanswered for hours - leaving us to wonder: "Did I say something wrong?". If that text goes unanswered, we get no true feedback. We can take the lack of a response as a signal that the joke was bad or inappropriate. However, it may have actually been quite terrific, garnering a large chuckle when read; but, in the middle of a busy day, the other person just didn't remember to respond. Without a positive response, it's unlikely that we'll continue to say similar jokes in similar future contexts. Though, this would be a mistake - a mistake created by a newly introduced feedback delay we've created in a newly created communication medium.
Whether we like it or not, our behaviors are being sculpted by our peers each and every day. The question becomes: How well can we hear their instructions? When we speak in a face to face interaction, we combine our body language, facial expression, and vocal tonality with what we're saying. This usually paints a clear picture of what we mean; it gives context and tone to what would otherwise be an ambiguous, or inappropriate, statement. Imagine that we're having a debate and, after some intense back and forth, I look you squarely in the eyes and, with a big smile, say "I hate you" in a playful tone. It's obvious what I mean. Now, imagine we're having a similar debate over text and, after an intense portion, I write: "I hate you". In this context, the statement is much more ambiguous. While the other person probably thinks I'm just joking around, they could be excused for being unsure. The raw text contains much less information than the embodied words. Surely, this is why emoticons and stickers have become so popular. They add a bit of extra context to the words, mimicking the facial expressions that are usually part and parcel of any statement. As emoticons show, we always bring our old habits into any new technology - hacking it so that it's a closer fit to our fundamental human needs and expressions.
Even with the rise of asynchronous communication, most of us are eventually socialized properly by a lifetime of experience. If we sit inside for most of the day, we still have minutes or hours of face to face communication with others while we're running our errands, working, and so on. These encounters allow us to refine our behaviors so that they're acceptable and pleasing to our social milieu. And, after years of such encounters, we become socially astute and able to confidently navigate the social currents we encounter in our lives. But, as time on screen continues to increase, and as we come to prefer snippets of text to flows of speech, this development will likely be further delayed. As we spend more of our lives staring at glowing screen, and working hard to decipher the ambiguous messages that are coming in at breakneck speed, we need to come to grips with the fact that as our lives become faster and more chaotic, our social education decelerates into a glacial crawl. There is surely no free lunch on this blue dot of ours.
A Harvard professor's study discovers the worst year to be alive.
Credit: Pieter Bruegel the Elder. (Museo del Prado).
Politics & Current Affairs
Harvard professor Michael McCormick argues the worst year to be alive was 536 AD.
The year was terrible due to cataclysmic eruptions that blocked out the sun and the spread of the plague.
536 ushered in the coldest decade in thousands of years and started a century of economic devastation.
The past year has been nothing but the worst in the lives of many people around the globe. A rampaging pandemic, dangerous political instability, weather catastrophes, and a profound change in lifestyle that most have never experienced or imagined.
But was it the worst year ever?
Nope. Not even close. In the eyes of the historian and archaeologist Michael McCormick, the absolute "worst year to be alive" was 536.
Why was 536 so bad? You could certainly argue that 1918, the last year of World War I when the Spanish Flu killed up to 100 million people around the world, was a terrible year by all accounts. 1349 could also be considered on this morbid list as the year when the Black Death wiped out half of Europe, with up to 20 million dead from the plague. Most of the years of World War II could probably lay claim to the "worst year" title as well. But 536 was in a category of its own, argues the historian.
It all began with an eruption...
According to McCormick, Professor of Medieval History at Harvard University, 536 was the precursor year to one of the worst periods of human history. It featured a volcanic eruption early in the year that took place in Iceland, as established by a study of a Swiss glacier carried out by McCormick and the glaciologist Paul Mayewski from the Climate Change Institute of The University of Maine (UM) in Orono.
The ash spewed out by the volcano likely led to a fog that brought an 18-month-long stretch of daytime darkness across Europe, the Middle East, and portions of Asia. As wrote the Byzantine historian Procopius, "For the sun gave forth its light without brightness, like the moon, during the whole year." He also recounted that it looked like the sun was always in eclipse.
Cassiodorus, a Roman politician of that time, wrote that the sun had a "bluish" color, the moon had no luster, and "seasons seem to be all jumbled up together." What's even creepier, he described, "We marvel to see no shadows of our bodies at noon."
...that led to famine...
The dark days also brought a period of coldness, with summer temperatures falling by 1.5° C. to 2.5° C. This started the coldest decade in the past 2300 years, reports Science, leading to the devastation of crops and worldwide hunger.
...and the fall of an empire
In 541, the bubonic plague added considerably to the world's misery. Spreading from the Roman port of Pelusium in Egypt, the so-called Plague of Justinian caused the deaths of up to one half of the population of the eastern Roman Empire. This, in turn, sped up its eventual collapse, writes McCormick.
Between the environmental cataclysms, with massive volcanic eruptions also in 540 and 547, and the devastation brought on by the plague, Europe was in for an economic downturn for nearly all of the next century, until 640 when silver mining gave it a boost.
Was that the worst time in history?
Of course, the absolute worst time in history depends on who you were and where you lived.
Native Americans can easily point to 1520, when smallpox, brought over by the Spanish, killed millions of indigenous people. By 1600, up to 90 percent of the population of the Americas (about 55 million people) was wiped out by various European pathogens.
Like all things, the grisly title of "worst year ever" comes down to historical perspective.
A new study suggests that private prisons hold prisoners for a longer period of time, wasting the cost savings that private prisons are supposed to provide over public ones.
Politics & Current Affairs
Private prisons in Mississippi tend to hold prisoners 90 days longer than public ones.
The extra days eat up half of the expected cost savings of a private prison.
The study leaves several open questions, such as what affect these extra days have on recidivism rates.
The United States of America, land of the free, is home to 5 percent of the world's population but 25 percent of its prisoners. The cost of having so many people in the penal system adds up to $80 billion per year, more than three times the budget for NASA. This massive system exploded in size relatively recently, with the prison population increasing by six-fold in the last four decades.
Ten percent of these prisoners are kept in private prisons, which are owned and operated for the sake of profit by contractors. In theory, these operations cost less than public prisons and jails, and states can save money by contracting them to incarcerate people. They have a long history in the United States and are used in many other countries as well.
However, despite the pervasiveness of private contractors in the American prison system, there is not much research into how well they live up to their promise to provide similar services at a lower cost to the state. The little research that is available often encounters difficulties in trying to compare the costs and benefits of facilities with vastly different operations and occasionally produces results suggesting there are few benefits to privatization.
A new study by Dr. Anita Mukherjee and published in the American Economic Journal: Economic Policy joins the debate with a robust consideration of the costs and benefits of private prisons. Its findings suggest that some private prisons keep people incarcerated longer and save less money than advertised.
Mississippi Blues
The study focuses on prisons in Mississippi. Despite its comparatively high rate of incarceration, Mississippi's prison system is very similar to that of other states that also use private prisons. Demographically, its system is representative of the rest of the U.S. prison system, and its inmates are sentenced for similar amounts of time.
The state attempts to get the most out of its privatization efforts, as a 1994 law requires all contracts for private prisons in Mississippi to provide at least a 10 percent cost savings over public prisons while providing similar services. As a result, the state seeks to maximize its savings by sending prisoners to private institutions first if space if available.
While public and private prisons in Mississippi are quite similar, there are a few differences that allow for the possibility of cost savings by private operators — not the least of which is that the guards are paid 30 percent less and have fewer benefits than their publicly employed counterparts.
The results of privatization
The graph depicts the likelihood of release for public (dotted line) vs. private (solid line) prison inmates. At every level of time served, public prisoners were more likely to be released than private prisoners.Dr. Anita Mukherjee
The study relied on administrative records of the Mississippi prison system between 1996 and 2013. The data included information on prisoner demographics, the crimes committed, sentence lengths, time served, infractions while incarcerated, and prisoner relocation while in the system, including between public and private jails. For this study, the sample examined was limited to those serving between one and six years and those who served at least a quarter of their sentence. This created a primary sample of 26,563 bookings.
Analysis revealed that prisoners in private prisons were behind bars for four to seven percent longer than those in public prisons, which translates to roughly 85 to 90 extra days per prisoner. This is, in part, because those in private prison serve a greater portion of their sentences (73 percent) than those in public institutions (70 percent).
This in turn might be due to the much higher infraction rate in private prisons compared to public ones. While only 18 percent of prisoners in a public prison commit an infraction, such as disobeying a guard or possessing contraband, the number jumps to 46 percent in a private prison. Infractions can reduce the probability of early release or cause time to be added to a sentence.
It's unclear why there are so many more infractions in private prisons. Dr. Mukherjee suggests it could be the result of "harsher prison conditions in private prisons," better monitoring techniques, incentives to report more of them to the state before contract renewals, or even a lackadaisical attitude on the part of public prison employees.
What does all this cost Mississippi?
The extra time served eats 48 percent of the cost savings of keeping prisoners in a private facility. For example, it costs about $135,000 to house a prisoner in a private prison for three years and $150,000 in the public system. But longer stays in private prisons reduce the savings from $15,000 to only $7,800.
As Dr. Mukherjee remarks, this cost is also just the finance. Some things are a little harder to measure:
"There are, of course, other costs that are difficult to quantify — e.g., the cost of injustice to society (if private prison inmates systematically serve more time), the inmate's individual value of freedom, and impacts of the additional incarceration on future employment. Abrams and Rohlfs (2011) estimates a prisoner's value of freedom for 90 days at about $1,100 using experimental variation in bail setting. Mueller-Smith (2017) estimates that 90 days of marginal incarceration costs about $15,000 in reduced wages and increased reliance on welfare. If these social costs were to exceed $7,800 in the example stated, private prisons would no longer offer a bargain in terms of welfare-adjusted cost savings."
It is possible that the extra time in jail provides benefits that counter these costs, such as a reduced recidivism rate, but this proved difficult to determine. Though it was not statistically significant, there was some evidence that the added time actually increased the rate of recidivism. If that's true, then private prisons could be counterproductive.
A new study finds an unusual genetic difference in people over 105.
Surprising Science
Researchers conduct genetic analyses of 81 Italian people who are over 105 years in age.
Five unusual genetic differences were discovered.
The differences are implicated in the routine repair of DNA, which seems to work unusually well in these people.
The oldest living person is Kane Tanaka of Fukuoka, Japan, who just celebrated her 116th birthday. The handful of people who live to be 105 years old or older are called "semi-supercentenarians." (Supercentenarians live to the ripe old age of 110 or older.)
New research, published in the Aging, Geroscience and Longevity: A Special Issue of the journal eLife, examines the genomes of semi-supercentenarians and has discovered what may be the key to their unusually long lives: Their DNA is exceptionally good at repairing itself.
People involved in the study
Men play cards in Martina Franca, ItalyCredit: sabino.parente via Adobe Stock
The researchers recruited 81 volunteers for genetic analysis from across Italy. Some participants were semi-supercentenarians and others were supercentenarians. Researchers compared the genetic makeup of the older volunteers with those of 36 healthy people from the same areas who were 68 years old, plus or minus 5.9 years.

The study's first author Paolo Garagnani of the University of Bologna explains:
"Aging is a common risk factor for several chronic diseases and conditions. We chose to study the genetics of a group of people who lived beyond 105 years old and compare them with a group of younger adults from the same area in Italy, as people in this younger age group tend to avoid many age-related diseases and therefore represent the best example of healthy aging."
The authors of the study collected blood samples from both groups and conducted whole-genome sequencing. Additionally, they compared their findings with the conclusions drawn in previously published research describing the genetic makeup of 333 Italian people older than 100 years and 358 who were approximately 60 years old.
Co-first author of the new research Massimo Delledonne of the University of Verona said, "This study constitutes the first whole-genome sequencing of extreme longevity at high coverage that allowed us to look at both inherited and naturally occurring genetic changes in older people."
It's all in the genes
In the semi-supercentenarians and some supercentenarians, the researchers discovered five unusual genetic changes that were often present in two genes, COA1 and STK17A, data that was consistent with the previous research.
Most intriguing, the genetic variations appear to be linked to increased activity of the STK17A gene in some tissues, a gene involved in three critical cell repair activities: managing cells' response to DNA damage, prompting badly damaged cells to die off, and controlling the amount of dangerous reactive oxygen species in a cell. Cells unable to perform these types of repair activities are more likely to become cancerous.
The COA1 gene is involved with energy production by promoting communication between the cell nucleus and mitochondria. The researchers believe that the genetic variants they detected reduce the level of COA1 activity, which in turn reduces energy production as well as aging. (One of the leading theories of aging is that energy production produces reactive oxygen species that damage cells and promote aging.)
Finally, the researchers noted that the genetic variants they identified are also linked to increased expression of he BLVRA gene in some tissue. This gene is also involved in the elimination of dangerous reactive oxygen species.
Senior author of the study Claudio Franceschi of the University of Bologna concludes:
"Our results suggest that DNA repair mechanisms and a low burden of mutations in specific genes are two central mechanisms that have protected people who have reached extreme longevity from age-related diseases."
Culture & Religion
How do archaeologists know if someone was buried intentionally tens of thousands of years ago?
Scroll down to load more…