Want Less Car Accidents? Remove Traffic Signals and Road Signs
Hans Monderman believed that societies could make roads safer by making drivers more uncertain, and therefore alert.
31 August, 2017
---
"When you treat people like idiots, they'll behave like idiots."
That was the philosophy of Hans Monderman, the Dutch traffic engineer who became famous not for what he added to road design and urban planning, but for what he removed: curbs, traffic signals, signs. He believed drivers become more alert and cautious when there's more uncertainty on the road. 
"The trouble with traffic engineers is that when there's a problem with a road, they always try to add something," Monderman said to Wired. "To my mind, it's much better to remove things."
According to the anthropologist James C. Scott, Monderman began with the observation that:
when an electrical failure incapacitated traffic lights, the result was improved flow rather than congestion. As an experiment, he replaced the busiest traffic-light intersection in Drachten, handling 22,000 cars a day, with a traffic circle, an extended cycle path, and a pedestrian area. In the two years following . . . the number of accidents plummeted to only two, compared with thirty-six crashes in the four years prior. Traffic moves more briskly through the intersection when all drivers know they must be alert and use their common sense, while backups and the road rage associated with them have virtually disappeared. Monderman likened it to skaters in a crowded ice rink who manage successfully to tailor their movements to those of the other skaters. He also believed that an excess of signage led drivers to take their eyes off the road, and actually contributed to making junctions less safe.
(The Drachten intersection.)
Monderman's philosophy, popularly called "shared space," as coined by the English urban designer Ben Hamilton-Baillie, has been implemented in cities around the world. It seems to be working. Instead of causing chaos and collisions, the "red-light-removal schemes" almost always result in improved sociability and traffic flow, and fewer accidents in some cases. A study of center-line removal in Wiltshire, U.K., for instance, found that people drove more safely without the markings and the number of accidents decreased by 35 percent. 
The key to his philosophy isn't mere anarchy, but rather an understanding of the behaviors that result from the implied context of a road within its community.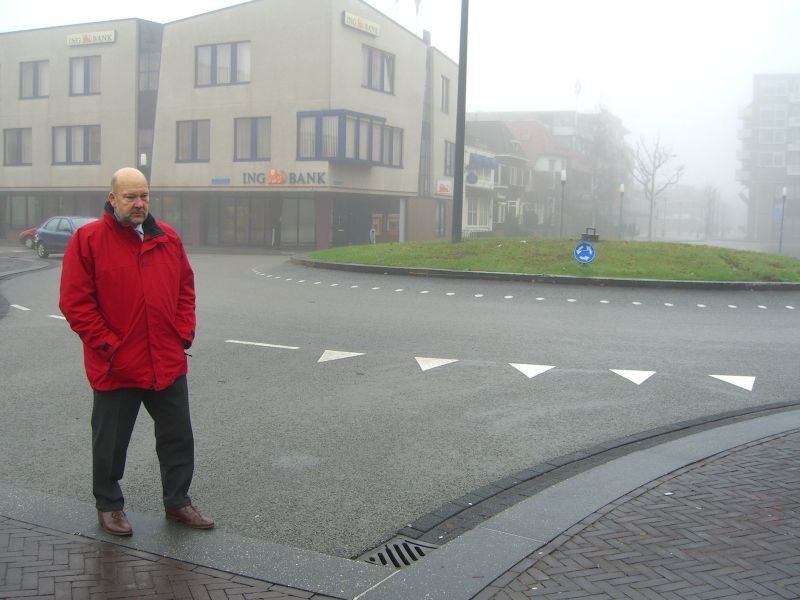 (Monderman standing next to a traffic circle, via Jerry Michalski)
In the mid 1980s, Monderman, then a regional safety inspector, was sent to the small village of Oudehaske to see what could be done about vehicle speeds – weeks earlier a car had fatally struck two children. While conventional options at the time might have included speed bumps or more signage – both known in the industry as "traffic calming" – Monderman ultimately suggested making Oudehaske more "village-like."
It was an intervention based on aesthetics, as Tom Vanderbilt writes:
"The interventions were subtle. Signs were removed, curbs torn out, and the asphalt replaced with red paving brick, with two gray "gutters" on either side that were slightly curved but usable by cars. As Monderman noted, the road looked only five meters wide, "but had all the possibilities of six." The results were striking. Without bumps or flashing warning signs, drivers slowed, so much so that Monderman's radar gun couldn't even register their speeds. Rather than clarity and segregation, he had created confusion and ambiguity. Unsure of what space belonged to them, drivers became more accommodating. Rather than give drivers a simple behavioral mandate—say, a speed limit sign or a speed bump—he had, through the new road design, subtly suggested the proper course of action."
"Shared space" has been, in effect, the default traffic mode in parts of the world where standardized traffic systems were never implemented. Here's an example from Ho Chi Minh City, Vietnam:
Ethiopia...
...and Delhi, India.
As Hamilton-Baillie writes in an article for The Guardian:
"The thing about the signals being removed is that the driver is no longer being given a green light. And what the green light does is to communicate to the driver that you've got priority here – you should be going ahead and you should be angry if grandma is on the road in front of you."
Still, the road-death rate per motor vehicle is significantly higher than the U.K. and U.S. in all three of these countries. This, Hamilton-Baillie argues, can be attributed to the relatively recent motorization of the countries, not the danger of Monderman's ideas.
The extent to which urban planners plan to use shared space in the U.S. remains unclear. Some cities have already begun to experiment with it, like Seattle's Bell Park. Implementing these ideas on a larger scale could require a fundamental shift in the way we think about cities, and the role individuals play within them.
"Essentially, what it means is a transfer of power and responsibility from the state to the individual and the community," Monderman said.
---
For those wanting to follow in Monderman's footsteps, consider this following guide, courtesy of Wired:
HOW TO BUILD A BETTER INTERSECTION: CHAOS = COOPERATION
1. Remove signs: The architecture of the road – not signs and signals – dictates traffic flow.
2. Install art: The height of the fountain indicates how congested the intersection is.
3. Share the spotlight: Lights illuminate not only the roadbed, but also the pedestrian areas.
4. Do it in the road: Cafes extend to the edge of the street, further emphasizing the idea of shared space.
5. See eye to eye: Right-of-way is negotiated by human interaction, rather than commonly ignored signs.
6. Eliminate curbs: Instead of a raised curb, sidewalks are denoted by texture and color.
What can 3D printing do for medicine? The "sky is the limit," says Northwell Health researcher Dr. Todd Goldstein.
Northwell Health
Sponsored by Northwell Health
Medical professionals are currently using 3D printers to create prosthetics and patient-specific organ models that doctors can use to prepare for surgery.
Eventually, scientists hope to print patient-specific organs that can be transplanted safely into the human body.
Northwell Health, New York State's largest health care provider, is pioneering 3D printing in medicine in three key ways.
A new Gallup polls shows the rising support for socialism in the United States.
Photo by Spencer Platt/Getty Images
Politics & Current Affairs
Socialism is experiencing a boom in support among Americans.
43% of Americans now view socialism as "a good thing".
There are also more people (51%) against socialism as political stances hardened.
A new study shows that some men's reaction to sex is not what you'd expect, resulting in a condition previously observed in women.
Credit: Pixabay
Sex & Relationships
A new study shows men's feelings after sex can be complex.
Some men reportedly get sad and upset.
The condition affected 41% of men in the study
Is this proof of a dramatic shift?
Strange Maps
Map details dramatic shift from CNN to Fox News over 10-year period
Does it show the triumph of "fake news" — or, rather, its defeat?
A closer look at the map's legend allows for more complex analyses
Dramatic and misleading
Image: Reddit / SICResearch
The situation today: CNN pushed back to the edges of the country.
Over the course of no more than a decade, America has radically switched favorites when it comes to cable news networks. As this sequence of maps showing TMAs (Television Market Areas) suggests, CNN is out, Fox News is in.
The maps are certainly dramatic, but also a bit misleading. They nevertheless provide some insight into the state of journalism and the public's attitudes toward the press in the US.
Let's zoom in:
It's 2008, on the eve of the Obama Era. CNN (blue) dominates the cable news landscape across America. Fox News (red) is an upstart (°1996) with a few regional bastions in the South.
By 2010, Fox News has broken out of its southern heartland, colonizing markets in the Midwest and the Northwest — and even northern Maine and southern Alaska.
Two years later, Fox News has lost those two outliers, but has filled up in the middle: it now boasts two large, contiguous blocks in the southeast and northwest, almost touching.
In 2014, Fox News seems past its prime. The northwestern block has shrunk, the southeastern one has fragmented.
Energised by Trump's 2016 presidential campaign, Fox News is back with a vengeance. Not only have Maine and Alaska gone from entirely blue to entirely red, so has most of the rest of the U.S. Fox News has plugged the Nebraska Gap: it's no longer possible to walk from coast to coast across CNN territory.
By 2018, the fortunes from a decade earlier have almost reversed. Fox News rules the roost. CNN clings on to the Pacific Coast, New Mexico, Minnesota and parts of the Northeast — plus a smattering of metropolitan areas in the South and Midwest.
"Frightening map"
Image source: Reddit / SICResearch
This sequence of maps, showing America turning from blue to red, elicited strong reactions on the Reddit forum where it was published last week. For some, the takeover by Fox News illustrates the demise of all that's good and fair about news journalism. Among the comments?
"The end is near."
"The idiocracy grows."
"(It's) like a spreading disease."
"One of the more frightening maps I've seen."
For others, the maps are less about the rise of Fox News, and more about CNN's self-inflicted downward spiral:
"LOL that's what happens when you're fake news!"
"CNN went down the toilet on quality."
"A Minecraft YouTuber could beat CNN's numbers."
"CNN has become more like a high-school production of a news show."
Not a few find fault with both channels, even if not always to the same degree:
"That anybody considers either of those networks good news sources is troubling."
"Both leave you understanding less rather than more."
"This is what happens when you spout bullsh-- for two years straight. People find an alternative — even if it's just different bullsh--."
"CNN is sh-- but it's nowhere close to the outright bullsh-- and baseless propaganda Fox News spews."
"Old people learning to Google"
Image: Google Trends
CNN vs. Fox News search terms (200!-2018)
But what do the maps actually show? Created by SICResearch, they do show a huge evolution, but not of both cable news networks' audience size (i.e. Nielsen ratings). The dramatic shift is one in Google search trends. In other words, it shows how often people type in "CNN" or "Fox News" when surfing the web. And that does not necessarily reflect the relative popularity of both networks. As some commenters suggest:
"I can't remember the last time that I've searched for a news channel on Google. Is it really that difficult for people to type 'cnn.com'?"
"More than anything else, these maps show smart phone proliferation (among older people) more than anything else."
"This is a map of how old people and rural areas have learned to use Google in the last decade."
"This is basically a map of people who don't understand how the internet works, and it's no surprise that it leans conservative."
A visual image as strong as this map sequence looks designed to elicit a vehement response — and its lack of context offers viewers little new information to challenge their preconceptions. Like the news itself, cartography pretends to be objective, but always has an agenda of its own, even if just by the selection of its topics.
The trick is not to despair of maps (or news) but to get a good sense of the parameters that are in play. And, as is often the case (with both maps and news), what's left out is at least as significant as what's actually shown.
One important point: while Fox News is the sole major purveyor of news and opinion with a conservative/right-wing slant, CNN has more competition in the center/left part of the spectrum, notably from MSNBC.
Another: the average age of cable news viewers — whether they watch CNN or Fox News — is in the mid-60s. As a result of a shift in generational habits, TV viewing is down across the board. Younger people are more comfortable with a "cafeteria" approach to their news menu, selecting alternative and online sources for their information.
It should also be noted, however, that Fox News, according to Harvard's Nieman Lab, dominates Facebook when it comes to engagement among news outlets.
CNN, Fox and MSNBC
Image: Google Trends
CNN vs. Fox (without the 'News'; may include searches for actual foxes). See MSNBC (in yellow) for comparison
For the record, here are the Nielsen ratings for average daily viewer total for the three main cable news networks, for 2018 (compared to 2017):

Fox News: 1,425,000 (-5%)
MSNBC: 994,000 (+12%)
CNN: 706,000 (-9%)
And according to this recent overview, the top 50 of the most popular websites in the U.S. includes cnn.com in 28th place, and foxnews.com in... 27th place.
The top 5
, in descending order, consists of google.com, youtube.com, facebook.com, amazon.com and yahoo.com — the latter being the highest-placed website in the News and Media category.
Big think's weekly newsletter.
Get smarter faster from the comfort of your inbox.
See our newsletter privacy policy
here
Most Popular
Most Recent
Big think's weekly newsletter.
Get smarter faster from the comfort of your inbox.
See our newsletter privacy policy
here
© Copyright 2007-2019 & BIG THINK, BIG THINK EDGE,
SMARTER FASTER trademarks owned by The Big Think, Inc. All rights reserved.
//This will actually fire event. Should be called after consent was verifed