The Genomic Revolution Is Now
Carol Greider
Carol W. Greider is the Daniel Nathans Professor & Director of Molecular Biology & Genetics at Johns Hopkins University. Her research on telomerase (an enzyme she helped discover) and telomere function won her a 2009 Nobel Prize in Medicine. Prior to joining the Johns Hopkins faculty, she obtained a Ph.D. in Molecular Biology from the University of California, Berkeley, in 1997, and was a faculty member at the Cold Spring Harbor Laboratory. She is a member of the National Academy of Sciences and a recipient of the 1998 Gairdner Foundation International Award.
24 November, 2009
Question: Are we on the cusp of a genetics revolution?
Carol Greider: I think that we're in the middle of the age of genetics; I don't think that we're on the cusp of a revolution. I mean, I think with the sequencing of the human genome and now sequencing of many, many different genomes from a variety of organisms have given researchers such powerful tools to find out new associations. Being able to compare whole genome sequences from many, many different organisms, one can see what is conserved and therefore what is very important. So I think that the tools that we've been given just in the last 10 years are tremendous, and people are just now learning to be able to take advantage of those. And yes, there are of course ethical implications in terms of issues having to do with insurance and genetic privacy issues. If whole genomes are going to be sequenced, who will have that information? And I think that there are a lot of processes going on. There's a bill that was passed a number of years ago, the Genetic Information Privacy Act, which will limit the use that can be made of some of this. But I think it's an ongoing process that people need to be discussing more widely, that the more people in general in the population understand about genetics, the more they'll be able to have an informed discussion about these issues when they come up. So I think that scientific literacy is going to be really important as these things are disseminated more into the public in terms of the possibility of people having their own DNA sequenced, and what does it mean? And what does it mean to them, and what does it mean to family members who might not want to know that? Those are privacy issues. And the only way to move forward with that is to really have an informed discussion and to talk about it. So that's why I think that general education in terms of genetics is really essential.
Question: Are you worried or excited about the changes genetics research will bring?
Carol Greider: I'm excited about what's to come, but I think that along with the actual scientific changes there's a certain responsibility of scientists and educated people in general to talk about these things, because I think that with knowledge comes power. And so the more that the lay public understands about what we're learning in genetics, the more they can then understand how it would be useful to them. So I think it's a very, very exciting time, but I think that there's also a responsibility to be able to discuss things in a very open way that makes clear what the implications are and what the implications aren't.
Question: What will be the technical and ethical limits to genetic manipulation?
Carol Greider: It depends on what you mean by genetic manipulation, in the sense that we do genetic manipulation in the laboratory all the time to try and test ideas about how genes work. So we will take cells and we will change the genes in those cells and then be able to ask what is the consequence of that change. That's basically doing an experiment. We do that with mice as well. If we want to understand—for instance, we wanted to understand what would happen if a cancer cell didn't have telomerase. Could it still grow? So we generated a mouse, and the whole mouse doesn't have telomerase. So that's a genetic manipulation of the mice, but it was an important question to know the answer what would happen if you could completely get rid of telomerase. So I think that in that sense, those kinds of genetic manipulations are very powerful tools that scientists have. Now, if you're talking about things like human genetic engineering and those kinds of things, there are certainly ideas about gene therapy that people have put out there to solve various diseases, and some of the ones that people have been looking at are diseases that are in the blood, because blood cells are very accessible to changes. And those kinds of things don't worry me so much except for the technical aspects of—in some cases when you try and put genes back into cells, people have found that then those genes can cause other changes, which in some cases can lead to cancer. So there are clear technical hurdles which have to be overcome in that realm. And in terms of germline gene therapy, where you may change something permanently in the human germline, I think that basically that is something that's out of the question and shouldn't really be on the table. I don't think that anybody's really discussing changing the human genetic germline.
[Question: For technical or ethical reasons?]
Carol Greider: For ethical reasons. Technical as well, if we can't even get it right right now. If the science today—we can't do a bone marrow transplant; that is, take some bone marrow cells and correct a defect of a single gene in the blood, put that back in and know that the correction is going to happen. And instead, these children developed tumors because of unknown consequences in doing that. So if we can't even do this to blood cells, we are very, very far technically from being able to do anything without having many unintended consequences in the germline. So for technical reasons I would say it should be completely out of bounds, and then there are the ethical issues, which again would need to be discussed in a broader context. And I don't know of anyone that seriously thinks that that is something that one should be changing.
Recorded November 10th, 2009
Interviewed by Austin Allen
Nobel Prize-winning geneticist Carol Greider says the age of genetics is not around the corner—it has already arrived. The question now is what limits to set on change.
Malcolm Gladwell teaches "Get over yourself and get to work" for Big Think Edge.
Big Think Edge
Learn to recognize failure and know the big difference between panicking and choking.

At Big Think Edge, Malcolm Gladwell teaches how to check your inner critic and get clear on what failure is.

Subscribe to Big Think Edge before we launch on March 30 to get 20% off monthly and annual memberships.
It turns out, that tattoo ink can travel throughout your body and settle in lymph nodes.
17th August 1973: An American tattoo artist working on a client's shoulder. (Photo by F. Roy Kemp/BIPs/Getty Images)
popular
In the slightly macabre experiment to find out where tattoo ink travels to in the body, French and German researchers recently used synchrotron X-ray fluorescence in four "inked" human cadavers — as well as one without. The results of their 2017 study? Some of the tattoo ink apparently settled in lymph nodes.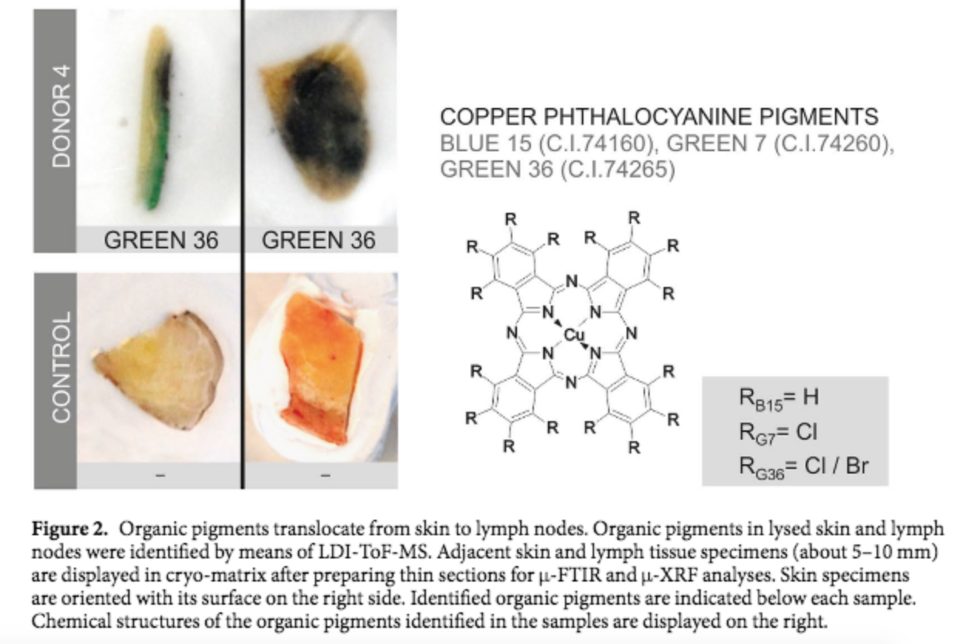 Image from the study.
As the authors explain in the study — they hail from Ludwig Maximilian University of Munich, the European Synchrotron Radiation Facility, and the German Federal Institute for Risk Assessment — it would have been unethical to test this on live animals since those creatures would not be able to give permission to be tattooed.
Because of the prevalence of tattoos these days, the researchers wanted to find out if the ink could be harmful in some way.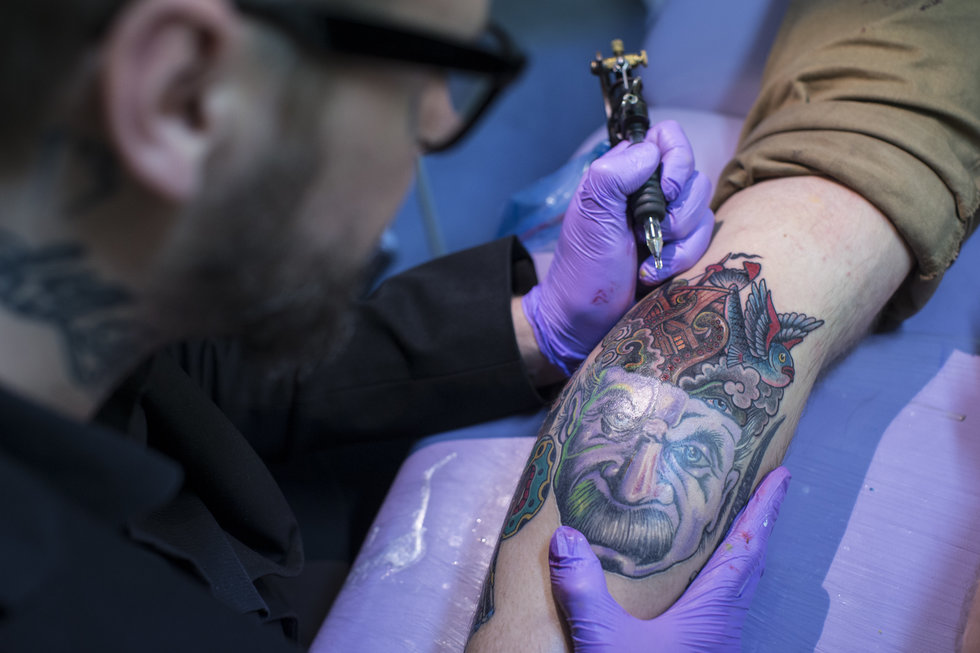 "The increasing prevalence of tattoos provoked safety concerns with respect to particle distribution and effects inside the human body," they write.
It works like this: Since lymph nodes filter lymph, which is the fluid that carries white blood cells throughout the body in an effort to fight infections that are encountered, that is where some of the ink particles collect.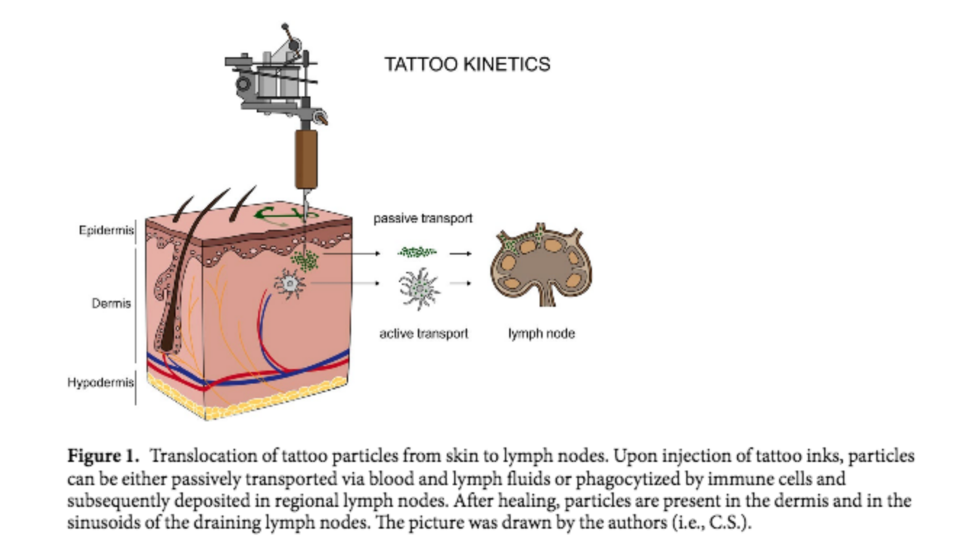 Image by authors of the study.
Titanium dioxide appears to be the thing that travels. It's a white tattoo ink pigment that's mixed with other colors all the time to control shades.
The study's authors will keep working on this in the meantime.
"In future experiments we will also look into the pigment and heavy metal burden of other, more distant internal organs and tissues in order to track any possible bio-distribution of tattoo ink ingredients throughout the body. The outcome of these investigations not only will be helpful in the assessment of the health risks associated with tattooing but also in the judgment of other exposures such as, e.g., the entrance of TiO2 nanoparticles present in cosmetics at the site of damaged skin."
It's one of the most consistent patterns in the unviverse. What causes it?
Videos
Spinning discs are everywhere – just look at our solar system, the rings of Saturn, and all the spiral galaxies in the universe.
Spinning discs are the result of two things: The force of gravity and a phenomenon in physics called the conservation of angular momentum.
Gravity brings matter together; the closer the matter gets, the more it accelerates – much like an ice skater who spins faster and faster the closer their arms get to their body. Then, this spinning cloud collapses due to up and down and diagonal collisions that cancel each other out until the only motion they have in common is the spin – and voila: A flat disc.
Big think's weekly newsletter.
Get smarter faster from the comfort of your inbox.
See our newsletter privacy policy
here
Most Popular
Most Recent
Big think's weekly newsletter.
Get smarter faster from the comfort of your inbox.
See our newsletter privacy policy
here
© Copyright 2007-2018 & BIG THINK, BIG THINK EDGE,
SMARTER FASTER trademarks owned by The Big Think, Inc. All rights reserved.